State proposes new system to potentially speed up voter verification during elections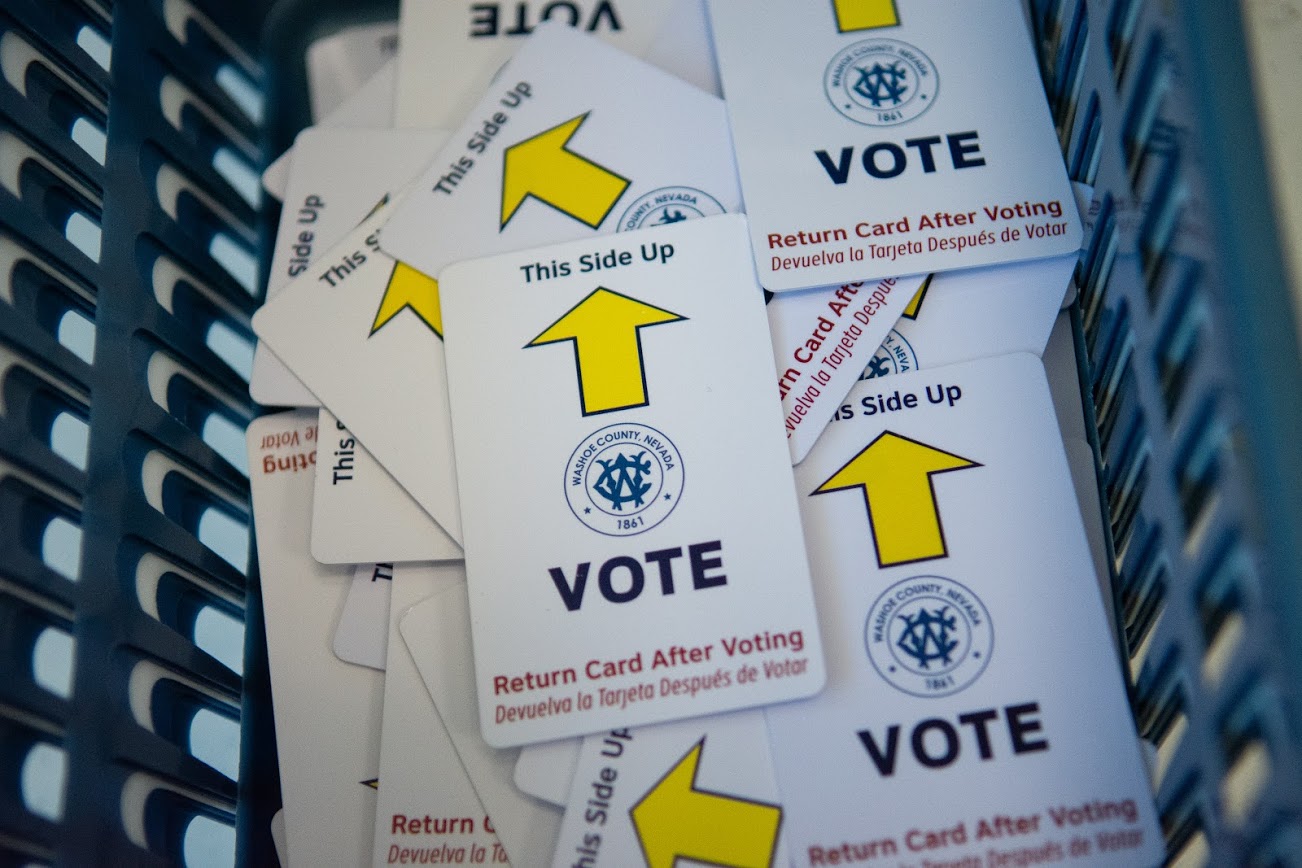 The secretary of state's office wants to transition from a county-led to a state-led top-down voter registration system that could speed up the time-consuming process of verifying that people who take advantage of a new same-day voter registration law haven't already voted in the same election.
The elections division has requested from the Legislature $1.5 million to start the process, although officials say the new system likely won't be up and running for a few years – possibly even after the 2024 election.
The agency's push for a new top-down approach began about a year before the 2020 election, but it became evident after the November election just how inefficient the current bottom-up system can be. Nevada was the subject of jokes nationally because it took several days to count and clear tens of thousands of provisional ballots (those set aside to allow for verification of a voters' eligibility), making it difficult to quickly project the winner of the presidential race.
Currently, each of the state's 17 counties control and maintain their own voter registration databases, while the secretary of state's office maintains yet another voter registration database consisting of all records compiled from each of the counties and updated daily. Details of the budget request were publicly discussed during a joint budget hearing last month.
A top-down voter registration system would provide a centralized statewide database and election management system with real-time voter information. Election officials say it would make fixing errors, checking for duplicate registrations and verifying voter eligibility faster and "seamless."
"Same day registration will be a lot more smoother because we will get that real time data," Washoe County Assistant Registrar of Voters Heather Carmen said. "We will not have to issue provisional ballots to voters that same-day register, send up that report to the state, have the state compile it and then send it back down to the various county clerks, just to verify that that person hasn't already voted in another jurisdiction."
The federal Help America Vote Act (HAVA) of 2002 required states to establish statewide voter registration databases. Databases are either "top-down" (maintained by the state with voter information supplied by counties) or "bottom-up" (maintained by counties with data provided to the state at regular intervals).
According to the U.S. Election Assistance Commission, Nevada is one of just six states that has a bottom-up system.
HAVA was drafted and passed in response to irregularities in voting systems and processes during the 2000 presidential election. The program provides for replacing voting equipment, implementing a post-election audit system and upgrading election-related computer systems to address cyber vulnerabilities.
Secretary of State Barbara Cegavske has consistently denied that massive voter fraud occurred in the 2020 election, but still wants the top-down system in place because of its potentially increased efficiency and also to achieve better, faster connectivity between county and state records.
Here's how the new top-down system would work: When a voter moves from one county to another, the state elections clerk would look at the state's master list and change the voter residency information. The individual's vote history and verification signatures would immediately reflect their new residence, as opposed to having to cancel the voter registration in one county and start a new one in another.
Although the agency is requesting $1.5 million for the biennium, costs of the transition to the top-down system are still unknown and might exceed the budgeted amount, especially in future budget cycles. But grants and federal funding may be available, and the agency will be looking to apply for them.
Before making the switch, Mark Wlaschin of the secretary of state's Elections Division says the first step in the process is an assessment of Nevada's needs, requirements and laws, such as the bill authorizing automatic voter registration through the DMV, that a software company would need to consider when building and securing the system.
"It's not going to be more secure or less secure. There's still going to be the same precautions at the state level," Carmen said. "We are also required to have multi-factor authentication when accessing our voter registration database and election management systems."
Wlaschin says the agency has asked for advice from other states that have made the same transition. Most told him it is expensive and will take a few years to complete – and preferably should not be phased in during an election year, in order to be able to run enough tests – and also not to rush the process.
The possibility that the new top-down system will be ready before the 2024 election remains unknown, but officials are hopeful. County election registrars are holding weekly meetings with the secretary of state's office, project managers and IT staff to discuss software system needs.
In the meantime, future state elections will be carried out through the current bottom-up system.
"It's going to be a slow process, but it needs to be done thoroughly to make sure that it hits all the points that needs to be covered when running an election," Carmen said. "We need to make sure that we find a system that is secure… It's going to take a little time, and that's okay. We want it to be right."
Featured Videos
Comment Policy (updated 4/20/2021): Please keep your comments civil. We reserve the right to delete comments or ban users who engage in personal attacks, use an excess of profanity, make verifiably false statements or are otherwise nasty. Comments that contain links must be approved by admin.