From prayers to protests, Nevadans rally in support of Ukraine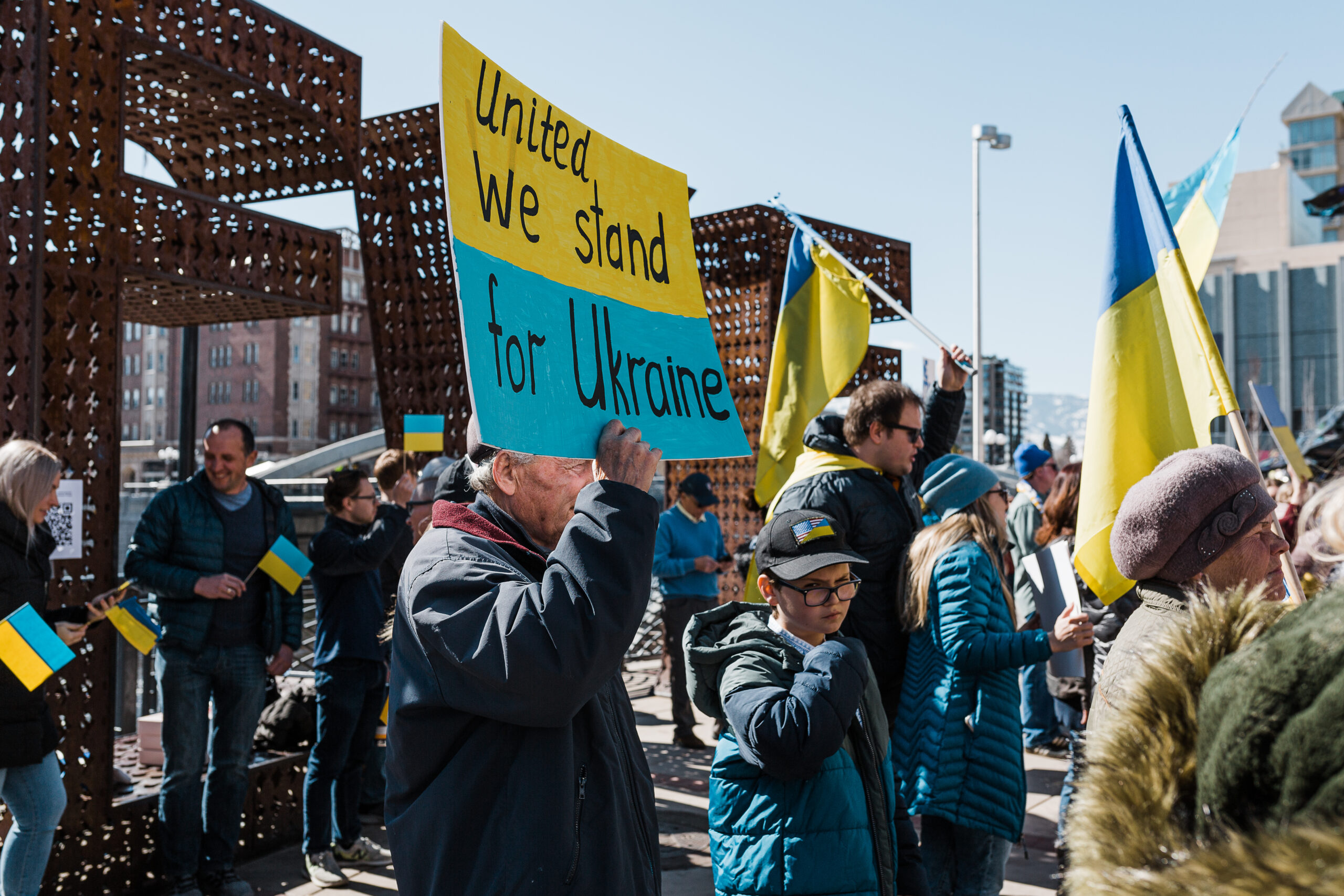 From illuminating the "Welcome to Las Vegas" sign in yellow and blue, to praying for peace and calling for more military gear to be shipped across the ocean, Nevadans are taking a range of steps to show solidarity with Ukraine as it fends off a Russian invasion.
The attack that started on Feb. 24 scandalized many in Nevada and the United States, spurring vigils on short notice. In Reno, Ukraine's national flower, the sunflower, dotted the city's "BELIEVE" sign for a solidarity event on Tuesday. Farther south, Clark County Commissioner Michael Naft announced a decision to honor Ukraine's flag by changing the colors on the iconic sign.
"I know that changing light bulbs on a street sign is not going to have an impact in a real-world conflict," he told The Nevada Independent. "But I do know that it's going to send a message to people all around the world, that here in Las Vegas, we know what's happening."
Members of Nevada's congressional delegation have called for everything from "crushing sanctions" on Russia to sending intelligence drones to support Ukrainian fighters.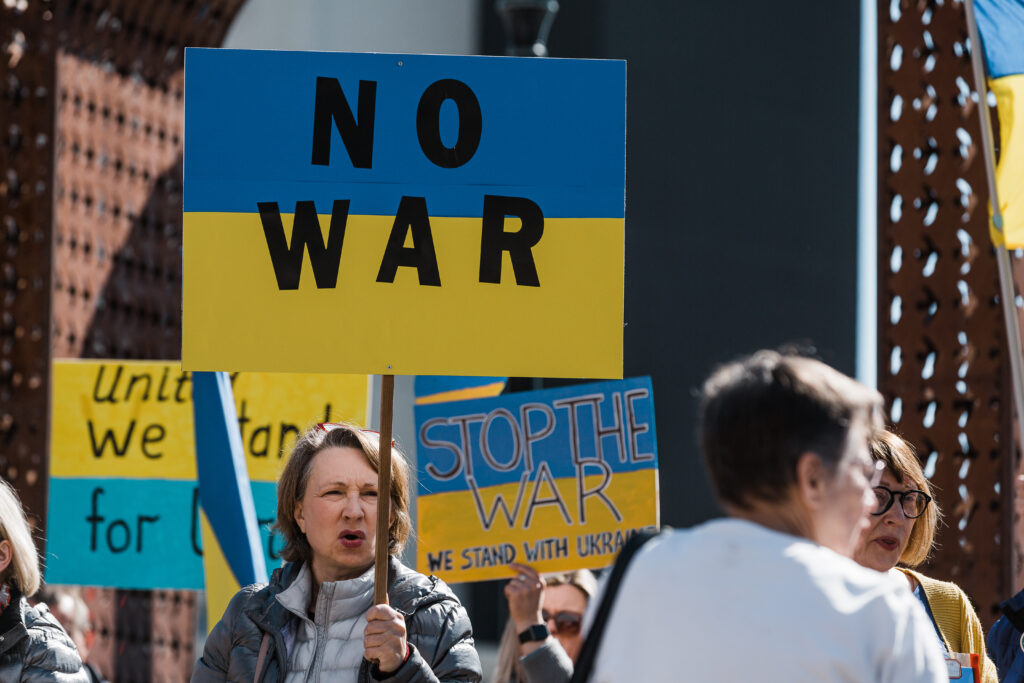 "My colleagues and I are working to get a security assistance package passed immediately to give Ukraine the means to continue defending itself against Russian aggression," Sen. Jacky Rosen (D-NV) said in a statement, pointing to what could amount to $6 billion in support for the embattled country.
At UNLV, a panel of European history experts explaining the conflict's origins drew a crowd of 200 on Monday, quadrupling attendance expectations. Professors described a centuries-old vision of a Russian empire that includes Ukraine and is at odds with the idea of an independent Ukrainian nation, and are even launching a mini course this week to teach students about the drivers of the conflict.
And in Reno, religious leaders called for transcending the differences between Christians, Muslims, Buddhists and other religious groups to pray for peace.
"It's a tremendous tragedy when human lives are lost when we could be putting our energies toward affecting positive changes like addressing world hunger or climate change," said Rev. Thomas Blake of Saint Catherine of Siena Episcopal Church, who is organizing an interfaith prayer service this weekend. "War accomplishes nothing, and I hope people in Eastern Europe know that they are loved and as a global community, we respect their lives."
Congressional action
With the midterm elections coming up in the fall, political lines are being drawn around Russia's invasion of Ukraine, with Republicans underscoring President Joe Biden's climate change initiatives limiting domestic energy production and Democrats backing Biden-led allied sanctions against Russia's oligarchs and banking system.
"Russia will be held accountable for its unprovoked attack on Ukraine," Sen. Catherine Cortez Masto (D-NV) said of the sanctions in a statement provided by her office. "The U.S. must continue to support our NATO allies and the Ukrainian people's efforts to defend their country."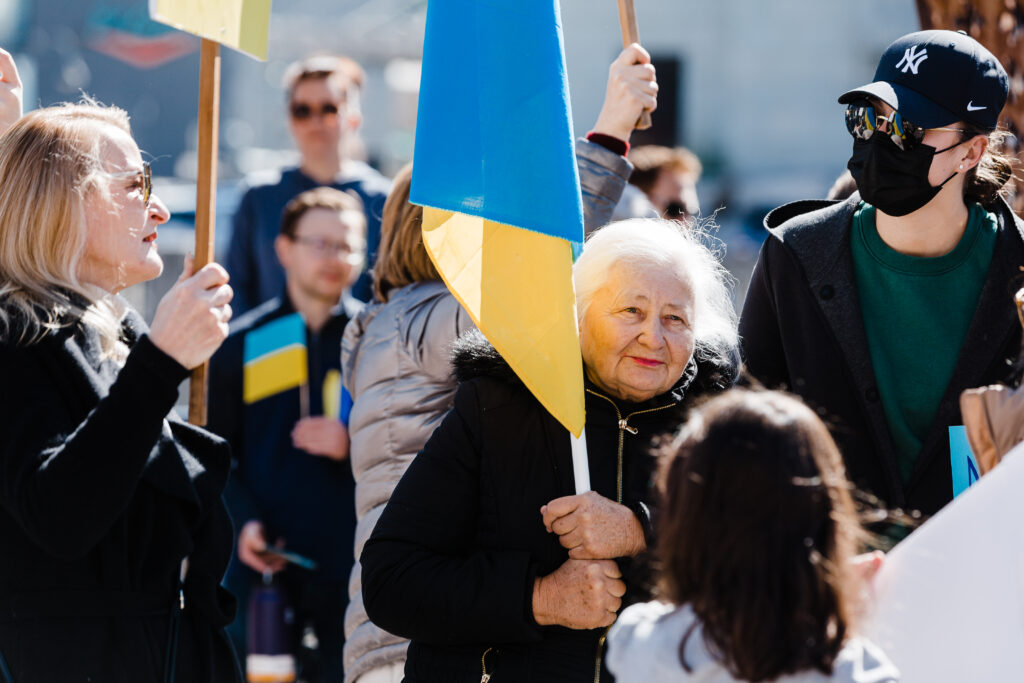 The U.S, and its allies have sanctioned Russian President Vladimir Putin and banned some Russian banks from an international secure messaging system known as the Society for Worldwide Interbank Financial Telecommunication (SWIFT). Russia closed its stock market early Monday over concerns of significant losses, as the value of the ruble sank amid sanctions.
Rep. Steven Horsford (D-NV), a member of the House Armed Services Committee, said he would welcome any way to expedite sending anti-tank Javelin missiles. Last week, Biden authorized $350 million in weapons to be sent to Ukraine from U.S. stockpiles, including Javelin missiles.
"While the administration is already acting to deliver this aid, I support accelerated deliveries of Javelin missiles and man-portable anti-aircraft weapons to Ukrainian defense forces," Horsford said in a statement from his office.
Sanctions will have repercussions throughout the world and are likely to result in higher oil prices. Those higher prices would come as gas prices have already crept up in Nevada. According to AAA, the average price for regular gas hit $4.07 on Wednesday, up from $3.97 the week before.
Horsford said the higher energy prices would be temporary and are the cost of defending democracy.
"We acknowledge that in order to make Russia feel the pain of their savage attack, ordinary Americans and citizens around the world will have to bear a sliver of the burden currently being faced by Ukrainian civilians," Horsford said.
Rep. Mark Amodei (R-NV) praised the Ukrainian people in their heroic response to Russia's attack, but was critical of Biden for doing too little too late.
"Diplomacy is most effective when it stops stuff escalating," Amodei said in an interview Monday.
He said he hopes that the sanctions are effective in "maybe getting some people in the Russian government to start taking a second look at what the cost is," but questioned why the White House had not sought to cut off Russia's top export — energy purchases.
"When we started messing with Iran, we didn't say 'oh, except for your petroleum exports,'" Amodei said.
On Wednesday, Biden said "nothing was off the table" when questioned by reporters about Russian oil and gas industry sanctions. The White House had previously said it was concerned about repercussions on Americans and thus had undertaken a strategy to maximize pain on the Russian economy and minimize any spillover to the U.S. and allies.
Amodei added that he has admired the Ukrainian people for putting up a fight that the Russians had not expected.
"The Ukrainian people are doing themselves proud," Amodei said. "That's kind of neat to see, especially in the face of what's perceived as a David and Goliath thing."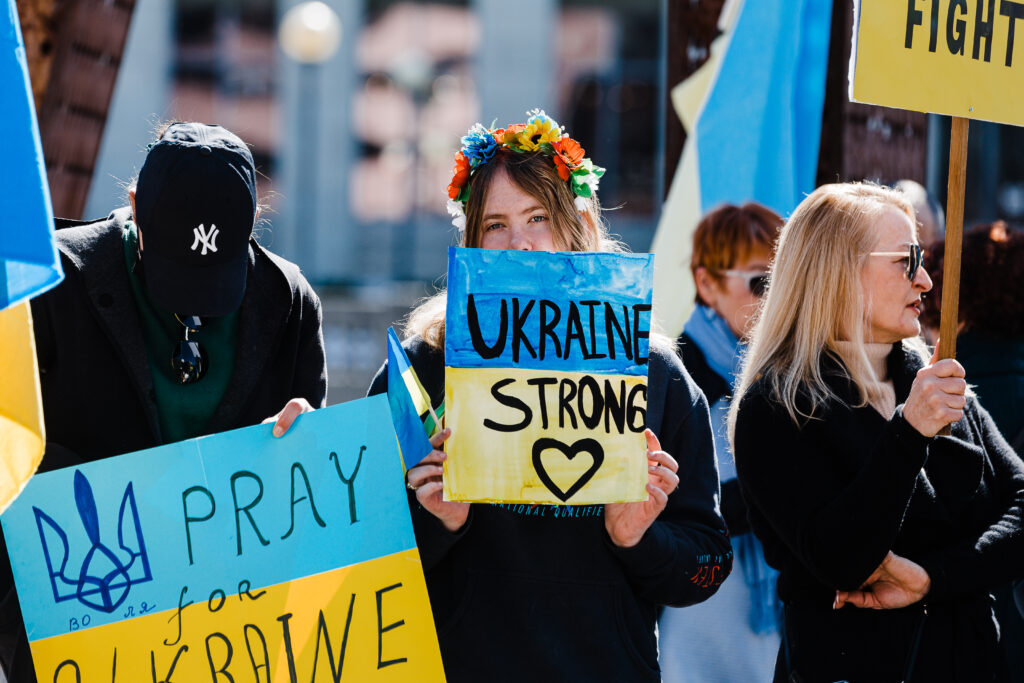 Amodei was also critical of Biden for what he believes has been a heavy-handed crackdown on domestic oil and gas production, which could help buffer against geopolitical disruptions. One example is the canceling of the XL Keystone Pipeline, which would have allowed for oil from Canada to be piped to refining facilities on the Gulf Coast.
"I'm not dumb enough to think that this administration is going to turn around, but it's like when you say, 'no more pipelines, no anything that's production related, we're gonna have none of that.' It's like, well, it sounds pretty counterintuitive to me," Amodei said.
Public displays and prayer services
Since Monday, the famous "Welcome to Fabulous Las Vegas" sign has been lit up with blue and yellow lights to show Clark County's solidarity with Ukraine. Naft, a Clark County commissioner, said in an interview that the sign was a small gesture, but an important one that shows Nevadans find Russia's actions "unacceptable."
"We stand with [people of Ukraine] symbolically, and we want them to know that we are not standing by idly," Naft said.
He said the sign is to be lit blue and yellow indefinitely until there's another scheduled rotation. While some on Twitter have cheered the decision, others have criticized the gesture as virtue signaling and called on the county commission to do more.
Naft said the decision wasn't about publicity, but about sending a strong message from one of the most iconic sites in the world.
Meanwhile, religious leaders of multiple faiths in northwestern Nevada are planning to unite in a candlelight vigil and pray together on Sunday. Led by Rev. Thomas Blake of Saint Catherine of Siena Episcopal Church and Hindu faith leaderRajan Zed, the candlelight vigil will include prayers from diverse religious traditions in English, Spanish, Arabic, Sanskrit, Pali, Hebrew and Persian.
Zed and Blake also urged participants to fast on the day of the vigil to take a stance against what they described as "the insanity of war" and to pray for the re-establishment of peace and human solidarity.
"We renounce what is happening in Eastern Europe and we renounce the unnecessary violence, warfare and taking of lives," Blake said. "When we can come together and make a positive statement, then that's something we have a responsibility to do."
Scholars explore historical underpinnings
At UNLV, scholars came together Monday for a roundtable called The Invasion of Ukraine in Historical and Political Context to discuss how the conflict might play out.
Centuries of Russian history reveal pendulum-like shifts in how eastern Europeans view themselves, moving from the idea of one nation with all three groups distinct from each other (Russians, Ukrainians, and White/West Russians), to the idea of unity through Russian nationalism.
Gregory Brown, a professor of European history at UNLV, said the Ukraine crisis has deep historical roots dating back to the 9th century.
"It is very important to understand history, the people's or languages or cultures, as well as the qualities, as more than just entities which are fixed and permanent," he said.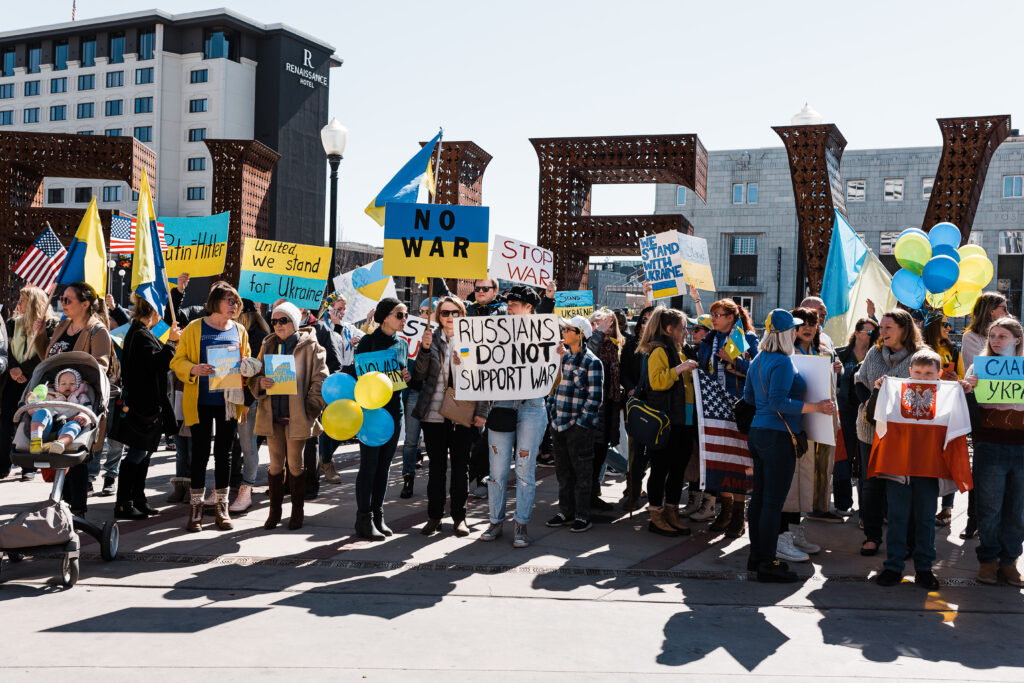 Polarizing shifts in Russian personal identity emerged throughout centuries of generations rooted either in nationalism or non-nationalism. According to Paul Werth, a UNLV professor and expert on Russian history, these shifts manifested or were manufactured because of confusion between what it is to be a nation versus an empire.
"For some reason, there is an imperial dimension to the Russian concept of nation," said Werth.
This "entanglement" between the idea of nation and empire isn't unique, he said, noting that Spain and Portugal have both grappled with the idea of empire and nation in a similar manner. However, the difference is that with Russia, violence occurs between populations with shared common roots and myths of origin.
Unlike other former U.S.S.R. countries such as Armenia, Werth said Ukraine and Belarus have a special place in Russian historical consciousness. Standard Russian history places the start of Russian history in Kyiv in the 9th century. In addition, he says the idea of one Russian nation has its roots in Kyiv, the capital of Ukraine.
"A [Russian] text called the synopsis, which was published in Kyiv in 1674, articulated the idea of a whole Russian nation that included both Russians and Ukrainians (and Belarus)," said Werth.
Both Werth and Brown argue that the Russian concept of nation is an imperial one that doesn't acknowledge each ethnic group as distinguishable with its own languages, culture, and beliefs.
"An imperial conception of the nation, I guess, has the advantage of being inclusive but it also has the disadvantage in that it doesn't fully recognize the differences of various peoples," said Werth.
Dmitri Shalin, a UNLV sociology professor whose research areas have included Russian society, had a grim outlook on the recent developments. He believes that Putin is profoundly unwell and has been angling to restore the Soviet Russian Empire since about 2007.
"He has been rumored to be in poor physical health for some time, ruminating about mortality and legacy," Shalin said.
Christian Jensen, associate professor of political science and expert on both European political parties and democratic institutions, said the European Union and NATO have been crippled in their ability to respond to many of Russia's earlier actions because they require consensus and unanimity. That changed with Putin's decision to invade the capital of Ukraine on Feb. 24.
"By invading Ukraine, he has instantly unified both NATO and the European Union, not only on a different governmental level but also the internal politics of these European countries, which have been facing highly polarized politics," said Jensen.
An attendee from Southern Russia explained that he couldn't imagine something like this taking place even 15 years ago. He asked the speakers why the situation seems to have emerged so suddenly.
Shalin pointed to Putin's character, tying it back to his childhood in which he was supposed to go to a place for incorrigible children but never did because of his father's connections. Shalin suggests that world history might look different if Putin had ended up in a reformatory after exhibiting thug-like behavior as a teen.
He said it explains why it's not out of character for Putin to enter into a nuclear game of chicken.
"A small atomic device exploded somewhere in Ukraine, or maybe Europe, would be consistent with this turn of events and with his character," Shalin said.
Jensen said this major turning point in history is driven in part by polarized politics, bringing about a war that might have seemed inconceivable just a couple of weeks ago.
"It's really important for citizens, even though we have personal political beliefs, not to view our understanding of knowledge through those prisms," said Werth.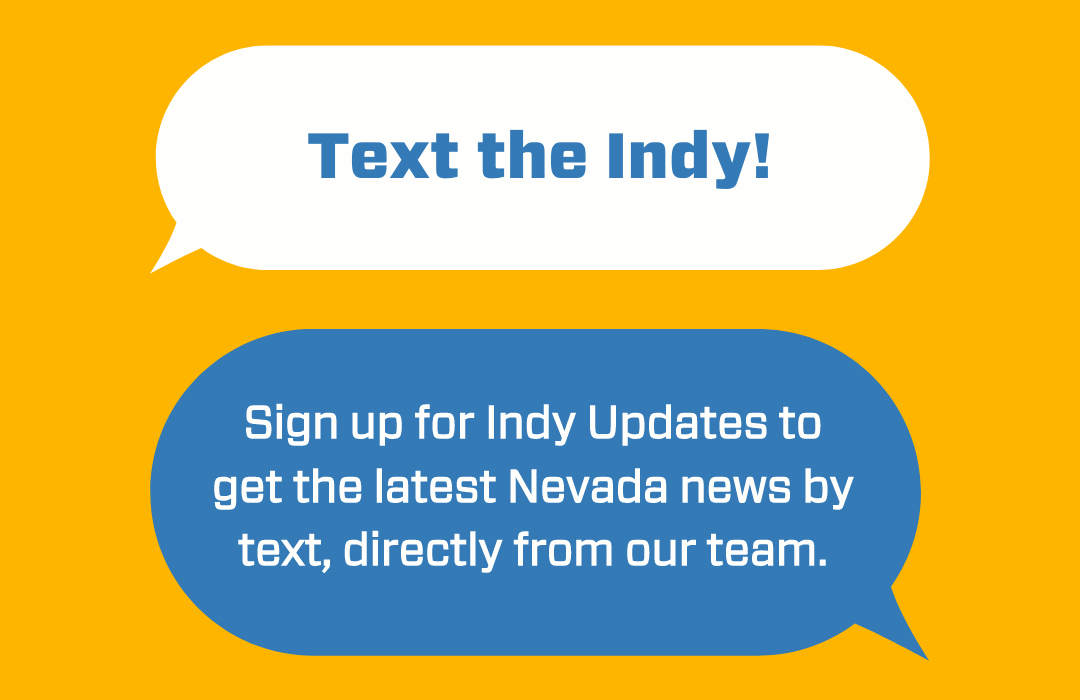 Featured Videos