From South Korea to the Strip, sommelier Douglas Kim tastes success in wine world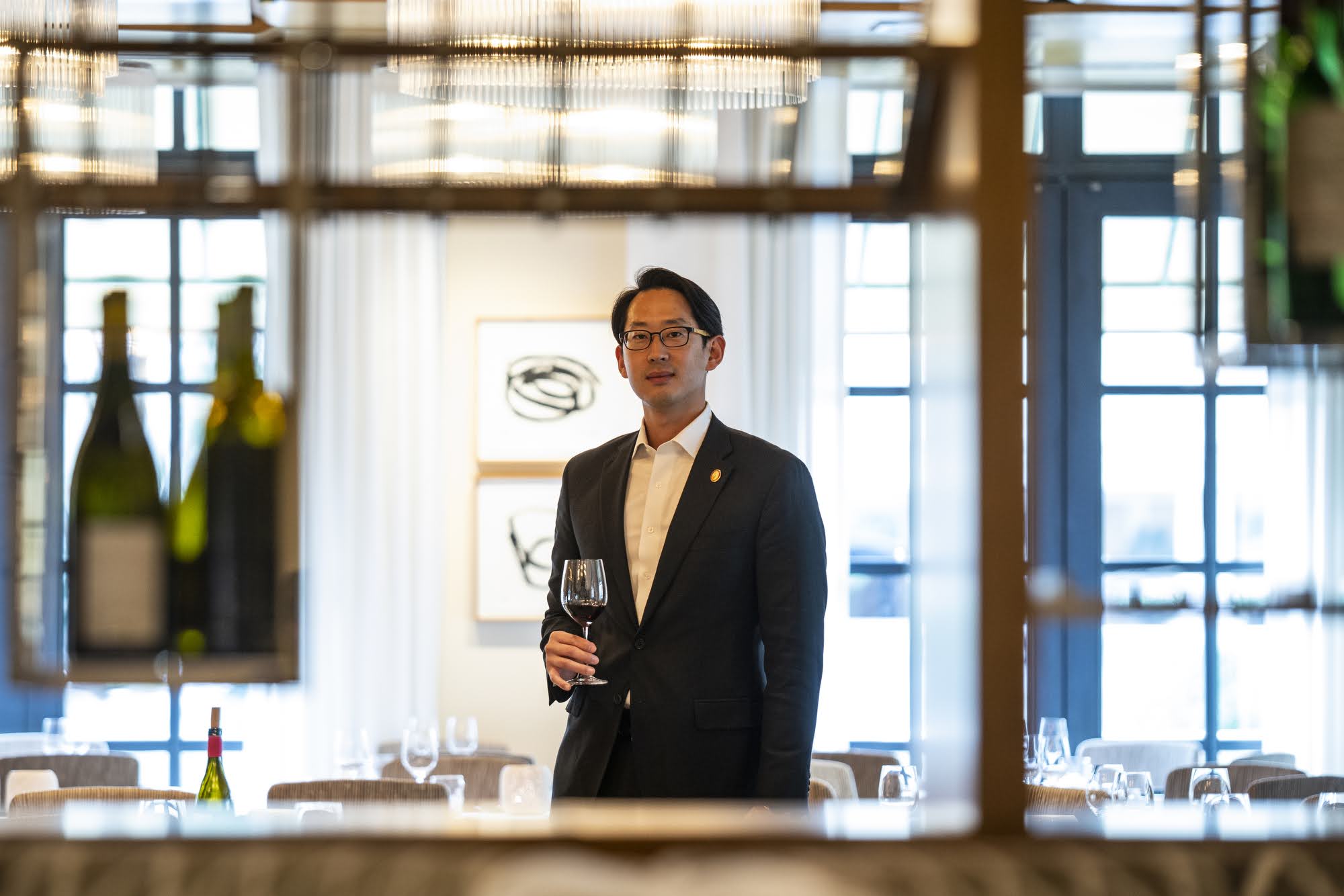 Since the inception of the Court of Master Sommeliers in 1969, 172 American professionals have earned the title of master sommelier. The grueling, intensive process to earn that title means the prestigious nonprofit organization has served as a gatekeeper for wine's high-flying elite class for decades.
The organization has received accolades for increasing the professionalism of wine service in high-end restaurants, but it has also been criticized for its lack of diversity. Of the 172 master sommeliers in America, 144 are men and 28 are women. Douglas Kim, the newly appointed wine director at MGM Resorts, said there are approximately 10 master sommeliers who are Asian and three of them are Korean.
Kim is one of those certified master sommeliers, and at 35 has one of the most coveted careers in the hospitality industry. He oversees 350,000 bottles within MGM Resorts' collection of hundreds of restaurants and bars at 13 flagship destinations including Bellagio, Aria, MGM Grand, Park MGM and Mandalay Bay.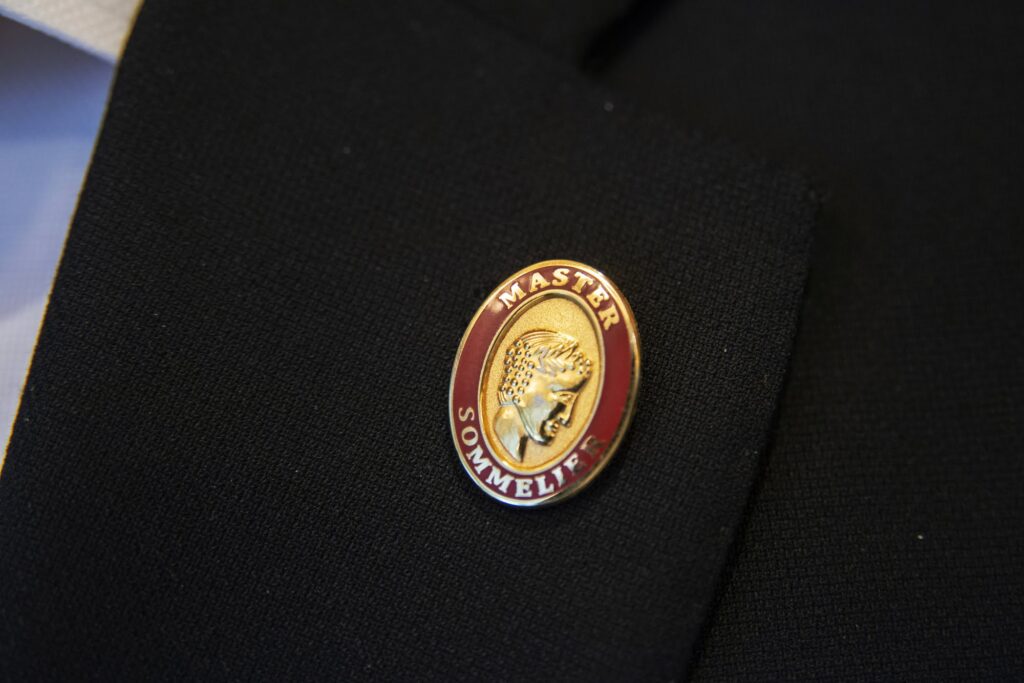 He looks the part of a wine director. Dressed in a tailored suit adorned with a red master sommelier lapel pin, not a single hair is out of place as he walks up to 10,000 steps a day between MGM's Strip properties.
But Kim's path to the top of the wine world has been anything but typical.
Born in Incheon, South Korea, Kim immigrated to the U.S. with his family when he was 2 years old. His parents decided to immigrate in the hopes of better opportunities, settling in Chicago where the family of five shared a two-bedroom apartment.
His family moved to the suburb of Lincolnwood when he was in elementary school. His parents had bought a bigger house and worked 12 hours a day operating a dry cleaning business called Lincoln Park Cleaners to provide a quality, middle-class life for their children.
Kim says even though he is a master sommelier, he is probably the least successful sibling because his sisters attended Ivy League schools. Kim's oldest sister is an e-commerce director for a professional development company stemming from the work of the late self-improvement icon Dale Carnegie, and his middle sister works as a high yield analyst at MFS Investment Management.
"[My sisters] have done fine for themselves, but they think my job is the coolest because I get to deal with wines," Kim said.
Whether making fried rice or baking a pizza together, cooking was an activity that Kim and his siblings could enjoy together when their parents were at work.
Kim said his favorite class in middle school was home economics and that he naturally gravitated towards cooking and food. After his sister participated in a two-week spring break program at the renowned Culinary Institute of America, Kim was introduced to a career prospect that could fit his interests.
After enrolling at CIA, Kim credits a three-week mandatory wine class for cementing his culinary focus on wine. Kim said he was inclined towards becoming a sommelier because, in addition to loving wine, he wanted to financially support himself. Being at the front of the restaurant, rather than working in the back, provided better prospects.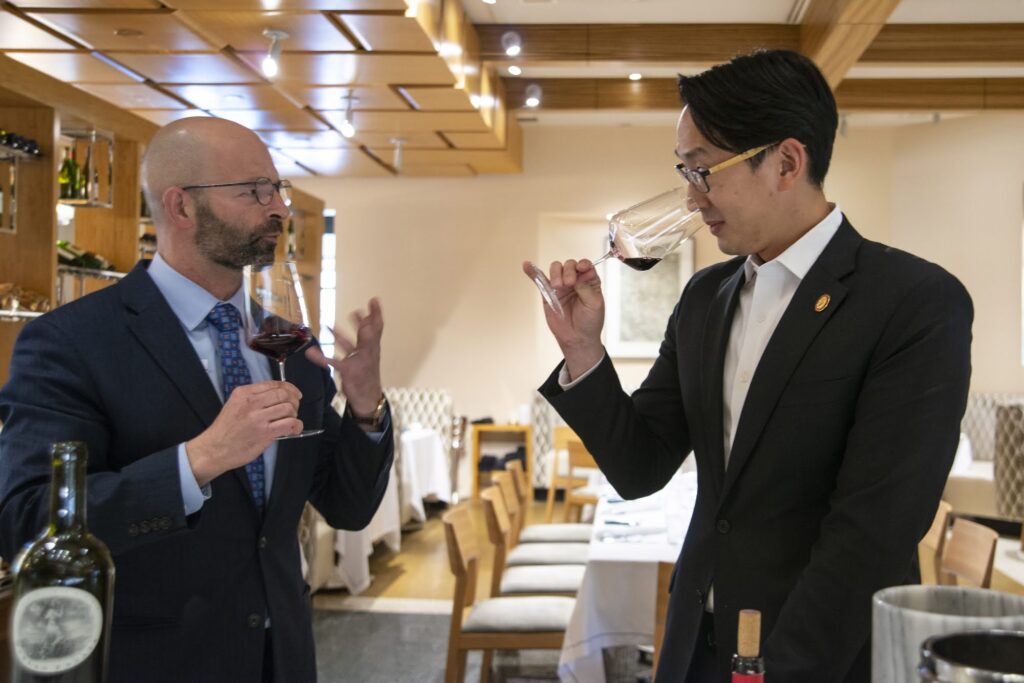 Becoming a master sommelier is not an overnight process. Once Kim was determined to pursue that path, he had to progress through four levels of sommelier certification: introductory, certified, advanced and master.
A sommelier refers to a wine steward, or a trained and knowledgeable wine professional. While many sommeliers reach the certified or advanced level, there are few master sommeliers because of the extensive wine knowledge and advanced wine tasting skills required, making the title the highest accomplishment for wine professionals and a desirable talent for the hospitality industry.
The tests take various forms and are notoriously grueling. The master sommelier test is broken down into three sections: theory, service and blind tasting. Candidates are not only asked about the region and the year of wine but they are also asked about its distilling methods and ideal aperitif and food pairings. During the blind tasting portion, candidates must correctly identify and describe three glasses of reds and three glasses of whites.
The master sommelier exam has a typical pass rate of around 3 to 8 percent of applicants. And in some instances, as few as 1 in 70 have succeeded.
According to Kim, the fastest that a person can achieve master sommelier status is six years, with some taking as long as 20 years.
Kim's 10-year journey to becoming a master sommelier began promisingly. He passed the introductory level when he was 21, passed the certified level when he was 22 and passed the advanced level when he was 24. However, he said he got "caught in a loop" during the blind tasting portion of the master's level, causing him to take the final test five times.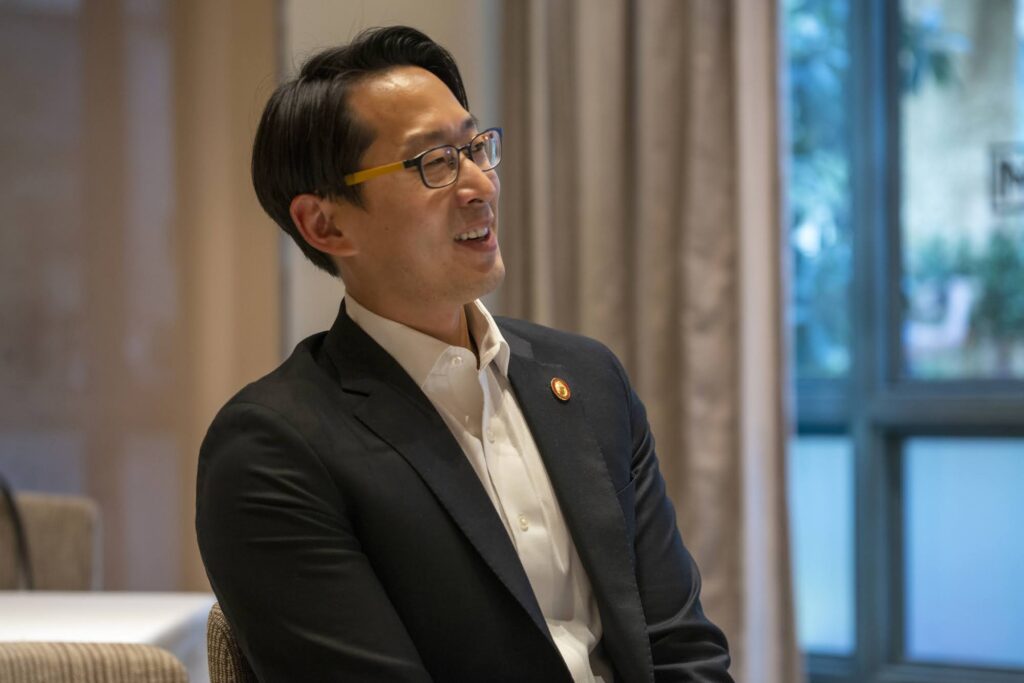 "When I took the first master exam for the first time, I was married but I didn't have kids," Kim said. "And then I had two kids along the way, and it kind of gets to be a lot. But it's something that I always wanted to do."
Although it was challenging at times, he never wavered in the pursuit of his goals.
"I definitely was upset and angry when things didn't go the way I wanted," Kim said. "But that's just the process. It only made me more knowledgeable, more hungry to get to the finish line."
After he graduated from the CIA with an associate's degree, Kim moved to Las Vegas to pursue a bachelor's degree at UNLV. He said he made the choice to move to Las Vegas because of the city's access to restaurants and job opportunities.
After graduating from UNLV, Kim's parents helped him find a job at Restaurant Charlie, owned by the late cutting-edge restaurateur and celebrity chef Charlie Trotter. His parents' dry cleaning business was down the street from Trotter's restaurant in Chicago, so they cleaned the chef's coats regularly.
"My mom called [Chef Trotter] and said, 'Hey, give my son a job,' and he called me, I came in for an interview and then started working there," Kim said.
After working at Restaurant Charlie, Kim quickly rose among the ranks, including working as the sommelier at Mandalay Bay's Aureole and as the wine director at Bellagio's two Michelin-starred Picasso Restaurant.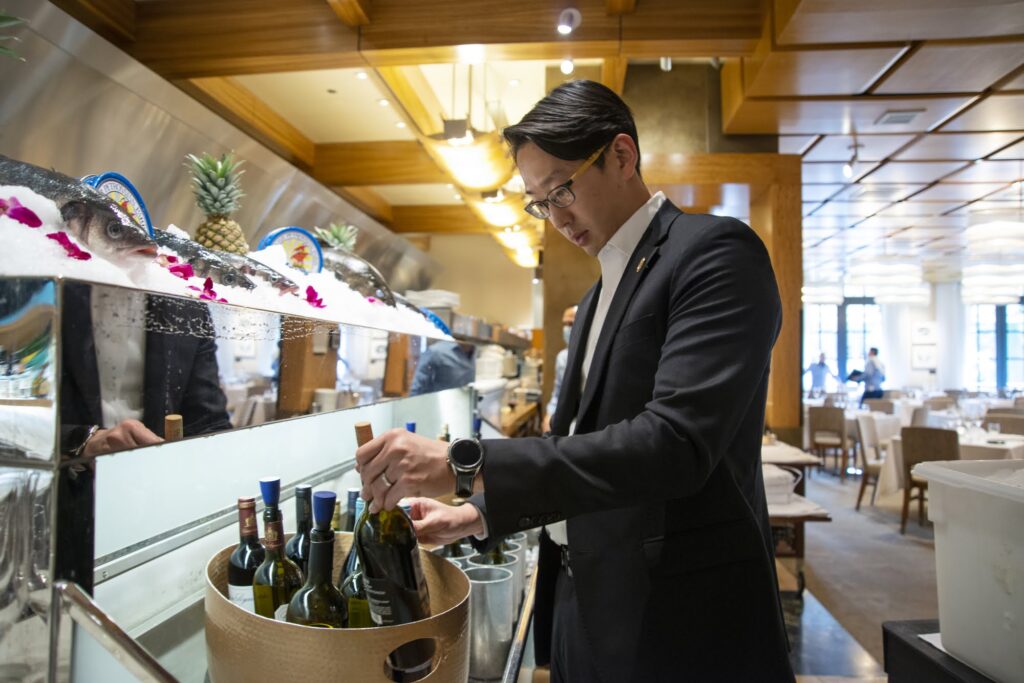 At his current job, Kim is more focused on the back end of operations — coordinating with wine suppliers while creating and maintaining wine programs for all MGM resorts and hotels. He works with close to 50 sommeliers in different restaurants to understand their needs and to curate wine lists specific to a restaurant's identity.
"On the front end, it seems very glamorous, but there's a lot of work that goes into the job," Kim said.
He regularly checks inventory, transfers pricing and deals with supply chain issues, in addition to staying on top of each of the properties' demands and understanding their needs.
Kim said the availability of domestic and imported wine selections drastically changed during the pandemic. And environmental factors such as the 2020 Napa fires or frost damage on vines in France also decreased production levels for certain wines. He said there were also shortages in glassware, stoppers and boxes for shipping, which made it more difficult to source wines.
His vision is to cultivate a macro wine program that can be micro-focused to each restaurant's needs and personalized to guests' individual preferences.
"At the end of the day, it is wine, and it is a luxury to be in this position and to be in this industry," Kim said.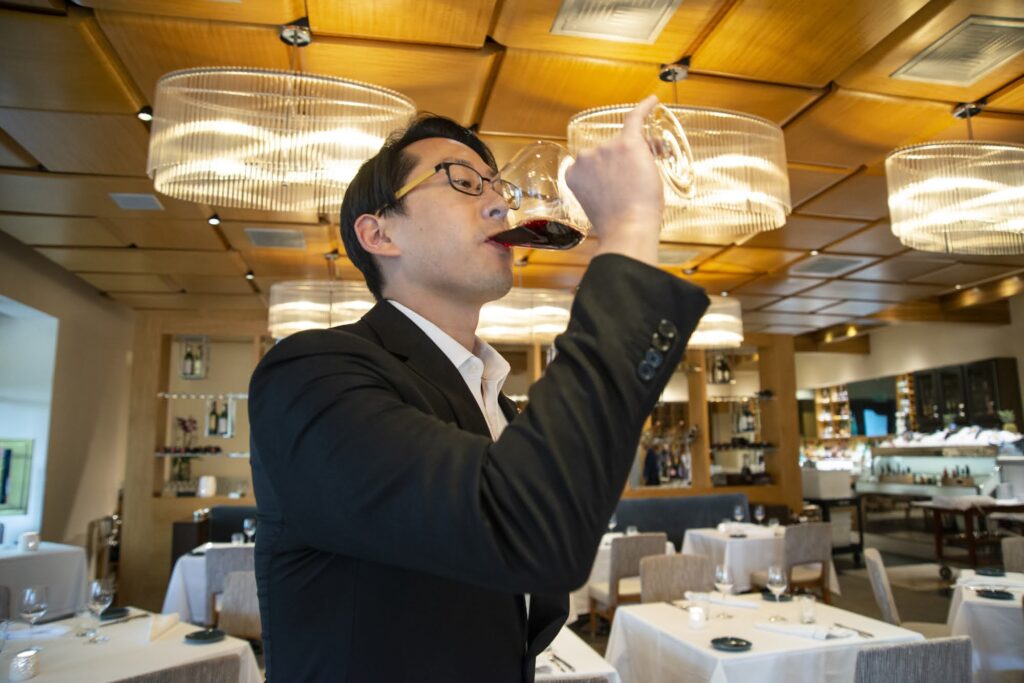 In his personal life, Kim actively participates in exams and courses offered through the Court of Master Sommeliers Americas domestically and in South Korea — where he is hoping to expand both the market for wine and grow education opportunities.
"In South Korea, the barrier to wine is very high," Kim said. "It's very expensive over there because of taxes. But we are seeing more and more people enjoying them."
He said as more people enjoy Western cuisine, South Koreans are taking an interest in wine to pair with their food. He is planning to revisit Seoul in June to teach classes in partnership with a company called Wine Vision.
For those who are looking to learn about wine, Kim recommended trying different kinds as much as possible and attempting to understand how to talk about wine. He said asking questions such as "Why do I like this particular wine more than others?" is a good first step.
"As you develop your palate, you will say, 'Oh, I like this about wine,' and then you can communicate to the sommelier at the restaurant," Kim said. "You might say, 'Hey, I like wines that have strong tannins or higher in alcohol, more powerful versus something that's more delicate and more perfumed.'"
Kim said every person's palate is different when it comes to flavor, weight, texture or balance.
"But honestly, just drinking wine, in general, is probably a good place to start," Kim said. "Even if it's a bad wine, as long as you are drinking with a friend, you would probably enjoy it."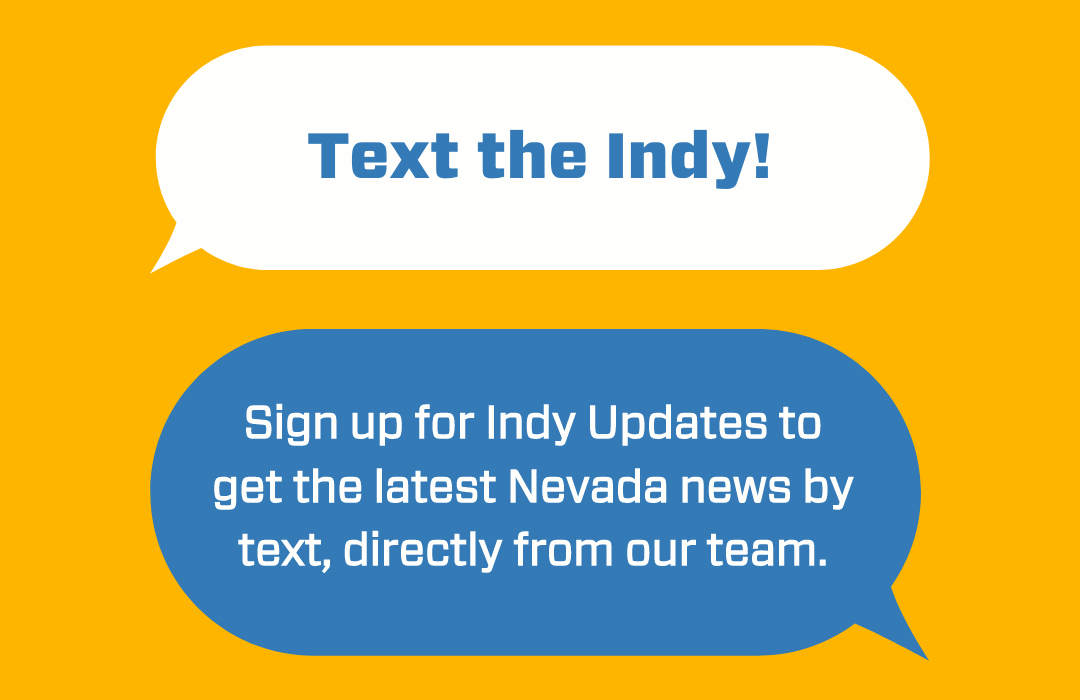 Featured Videos
Comment Policy (updated 4/20/2021): Please keep your comments civil. We reserve the right to delete comments or ban users who engage in personal attacks, use an excess of profanity, make verifiably false statements or are otherwise nasty. Comments that contain links must be approved by admin.