Growth of mariachi program in Clark County schools strengthens Latino community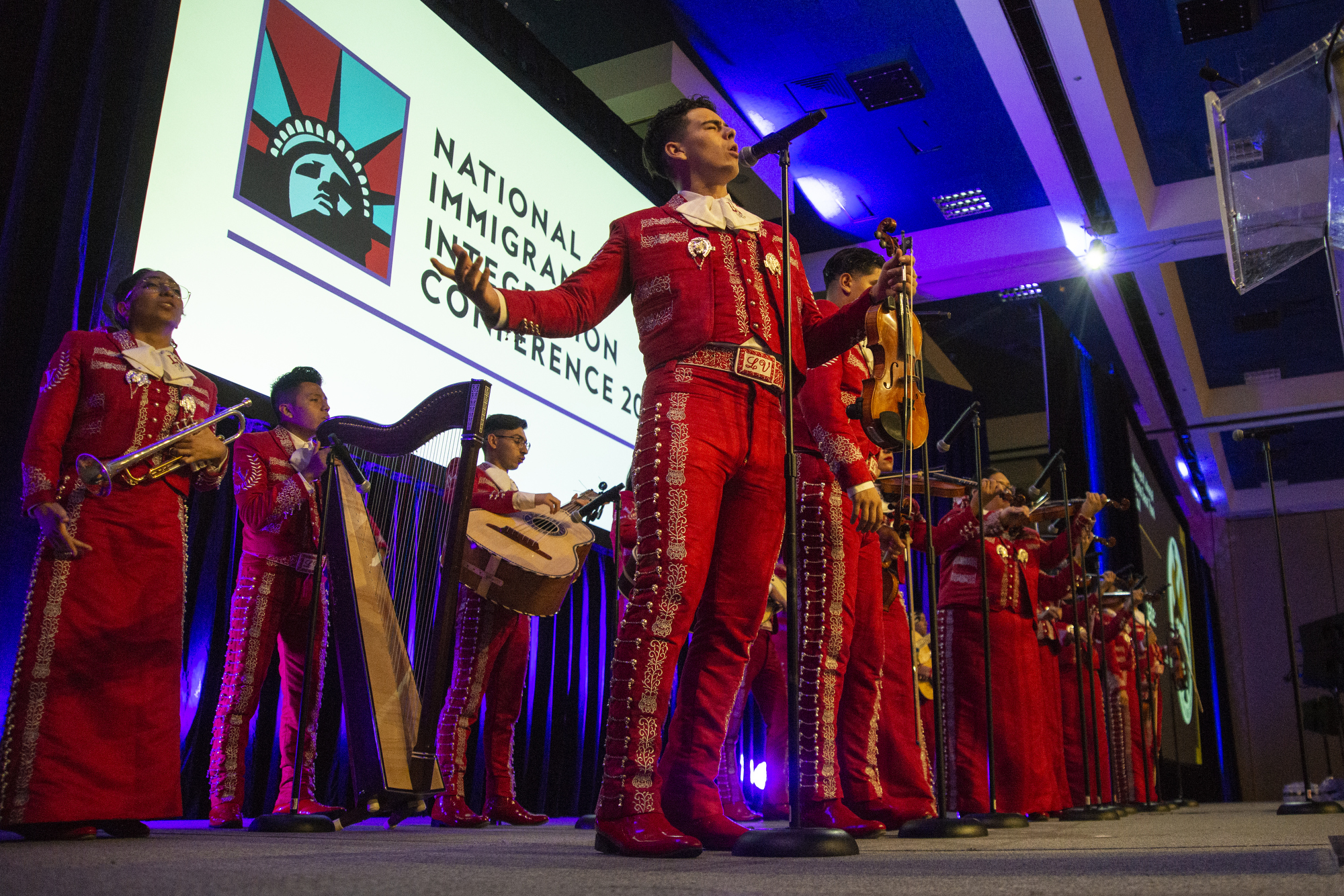 A soft but tempoed "un, dos, tres" brings music to life inside a Las Vegas High School classroom decorated with bright posters and colorful photos of the student musicians.
Members of the Mariachi Joya de Las Vegas High School ensemble begin playing their violins, trumpets, guitars — including the guitarrón and vihuela, larger and smaller than the guitar, respectively — and harp to the tune of a classic folk song called Cielito Lindo.
"Ay ay ay ayay, canta y no llores," the students sing in Spanish, some swaying with their instruments in hand. The chorus, translated to English, means "sing and don't cry."
It's a Tuesday afternoon rehearsal, one of many that occur across the Clark County School District throughout the year. The group runs through its entire show, all the songs memorized and repeating sections as needed, in preparation for the next performance.
The district operates what officials say is the largest mariachi program in the country, exposing thousands of students to a traditional part of Hispanic culture. The program has grown steadily since it started in 2002 with 250 students from four schools. Now, roughly 6,000 middle and high school students participate in an elective mariachi class offered at 27 schools.
Mariachi, a genre of Mexican folk music native to a region of western Mexico, resulted from the blending of indigenous and foreign cultural and musical elements, according to the Smithsonian Institution. Through the centuries and with the help of media, such as radio and cinema, mariachi was popularized and refined its sound and look to what we know today.
"[Having culturally diverse programs] is critical to our success," said Jeff Williams, a coordinator for secondary fine arts in the school district. "We need to support programs that reflect our community and maintain our students' interest, and it really honors the culture from which our district grows."
About 47 percent of the district's students identify as Hispanic or Latino, making it the largest racial or ethnic student group. Any student can join the mariachi program, though many are Hispanic or Latino.
Las Vegas High School's mariachi program is one of the newest. It launched in 2018, serving a school where nearly three quarters of students are Hispanic. Now, 250 students from all grade levels participate in the mariachi elective class. Students must audition for Mariachi Joya, the top ensemble group representing the school.
"Mariachi is the music of the people. That's something that I think is very, very special for a lot of these families," said Stephen Blanco, director of the mariachi program at Las Vegas High School. "And even the ones that didn't grow up in Hispanic household, even the ones whose parents don't speak Spanish. This is still their music because that's what they're turning it into."
For Blanco, a Detroit native, the job marked a return to family roots. His father grew up and graduated from high school in Las Vegas.
"Joya filled a void that I didn't know that I had in my life," he said. "I didn't know if I wanted to go get a band director job or if I wanted to go back to school, but when I got the call it just made sense. It felt right. It's 2,000 miles away from home, but it was kind of like coming back to the home that was never my home but it feels like it."
Despite the program's short time at the school, the group has kept busy with virtual and in-person performances around Las Vegas and across the country, representing the city and its diverse culture.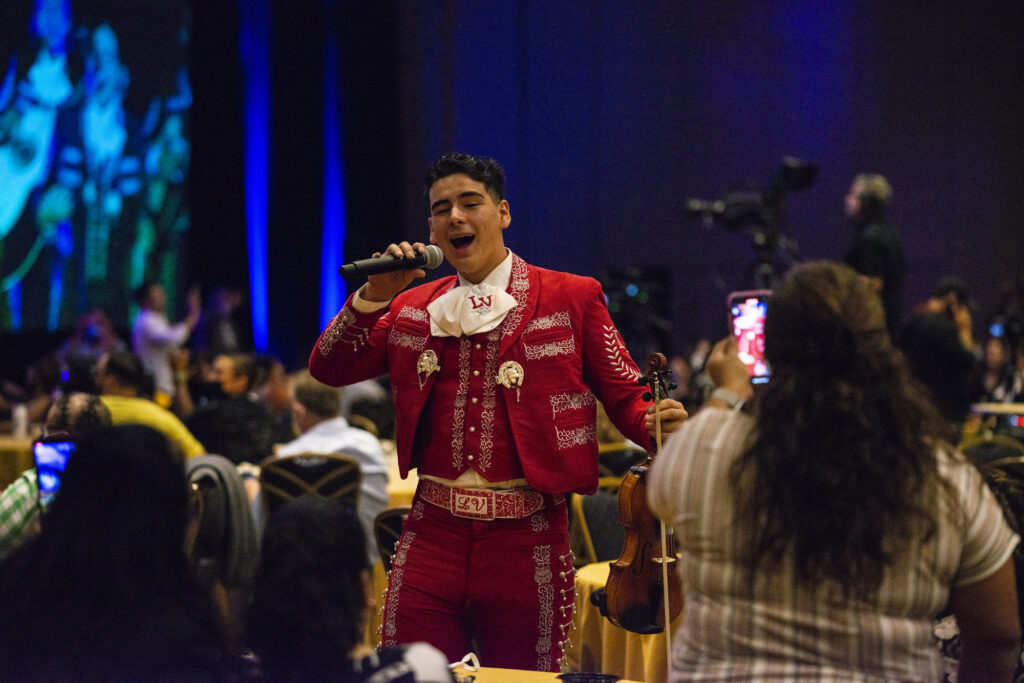 The students, who don red suits known as trajes covered in silver embroidery and white neck bows with the letters "LV," have performed virtually for President Joe Biden's inauguration and recorded an album during full-time distance learning. More recently, they participated in a local Mexican Independence Day celebration, traveled to Washington, D.C., to perform for the Mexican Embassy in honor of Hispanic Heritage Month and were featured at the National Immigrant Integration Conference last week in Las Vegas. That's in addition to school-based events, such as the Homecoming assembly and athletic games.
As busy as they are, Blanco said he holds his players to high standards in their school work and constantly checks in with them and their teachers. At least half of the seniors in his mariachi classes are set to graduate with honors, he added.
Blanco reminds students to "Be a joya," the latter of which is the Spanish word for "jewel."
"We talk a lot about being a joya, shining bright, being strong, setting an example for others," he said. "You can't get bad grades. You can't skip class every once in a while, like other students do."
Louie Saldate, a junior violin player, came into high school excited that mariachi was an option, inspired to try it after growing up listening to Mexican classics at home. Having not participated in orchestra or band in middle school, he was a little shy at first. But after being in mariachi class for the last couple of years and joining Mariachi Joya, Saldate said it's now his life and sings and plays with passion and pride.
"Mariachi is your main focus besides school — school first and then Joya," Saldate said with a smile. "My favorite part is definitely the audience. The audience can make or break your performance … When everyone's having a good time, it's hard to mess up or if you do mess up, then you just laugh it off and keep going."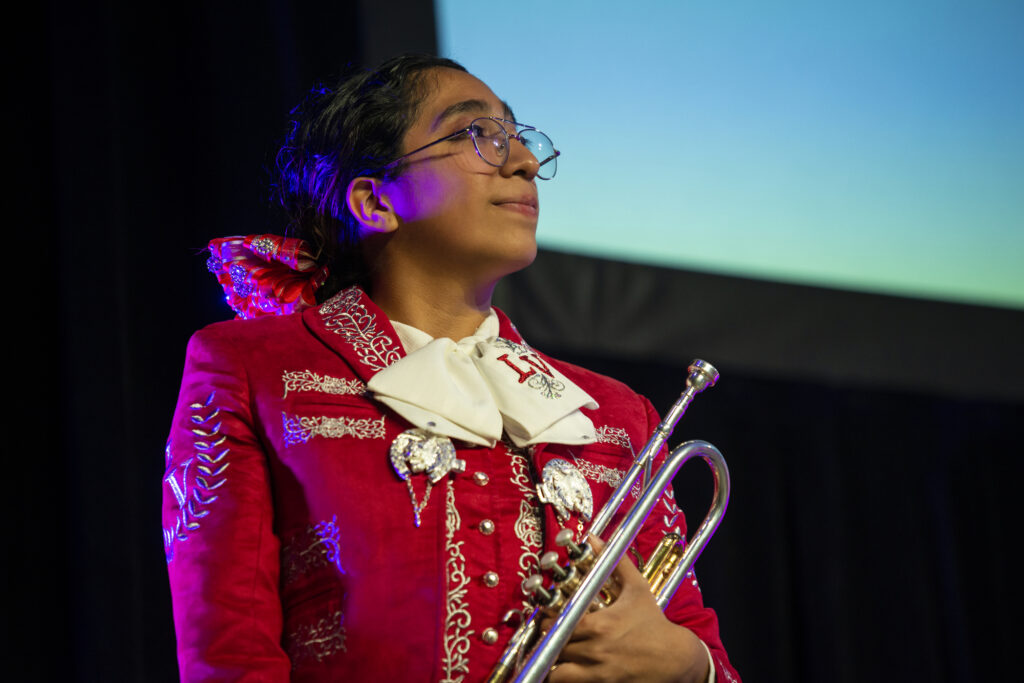 Daniellee Ureña echoed that sentiment, though she entered the mariachi world late in her high school career. She's a senior and just started this year. Ureña followed in her older siblings' footsteps, playing trumpet in band, but she's the first in her family to join the mariachi ensemble.
"Performing is what's kept me in any band. I love performing. I love the rush of it. I love adrenaline. I love being with the group," Ureña said, her silver glasses shining. "There's so much energy. There's always so much love for everyone."
Ureña couldn't fit the mariachi class into her schedule, so she attends after-school rehearsals and practices on her own time. The dedication impresses her mother, Maria Millan.
"She splits her time with marching band practices, rehearsals, going to performances with the mariachi, school work — she does like triple the time," Millan said. "She's really good at what she does and we're very proud of her. Every time we go see her we just feel honored and proud that she's our little one."
Mariachi class brings culture and heritage that not only students can enjoy, partake in and identify with, but Blanco said the performances also help unify the community.
"There was a moment a couple weeks ago, nobody would leave after we were done playing. Everybody stuck around — the whole audience," Blanco said. "It was at that moment that I realized 'This is who it's for, a community is starting to be made. Finally.'"
The Nevada Independent is raising $200,000 by Dec. 31 to support coverage of the 2024 election.
Tax-deductible donations from readers like you fund this critical work.
If you give today,your donation will be matched dollar-for-dollar.
Give + Get Matched
Featured Videos