Gov. Brian Sandoval delivers his State of the State address on Jan. 17, 2017. Photo by David Calvert.
Gun background checks group says Sandoval should act to implement stalled ballot question, no AG opinion needed
October 5th, 2017 - 12:43pm
Advocates for expanded background checks on private gun sales and transfers in Nevada say that no further analysis from the state's attorney general is needed and that Gov. Brian Sandoval should directly consult with the FBI and implement the stalled law ahead of threatened legal action.
Attorney Mark Ferrario — representing Nevadans for Background Checks, the group that backed the ballot question creating the law — said in a letter to the governor's attorney on Wednesday that there was "no need" for the governor to seek clarification from Attorney General Adam Laxalt's office over whether or not the state could implement the law.
"Simply put, there is no legal impediment to the governor acting immediately to implement the will of the people who approved this public safety measure," he wrote.
Ferrario also echoed an earlier threat that the group would seek legal action compelling the governor and state to follow through with the law if no action is taken by Oct. 9.
Although voters narrowly approved Question 1 in 2016 — requiring the vast majority of private-party gun sales or transfers to be done through a licensed firearms dealer and to first undergo a background check — Laxalt's office in late December declared the law essentially "unenforceable," citing an advisory from the Federal Bureau of Investigation that it would refuse to follow through with the ballot measure's requirement that the expanded background checks be conducted under the federal government's system as opposed to the state's.
Nevada is one of 12 "point-of-contact" states, meaning that normal retail gun sales rely on a state-run database for background checks as opposed to the FBI's system.
In an earlier statement, Sandoval spokeswoman Mari St. Martin said that the state's background check system is "more comprehensive" than the federal government's as it taps on more information than the FBI's database and said the governor was "committed" to keeping Nevada as a POC state.
Attorneys for Nevadans for Background Checks have argued that the approval of the ballot question in essence means voters have mandated that the state switch from a "full" to "partial" POC system, an action that likely requires action from the governor's office and would have the FBI oversee certain transactions — which the group says is practiced in nine other states.
"All that is required of the governor is that he engage directly with the FBI, confirm Nevada's choice of partial POC status, and take the steps necessary to implement the law," Ferrario wrote.
Sandoval's general counsel, Kathryn Reynolds, sent a letter to Laxalt's office on Wednesday requesting further clarification as to whether Nevada can change its background check procedure given the attorney general's earlier opinion did not mention the possibility of operating as a "partial" point-of-contact state.
Laxalt's office did not respond to requests for comment from The Nevada Independent. A spokeswoman told the Las Vegas Review-Journal on Tuesday that the office would reserve comment until officially receiving the request from the governor's office.
Letter to Adam Laxalt Re Question #1 by Riley Snyder on Scribd
Nevadans for Background checks letter to Gov. Brian Sandoval by Riley Snyder on Scribd
Reporter Megan Messerly contributed to this story.
INDY FAST FACTS
Adam Laxalt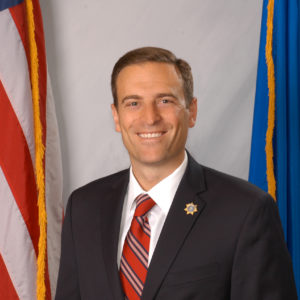 Job:
 Nevada State Attorney General
Party:
Republican
In current office:
2015-present
Birthdate:
August 31, 1978
Education:
Georgetown University (B.A.) Georgetown University Law Center (J.D.)
Other public offices held:
None
Total donations:
$8,262,050 (1/08/14 - 6/07/18)
Top donors:
Station Casinos/Zuffa/Fertitta $208,500 Las Vegas Sands $75,000 Marnell Properties LLC $42,500 Starpoint Resort Group/Partners $40,000 MGM Resorts $35,000
INDY FAST FACTS
Brian Sandoval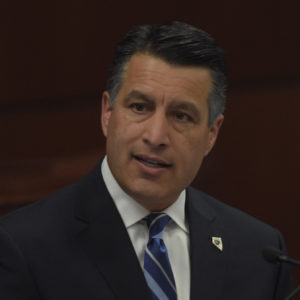 Job:
 Nevada Governor
Party:
Republican
In current office:
2011-present
Birthdate:
August 5, 1963
Education:
University of Nevada, Reno (B.A.) Ohio State University (J.D.)
Other public offices held:
U.S. District Court Judge (2005-2009) Nevada State Attorney General (2003-2005) Nevada Gaming Commission Chair (1999-2001) Nevada Gaming Commission Member (1998-2001) State Assemblyman, District 25 (1994-1998)
Total donations:
$5,035,808 (1/7/11 - 7/5/17)
Top donors:
Caesars Entertainment $245,000 Station Casinos $158,072 MGM Resorts International $160,000 Wynn Resorts $80,000 Marnell Properties LLC $70,000
From the Editor
The Nevada Independent
is a 501(c)3 nonprofit. We need help to attain the elusive goal of sustainability. We depend on recurring donations from you, the readers who believe in our mission of nonpartisan, transparent journalism. I know you are busy. I know you have many commitments. But if you would take a moment to
support our work
or bump up your current donation, I would be forever grateful.
Thanks for all of your support.
Best,
Jon Ralston
get our morning newsletter,
The Daily Indy
Stars & Struggles
Take a peek into today's education world through the lens of Sunrise Acres Elementary School in Las Vegas.
@TheNVIndy ON TWITTER