Heavy visitation during pandemic creates new worries for the Lake Tahoe basin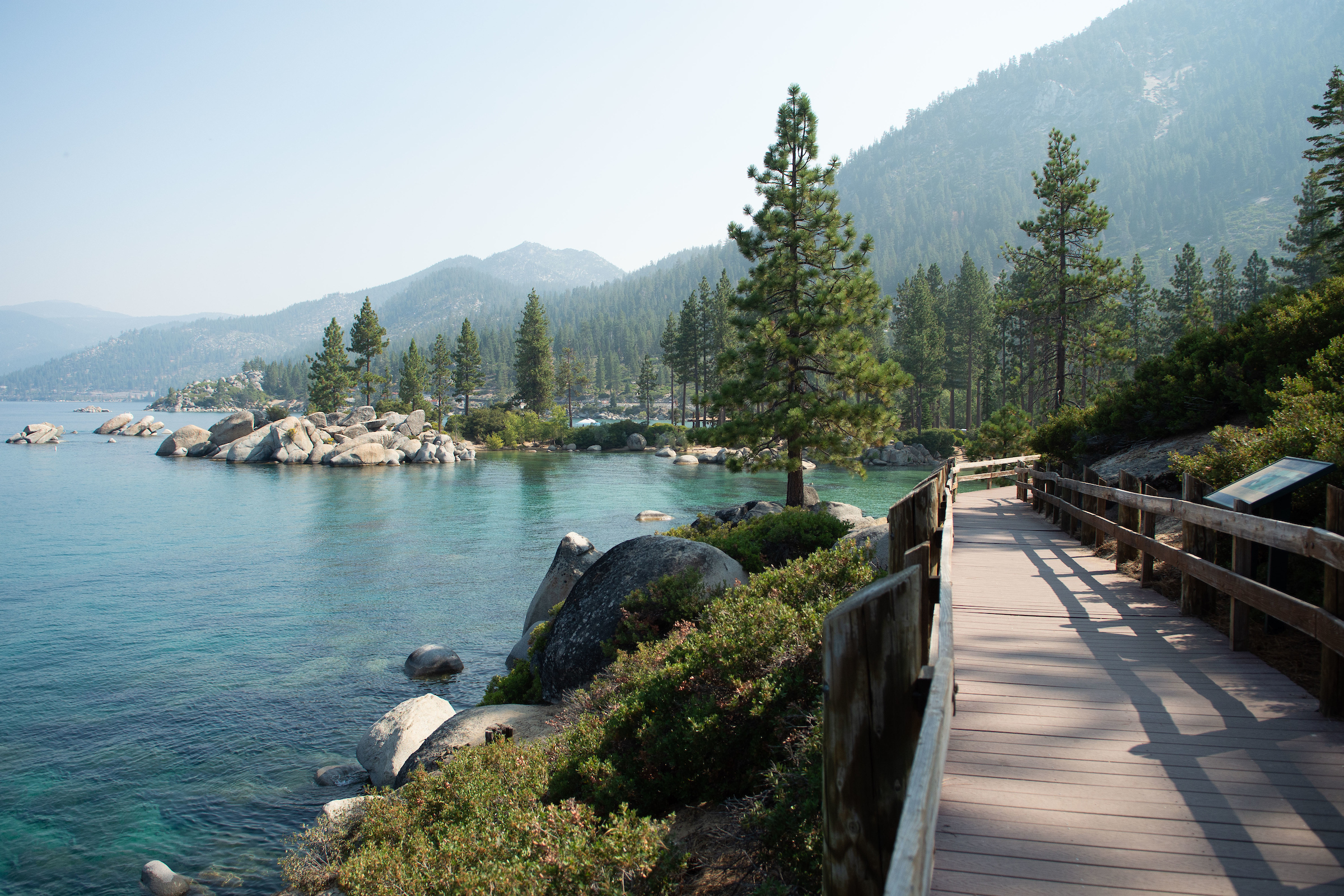 Often called the "jewel of the Sierra," Lake Tahoe offered warm solace for Nevadans this summer amid the crushing impacts of the COVID-19 pandemic, which has pushed people outside in greater numbers as the virus spreads more easily in indoor spaces.
The region saw more visitors in April as compared to the usual high season in July, according to a statement from Sen. Catherine Cortez Masto during the 24th annual Lake Tahoe Summit.
Nevada and California state leaders expressed concerns that the increase in visitor traffic, while economically stimulating, threatens to overwhelm the local community's infrastructure and ability to mitigate trash and pollution in the environmentally sensitive region.
The strain brought on by the pandemic combined with the looming threat of climate change threaten to jeopardize various community and bistate efforts to protect the region's environment and highlight the importance of sustainable outdoor recreation.
"This year is unlike any other year in our lifetime in defining what public lands means to American people," Pacific Southwest Regional Forester Randy Moore said at the annual Lake Tahoe Summit last week. "In light of the global pandemic the outdoors have become an oasis for many and brought tremendous numbers of new visitors to our national forest, especially in the basin. It is more important than ever that we manage the health of watersheds and forests around Lake Tahoe's communities as well as foster responsible and sustainable recreation of the public we serve."
A 2018 study for the Tahoe Prosperity Center reports the region sees as many as 24 million visitors each year and projected the total output of Tahoe's economy to be $5 billion in 2015, with the visitor-serving industry as the highest contributor to the local economy.
State leaders are addressing the impact of high visitor volume by investing in infrastructure projects to improve existing roads and transportation and decrease emissions.
With a handful of projects already underway — including the State Route 28 corridor, a similar proposed corridor for traffic around Emerald Bay and a loop road project in South Shore — Gov. Steve Sisolak underscored the need to create an option for visiting the lake that will not require the use of a personal vehicle.
Samantha Thompson with the Nevada Department of Conservation and Natural Resources confirmed there is "extensive collaboration" on building a transportation system that will take visitors "in and out" of the region as well as "within and around."
Cortez Masto also announced a pilot program that is scheduled to launch in summer 2021 to provide public transit from the Reno-Sparks area to Lake Tahoe.
"This exciting new pilot program by RTC (Regional Transportation Commission) Washoe will sustainably connect the Reno-Sparks community with Lake Tahoe, allowing Northern Nevadans to enjoy Tahoe while cutting down on traffic congestion and decreasing emissions," Cortez Masto said in a press release.
In addition to the infrastructure strains, high visitor volume also means more trash and more pollution, which threatens the surrounding wildlife, ecosystems and lake clarity.
Lake Tahoe lost eight feet of clarity last year after, following a 10-foot improvement the previous year, according to the University of California, Davis Tahoe Environmental Research Center.
Cortez Masto noted newcomers to the area "may not know how to move through it without leaving traces," and emphasized the importance in educating visitors about native wildlife and how to care for nature.
The increased visitor volume and trash frustrates some Tahoe locals who wrote "Not local? Not welcome!" on a sidewalk in Kings Beach earlier this summer and have even protested the overwhelming tourism with chants of "Pack it in, pack it out." Others told the San Francisco Chronicle they were tired of the overflowing trash and wanted the area to be treated with respect.
More recent protests in the Tahoe South Shore brought more pointed signs, as reported by the Tahoe Daily Tribune, reading "Welcome to a Covid hotspot" and "Overtourism is destroying Tahoe."
"Team Tahoe"
The health of Lake Tahoe and its surrounding environment and ecosystems have been a priority for state leaders since 1997 when then-Sen. Harry Reid invited President Bill Clinton and Vice President Al Gore to the Sierra Nevada lakeshore, marking the first Lake Tahoe Summit.
The inaugural summit created what Sen. Dianne Feinstein (D-CA.) called "Team Tahoe," a bipartisan and bistate partnership united by the common purpose of environmental preservation.
Since 1997, "Team Tahoe" has invested more than $2.4 billion into the lake, according to Feinstein. She pointed to more recent accomplishments during the virtual 24th annual summit, such as new pedestrian and bike trails, wildfire prevention efforts, stream and watershed restoration projects and road construction to prevent erosion and stormwater pollution.
Deocratic Sen. Jacky Rosen also highlighted legislation she has introduced or supported that contribute to the funding of Lake Tahoe's environmental projects, such as the Lake Tahoe Restoration Act, Stop the Spread of Invasive Mussels Act and a wildfire defense act.
Rep. Tom McClintock (R-CA.) applauded the Lake Tahoe West Restoration Project, which will treat almost 60,000 acres of land along the west shore from Emerald Bay to Olympic Valley in order to "restore resilience" to forests and watersheds threatened by wildfire, drought and insect and disease epidemics.
The Desert Research Institute is also spearheading research into the presence and effects of microplastics in the lake's water, which serves as a drinking water source for its surrounding communities.
Democratic Vice President nominee Kamala Harris also acknowledged the triumphs made by "Team Tahoe" throughout the decades.
"At its core, the Lake Tahoe Basin today serves as an example to the nation of how communities can work together to address the environmental challenges we face in this moment in time," Harris said at the summit. "Through your decades of tireless work, we've been able to improve the lake's clarity, revitalize the local economy and make the region a major source of environmental research."
Despite accomplishments, climate change threat persists
However, despite the milestones achieved to protect the Lake Tahoe basin, one persistent threat remains, summit participants said — climate change.
"Yet, there's still so much more to be done, including facing a climate crisis that is banging on our doorstep and threatening the future of our nation," Harris said. "And make no mistake — this crisis will test the resilience of Lake Tahoe on everything from invasive species to wildfires."
Most state leaders present during the virtual summit expressed concern regarding the effects of climate change in the region, many of which are already felt by the community.
"Climate change is already having a profound effect on this lake and it threatens to roll back much of our progress," Feinstein said. "It's allowing invasive species to thrive, it's killing off trees, it's cutting off the snowpack and it's reducing water clarity in the lake."
McClintock added that the "megafires" that have ravaged the Sierra Nevada region in the past decade are "shouting a warning at us here in Tahoe today."
Sisolak announced the State of Nevada Climate initiative last week designed to further advance state efforts to address the issue, which includes a website, ClimateAction.nv.gov, to serve as the state's first online climate resource.
"For the sake of our future, and our children's future, we must take bold action to stem the negative impacts of climate change while moving quickly to capture the economic benefits of creating sustainable communities throughout Nevada," Sisolak said in a press release.
The website resource seeks to foster public engagement and input from state residents in order to inform and guide climate action and includes a public survey the governor's office encourages residents to fill out.
The issues hit close to home for two-time freestyle skiing Olympic gold medalist and Tahoe local David Wise.
He likened the environmental situation in Lake Tahoe to an Olympic competition where he was being scored on the best of three ski runs and lost a ski during the first two runs. The last run was his final shot at winning a medal — and he did. Wise called it the best run of his career.
"We're kind of on the third of our best of three run format," Wise said. "Nature is resilient and Tahoe has put up with a lot of the abuse that we put it through. And our climate in general has put up with a lot of our crap. But we also have to put our skis back on and we have to land that last run … from a personal level, all the way through a systematic policy level, we have to make changes that are going to be good for both the place we live on a local scale, all the way up to the place we live on a planetary scale. We have to do better, and we can do better."
The Nevada Independent is raising $200,000 by Dec. 31 to support coverage of the 2024 election.
Tax-deductible donations from readers like you fund this critical work.
If you give today,your donation will be matched dollar-for-dollar.
Give + Get Matched
Featured Videos