Heller targets Rosen for her support of the Iran nuclear deal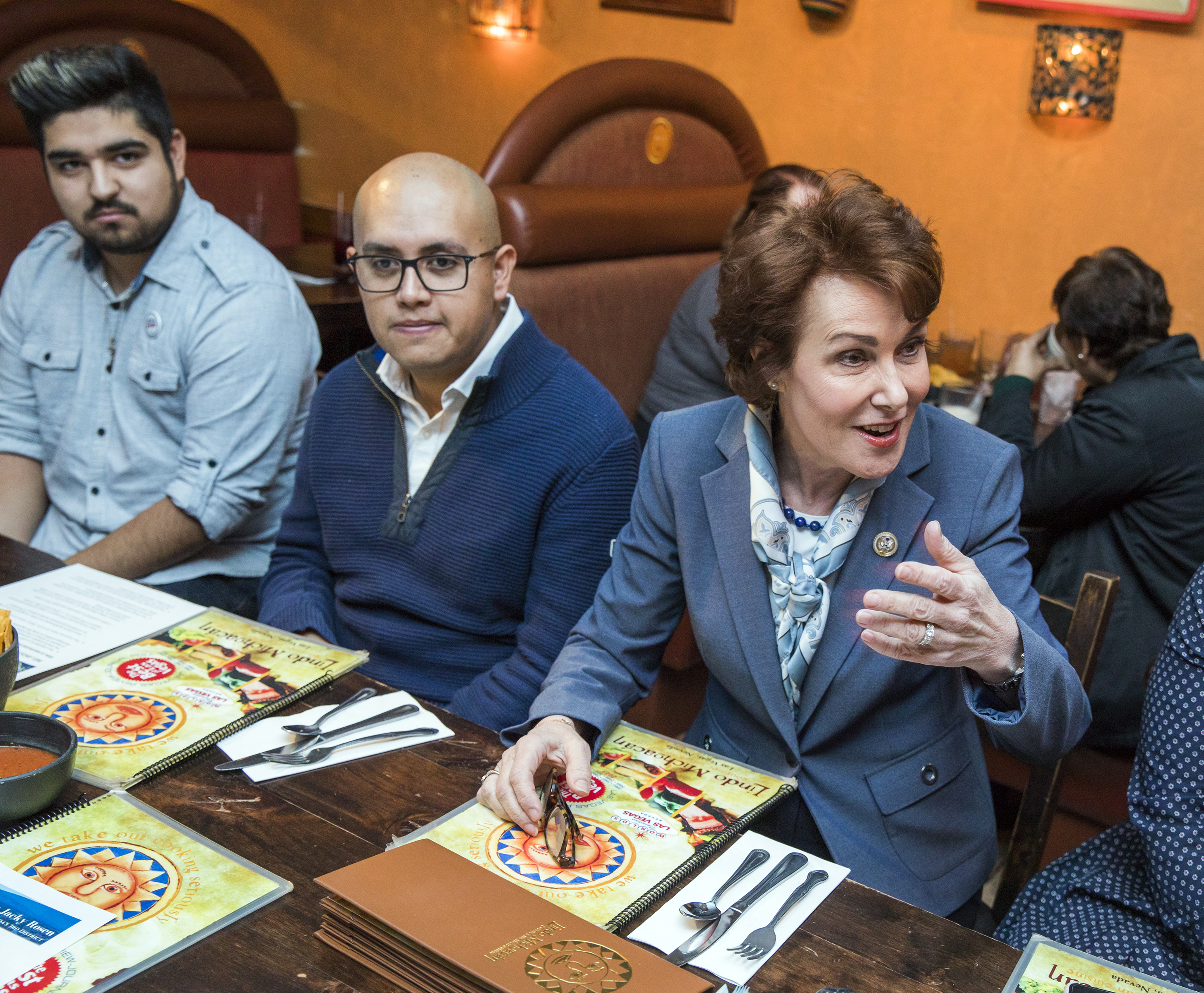 The 2015 deal struck with Iran to curb its nuclear weapons program is getting attention in the Senate race, with Sen. Dean Heller targeting Rep. Jacky Rosen, his likely opponent in the November general election, as soft on Iran and not standing with Israel.
"Who does Jacky Rosen stand with? Iran ... or #Israel? Based on her record of supporting the #IranDeal, we all know the answer. #nvsen," Heller said in a tweet posted Tuesday.
That tweet followed one from Monday when Heller said: "The #IranDeal was a sham that never empowered the United States and only put our allies in danger. Still, Jacky Rosen:
1. Supported the Iran Deal 2. Said it would be 'risky' to decertify the deal 3. Co-signed a letter to Pres. Trump asking him to continue the deal."
Rosen's campaign took offense that Heller would cast Rosen, who is Jewish, as against Israel and in league with Iran, citing her activism in the Jewish community as president of Congregation Ner Tamid in Henderson.
".@RosenforNevada is the former president of NV's largest synagogue - she has a strong record in Congress of supporting Israel & holding Iran accountable. Desperate accusation that Jacky doesn't stand with Israel is false, pathetic & offensive - @DeanHeller should apologize #NVSen," communications director Stewart Boss tweeted Tuesday.
Boss also pointed to a tweet from an account that Heller follows that used an anti-Semitic epithet in reference to Rosen.
Heller's congressional office and re-election campaign declined to comment for this story.
The Nevada Republican's push on the Iran deal plays on the fact that the accord was an issue for Rosen in 2016. It also looks to tap into the energy generated by Trump's muscular outlook on national security, a topic traditionally popular with the GOP base, including the momentum created by upcoming talks with North Korean dictator Kim Jong Un and the prospects of mitigating the nuclear threat posed by the hermit kingdom.  
During Rosen's first campaign for the 3rd Congressional District seat in 2016, she was attacked by Republicans for shifting her position on the Iran deal. She told reporters in April 2016 that President Barack Obama had "made the best deal that he could at the time."
"Being a private citizen when all that happened, you can only know what you know from TV and the newspapers, but right now it is what we have to work with," Rosen said. "I absolutely think that we cannot trust Iran. We have to be sure that we hold their feet to the fire in every instance. We need to be sure that we keep shining that spotlight. They're some of the leading sponsors of terrorism."
Later, in May 2016, she struck a more critical tone, noting that she would have voted against it had she been in Congress at the time.
"I don't think I would have voted for it because I'm not sure we can hold their feet to the fire, I'm not sure I would have wanted to unfreeze all billions of dollars in assets that's going to happen," she told Jon Ralston, then a TV host and now founder and editor of The Nevada Independent.
Republicans, at the time, said that Rosen had flip-flopped on the issue. Politifact ruled that the GOP attack was half true. The GOP has picked up on the argument again in 2018.
"Jacky Rosen's flip-flops on the Iran Nuclear Deal make it clear she can't be trusted to make our nation's foreign policy decisions and is unqualified to serve in the U.S. Senate," said Michael McAdams, spokesman for the National Republican Senatorial Committee, the campaign arm of Senate Republicans.
But Rosen's camp disagrees and contends she's been consistent, noting that she wouldn't have voted for the JCPOA if she were in Congress at the time, but since the deal has been enacted, the focus now should be on robust enforcement.
In a statement provided by her campaign, Rosen signaled her support for the deal, also known as the Joint Comprehensive Plan of Action, or JCPOA.
"The threat of a nuclear-armed Iran cannot be underestimated, and anything less than the end of the Iranian nuclear program is unacceptable," Rosen said. "Now that the JCPOA has been agreed to, it needs to be robustly enforced. There's broad consensus in the national security and intelligence communities that withholding certification or withdrawing from the JCPOA without evidence of a material breach would harm our global alliances, embolden Iran to continue its pre-deal nuclear development activities, and threaten our national security. I will continue to hold Iran accountable for its support of terrorism and ensure Iran does not develop a ballistic missile or nuclear program with the potential to threaten the U.S. and Israel."
The campaign also pointed to actions that Rosen has taken in favor of Israel and against Iran, including legislation she introduced with Rep. Doug Lamborn, a Republican from Colorado, that authorized $705 million in funding for Israel's anti-missile defense systems, which was signed into law as part of the defense authorization bill. The measure was the second bill Rosen introduced.
In December, Rosen was one of only 23 Democrats to vote for a bill approved by the House that would require the Treasury Department to certify that sales of commercial aircraft to Iran don't facilitate terrorism or money laundering, helping to ensure that American-manufactured aircraft are not used for illicit purposes.
She also crossed the aisle to vote for legislation that would require the Treasury to report to Congress on the assets held by Iran's senior political, religious and military leaders, in order to help ensure that sanctions relief is helping the Iranian people, not merely enriching its leaders. The measure was approved by the House in December with only 56 Democrats voting in favor of the bill.
Rosen recently co-sponsored legislation that would impose additional sanctions with respect to Iran's Revolutionary Guard Corp.
The back-and-forth comes as a May 12 self-imposed deadline looms for President Donald Trump. That is the date the president set for America's European partners to come up with ways to strengthen the accord, saying if they didn't, the U.S. would re-impose economic sanctions on Iran and abandon the deal.
Trump doubled down on this threat to leave the Iran deal on Saturday. "Horrible," Trump said of the deal in his campaign-style rally in Washington Township, Michigan. "One of the worst deals. How could you make a deal like that."
And Heller, who has opposed the deal and voted to prevent it from moving forward, is seeking to capitalize on the attention Trump has brought to the issue by echoing the president's disdain for the deal and calling out Rosen for supporting it.
The move allows Heller to ally himself with Trump, which will help keep the Republican base energized and more likely to show up to vote in an off-year election. It also could appeal to some Jewish voters who oppose the deal.
Heller, who is seen as one of the most vulnerable Senate incumbents of the 2018 election cycle, is the only Republican senator up for re-election from a state that Hillary Clinton won in the 2016 presidential election. More than 70,000 Jews live in Nevada and the state's Senate race is expected to be decided by a slim majority.
Rabbi Bradley Tecktiel of Midbar Kodesh Temple in Henderson said that while the Nevada Jewish community skews slightly toward Democrats, it reflects the community at large with some who oppose the deal and some who support it. Tecktiel suggested that campaigning on the issue may help energize base voters, but it's unlikely to win over votes from the opposing camp.
"We're not a monolithic community," Tecktiel said. "It's not going to affect how Jews in Nevada vote for either one of them. The people that were for it are going to vote for Rosen and the people that were against it are going to vote for Heller. That's the bottom line. Nether one is going to change anybody's mind."
The Nevada Independent is raising $200,000 by Dec. 31 to support coverage of the 2024 election.
Tax-deductible donations from readers like you fund this critical work.
If you give today,your donation will be matched dollar-for-dollar.
Give + Get Matched
Featured Videos