Heller's best move on Yucca may be his tough re-election, according to Amodei, Titus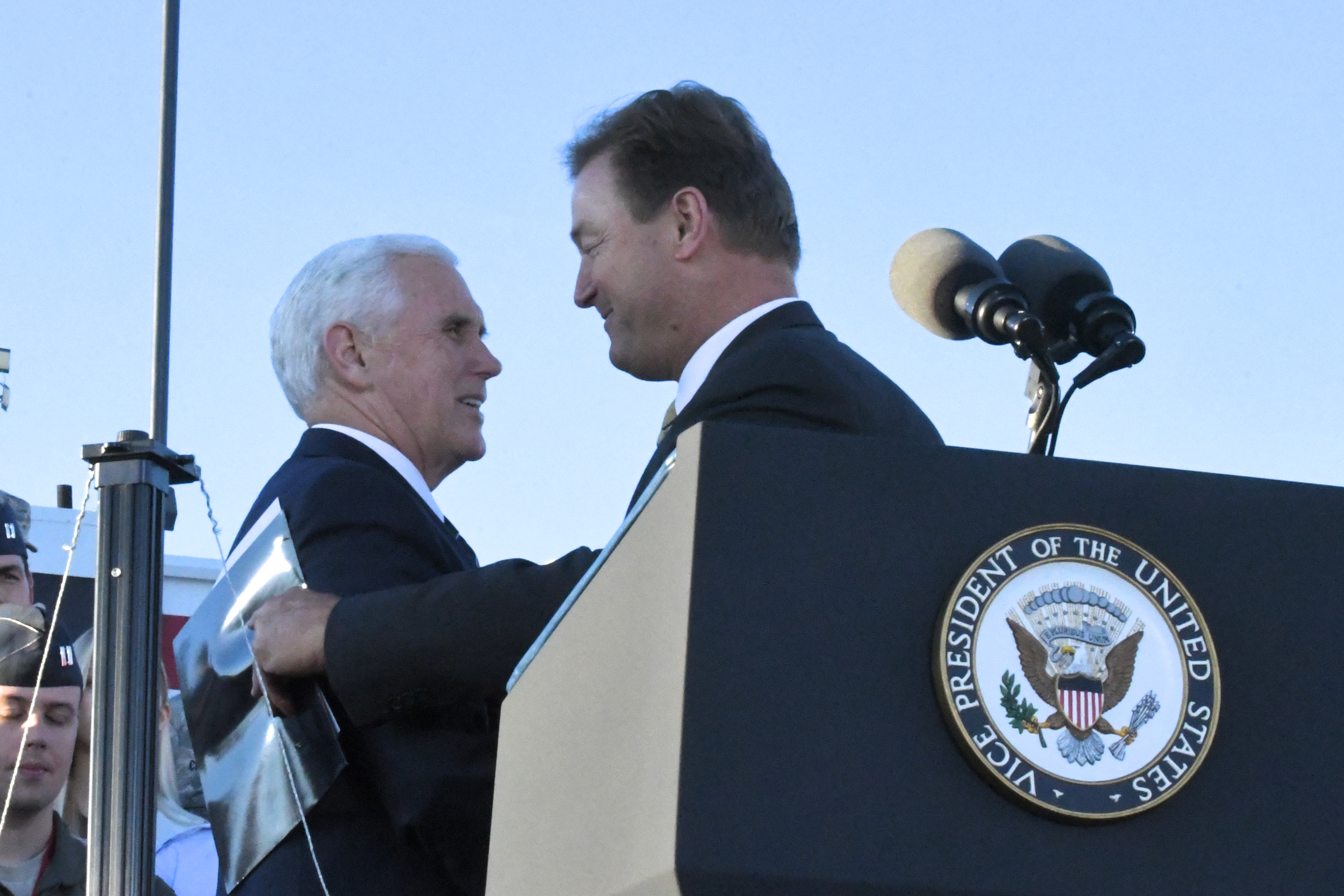 Sen. Dean Heller Wednesday underscored his pledge to prevent federal funds from going to build the Yucca Mountain nuclear waste project, but it's his vulnerability on election day that will likely scuttle the plan for this year, according to two members of Nevada's delegation.
At a hearing convened by the Senate Commerce, Science and Transportation Committee, Heller told Energy Secretary Rick Perry that just like the last fiscal year, despite requesting $120 million for Yucca in the White House budget, no funds were provided by Congress. "That language will also be removed" in the 2019 federal budget, he said.
But Heller's best defense with regard to Yucca could be his own hotly-contested election, according to Rep. Mark Amodei, a Republican, who believes study of the project should continue to be funded.
Amodei said Wednesday that the issue is likely dead until after Heller's election as Senate Majority Mitch McConnell would keep the issue off the Senate floor in order to protect Heller from losing a vote on Yucca, which would need 60 votes to overcome a filibuster.
"I don't think, when you've got a Nevada senate seat in a tight race, that the Senate is going to be doing Yucca because if [McConnell] thought he had the votes to kill it, then I would assume they would schedule it and let Sen. Heller be a hero," Amodei said.
Rep. Dina Titus, a Democrat and an opponent of the project, agreed that Heller's difficult election could keep Yucca off the Senate floor.
"It may be our best chance," Titus said.
An effort in the House to pass a bipartisan bill, opposed by Titus and Heller, to restart the Yucca project, introduced by Rep. John Shimkus, an Illinois Republican, remains tied up over an issue with the House Appropriations Committee, which wants the funding to be part of the annual appropriations process rather than provided without any committee input.
Heller must perform a delicate dance in his reelection bid in a state that President Donald Trump lost. The Nevada senator must defend himself against his GOP primary opponent, Danny Tarkanian, who has argued that Heller has not sufficiently supported Trump, while at the same time not turning off moderates whose support he will need to win the general election.
He has embraced the Yucca issue in a way similar to how former Sen. Harry Reid proudly wore the of anti-Yucca crusader mantle.
Congress settled on Yucca Mountain, about 100 miles northwest of Las Vegas, as the location for the nation's nuclear waste repository in legislation passed in 1987. At the time, the state's delegation did not have the seniority to prevent legislation from being enacted.
But once he ascended to leadership, Reid fought to keep the project from being funded, including winning over President Barack Obama, who did not include funding for Yucca in his budgets.
Trump has not spoken publicly about his views on Yucca Mountain and the initial decision to include $120 million for the project in the president's fiscal 2018 budget was made by Office of Management and Budget Director Mick Mulvaney, according to the Las Vegas Review Journal.
When asked if he participated in the decision to fund Yucca in the 2018 budget proposal, Perry said "Yes sir. When I took the oath of office, I held my hand up and said that I was going to follow the rule of law and defend the Constitution and it is the statutory responsibility for the secretary of energy to follow the law. And the law tells us that that's what we're going to do, is to go through with that licensing process, nothing more, nothing less."
Other members of Nevada's congressional delegation have also helped hold the line in Yucca. Along with Titus, Rep. Jacky Rosen, a Democrat and Heller's likely general election opponent, and Rep. Ruben Kihuen, who represents Yucca in Congress, have all taken steps to help keep Yucca from moving forward, including making speeches on the House floor and writing letters to urging the Appropriations Committee to not fund the project. Sen. Catherine Cortez Masto, a Democrat, is also an opponent.
After debating with Perry, Heller appealed to Transportation Secretary Elaine Chao, who was one of five members of Trump's cabinet to appear before the committee, over the potential danger of shipping nuclear waste over the nation's road and rail systems.
"The federal government is looking at shipping 9,495 rail casks in 2,800 trains, and 2,650 trucks hauling one cask each to Yucca Mountain over the next 50 years," Heller said in front of a map he brought to the hearing showing the routes. "These shipments would use 22,000 miles of railways, 7,000 miles of highways, crossing over 44 states and a population of about 175 million people. In your opinion does that look safe to you?"
Chao did not answer the question, noting she was not too familiar with the issue. She said she would follow up with the Federal Railroad Administration and Pipeline and Hazardous Material Safety Administration. "Obviously this is an issue of great concern to you and I want to be responsive," she said.
The hearing comes after Robert Halstead, the executive director of the state's Agency for Nuclear Projects, wrote to Nuclear Regulatory Commission (NRC) Chairman Kristine Svinicki seeking the details of a recent meeting between the NRC and Nye County officials, the county where Yucca Mountain is located.
Nye County officials—including Dan Schinhofen, vice-chairman of the Board of Nye County Commissioners—have been vocal supporters of the project, while other state officials, including Halstead and Governor Brian Sandoval, oppose it.
The NRC, which oversees the dispute over Yucca, notified the parties involved of the March 5 meeting, after it took place, and noted that "The Chairman did not engage in discussion during the visit about any of the adjudicatory challenges to the license application pending before the agency."
Despite the NRC's assurance, Halstead still has concerns.
"Nevertheless, reasonable persons would be justified in wondering why (1) the other parties in the adjudicatory proceeding could not have been notified in advance of the meeting and (2) why Nye County would want to meet with you for any reason other than to discuss the pending application (such a reason could have easily been identified in the memorandum)," he wrote in his March 12 letter.
Among the details Halstead is asking for include who attended, why and when was it agreed to hold the meeting, why weren't other parties notified of the meeting, what was discussed and were any promises or commitments made.
Titus said that she believes that the Nye County officials need to be called out.
"You can't let them get away with that kind of stuff, secret meetings," she said. "They know themselves, that's against the rules."
Kihuen said "it's deeply troubling that the Nuclear Regulatory Commission chairperson would meet behind closed doors with representatives of my county when she will be overseeing the adjudication process to permanently store nuclear waste at Yucca Mountain if it were to move forward."
"I believe this chairwoman should have consulted us, the delegation, both Republicans and Democrats who are opposed to bringing nuclear waste to Nevada," Kihuen said. "I believe we would have given her a more consistent voice with Nevada's opinion on nuclear waste coming to Yucca Mountain."
Asked if he had any response to Halstead's letter, Amodei said "I guess he's doing his job."
Comment Policy (updated 4/20/2021): Please keep your comments civil. We reserve the right to delete comments or ban users who engage in personal attacks, use an excess of profanity, make verifiably false statements or are otherwise nasty. Comments that contain links must be approved by admin.