Horsford, Peters spar over federal spending, abortion in pair of congressional debates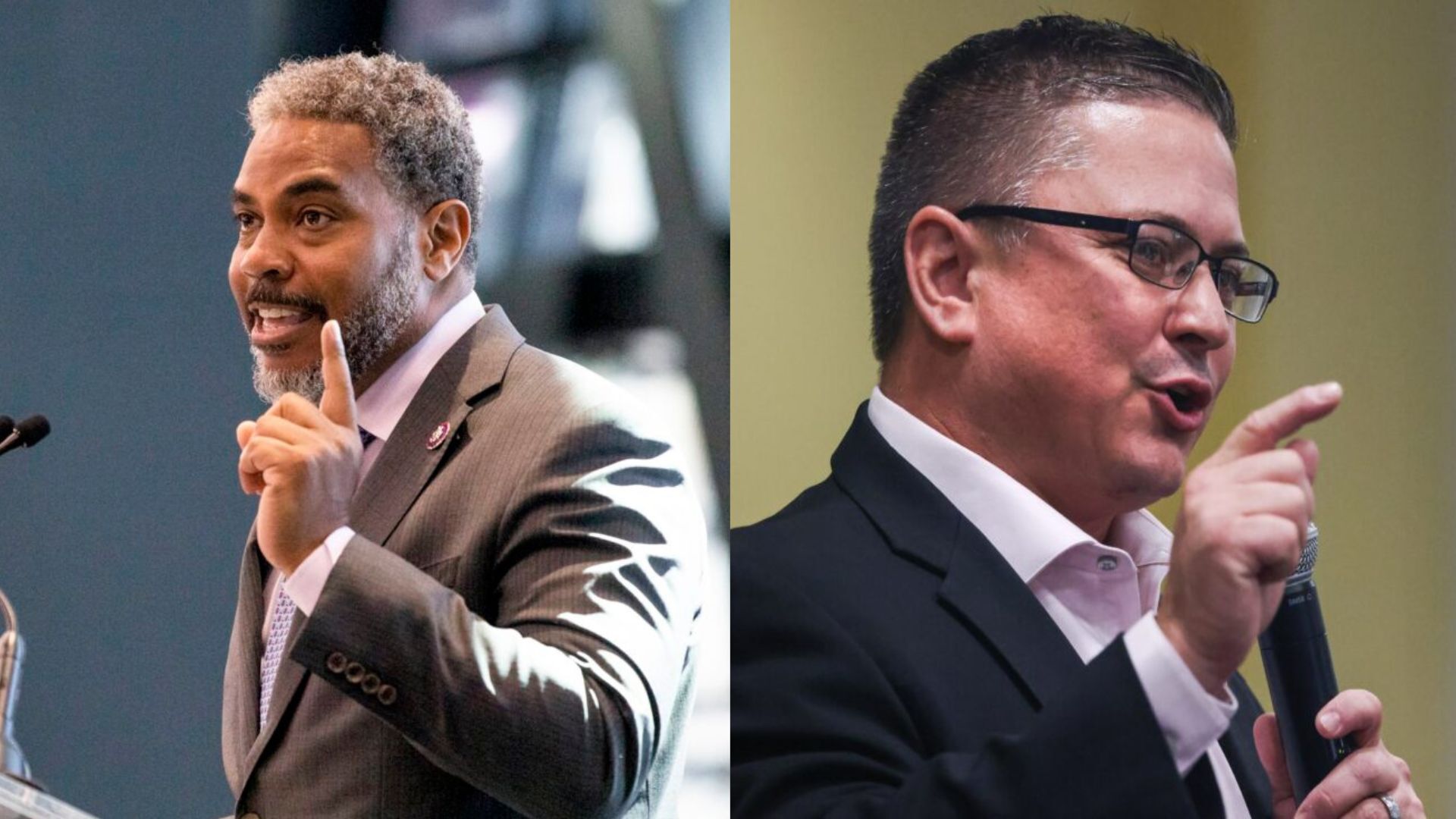 In a pair of wide-ranging, hour-long debates over the past week, the candidates vying to represent Congressional District 4 — Democratic Rep. Steven Horsford and Republican Sam Peters — exchanged opposing views on federal spending and inflation, abortion and elections.
But the debates turned combative at times. In one debate hosted Monday night by Vegas PBS and KNPR, the two candidates often spoke over one another, pressing each other with questions. Peters attacked Horsford, calling him a "rubber stamp" for Democratic President Joe Biden, while Horsford sought to frame Peters as an ardent supporter of former President Donald Trump and a lock to vote for a national abortion ban.
Peters pushed back on Horsford's comments, saying he would defend Nevada's law protecting abortion access up to 24 weeks, though he incorrectly said those protections were enshrined in the state Constitution. In 1990, Nevadans voted to protect abortion in statute, meaning any change would also have to come from a vote of the people.
"I am a pro-life candidate. That doesn't mean I'm anti-abortion, and it doesn't mean I want to ban abortion in all cases for all reasons," Peters said. "The people's will is 24 weeks. There are exceptions for life of the mother, incest and rape. I have always been supportive of those exceptions."
Peters said he would not vote for a national ban on abortion. But according to his website, Peters would, if elected, "re-introduce and sponsor … the Pain-Capable Unborn Child Protection Act," a measure that would criminalize abortions performed past 20 weeks.
On abortion, Peters repeatedly questioned whether Horsford was supportive of allowing abortions in the third trimester, which lasts from about 28 weeks through 40 weeks of pregnancy. Horsford said he would not vote to ban abortions in that time frame, pointing to extreme cases in which a pregnant person may be dealing with a "very serious or threatening pregnancy."
"I don't want anything to take away a woman's right to make that decision with her doctor. It's not my job to decide what that is," Horsford said.
The two candidates also clashed on federal spending and inflation, as Horsford defended his votes on major federal spending bills, including the American Rescue Plan and Inflation Reduction Act.
Peters criticized Horsford's support for those bills, arguing that they contributed to inflation. Facing questions from Horsford about his use of funding from such bills, Peters, who owns an insurance firm, acknowledged his own receipt of a Paycheck Protection Program loan, which allowed him to pay his employees during the pandemic and which was forgiven in its entirety.
"Horsford is a rubber stamp for Joe Biden, and if he continues to have this seat going forward, the inflation, the gas prices, they're not coming down," he said.
Horsford pushed back by highlighting other causes of inflation, which national economies across the world are facing. He also said he was fighting to hold big oil companies accountable, as they continue to bring in profits amid a period of surging gas prices.
"We are experiencing the worst global pandemic in my lifetime. We are experiencing supply chain disruptions like we've never seen. It's not limited to the United States. It's all around the world. And we are seeing a level of corporate greed that has exacerbated the problem," Horsford said.
Horsford also pressed Peters on his connections to Trump, highlighting Peters' attendance at a Trump rally in Northern Nevada over the weekend, and saying he supported the former president's false claims about the 2020 election.
Peters responded by saying that in March 2021, he told the New York Times that he believed Biden was the duly elected president. But he has echoed false claims about the election on social media. In December 2020, he tweeted "@realDonaldTrump won," and tweeted "Trump won Georgia. And likely NV."
Still, the two candidates found some common ground on the issue of water. Both expressed support for desalinization, a way of removing salt from water, as a long-term solution for addressing water shortages in the Southwest.
In the first debate between the candidates, hosted by 8 News Now, Horsford and Peters also discussed immigration, marijuana and more, the Las Vegas Review-Journal reported.
Though the few public polls on the District 4 race have indicated a near-even battle between Horsford and Peters, the nonpartisan Cook Political Report recently shifted its rating of the race from "toss-up" to "lean Democrat."
Peters is also receiving less support from outside spending groups pouring money into other Nevada races. Neither the NRCC nor the Congressional Leadership Fund (CLF), a super PAC aligned with House Minority Leader Kevin McCarthy (R-CA), are spending to support Peters, Axios reported. That decision comes as the CLF has launched ads in the past week supporting Republican nominees for Congressional Districts 1 and 3.
Editor's Note: This story appears in Indy 2022, The Nevada Independent's newsletter dedicated to comprehensive coverage of the 2022 election. Sign up for the newsletter here.