How a Vegas nonprofit is tackling the housing crisis through home rehabilitation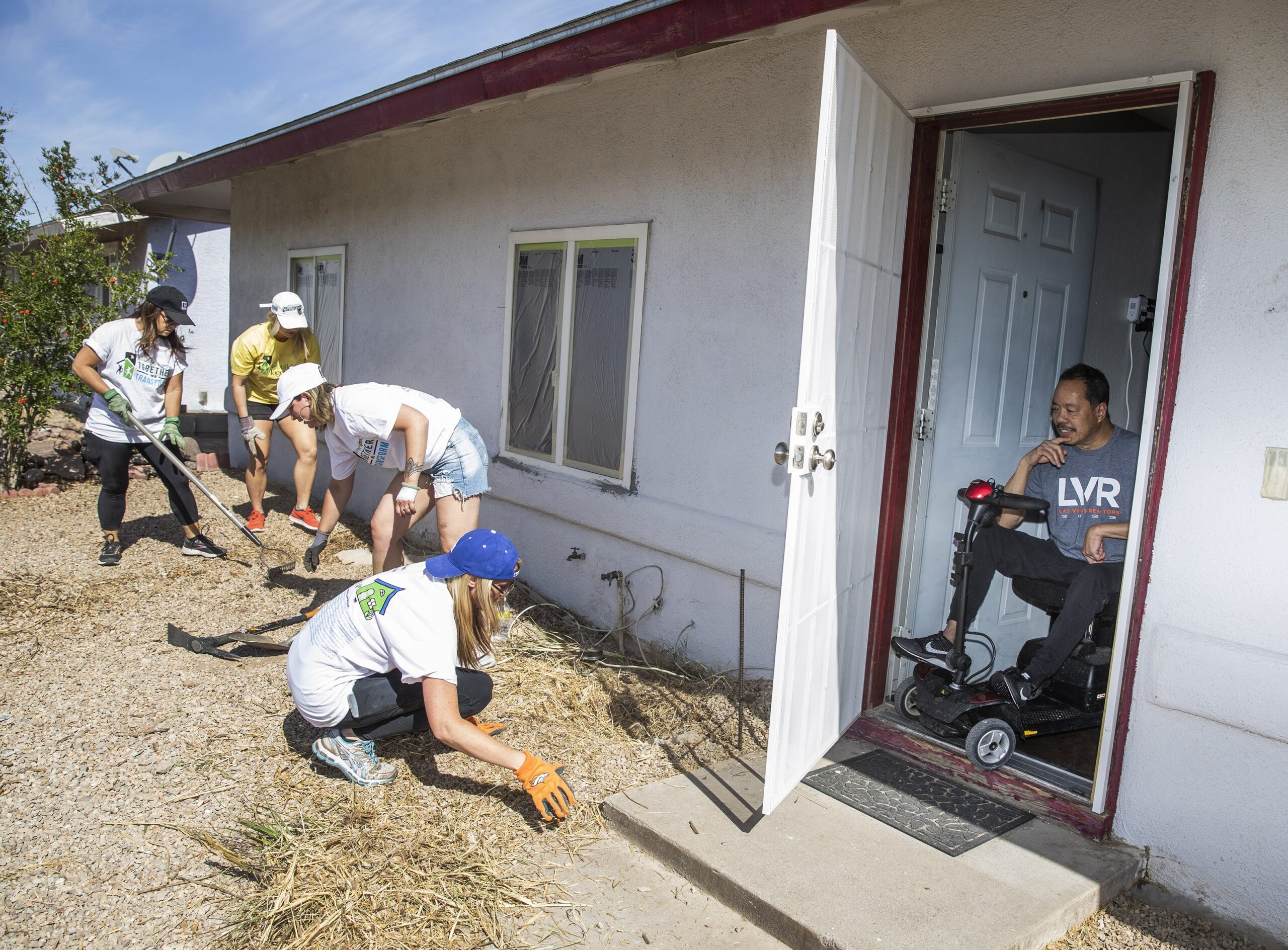 After a stroke that left him using a wheelchair, 62-year-old Michael Chin-Sang retired from his job as a civil engineer in Southern California and moved to Henderson five years ago.
But almost three years into living in his new place, Chin-Sang started having plumbing issues and sewage backups that he could not afford to fix.
"The piping was so bad that all the paths and piping were deteriorating. They had to gut out the whole house and replace it with all new piping," he said. "I could not afford it."
He had homeowners insurance, but the home was too old to be covered by the policy. Chin-Sang faced the dilemma of moving out or accruing debt he would never be able to pay back.
"It was not livable … It was so terrible, it was just like a nightmare," he said.
Stressed and fearing what would happen next, he made a last-ditch effort to get help from a source a friend recommended — Rebuilding Together Southern Nevada.
To his relief, the organization replaced the plumbing and upgraded the house to accommodate Chin-Sang's disability, working around his schedule so he did not have to pay $60 to $100 to stay in a hotel while the estimated $35,000 worth of repairs took place.
"I'm not even thinking about moving," he said. "There's a lot of people that are probably in this situation I'm in or even worse. I wish that they would know more about this problem."
The executive director of Rebuilding Together, Bob Cleveland, said Chin-Sang's story is not uncommon. Each year, the nonprofit organization takes on critical home repair projects for low-income homeowners, people with disabilities and seniors, working on about 300 to 500 homes with the help of contractors and volunteers. Their efforts are funded through donations, as well as by federal and local governments, but could soon be super-charged through the influx of millions of dollars in American Rescue Plan funding that state leaders have earmarked for affordable housing projects.
Cleveland said the nonprofit targets homes with critical needs such as air conditioning, running water, heat and accessibility. Residents own many of the homes outright, or are making affordable payments, but don't have the money to make needed repairs to remain safe and healthy, he said.
"Having a safe and healthy home to live in affects everything," Cleveland said. "Our average client lives off of $16,000. Asking him to put $10,000 into a roof or air conditioner is not happening … Wages have gone up, inflation has gone up … our low-income seniors aren't getting a raise."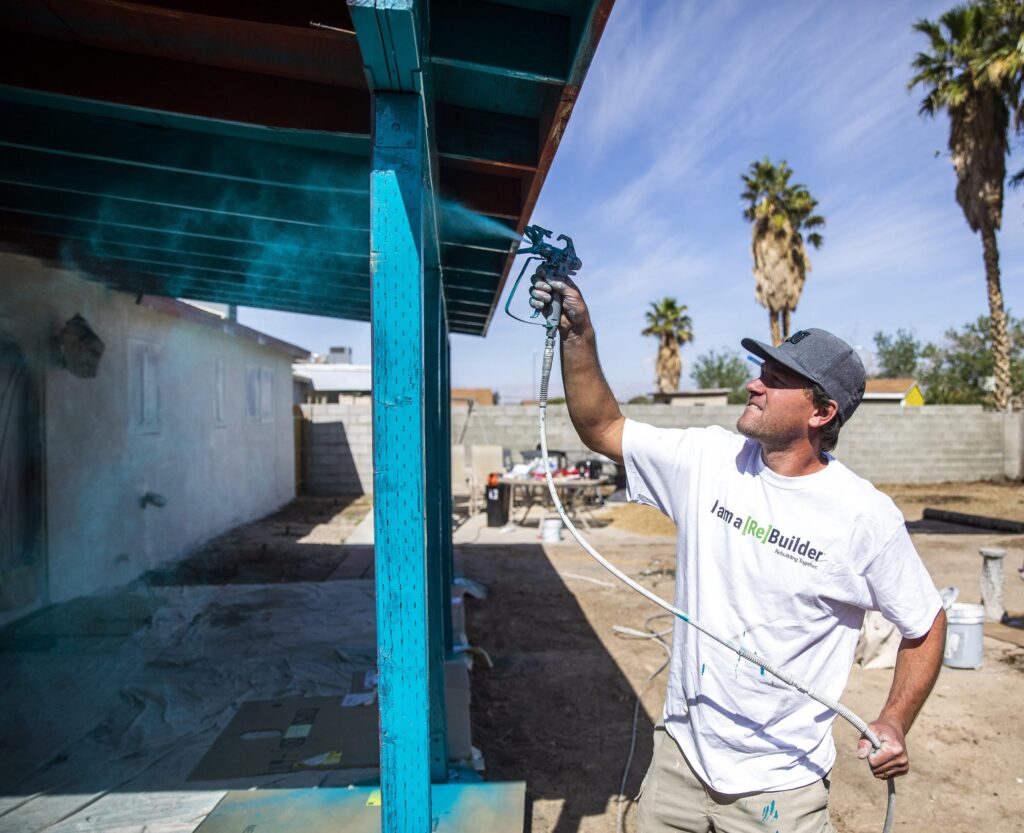 Expanding with the help of American Rescue Plan funding
Rebuilding Together began in 1973 in Midland, Texas, with a volunteer group that went out every April to help repair low-income senior homes.
As the group grew and received funding, its goal changed from just volunteer work to applying for federal funding and focusing on critical repairs.
The organization established affiliates across the U.S., including Rebuilding Together in Southern Nevada in 1994. Since then, the Southern Nevada affiliate has renovated more than 7,800 homes and helped about 14,000 homeowners and residents.
Typically funded through a combination of government grants and private donations, the organization saw growth in funding during the COVID pandemic as governments funneled dollars to help those affected by COVID, including programs to assist low-income seniors sheltering in place.
So far, Rebuilding Together in Southern Nevada has received $3 million in American Rescue Plan dollars from Clark County geared toward critical home repairs and has several grants awaiting approval from the state:
$2 million in funding for critical home repairs, which would serve Pahrump and rural cities in Clark County, as well as fill any gaps in funding in the larger municipalities in Clark County
$3 million in trip and fall prevention grants, targeted to seniors who have had a fall that led to a hospital visit.
Cleveland is hoping the state will also approve $20 million in ARP funds to purchase existing homes the organization can rehabilitate, own and keep on the market as affordable rental housing.
The organization also requested $1 million in ARP funding from the City of North Las Vegas and $4 million from Clark County for the same purpose.
"We know that this money right now is a generational funding source. It's not going to happen again," Cleveland said. "We're going to try to kill as many birds as we can with one stone with these grants and hopefully we can do our part to stop the affordable housing crisis."
Usually, when a nonprofit organization or business entity builds or acquires rental properties with affordable housing tax credits or other sources of affordable housing funding, they must keep them affordable for a 10-15 year period. Then, they can sell or rent the properties at the market rate. But Southern Nevada Rebuilding Together put it in its bylaws that as long as it owns a property, it must be kept as affordable housing.
"We're going to purchase as many of those items as we can, get them cleaned up and on the market for low-income renters," he said. "That rental income will also eventually turn into program funds so we can become self-sufficient."
So far, the organization has purchased one fourplex in Henderson that will house low-income renters with a preference given to female veterans.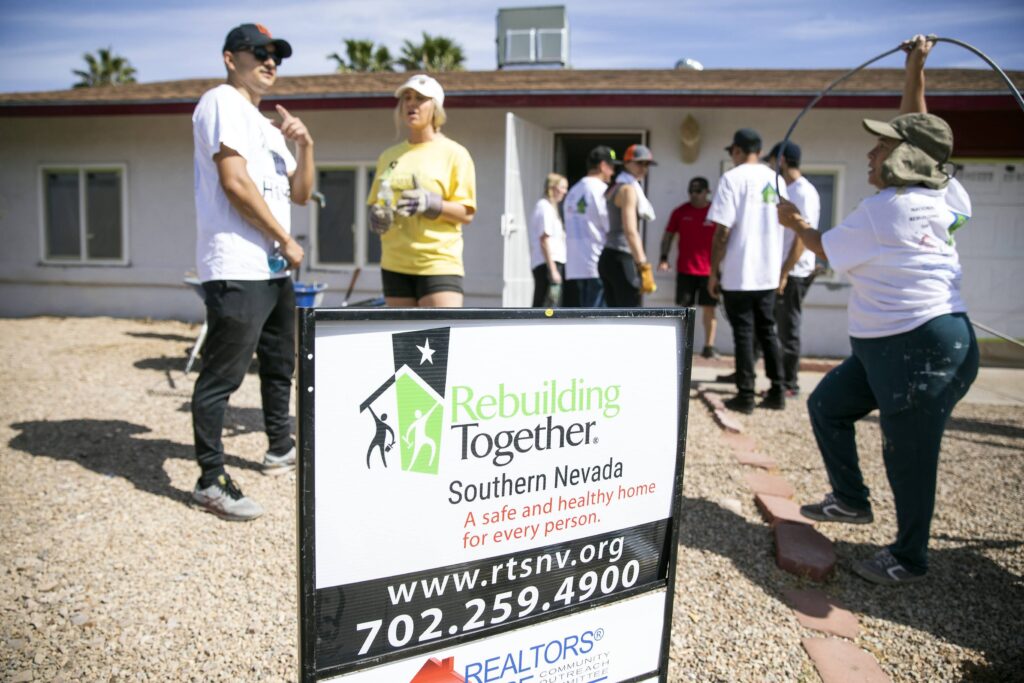 When will the money arrive?
The state is still processing and disbursing funding from the nearly $7 billion sent to Nevada through the federal American Rescue Plan (ARP) last year.
As of June, lawmakers have roughly $1.1 billion remaining in unobligated American Rescue Plan funds — about 41 percent of the state's original share — to allocate for use by the end of 2024.
Nevada Housing Division Administrator Seve Aichroth said the division is processing about 180 pre-applications requesting funds from the $250 million lawmakers earmarked in April to build, preserve and develop affordable housing.
So far, Aichroth said the housing division has received about $2.5 billion in requests through the program, and is coordinating funding with local governments on similar housing projects.
As Cleveland and his team wait to hear back about the funding requests, they are not slowing down. They helped open a branch in Northern Nevada almost a year ago. For the organization's annual April Rebuilding Day, hundreds of volunteers gathered to conduct property and yard cleanup and perform other accessibility modifications on 17 homes in Southern Nevada, including Chin-Sang's property.
"The last few years have underscored the importance of having a safe place to call home," Cleveland said. "The critical repairs being made in April and year-round are vital to improving the health and safety of our clients, who are often faced with diminishing resources and must choose food and medicine over costly home repairs."
Chin-Sang added that there was no way he could have done the work alone and hoped that others in his position could receive the same assistance.
"With all that construction that went on, all the exterior painting and landscaping, I mean, I couldn't ask for anything more," he said.
The Nevada Independent is raising $200,000 by Dec. 31 to support coverage of the 2024 election.
Tax-deductible donations from readers like you fund this critical work.
If you give today,your donation will be matched dollar-for-dollar.
Give + Get Matched
Featured Videos