How to fix Nevada's teacher vacancy crisis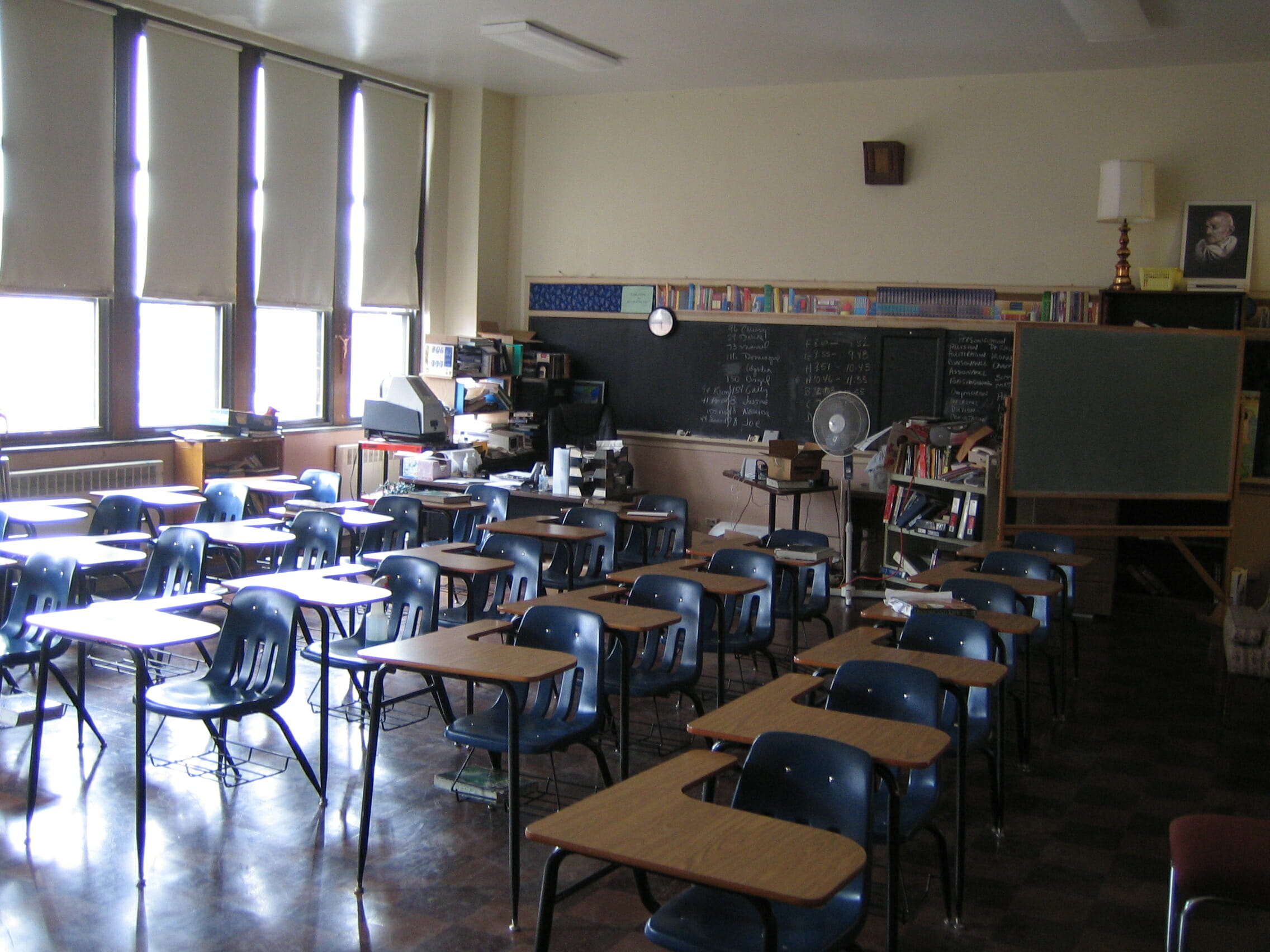 Hundreds of teachers packed into the Sunrise Mountain High School auditorium on a recent Saturday morning to once again demand that Nevada's legislators fix our troubled schools. As the meeting began, one lawmaker claimed that she sends donuts to schools in her districts once a year. One said he had served on a school organizational team. Most just proudly proclaimed themselves graduates of Clark County public schools.
None of them shared any outrage at the number of Nevada's students who don't have licensed teachers.
There are five math classrooms in the hallway where I teach. Three of them are currently staffed with a rotating door of substitutes. One day, a librarian might cover a class. On another day, the kids might get a nineteen year old UNLV student as a sub. On another day, a theater or video production teacher might be required to sacrifice their planning time to provide coverage.
On some days, students get corralled into the cafeteria along with students from two or three other classes. If students are lucky, they'll get a long-term substitute, who isn't a licensed teacher (and definitely isn't paid to be) but who at least will be a familiar face for a few weeks or months.
Similar teacher shortages exist in nearly every school in Southern Nevada.
This crisis has been brewing for years. And it continues to worsen, even after increased mining and marijuana funding from the Legislature. It continues despite token efforts at classroom size reduction. It continues after a halting and now largely failed and apparently abandoned attempt at reorganizing the Clark County School District.
Consider, however, that Utah and Idaho have fewer teacher vacancies than we do, despite offering teachers lower salaries. In fact, Nevada's average teacher salary is higher than the median salaries of our five neighboring states. Yet our teacher shortage is the most acute in the West. Utah offers its teachers both lower salaries and larger class sizes, yet their vacancy rate is 0.54 teachers per 10,000 students, compared to Nevada's, which is a whopping 16.99.
It turns out that teacher vacancy rates nationwide correlate only very weakly with teacher salaries and classroom sizes.
That's not to say that salaries and class sizes don't matter. They certainly do. But fixing those problems, by themselves, won't persuade more teachers to sign up to teach math to the twelve year olds at my school.
So, what can legislators do to address our teacher shortage?
Recognizing the staggering extent of teacher burnout is a start. In surveys from the National Education Association, more than 90 percent of teachers report feeling seriously burned out. The same survey found that burnout makes over half of teachers want to leave the classroom. Count me as one of them. Teachers feel burned out for a number of reasons, starting with daily demands that we sacrifice our planning time to cover for classrooms that lack licensed teachers.
Teacher burnout also traces directly to the increasing time we are required to spend addressing student behaviors. State and district initiatives aimed at reducing suspensions and expulsions, accompanied by the closures of behavior schools, have been heralded by many. But administrators complain that they are now spending increasing amounts of time completing paperwork to satisfy regulations and district bureaucrats.
And despite promises from lawmakers during past legislative sessions, schools still haven't been provided with enough social workers and counselors to provide students with adequate behavioral and mental health support. Our student to counselor ratios are nearly double the recommended levels.
Overburdened administrators often respond to their workload by discouraging teachers from reporting serious behavioral problems. That means that more and more disruptive and violent students are being left in classrooms. And this requires that teachers do double and triple duty as content educators, mental health counselors, and social workers.
District policies that require teachers to grade student work regardless of how late it is, and that require teachers to administer unlimited numbers of test retakes, have also dramatically increased teacher workloads. When teacher class sizes in Nevada are still among the largest in the nation, it is astounding to hear district bureaucrats blithely insist that teachers grade more and more student work. Teachers I've known who have left the profession consistently cite increasing district demands on their time as a primary cause for their decision to leave teaching.
Some leaders have argued, incredibly, that we need to extend the school day to give teachers time to meet district demands. Yet forcing teachers to work longer hours hardly seems an appropriate solution to burnout.
The demands of standardized testing also overwhelm teachers and schools. Eighth graders in CCSD currently take the following standardized tests each year: MAP English (Fall, Winter, and Spring), MAP Math (Fall, Winter, and Spring), MAP Science (Fall, Winter, and Spring), the PSAT (Reading, Writing, and Math), Science CRT, SBAC Math, and SBAC English.
That's 15 standardized tests in nine months of school. And that doesn't count the additional WIDA tests that students with limited English proficiency are also required to take. Most schools hire an extra administrator to oversee test administration, and many close down their school libraries for several months each year to make sure all the tests are completed. Administrators should be freed from this burden to address student behaviors. And instructional time lost to excessive testing should be restored to teachers.
The severely neglected physical state of our schools also promotes burnout and stress. Every year, teachers in Clark County report to classrooms where temperatures exceed 90 degrees. This forces principals to scramble to find available spaces with functional air conditioning. Some have no choice but to let teachers and students roast in their rooms.
At my school, we have never, in the 10 years I've worked there, gone a full year without suffering through major HVAC failures and flooding from broken plumbing. It's been years since we had a fully staffed custodial team. And without custodians, teachers must choose to either give up on instruction and pick up a broom, or allow students to learn in squalid conditions.
Teachers here in Nevada and across the nation consistently cite a lack of administrative support as a major driver of burnout. According to the Economic Policy Institute, more than half of teachers nationwide do not agree that school administrators are strongly supportive or encouraging. And more than two-thirds of teachers surveyed do not strongly agree that staff members are recognized for a job well done.
In CCSD's latest published district survey, barely half of teachers felt the district was a credible source of information. And only 35 percent of teachers reported that they felt the Clark County School District was transparent and open about how it operates.
So, what concrete steps can legislators take to fix the teacher vacancy crisis?
— Increase funding to hire more teachers at competitive salaries, both to staff current vacancies and to reduce class sizes. This won't fix the teacher shortage by itself, but it is a necessary part of the solution.
— Increase funding to provide schools with more counselors and social workers to address student behaviors, mental health challenges, and to help meet basic student needs.
— Restrict the amount of time students are required to take standardized tests. While federal regulations require that districts administer end of year exams, local school precincts should be given the right to limit the number of tests administered during the first three quarters of the school year. And no school should be allowed to force students to sit through a total of more than two hours of standardized testing per quarter during the first three quarters of the year.
— Expand the seats on the Board of Trustees of the Clark County School District. Community members elected with little or no experience running large organizations can't possibly be expected, by themselves, to provide meaningful oversight of a district as large as Clark County's. Restoring trust and improving management will require seasoned, independent professionals.
— Revisit the reorganization law. Parents, teachers and principals are experts in their communities and the needs of their students and teachers. Yet district bureaucrats continue to drag out hiring processes and issue mandates that pile additional duties on teachers and administrators.
District officials also continue to deny local school precincts the right to quickly obtain services like HVAC repair, plumbing, landscaping, and custodial staff from third parties, even though CCSD often takes weeks or months to provide services that schools could obtain more cheaply and quickly from local companies. Local school precincts must be empowered to stand up to district bureaucrats and say no to policies that increase teacher and administrator workloads and that deny schools timely access to necessary services.
In closing, decades of neglect and mismanagement have pushed schools into the teacher vacancy crisis here in Nevada. While Nevada's needs are unique, and solutions should be tailored to them, a teacher shortage here isn't inevitable. Not every state has a teacher shortage. Nevada's Legislature shouldn't rest until we don't have one, either.
Steve Gaskill has taught middle school Science in the Clark County School District for over ten years. His opinions here are his own, and do not necessarily reflect those of his school or district.
The Nevada Independent is raising $200,000 by Dec. 31 to support coverage of the 2024 election.
Tax-deductible donations from readers like you fund this critical work.
If you give today,your donation will be matched dollar-for-dollar.
Give + Get Matched
Featured Videos