Redda Mehari of the African Community Center as seen in September 2018. Mehari fears that a drop in the number of refugees to the U.S. could mean the closure of the organization he runs to help them resettle. Photo by Yazmin Beltran.
Hundreds of refugees call Nevada home, but fewer may be coming as Trump administration drops cap
October 7th, 2018 - 2:00am
This story has been translated and edited for clarity from its original Spanish version.
Redda Merahi remembers walking for two weeks from his native Ethiopia to reach Sudan, and then waiting two years to be processed before he arrived in the U.S. as a refugee in 1983.
He now serves as director of the Ethiopian Community Development Council (ECDC)'s African Community Center, a refugee resettlement organization in Las Vegas that serves not only people from Africa but those from all around the world.
But the country could be seeing fewer people like Merahi going forward. President Donald Trump's administration announced last month that it will reduce the number of refugees who may enter the U.S. in the new fiscal year to 30,000, a drop from the 45,000 admissions allowed each year and the lowest cap since the program was established in 1980.
"The improved refugee policy of this administration serves the national interest of the United States and expands our ability to help those in need all around the world," Secretary of State Mike Pompeo said in announcing the change last month. "We will continue to assist the world's most vulnerable while never losing sight of our first duty, serving the American people."
Pompeo said applicants must continue to be investigated responsibly to keep out those who might harm the country. He added that the cut in refugee admissions should be viewed in the context of the U.S. providing foreign aid and allowing hundreds of thousands of people already in the country to seek asylum.
"These expansion figures continue the long history of the United States as the most generous nation in the world with respect to immigration based on protection purposes," Pompeo said.
But critics say the move to reduce the cap on refugees because of a growing number of asylum seekers is pitting the two groups in dire straits against each other. And Merahi is concerned the reduction could mean mean the possible closure of organizations like ECDC.
"My brothers, my cousins ​​and my nieces are still over there," he said. "Just as I know I was able to get out of there and save my life, I know that without an organization like this one, we would not have a place to go."
Refugees vs. Asylum Seekers
The United States Citizenship and Immigration Services (USCIS) defines refugees as those out of their native countries and unable or unwilling to return because of a well-founded fear of persecution related to race, religion, nationality, belonging to a particular social group or having a political opinion.
That's different from an asylum-seeker, who may have the same fear of returning to their country but who is actually in the United States while pursuing a claim to residency. Many of the Central American families who have turned themselves at ports of entry along the border in recent months are living in the U.S. while their asylum cases work their way through the courts.
Pompeo said that beyond the reduced quota of admitted refugees, the government expects more than 280,000 people will seek asylum in the coming year. Those are in addition to the more than 800,000 asylum seekers who are already in the United States and expect a response to their application.
"This year's refugee ceiling reflects the substantial increase in the number of individuals seeking asylum in our country, leading to a massive backlog of outstanding asylum cases and greater public expense," Pompeo said. "The daunting operational reality of addressing the over 800,000 individuals in pending asylum cases demands renewed focus and prioritization." 
A complicated process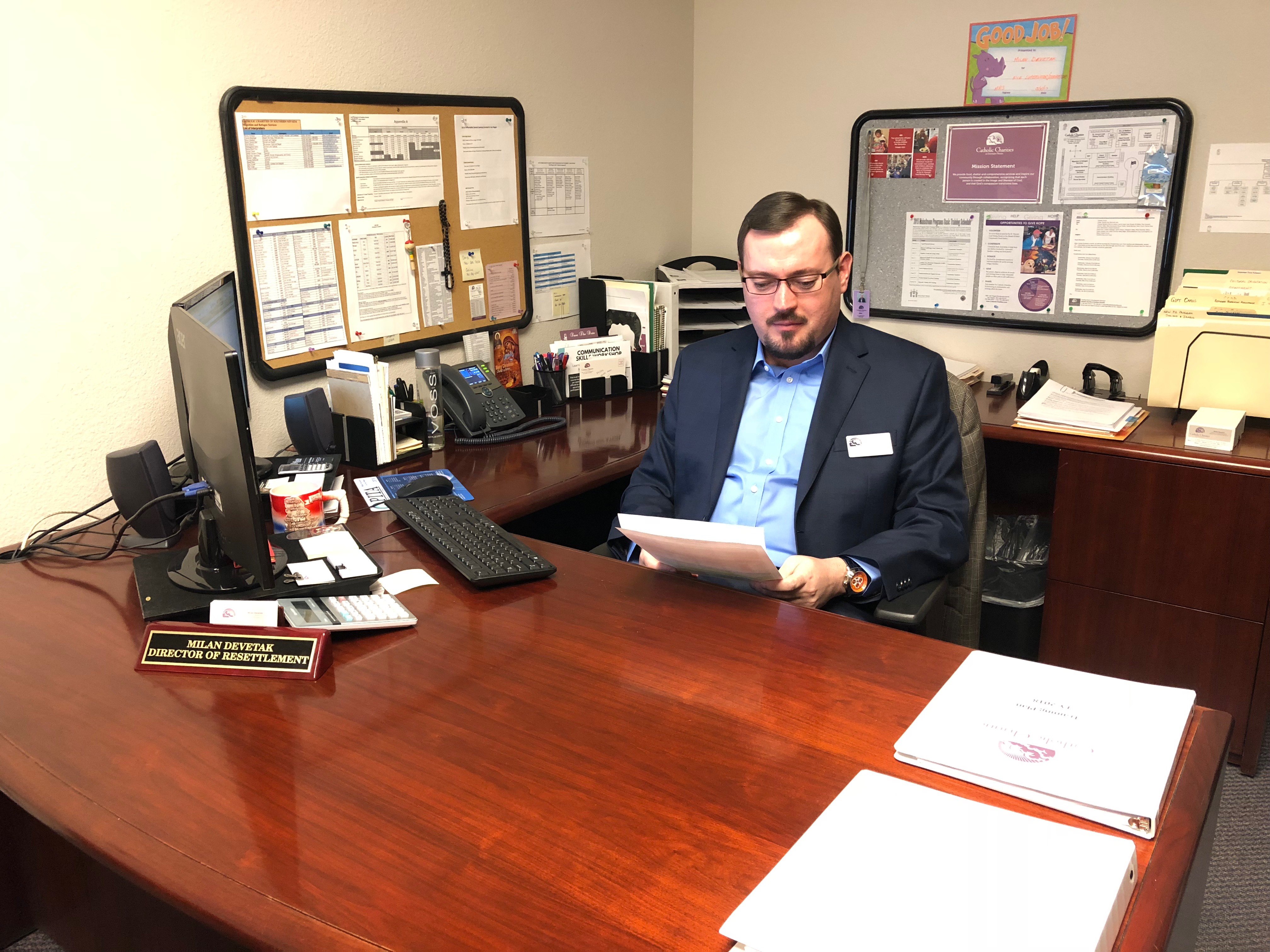 Representatives of Catholic Charities of Southern Nevada indicated that it can take several years before the applications of prospective refugees to the United States are approved.
"It's a process that can last up to seven years or even more," Milan Devetak, program director of Migration, Resettlement and Refugee Services, said in an interview. "Refugees go through several interviews, background checks and medical examinations; it is a fairly long process."
For a person to be considered a refugee, he or she must have left their country of origin.
"One example can be Syria, a country where there is war and crisis. One person leaves that country and goes to Jordan or Turkey," Devetak said. "Then they are registered with the UN Refugee Agency (UNHCR) and obtain refugee status, in order to apply for resettlement in a third country."
The UNHCR estimated at the end of 2017 that some 68.5 million people were forcibly displaced worldwide because of violence, conflict and persecution.
That year the UNHCR also estimated that in the world there were some 25.4 million refugees, with 68 percent coming from Somalia, the Syrian Arab Republic, Afghanistan, South Sudan and Myanmar.
Among asylum countries with the largest number of refugees is Turkey with 3.5 million, mostly Syrians. Turkey is regarded as having the highest number of refugees in the world, while Pakistan and Uganda have 1.4 million.
Lebanon ranks fourth, with almost 1 million refugees, Iran ranks fifth, and Germany is sixth, with some 980,000 refugees.
Aid for refugees in Nevada
Catholic Charities of Southern Nevada has assisted fewer refugees since Trump took office.
In 2016, the organization helped with the resettlement of 3,068 people. That figure decreased to 1,806 in the 2017 fiscal year and fell to 623 so far in 2018. Most of them come from Cuba, Congo and Afghanistan.
The work Catholic Charities does begins as soon as refugees arrive in Las Vegas. The organization becomes the first point of contact by picking them up at the airport, taking them to a furnished apartment, and providing food, clothing, medical care and access to education.
These services are offered through a federal grant called Reception and Placement, which is administered by the State Department's Population, Refugees and Migration Bureau (PRM) and aims to provide basic resettlement services for newly arrived refugees.
The adaptation and settlement process continues when refugees are assigned a case manager to help them integrate successfully in the new environment, including providing classes on how to get a job.
Although the purpose of these organizations is to help them thrive in the United States and make them self-sufficient, Mehari said the transition can be difficult.
"Many refugees spend years in these refugee camps. We took care of children who were born and raised in these camps," Mehari said. "They came here as 15 and 16 year old teens and they had never seen a school, they did not know what a school was," the director of the center said.
"They are given guidance on home safety with respect to things they probably are not familiar with. They meet with a social coordinator to apply for benefits for those who are eligible like food stamps and Medicaid," Devetak said, adding that each goal has a deadline. "Then they are registered in a program so they can learn the English language and they are also registered for employment services."
One of the beneficiaries of Catholic Charities' refugee work is Sorat, who came to the US in April of 2015. Just weeks after arriving in his new home, he had managed to get his driver's license, which helped him find a job as a taxi driver.
Sorat worked to assist U.S. troops while a war raged in his native Afghanistan, and later came to the U.S. as a refugee and resettled in Las Vegas.
Sorat is part of the Afghan Allies Protection Act of 2009, which authorizes the issuance of special immigrant visas (SIVs) to citizens of that country who meet certain requirements and who were employed in Afghanistan by or on behalf of the government of the United States in that country.
"I came to this country to be safe, to find a safe place for my family. I still have my family over there. My brother will finish college next year," Sorat, who asked that his last name not be published for security reasons, told The Nevada Independent en Español in an interview at Catholic Charities. "Every time he goes out, my sisters, my mother and I don't know if he's going to come back home. In my country, if you're alive you're lucky."
The Bureau of Consular Affairs of the State Department indicates that particular visa requires applicants to have been employed for at least two years, between October 7, 2001 and December 31, 2010. Applicants must also have experienced or be experiencing a serious threat as a result of their employment.
"My life was threatened. In my country we did not know what was going to happen in the next 24 hours. You never know what will happen once you leave your house," Sorat said. "ISIS gave a warning that no one could go to college, no one could go to school. Recently I lost one of my teachers and the school principal. ISIS [Islamic State] came to the school and killed everyone who was there. ISIS placed explosives in cages where educators were also locked in."
Some things the Las Vegas resident enjoys the most is being part of the community and not being afraid to leave his house.
"I ask that you think like human beings and not judge so quickly. In Afghanistan we do not need money, we do not need houses, cars, or luxuries, we just need peace," he said. "The confidence that you will go to sleep and wake up the next day. To be able to take my son to school and not have the uncertainty of knowing whether he will come back home alive or not."
Comment Policy (updated 3/21/19): We welcome reader comments on our stories. However, in keeping with our general policy of transparency, accuracy and accountability, we do not accept comments from anonymous accounts. Anonymous accounts are those without a valid first and last name. Any such comments will be deleted, and anonymous users will be blocked from commenting further. We also will block commenters who use offensive language, engage in personal attacks or state things that are verifiably false.
get our morning newsletter, The Daily Indy
INDYMATTERS PODCAST
CAFECITO CON LUZ Y MICHELLE
@TheNVIndy ON TWITTER