General Joshua L. Chamberlain. (Brady-Handy Photograph Collection. http://hdl.loc.gov/loc.pnp/cwpbh.03163. CALL NUMBER: LC-BH831- 934[P&P])
I'm proud of my 'sucker'
September 10th, 2020 - 2:00am
Joshua Lawrence Chamberlain is one of the most fascinating characters in our American story. An antebellum professor at a liberal arts college in Maine, he defied the administration at his college and volunteered in the 20th Maine Volunteer Infantry Regiment. He assumed command of the regiment shortly before the Battle of Gettysburg, where his courage in a last-ditch effort to hold Little Round Top saved the Union from defeat in the battle and, quite possibly, the war itself.
Chamberlain suffered a mortal wound about a year later in the Second Battle of Petersburg. However, the wound did not kill him within hours, days, weeks, months, or even years. The wound took five decades to claim his life, making him what many consider the last casualty of the Civil War. Before his passing, he returned to active duty and finished the war, and subsequently worked as a professor, lawyer, and served several terms as the governor of Maine. He also remained proud of his service and stayed active in veterans' causes until his death.
My grandfather, Kenneth Rost, left Fallon to enlist in the Army in 1948. He was two weeks away from the expiration of his enlistment when President Truman froze all discharge orders due to the beginning of hostilities in Korea, and he soon deployed to join the fight.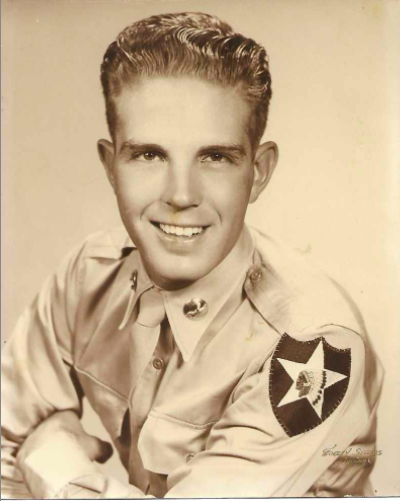 While in Korea, an explosion nearly decapitated him when a projectile seared across his throat; he would have bled out but for the quick and heroic action of those in his unit. On a later occasion, his unit came under mortar attack; shrapnel shredded his arm, while several of his brothers-in-arms perished in the blast. These two instances earned Grandpa two Purple Hearts, and a lifetime struggle with survivors' guilt. He fortunately kept his arm, albeit with some limitation in its use.
However, Grandpa also caught hantavirus in Korea, which wrecked his renal function and ultimately claimed his life. Like Chamberlain, Grandpa didn't die immediately from his ailment, but rather held on for nearly five decades. In that time, Grandpa married his sweetheart, my Grandma Barbara, had four children, and ran a successful sewing machine business in Sparks. He also had success playing guitar with his local band, The Country Playboys, and even sat in with Merle Haggard and other touring artists when they'd come through Reno.
When his kidneys finally failed him for good and we buried him next to Grandma in Mountain View Cemetery in Reno, Grandpa still had the scar on his neck and shards of shrapnel embedded in his arm.
In the years I spent with him, Grandpa regaled me with many stories about his time in Korea. However, I didn't find out how agonizingly close he came to avoiding the conflict that inflicted a slow death upon him until a decade or so after his passing. Grandpa never bemoaned the bad hand dealt to him. Like Chamberlain, he answered the call to service with grace and dignity. And, like Chamberlain, he maintained that grace and dignity even as his choice to answer the call slowly killed him.
In remembering my Grandpa, it is not lost on me that roughly a decade and a half after his return from Korea, the current commander-in-chief who thinks of him as a "loser" and a "sucker" for his sacrifice feigned bone spurs to ensure he avoided the call of duty. Yet, one of the greatest honors of my life is that I bear the name of that "loser" and "sucker."
And if that, in turn, makes me a "loser" or a "sucker" as well, I couldn't be prouder to be one.
Rost Olsen is a fifth-generation Northern Nevadan and an attorney in the Reno area. He also serves as the vice president of the booster club at his alma mater, Sparks High School, volunteers as an amateur boxing judge, and is a self-taught pianist. The views expressed in this piece are his own. He is on Twitter and Instagram at @RostOlsen. He still doesn't know why his wife settled for him, but he's certainly not complaining about it.
Comment Policy (updated 10/4/19): Please keep your comments civil. We reserve the right to delete comments or ban users who engage in personal attacks, use an excess of profanity, make verifiably false statements or are otherwise nasty.