Las Vegas resident Alicia Moya, right, speaks about her time in jail over a detainer policy while her sister Yesenia Moya wipes tears during a news conference in front of Las Vegas City Hall on Friday, Jan. 17, 2020. Jeff Scheid/Nevada Independent)
Immigrant rights groups sue City of Las Vegas over immigration detention practices
January 17th, 2020 - 5:34pm
Immigrant rights activists are filing a lawsuit against the City of Las Vegas over its policies of keeping people behind bars for extra time solely on suspicion that they may be in the country illegally.
The Mexican American Legal Defense and Educational Fund (MALDEF) and the Arriba Las Vegas Workers Center held a press conference Friday at Las Vegas City Hall to announce the action.
"The Fourth Amendment protects everyone, regardless of immigration status, from detention without probable cause," said Adrian Hernandez, an attorney with MALDEF. "We are challenging the city's policy and practice of its officials to detain individuals beyond the time they should have been released."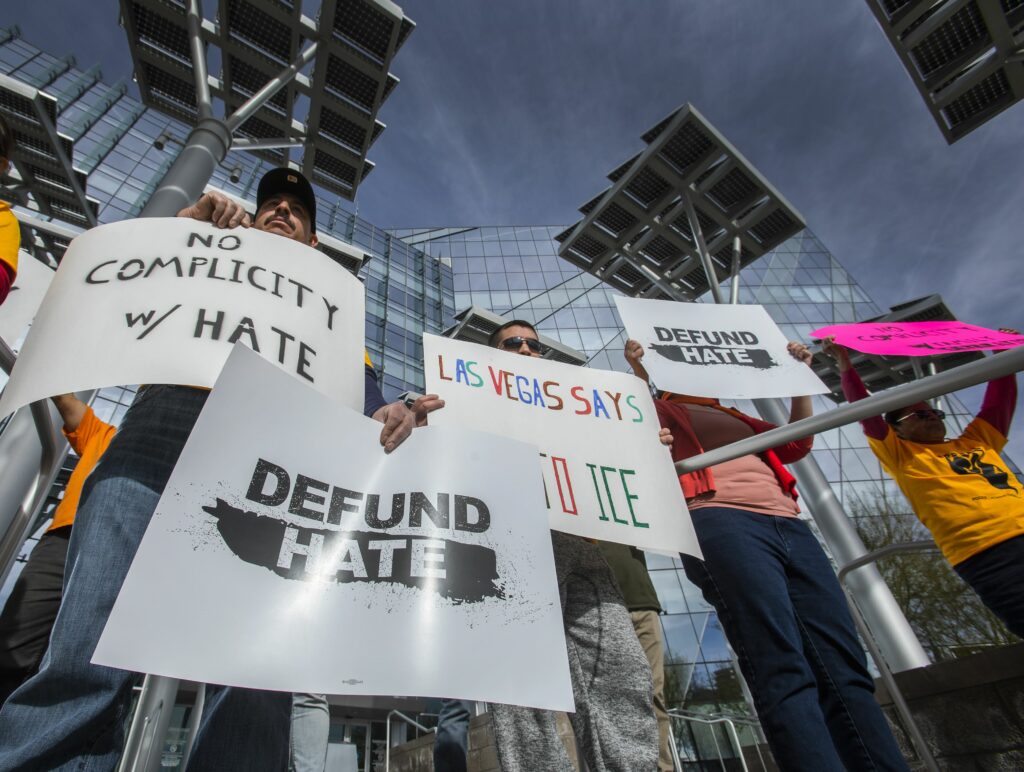 At issue are ICE "detainers," or requests from immigration officials to hold people in jail for 48 hours beyond the time they otherwise would for the local charges on which they were first arrested. The extra time allows immigration officials to pick up people in question and move them to immigration detention in a secure manner.
These "detainers" are discretionary. Federal regulation doesn't mandate that law enforcement agencies hold individuals for whom detainers have been issued, and for a law enforcement agency to lawfully subject an individual to a new seizure, the agency must have probable cause.
The Arriba Las Vegas Workers Center and MALDEF are working on behalf of Plaintiff Alicia Moya, who was pulled over in July 2018 for a minor traffic violation and arrested on a bench warrant for unpaid tickets. At the jail, she was asked where she was from and told them she was born in Mexico, after which she was questioned by an ICE agent, according to the complaint. Her family was then not allowed to post bail.
Moya was sentenced to 10 days in jail for her unpaid tickets, but on the day she was scheduled to be released, the complaint states that she spoke to a female officer who told her she would not be "released to the streets." She was then held for approximately 24 hours after her ordered release before being taken into custody by ICE officers.
"All I need to know is when the city is going to leave ICE in the past and move to just being the city," Moya said at Friday's press conference.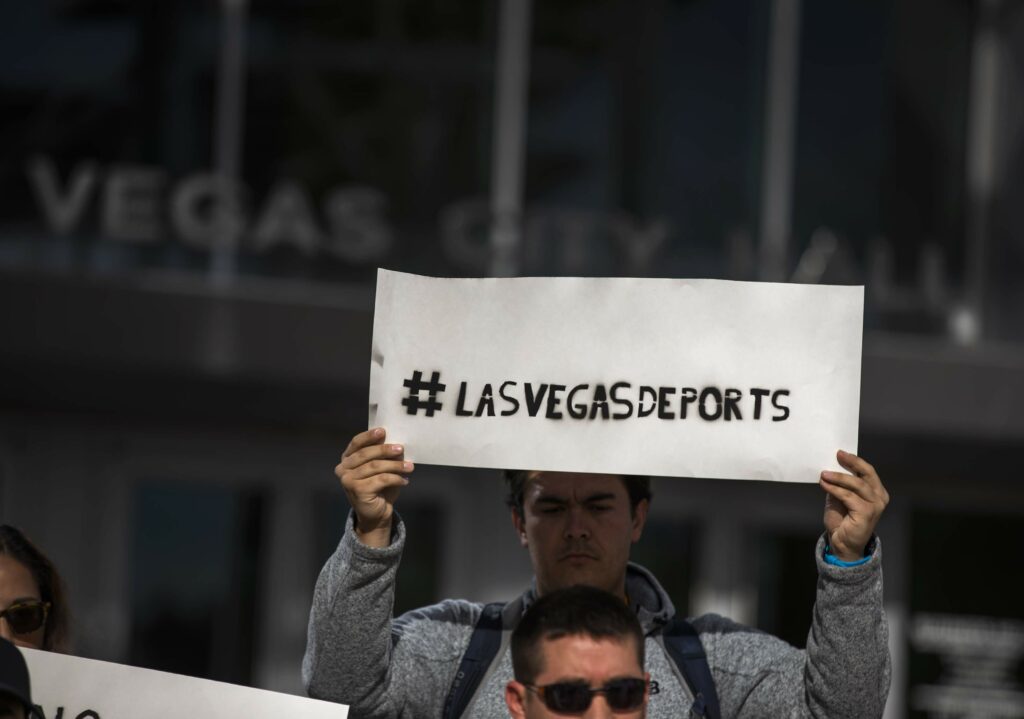 The City of Las Vegas Jail, which generally houses people accused of lower-level crimes, has been the subject of scrutiny from immigrant advocates. They say the practice of honoring detainers there frequently ensnared people with nothing but minor issues, such as traffic tickets, on their record.
Las Vegas Metro Police announced last fall that they would suspend the so-called 287(g) program that involves a partnership with ICE and the use of detainers. Shortly afterwards, the City of Las Vegas announced it would no longer honor ICE detainers.
Based on data obtained by public record requests, the plaintiffs allege the city continued the practice even after announcing it would stop.
"City officials have misled the public," said Bliss Requa-Trautz, the director of the Arriba Las Vegas Workers Center.
The data shows individuals being held beyond their scheduled release before being released to ICE officers as late as December 2019.
A federal court in California ruled last fall that detainers are unconstitutional unless a specific state-level statute exists to authorize them, asserting that jailing someone for an extra period of time at ICE's request constituted a new arrest and violated the Constitution's protections against unreasonable searches and seizures.
When asked about the lawsuit, city officials said they don't comment on ongoing litigation.
Pablo Alvarado, an Arriba board member, expressed optimism about the case going forward.
"We are going to win because the Constitution is on our side and morality is on our side," he said.
Comment Policy (updated 10/4/19): Please keep your comments civil. We reserve the right to delete comments or ban users who engage in personal attacks, use an excess of profanity, make verifiably false statements or are otherwise nasty.