In death, let us celebrate life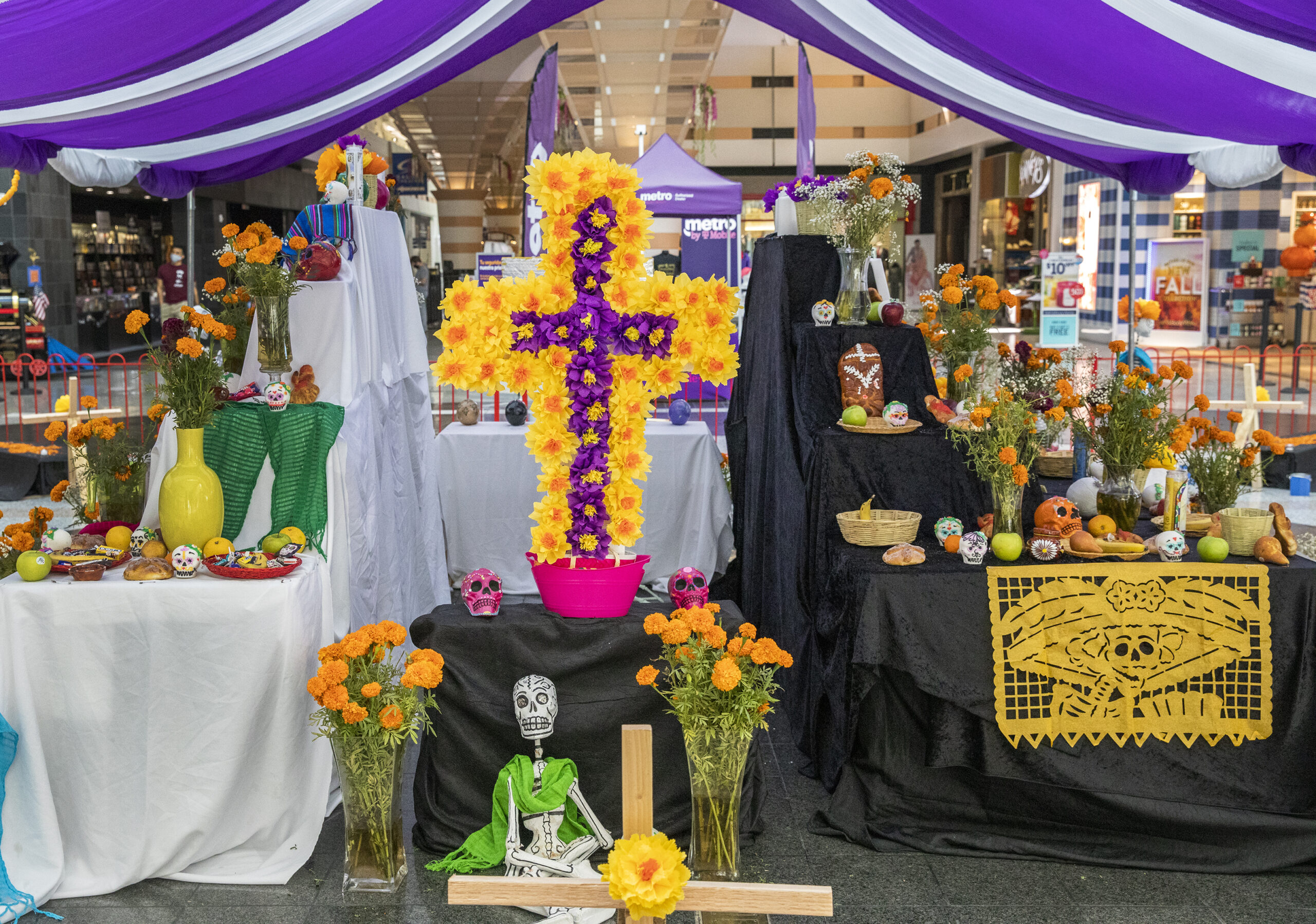 As COVID-19 surges yet again, Mexican cemeteries will close during the Día de Muertos (Mexican Day of the Dead) holiday, which is celebrated on November 1st and 2nd and is often celebrated by bringing orange marigolds (cempasúchil flowers), hired musicians, and picnic lunches to the graves of deceased loved ones.
But this doesn't mean Mexicans won't continue to use their holiday to celebrate life, challenge dominant understandings of death, and make clever, egalitarian political statements in the face of systemic injustice. In 2020, perhaps more than ever, the rest of the world should follow their example of seizing life in the face of death (note: I am not referring here to being unmasked in public).
Irma Varela, Cultural Program Supervisor at Winchester Dondero Cultural Center in Las Vegas, which hosts a large, annual "Life in Death" Día de Muertos festival, explained that "Mexicans celebrate life. We even challenge it. Like Zacatecas composer Tomás Mendez said in his song La Muerte: en qué quedamos pelona, me llevas o no me llevas [what are we going to do, Death, are you taking me with you, or not?]?"
Here, the term "pelona" means both "death" and "bald woman." Mendez is referring to the popular figure of the female skeleton, who, for many Mexicans across the world, serves as a haunting, humorous, "skinny" (flaca/huesuda) embodiment of death. Mexicans challenge—and, yes, sometimes even laugh at—death through writing literary calavera ("skull") poems in which Death comes to Earth and effortlessly takes people away with her.
In the more biting, political calaveras, Death comes for corrupt politicians, as well as the wealthy and arrogant. Take, for instance, this calavera recently written for Mexico's controversial ex-president, Felipe Calderón:
En una noche de noviembre
Se encontraba Calderón dormido
Soñando que era el nuevo presidente
Gracias al voto no obtenido.
[One night in November
Calderón was found asleep
Dreaming that he was the new President
Thanks to a popular vote he had not won]
The scene is set, and it is one that reeks of political corruption. But the author quickly lets us know that Death will restore justice to the people:
De pronto, un ruido lo despertó
Calderón gritando se preguntó:
¿Qué habrá sido eso?
Era la muerte que al fin lo encontró…
[Suddenly, a noise woke him up
Calderón screamed and said,
"What was that?"
Death had finally found him…]
This year, Mexicans are seeking ways to confront death while practicing social distancing as the COVID infection rate increases rapidly. While many Day of the Dead practices, such as making personal altars for one's deceased loved ones and penning calaveras, are frequently practiced at home, most of the festive, public gatherings have been canceled for public safety.
For instance, Day of the Dead celebrants at the Winchester-Dondero Life in Death Festival in Las Vegas have been encouraged to share photos of their home-made altars with the community online.
"There is healing in creating an ofrenda [alter or offering to one's deceased loved ones] and celebrating the life of our loved family and community members," Varela said, referring to the challenge of celebrating Día de Muertos during a pandemic. "Many people have expressed their feelings through an ofrenda, which creates an opportunity for comment and connection."
Celebrating death during times of danger and uncertainty has pre-Hispanic origins in Mexico. Some experts trace Día de Muertos to the Aztecs' annual, month-long celebrations of Mictlantecuhtli and Mictecacíhuatl, otherwise known as the god and goddess of death.
Aztec (or Mexica) philosophy frequently focused on the uncertainty and temporality of our time on Earth, and it depicted death as a part of life and potential source of truth. As the Aztec philosopher Netzahualcoyotl (1402-1472) said in a famous poem:
I, Nezahualcoyotl, ask this:
By any chance is it true that one
Lives rooted in the earth?
Not always in the earth:
Here for only just a while….
Nezahualcoyotl suggests here that we are not rooted on earth—a common understanding among Aztec/Mexica philosophers of his era. For many Aztecs, the best we can do is generate art and philosophy in the midst of all this bewildering uncertainty.
Mexicans also artfully confronted death in more recent history. For instance, calavera poems gained popularity during the Mexican Revolution (1910-1920), which ended the three-decade-long dictatorship of Porfirio Díaz and resulted in the deaths of an estimated 1.5-million Mexicans. The Mexican printmaker José Guadalupe Posada used calaveras to critique the Díaz dictatorship and make fun of authoritarian politicians. Somewhat ironically, Posada died in relative obscurity but achieved international fame in death. Indeed, his Calavera Catrina is now frequently used to represent Día de Muertos itself.
This year, many Mexicans will take the Day of the Dead indoors while death looms all around us. The holiday offers us an opportunity for simultaneous mourning, reflection, creation, and political contestation. In other words, it offers us exactly what we need right now.
The altars the celebrants will create for their deceased loved ones remind us of all those we have tragically lost. The calavera poems that celebrants will write—many of which will flood Mexican newspapers as the holiday approaches—will remind us that Death, la pelona, will inevitably come for even the most powerful and brutal among us. At the very, least she does not discriminate. Meanwhile, the very act of celebrating life in death will remind us to seek truth, to create, and, of course, to live, even if we are uprooted.
Amy Reed-Sandoval is an Assistant Professor of Philosophy at the University of Nevada, Las Vegas, and the author of Socially Undocumented: Identity and Immigration Justice (OUP, 2020).
The Nevada Independent is raising $200,000 by Dec. 31 to support coverage of the 2024 election.
Tax-deductible donations from readers like you fund this critical work.
If you give today,your donation will be matched dollar-for-dollar.
Give + Get Matched
Featured Videos