In quest to automatically register voters at DMV, permits that allow undocumented residents to drive prove a hang-up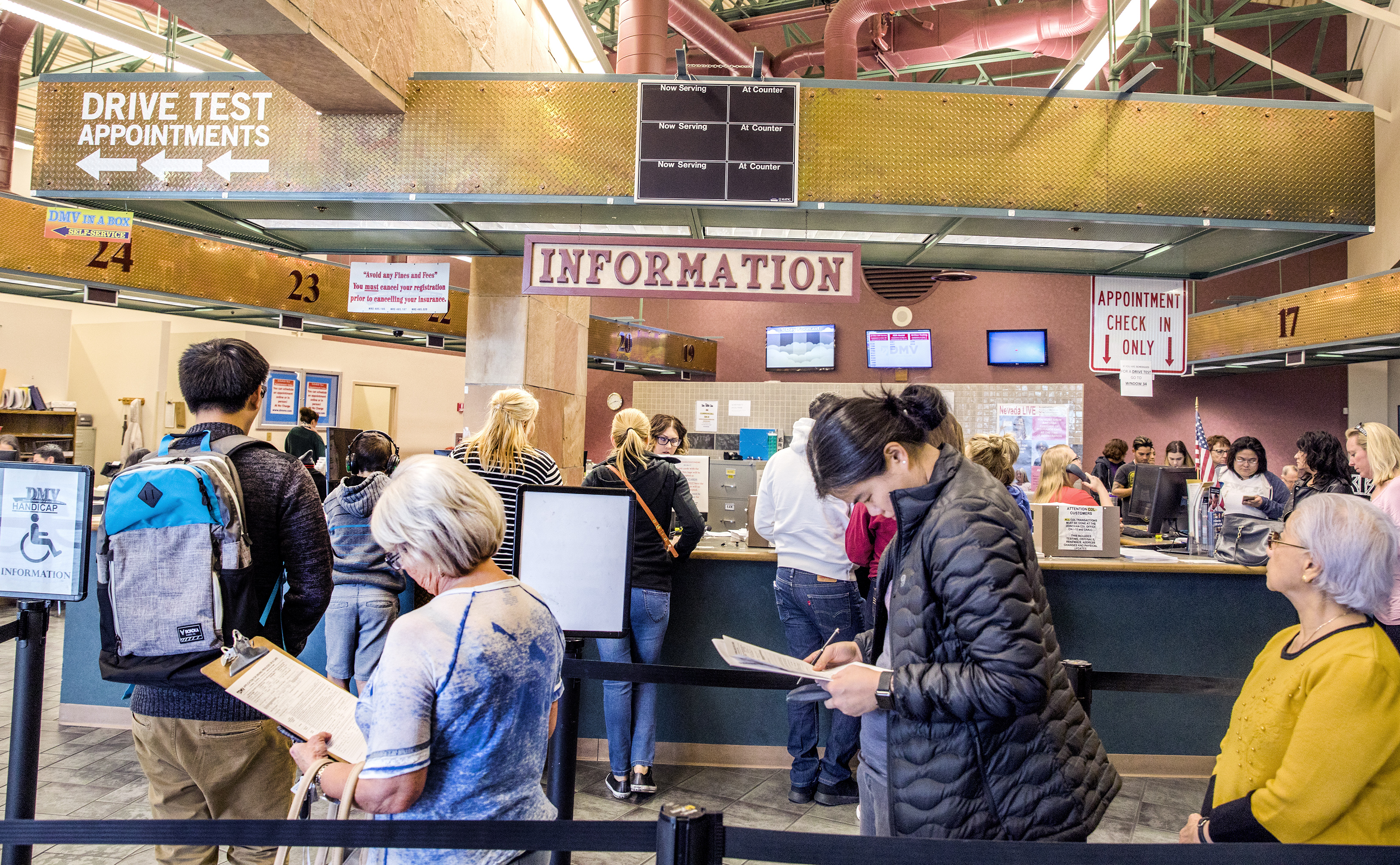 The secretary of state and Department of Motor Vehicles are proposing changes in regulations to the Automatic Voter Registration Act that would prevent DMV customers who are ineligible to vote from automatically opting in to register.
Sam Oliker-Friedland, chief counsel for the Center for Secure and Modern Elections, said during a public comment hearing in Las Vegas on Wednesday that the proposed regulations would protect non-citizens from accidentally committing the federal crime of falsely affirming citizenship for the purpose of voter registration, which could lead to criminal prosecution, deportation or denial of naturalization.
"An opt-in opportunity to register relies on affirmation of one's citizenship and an inadvertent false affirmation of citizenship for the purpose of registration is not only a federal crime but [also] grounds for deportation or denial of a naturalization application," said Oliker-Friedland. "The argument [that] confirmed non-citizens should still be offered an opt-in form is not only unsupported by federal law but is tantamount to entrapment for non-citizens."
If the proposed regulations are approved, DMV customers who have submitted immigration documents such as a Permanent Resident Card or Employment Authorization Card that classify them as a non-citizen would be excluded from the automatic voter registration (AVR) process. In other words, they would not be provided the pre-populated "opt-in" form.
The Brennan Center for Justice also provided written testimony in support of the proposed regulations, arguing that the changes provided a safeguard for customers who might accidentally opt in to register to vote, even if they were ineligible.
On the other hand, Mi Familia Vota brought up concerns that the proposed AVR could lead to voter suppression.
Cecia Alvarado, state director for Mi Familia Vota, did not take a hard position on whether she supported or opposed the regulations. She said she wants whatever new system is put in place to make it easier for eligible voters and not discourage them or present more barriers to registering to vote.
One of her concerns is how eligibility would be determined — whether by an electronic system that processes DMV documents or by an employee explaining eligibility requirements and asking the person directly whether he or she is eligible. Alvarado said a seemingly minor change such as that could discourage eligible voters from participating in AVR, or could discourage ineligible voters from registering for a Driver's Authorization Card (DAC), a permit to drive that can be acquired without proof of U.S. citizenship but is generally not accepted as proof of ID for other purposes.
As of September, there were approximately 55,000 active DACs and 4,000 DAC instruction permits in Nevada, according to the DMV. Mi Familia Vota and advocacy organizations Demos and the national Voting Rights Project of the ACLU submitted written recommendations prior to Wednesday's hearing, explaining their concern surrounding DACs.
"The DMV in Nevada currently does not have a systematic process for collecting information about the citizenship status of individuals seeking any driver's license or state ID, including Driver's Authorization Cards," the statement said. "The DMV and election officials in Nevada, therefore, do not have complete information about whether individuals with Driver's Authorization Cards are or are not US citizens, and have no basis to prevent these individuals from receiving any voter registration services. They should be given an affirmative opportunity to register to vote."
The statement also said that the proposed regulations would disqualify a customer from AVR if he or she submitted non-citizenship documents to the DMV. Even if customers updated citizenship status and became eligible to vote, the statement said that the new AVR system might exclude them during renewal transactions, which do not require new documents.
Currently, the Automatic Voter Registration Initiative, otherwise known as 2018 Ballot Question 5, requires the DMV to provide a form that, once signed, files a customer's voter registration with the secretary of state using the same documentation the customer already used for DMV services.
In June, Gov. Steve Sisolak signed into law AB345, which provided for the implementation of the ballot question. Major provisions of AB345 will take effect in January, and the bill gave deadlines for funds to be used in 2020 and 2021 for the DMV to implement the Automatic Voter Registration Act.
With no changes to the law, customers who submitted documentation in the past indicating they are a non-citizen would still receive the "opt-in" form during their DMV transaction, and then could affirm their eligibility to vote under penalty of perjury. If the customer is ineligible to vote, the penalty of perjury would discourage them from breaking the law.
If that same customer was a non-citizen and therefore ineligible to vote, he or she would need to express in writing their desire to opt out of AVR on the provided form. The current laws also require the DMV to clearly explain to customers who are filling out the opt-in form what the eligibility requirements to vote in Nevada are and that, unless they decline or "opt out" on the form, the customer will be automatically registered to vote.
This story was updated at 9:05 a.m. to update the number of active Driver's Authorization Cards and instruction permits in Nevada, and at 6:17 p.m. to specify how documents submitted in past DMV transactions could result in exclusion from AVR.
Featured Videos
Comment Policy (updated 4/20/2021): Please keep your comments civil. We reserve the right to delete comments or ban users who engage in personal attacks, use an excess of profanity, make verifiably false statements or are otherwise nasty. Comments that contain links must be approved by admin.