In wake of Florida school shooting, Amodei looks to arm school districts with knowledge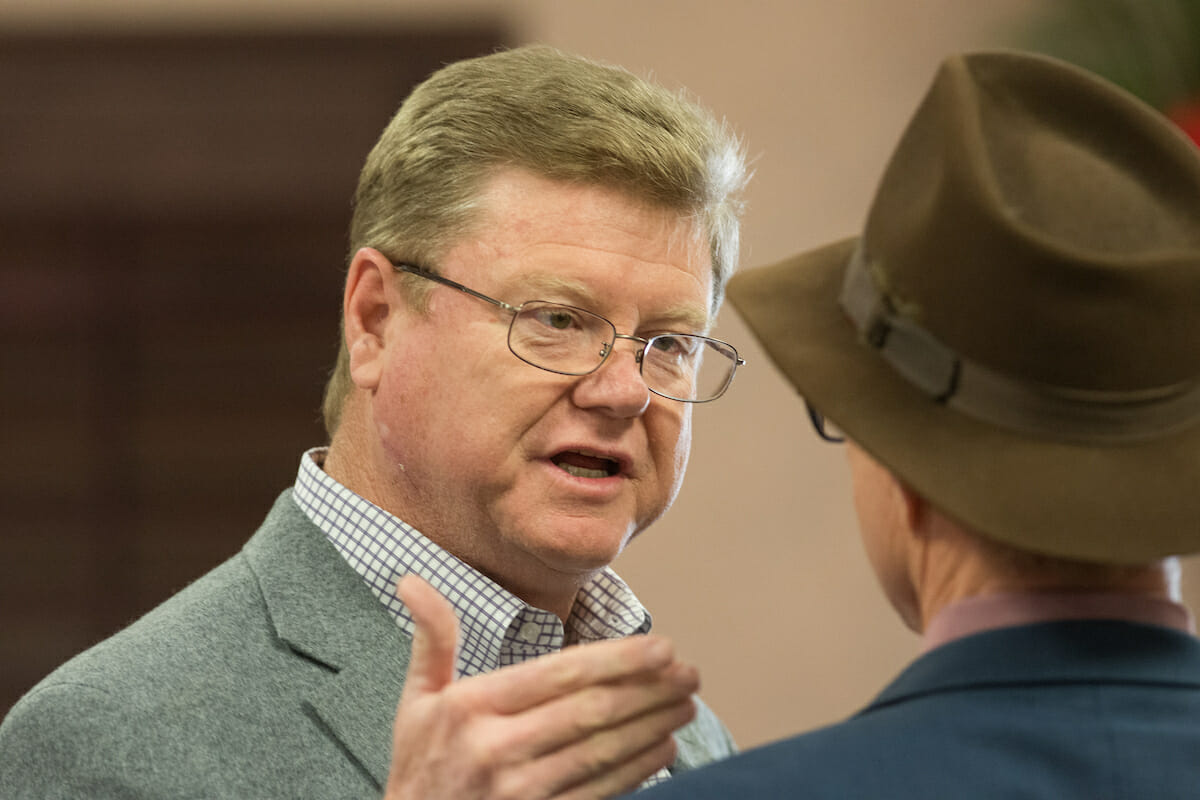 In the wake of a deadly school shooting in Florida, Rep. Mark Amodei sent the 11 school superintendents in his district an FBI quick reference guide on school shooters.
Amodei said that idea came to him after officials from Bishop Manogue Catholic High School in Reno asked his office for information that might be helpful with regard to school safety.
"I want to say 'thank you' to some folks who are on the advisory board for Bishop Manogue because they reached out to us," Amodei told The Nevada Independent this week.
He said that after sending the information to Bishop Manogue officials last week, he decided to send it, on Tuesday, to all 11 school superintendents in the Second Congressional District.
Amodei figured that if Bishop Manogue was interested in federal information on school shootings, other schools in the district would be, too, and should also have access to it.
"As we prepared this package, we said 'we might as well send it to the 11 school districts and if any other private schools want it, they're welcome to it,'" Amodei said.
He added that the message to school officials was, "Here's some federal data for you guys to look at" as you try to safeguard your students.
While he believes there should be a federal response, he also believes that local and state authorities have a role to play.
"If it's really about school safety, there's a lot of stuff to talk about," Amodei said.
The information sent to the school districts consisted of two one-page summaries put together by the FBI on common factors among school shooters and active shooters, respectively. Active shooters is a broader category that encompasses school shootings.
For example, the school shooters summary said that school shootings are typically thought out and planned in advance; that other students tend to know about them beforehand but fail to notify an adult; and very few of the attackers ever direct threats to their targets before the attack.
It noted that despite prompt law enforcement responses, most attacks are stopped by means other than law enforcement intervention; that 63 percent of attackers had a known history of weapons use; 68 percent acquired the weapon used from their own home or that of a relative; and 93 percent of attackers engaged in some behavior prior to the attack that caused others to be concerned.
The active shooter reference guide is the result of a 2014 FBI study of "active shooter incidents to provide federal, state, local, campus and tribal law enforcement with accurate data to better understand how to prevent, prepare for, respond to and recover from these incidents."
It includes statistics from the 160 active shooter incidents the FBI identified between 2000 and 2013. Of those 24 percent occurred at schools or institutions of higher education.
Amodei's comments and efforts to share information come amid a flurry of gun policy-related activity in and around the Capitol this week. Hundreds of students descended on the west front of the Capitol to protest gun violence, the House approved a school safety bill and Democrats, including members of the Nevada delegation, sought to pressure Republican leaders in both chambers to take up legislation to address gun violence.
The activity was in response to the Valentine's Day shooting at Marjory Stoneman Douglas High School in Parkland, FL. Seventeen people were killed and 17 more were wounded. Also still fresh in memory of Nevadans is the Route 91 Harvest festival shooting in Las Vegas on Oct. 1 that resulted in 58 deaths — the single deadliest mass shooting in modern U.S. history.
Amodei, who is a staunch proponent of gun rights, reiterated his openness to supporting legislation to add school-security personnel, ban bump stocks, raise the age to buy long guns and improve background checks. But he said he is wary of those seeking to take political advantage of the issue.
"If the objective is really school safety, then good," Amodei said. "If the objective is to abolish the Second Amendment, then not so good."
When asked about President Donald Trump's most recent position on the issue, which included backing a Senate bill to improve the background check system, provide voluntary gun training for teachers and appoint Education Secretary Betsy DeVos as head of a school safety commission, Amodei said that Congress would work its will as an independent body.  
But he added that he was "glad to hear" that the White House was offering up ideas. Earlier this month, Amodei questioned the idea of arming teachers. He noted that it may be more efficient to put more police in schools than provide training for school personnel.
On Wednesday, the House approved a school-safety bill that would authorize $500 million over 10 years to help increase school security,  as well as to pay for federal threat assessment teams to help school districts sort through reported threats and other safety initiatives. Amodei, as well as Reps. Dina Titus, Jacky Rosen and Ruben Kihuen, all voted for the bill.
With regard to Trump's plan, Titus, a Democrat, said she does not have faith in DeVos, who has been criticized for her appearance on CBS' 60 Minutes last week during which, among other things, she said she had not intentionally visited the schools that are underperforming.
"DeVos knows nothing about public schools, so I don't know how she's going address the safety issue any better than she addresses the curriculum issues," Titus said.
Titus added that the president had "kowtowed to the" National Rifle Association because he backed away from his support for raising the age for buying long guns to 21 from 18. She also said that she supports the Senate bill to improve the background-check system, but said she opposed it in the House, which approved the legislation in December, because House Republican leaders attached a proposal that would require states to honor the concealed-carry permits of other states.
Titus praised the student protesters who visited the Capitol on Wednesday.
"I was out there with the students this morning and that's very energizing, they are mobilized, the are not taking 'no,' for an answer so we've got just keep up the fight."
Kihuen said he believes that talk of arming teachers is a distraction from taking on more relevant gun-control legislation.
"What we need to be doing here is making sure that we're enacting legislation that could prevent these types of shootings in the future," Kihuen said. "We're talking about universal background checks, we're talking about raising the age to purchase certain weapons, including the AR-15, banning bump stocks. These are all pieces of legislation that I believe will prevent these types of shootings in the future, not arming our teachers. They should be focused on teaching."
Rosen echoed Kihuen's comments. Her office said that she believes that Congress can respect the Second Amendment while working together to pass common-sense policies that will prevent the wrong people from having access to dangerous, deadly weapons.
Sen. Catherine Cortez Masto took to the Senate floor on Wednesday to read the names of 50 Nevada children who have died from gun violence.
"In the past 5 years, 846 Nevadans have been killed by gun violence. Fifty of those Nevadans were children," she said in her speech. "Since Sandy Hook, we have lost an average of 10 children each year to gun violence in Nevada alone. Today I speak in memory of the 50 children from my home state who will never get the chance grow up and graduate high school, pursue their dream job or have children of their own."
Featured Videos
Comment Policy (updated 4/20/2021): Please keep your comments civil. We reserve the right to delete comments or ban users who engage in personal attacks, use an excess of profanity, make verifiably false statements or are otherwise nasty. Comments that contain links must be approved by admin.