Indy DC Download: House approved $1 trillion spending bill, with no Yucca funding, while Senate blocked Saudi arms sales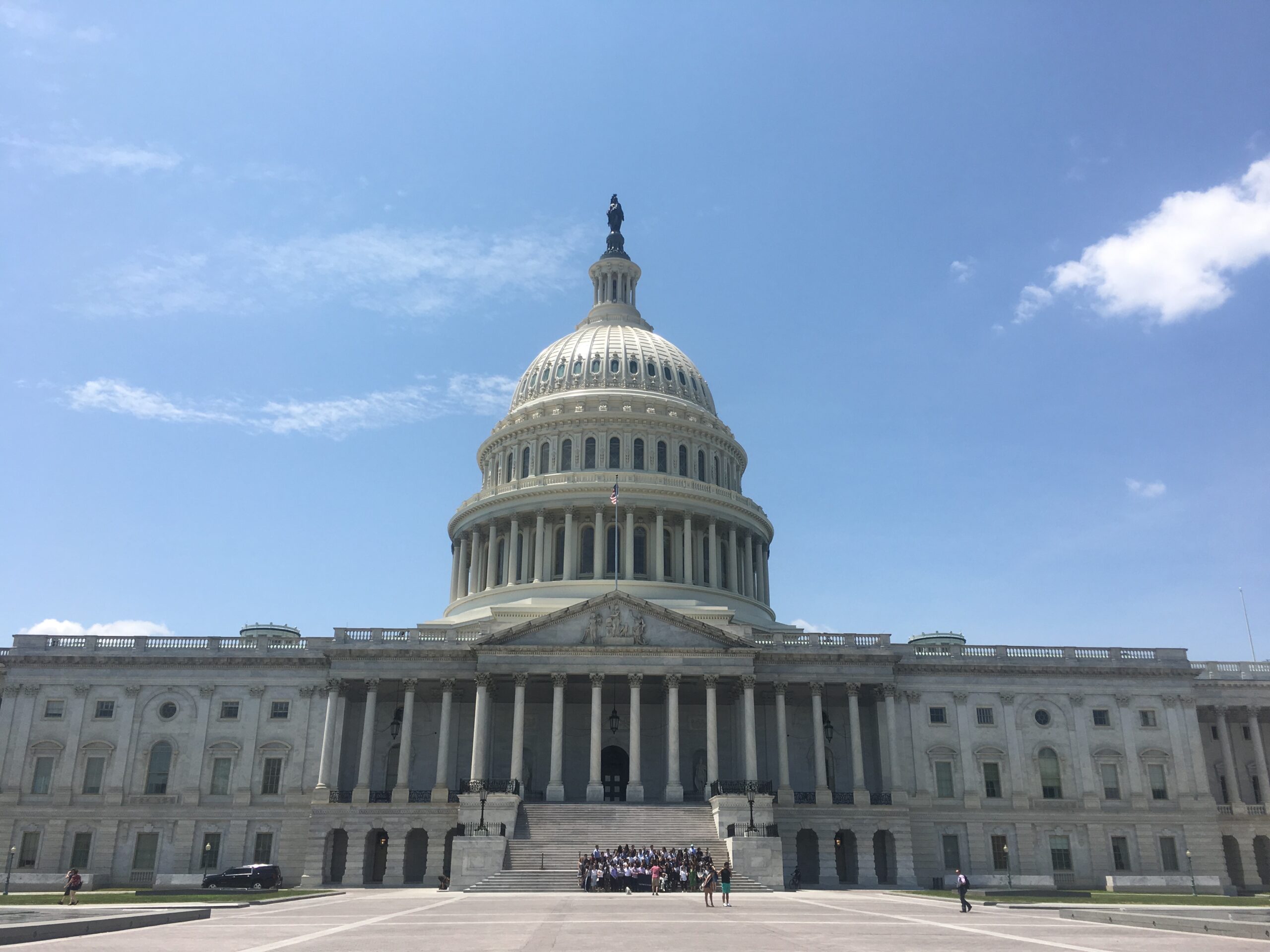 The House last week approved a nearly $1 trillion appropriation package, which Nevada Democrats praised for not including any funding for storing nuclear waste in the state, and also opened debate on a second $383 billion package that includes $86.6 billion for transportation programs.
Republican Rep. Mark Amodei, who did not support the package, had strong words about the need for House and Senate Democratic and Republican leaders to strike a deal with the White House on defense and nondefense spending levels in order to turn off automatic spending cuts, known as sequestration, set to go into effect at the beginning of the next fiscal year, Oct. 1. Talks are ongoing, but not much progress has been made.
"September is not that far away in congressional terms," Amodei said, adding that a deal needs to be reached in order to avoid a government shutdown or a series of funding extensions at current levels, known as continuing resolutions (CRs).
"God forbid another CR extravaganza or sequester application because if we can't learn from what shit shows those were in the past, it's beyond sad if we put everybody through that again," Amodei said. "The leadership on both sides is phenomenally tone-deaf if we end up there again."
House passage of the spending measure came as the Senate approved 22 resolutions to block 22 arms sales to Saudi Arabia, the United Arab Emirates and other countries. The measures were packaged into three votes. The first two disapproval resolutions passed 53 to 45 and the third, covering the remaining 20 sales, was approved 51 to 45.
Both Sen. Catherine Cortez Masto and Sen. Jacky Rosen supported the measures. But while the resolutions passed the Senate, they fell short of the 67 votes needed to override a veto, which President Donald Trump has threatened to issue.
Part of Trump's rationale for opposing the resolutions is his belief that resolutions "would affect the ability of our partners to deter and defend against Iran's hostile acts," according to a statement of administration policy.
The Senate vote also comes as tensions with Iran are running high after the Islamic republic shot down a U.S. drone on Thursday that Iran's government claims entered the nation's airspace. The Pentagon contends the drone was in international waters. The U.S. had planned a retaliatory strike, but Trump decided against it due to a concern that as many as 150 people could be killed.
"I didn't think it was proportionate," Trump said in an interview with NBC Friday.
That followed an attack earlier this month on two oil tankers in the Gulf of Oman, a major shipping lane for oil and gas patrolled by the U.S. military, that the U.S. government has said were perpetrated by Iran. Tensions also have been stoked by the Trump administration's decision in 2018 to withdraw from a deal struck by the administration of Barack Obama to curb Iran's nuclear weapons program in exchange for economic sanctions relief.
Congress earlier this year voted to withdraw military support for Saudi Arabia in its war in Yemen, which has spurred a humanitarian crisis, in part to send a message to the kingdom about the murder of Virginia-based journalist Jamal Khashoggi. Trump, whose support for the Saudis has not wavered, vetoed the resolution in April.
Appropriations
The House voted on 40 amendments to the spending package last week before approving the measure on a 226 to 203 vote with no Republicans supporting the legislation.
In addition to his concern about the lack of a bipartisan deal on defense and nondefense spending, Amodei's opposed the package, in part, over defense spending, which is $8 billion less than what Trump requested in his budget. He is concerned that any reductions to defense spending could adversely affect the economy in Nevada, which has Air Force bases at Nellis and Creech and the Naval Air Station near Fallon.
"If you don't think training is going to be affected at Nevada's Air Force and Navy training centers for the whole nation, it's going to be very significant," Amodei said. "That's a big deal for us."
Amodei said that taken individually, the issues he has with the measure would not necessarily prevent him from supporting the package, but taken together, "all those things start to outweigh" the provisions he supports in the package. 
Other problems the congressman said he had with the bill included providing no funds to alleviate the humanitarian crisis at the southern border and a provision that blocks a rule that went into effect earlier last month that prohibits medical facilities that receive Title X federal family planning funding from counseling and referring for abortion.
Democratic Rep. Susie Lee broke with her fellow Nevada Democrats on three amendments, including one that would increase aid withheld from Pakistan over the imprisonment of Dr. Shakil Afridi, who was imprisoned on a 33 year sentence for helping the U.S. find Osama Bin Laden, from $33 million to $66 million.
The amendment, offered by Republican Rep. Mark Meadows of North Carolina, was approved 387 to 33 and Lee was one of 32 Democrats who voted against the proposal. Lee was the only member of the state delegation to oppose the amendment.
According to her office, members of the Pakistani-American community in Southern Nevada don't want the U.S. to turn foreign aid to Pakistan into a purely transactional relationship. They also said that the move encourages Pakistan to seek aid from China, which would grow the communist nation's influence in the region.
The second amendment opposed by Lee would limit the warrantless collection of American's communications under section 702 of the Foreign Intelligence Surveillance Act (FISA). That section of the FISA law permits the government to conduct targeted surveillance of foreign persons located outside the United States even if the communications of American citizens are caught in the dragnet.
The amendment, proposed by Republican Rep. Justin Amash of Michigan, failed 253 to 175.
Lee was among the 126 Democrats who voted against the measure. Amodei also did not back the amendment.
Lee's office said her opposition stemmed from a desire for more fulsome debate and oversight of the program — not to just defund it with a blanket amendment debated for just 10 minutes.
She also opposed an amendment to prevent funds from being used for research on the Long Range Stand Off Weapon, which is a missile platform for nuclear weapons. The amendment, offered by Democratic Rep. Pramila Jayapal of Washington, was rejected by the House 289 to 138. Lee was one of 98 Democrats who opposed the amendment, as did Amodei.
Her 'no' vote was spurred by a concern that it prohibits research into the next generation of cruise missiles threatening to cede a military advantage to potential adversaries.
Following approval of the funding legislation, the House began debate on a five-bill $383.3 billion spending package that includes $73.9 billion in commerce, justice and science programs, which is an increase of $9.8 billion above the current level.
Agriculture, rural development and the Food and Drug Administration would receive $24.3 billion under the measure, which is $1.3 billion above the fiscal year 2019 enacted level.  
The package would provide $37.3 billion for interior and environmental programs, an increase of $1.73 billion over the current level. Military construction veterans programs would receive $108.4 billion, $10.4 billion above the fiscal year 2019 enacted level. Transportation and housing programs would get $137.1 billion in resources, which would be an increase of $6 billion above the current year.
The House adopted an amendment to the package offered by Lee that would increase investment in child nutrition programs in public schools.
Yucca
Democrats in the Nevada congressional delegation celebrated the fact that the $982.8 billion spending package approved last week, which would fund the Department of Energy at $37.1 billion, did not include any funding to license a nuclear waste repository at Yucca Mountain, despite efforts by the DOE, Idaho Republican Rep. Mike Simpson and Illinois Republican John Shimkus.
"We worked tirelessly to keep funding for Yucca Mountain out of this bill," said Democratic Rep. Dina Titus in a release. "Make no mistake: this is a major and decisive victory for Nevada. We will not allow the Trump Administration to make our state the dumping ground for the nation's nuclear waste."
During last month's Appropriations Committee markup of the measure that funds the DOE, Simpson sought and narrowly failed to add an amendment to provide about $74 million to continue the Yucca licensing process. Shimkus tried to offer an amendment to provide $15 million for Yucca, but that was rejected by the House Rules Committee, which determines what gets a vote on the floor.
"Big win for Nevada today as @HouseDemocrats reject a third attempt to bring nuclear waste into our home," Democrat Steven Horsford wrote on Twitter after the House floor vote on Wednesday. "I'll continue to fight any effort to relicense Yucca Mountain."
Some Nevada lawmakers, who have argued that one problem with the project stems from the danger of transporting the waste to the site, cited a train derailment near Elko on Thursday as exhibit A against Yucca.
"Let's just imagine if that accident happened on the railway behind the Strip and what the impact would be, not just on Las Vegas and Nevada, but, more importantly, on our economy," Lee said on KSNV.
In response, Shimkus' office pointed to a fact sheet from the World Nuclear Association detailing the world-wide, accident-free transportation of nuclear waste.
Yucca was also on the mind of Cortez Masto and Jacky Rosen when they voted against confirming Rita Baranwal to be assistant secretary for nuclear energy. Her nomination was confirmed by the Senate 86 to 5.
"Rita Baranwal—who is willing to ignore the will of the people of NV by reopening licensing on Yucca Mountain—is not the right person to lead the Office of Nuclear Energy," Cortez Masto said. "Today I voted 'no' on her confirmation on behalf of Nevadans."
When asked about her vote, Rosen's office said "Senator Rosen stood up for Nevadans by voting against Baranwal, who went on the record to voice her support for Yucca Mountain and legislation to push forward with reviving this dangerous project."
Miscellany
At a Senate Finance Committee hearing on trade Tuesday, Cortez Masto pressed U.S. Trade Representative Robert Lighthizer about the trade war with China and the tariffs unveiled last month on sporting goods that could threaten Nevada's outdoor industry.
"Outdoor recreation is a critical part of Nevda's economy, supporting 87,000 direct jobs," Cortez Masto told Lighthizer. "It generates $12.6 billion in consumer spending and $4 billion in wages and salaries and $1.1 billion in state and local tax revenue."
Lighthizer said he sympathized with those affected by the trade war, but argued that the benefits of winning the war outweighed the pain of the fight. 
"We are involved in a very difficult trade struggle, which I think is extremely important to the U.S. economy, and that is whether or not we are going to protect your intellectual property and the jobs of the future and even our current jobs and it's impossible to say when that is going to be resolved," Lighthizer said.
He also recommended that manufacturers bring production back to the United States in order to avoid the tariffs.
Also Tuesday, Rosen signed on to a letter opposing a White House Office of Management and Budget (OMB) plan to use the Chained Consumer Price Index (chained CPI) in order to calculate the federal poverty rate.
"Making this change while addressing none of the ways in which the current poverty line underestimates hardship could decrease the accuracy of the official poverty measure," the letter said. "Further, because chained CPI shows slower inflation over time, fewer Americans would fall below the poverty line in the future, and programs that serve low- and moderate-income people would see major funding cuts." 
Chained CPI is used to index taxes and spending to inflation and tracks the prices of a "basket" of goods and services. But chained CPI substitutes cheaper products and services for more expensive ones in the basket, as a consumer would do. This causes the chained CPI to rise more slowly than the traditional CPI measure.
The poverty guidelines are important because they "are used to determine eligibility for a number of government programs, including Medicaid, the Children's Health Insurance Program (CHIP), the Maternal and Child Health Block Grant, the Community Service Block Grant, Head Start, the School Breakfast Program, HOME Investment Partnership and Community Development Block Grants, among others," the letter continued.
Horsford, at a House Budget Committee hearing on poverty, called the move Trump administration's "most recent attack on safety net programs."
"The proposed rule would inevitably lower the income eligibility limits for safety net programs that are tied to the poverty line and impose unfathomable hardships on families," he said.
He argued the move would affect 425,000 Nevadas on food stamps, 633,000 on Medicaid and the State Children's Health Insurance Program and 3,000 children eligible for Head Start and Early Head Start, federal programs for preschool children from low-income families, who are on the waiting list to get into those programs.
At a House Veterans Affairs Committee hearing on mid-semester school closures, Lee said she found a mistake on the Department of Education's website with regard to the closure date of the Art Institute Phoenix. The wrong date of closure, listed on the site as March 8 rather than December 28, 2018, threatened to prevent students from having their loans discharged. Students are eligible for a closed school loan discharge if they were enrolled 120 days prior to closure.
"Being told that they don't qualify for a full discharge when in fact they do is the difference between a lifetime of financial ruin or a lifetime of freedom," Lee told DOE official Robin Minor at the hearing. "It is essential that the Department of Education and its servicers they contract with correct this error."
"From a review of the Department's webpage, it appears that this is not the only school for which the department has misinformed students of their rights," Lee continued.
Minor agreed "to look into those" issues.
For a full rundown of the measures the delegates supported or opposed this week, check out The Nevada Independent's congressional vote tracker and other information below.
SEN. CATHERINE CORTEZ MASTO
Legislation sponsored
S. 1939 – A bill to direct the Secretary of Transportation to establish the Strengthening Mobility and Revolutionizing Transportation (SMART) Challenge Grant Program to promote technological innovation in our Nation's communities.
S. 1901 – A bill to promote geothermal energy, and for other purposes.
S. 1894 – A bill to require the Secretary of Homeland Security to use alternatives to detention for certain vulnerable immigrant populations, and for other purposes.
S. 1890 – A bill to provide for grants for energy efficiency improvements and renewable energy improvements at public school facilities.
Legislation co-sponsored:
S. 1940 – A bill to permit legally married same-sex couples to amend their filing status for tax returns outside the statute of limitations.
S. 1935 – A bill to direct the President to develop a plan for the United States to meet its nationally determined contribution under the Paris Agreement, and for other purposes.
S. 1929 – A bill to prohibit the Department of Housing and Urban Development from limiting the eligibility of DACA recipients for certain assistance, and for other purposes.
SEN. JACKY ROSEN
Legislation sponsored:
S. 1921 – A bill to provide that primary care services provided by the National Health Service Corps may include palliative care services.
Legislation co-sponsored:
S. 1940 – A bill to permit legally married same-sex couples to amend their filing status for tax returns outside the statute of limitations.
S. 1935 – A bill to direct the President to develop a plan for the United States to meet its nationally determined contribution under the Paris Agreement, and for other purposes.
S. 1905 – A bill to amend the Patient Protection and Affordable Care Act to provide for additional requirements with respect to the navigator program, and for other purposes.
REP. DINA TITUS
Legislation sponsored:
H.R. 3373 – To establish the Office of International Disability Rights, and for other purposes.
Legislation co-sponsored:
H.R. 3381 – To amend the Higher Education Act of 1965 to increase transparency and reporting on campus sexual violence, and for other purposes.
REP. STEVEN HORSFORD
Legislation sponsored:
H.R. 3342 – To make hospitals eligible for health professions opportunity grants under section 2008 of the Social Security Act.
Legislation co-sponsored:
H.R. 3315 – Universal Child Care and Early Learning Act
The Nevada Independent is raising $200,000 by Dec. 31 to support coverage of the 2024 election.
Tax-deductible donations from readers like you fund this critical work.
If you give today,your donation will be matched dollar-for-dollar.
Give + Get Matched
Featured Videos