Indy DC Download: House committees begin work on Democrats' $3.5 trillion social spending package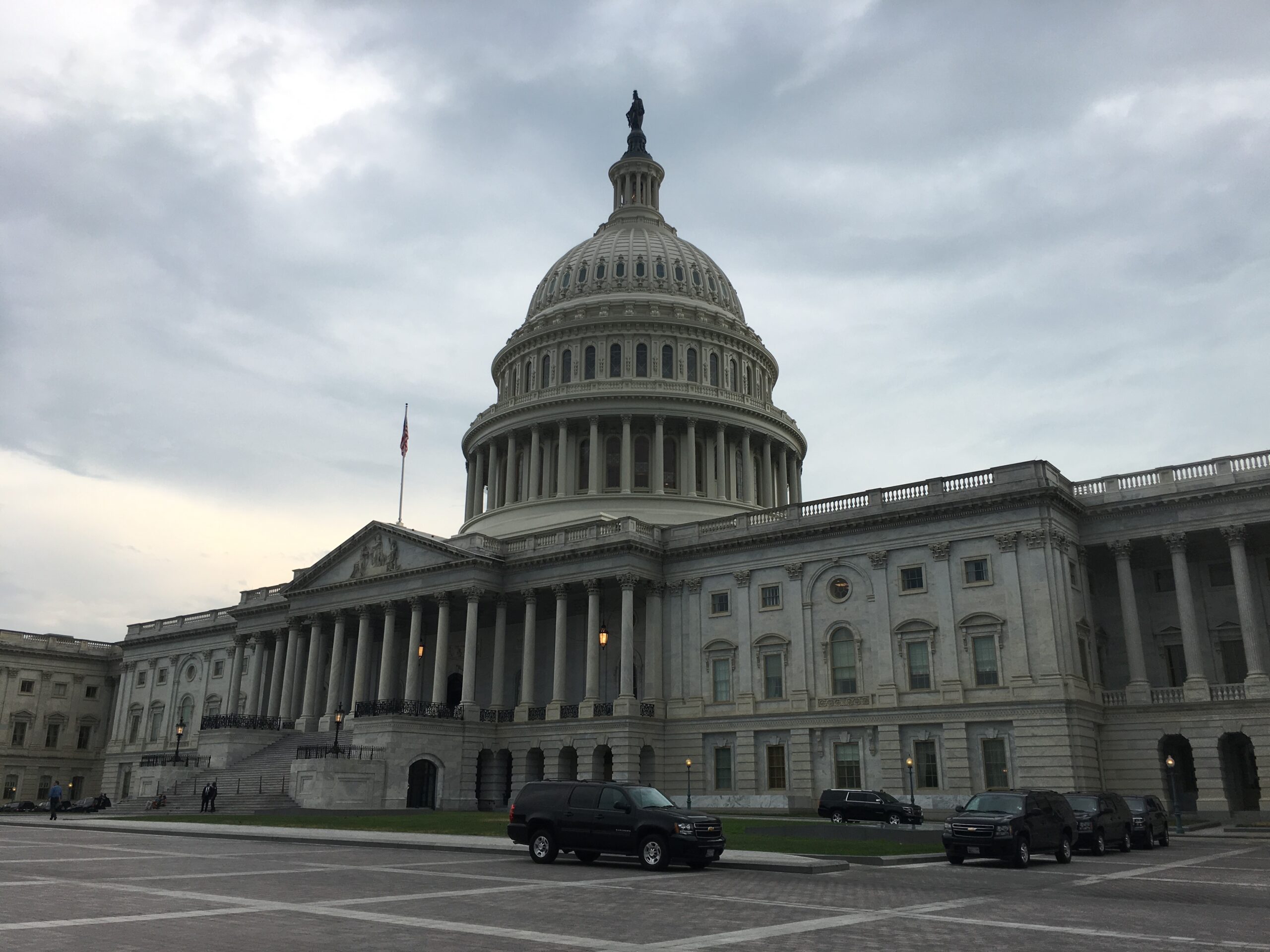 Good morning, and welcome to the Indy DC Download newsletter, a weekly look at what's going on in the nation's capitol as it relates to Nevada.
If a colleague or associate emailed this newsletter to you, please click here to sign up and receive your own copy of Indy DC Download in your inbox
Workers with new babies or those lending a hand with a sick family member can take up to 12 weeks of paid leave under legislation being considered by the House Ways and Means Committee as part of the Democrats' $3.5 trillion social safety net measure.
Rep. Steven Horsford (D-NV), a panel member, said the paid leave provision would help people like Tameka Henry. A Las Vegas resident, Henry became an activist on the issue with progressive nonprofit Make It Work Nevada after she lost her job for taking time to care for her ailing husband.
"Tameka Henry, Make It Work Nevada, and the millions of Americans, particularly women that have tirelessly advocated for universal paid family and medical leave, I have heard you," Horsford said at the hearing Thursday. "This committee has heard you and we will vote today to get us one step closer to providing universal paid family and medical leave to every working American in this country and to make it so that no one else has to lose a job or lose hundreds of thousands of dollars in earned wages to care for themselves, or a sick family member."
The cost of the Ways and Means section of the so-called reconciliation bill, known as the Build Back Better Act, is still being determined while the panel settles on what taxes to raise to offset the measure's price tag. The committee is expected to approve funding offsets on Tuesday.
The House's reconciliation bill will be squared with any differences in the Senate version. The reconciliation process will allow the Senate to pass the final version on a simple majority and avoid a filibuster.
But first, Democrats in both chambers need to make sure they have the votes to pass the package. That includes winning over Sen. Joe Manchin (D-WV), who has raised concerns about the $3.5 trillion price tag while ensuring that progressives, who are insisting on the $3.5 trillion top line, also back the bill. All 50 Senate Democrats will be needed to pass the measure. Speaker Pelosi cannot lose any more than three votes in the House to send the measure to President Joe Biden. Democratic leaders have given themselves until Thursday to finish drafting the bill.
Action in the Ways and Means Committee came as the House Natural Resources Committee approved its portion of the $3.5 trillion bill on a party-line 24 to 13 vote. The $25.6 billion measure included $2.5 billion to clean up and redevelop abandoned hard rock mines and impose new hard rock mining royalty, maintenance and reclamation fees.
The mining fees were a concern for Nevada Mining Association President Tyre Gray.
"Nevada mining operators would be severely impacted due to the amount of mining that occurs on federal land compared to other states and the retroactivity of the royalty being levied against existing operations," Gray said. "Furthermore, such a plan would create a roadblock for the country's movement towards a green energy economy and mineral independence. The proposal implicitly promotes mining in jurisdictions that do not follow the same environmental and civil standards that are enforced in Nevada."
The House and Senate held no roll call votes. Both are on their August recess.
Paid leave
The panel approved the paid leave section of the package 24 to 19 with one Democrat, Rep. Stephanie Murphy (D-FL), a moderate, casting a 'no' vote over concern about the rushed process. Murphy voted against all provisions of the bill.
In a brief interview Friday, Henry said she was happy that Horsford had mentioned her during the markup and stressed that the COVID-19 pandemic had underscored the need for people to have access to paid leave.
"There have been so many families that have now been affected by this pandemic," Henry said, adding that she, too, had previously contracted COVID-19.
"I've talked to so many families. They'll say that 'I've got to get back to work because I don't have a way to pay my bills,'" she continued.
But Henry said that though the Family and Medical Leave Act (FMLA), a law enacted in 1993, provides 12 weeks of unpaid leave to eligible workers, it does not help those who cannot afford not to work.
During the debate, Horsford said that 60 percent of workers in Nevada do not have access to FMLA, according to the National Partnership for Women and Families.
Horsford spoke out against a few GOP amendments, all of which were defeated. One was offered by Rep. Mike Kelly (R-PA) and would have delayed implementing the paid leave program for six months after the Treasury Department certifies that it can run the program. Kelly and his GOP colleagues argued that the agency does not have the expertise to take on the task.
But the Nevada Democrat deemed the proposal dilatory.
"I believe the [Treasury] secretary has the full ability to enact this legislation," Horsford said. "But unfortunately your proposed amendment is simply an effort to create bureaucratic steps and to slow down the process. American workers have already waited far too long for paid family and medical leave."
Another GOP amendment from Rep. Lloyd Smucker (R-PA) would have required individuals to be employed in the last 30 days and have an earnings history in at least four of the previous five quarters to receive paid leave benefits.
Under the bill, the individual must have worked in the quarter before receiving the benefit.
"It is better to use the most recent quarter data for verification of work," Horsford argued. "And that's what our bill does. It reduces errors; it prevents delays in getting benefits to the people who need it."
The panel wrapped up its bill-drafting session Thursday with votes on a provision that would require businesses that do not provide a retirement benefit to automatically enroll their employees in IRAs or 401(k)-type plans. The provision was approved 22 to 20, with two Democrats voting against it.
It would also make the so-called savers' credit more generous by making it refundable, meaning those without a tax liability could claim up to $500 from the federal government, which would go into a retirement account. Under current law, the credit allows low and moderate-income individuals to get up to a $500 reduction in their tax liability if they contribute up to $1000 to a retirement plan.
The committee also approved, 24 to 19, a provision that would provide grants to raise the wages of child care workers and improve child care facilities.
"People should be properly trained to work with our children," Horsford said. "This is not something that you should do, unskilled and with low wages."
He also cited a report from the liberal Center For American Progress that described Nevada's scarcity of child care. According to the report, 72 percent of Nevadans live in areas without enough child care facilities for the families that need them.
Dental, hearing and vision
During Friday's bill-drafting session, Horsford backed a provision that would allow Medicare to offer dental, hearing and vision benefits. The committee approved the language 24 to 19.
"Right now older adults are suffering because Medicare doesn't cover essential parts of their health care," Horsford said, adding that Nevada's 300,0000 seniors would benefit.
In July, he helped introduce the Medicare Dental Coverage Act.
Rep. Devin Nunes (R-CA), a senior member of the panel, said that the provision represents a massive expansion of the Medicare program, which he said is already overburdened.
He also argued that providing those services could be done through Medicare Advantage, offered by private insurers, but wouldn't "achieve a Democrat socialist takeover of the healthcare system," Nunes said.
The committee approved a provision, 24 to 19, that would increase benefits and expand eligibility for the Trade Adjustment Assistance (TAA) program — a federal initiative designed to support U.S. workers who lose employment due to increased imports.
For example, the measure would allow as few as one worker from a company to apply for TAA benefits rather than the current minimum of three.
The bill would also boost funding for the Health Profession Opportunity Grant (HPOG) program. HPOG provides education and training to Temporary Assistance for Needy Families recipients and other low-income individuals for occupations in the healthcare field that pay well and are expected to either experience labor shortages or be in high demand.
The legislation would boost funding to $425 million a year for five years, up from $85 million.
The panel also approved a provision to protect the elderly and people with disabilities in nursing homes, including funding elder justice programs that increase support for state and local adult protective services offices and long-term care ombudsman programs.
Miscellany
Several Democratic members of the state's congressional delegation backed Biden's vaccine mandate.
Sen. Catherine Cortez Masto (D-NV) said that it would help protect businesses and jobs in the state.
"We need to be doing everything we can to make sure businesses and schools stay open, protect Nevada jobs, and keep Nevadans safe," she said in a statement from her office. "Vaccinations help us achieve that goal, and I will keep working to ensure our state has the resources to support our schools, businesses and communities."
Biden directed the Department of Labor to issue a rule requiring businesses with 100 or more workers to require vaccinations or have unvaccinated workers produce weekly negative COVID-19 test results.
Former Attorney General Adam Laxalt, who is challenging Cortez Masto for her seat, called on her to denounce the mandate.
"Catherine Marie Cortez Masto must swiftly and strongly reject such an egregiously unconstitutional power grab," his campaign said.
Horsford cited the need to curb the rise in cases in Nevada and across the nation driven by the highly contagious Delta variant.
"As the COVID-19 pandemic and the Delta variant surge in Nevada, Congressman Horsford agrees with the Vegas Chamber and major Nevada employers that widespread vaccination is essential for the state's economic recovery," his office said. "Congressman Horsford supports President Biden's action plan to require employees at companies with 100 or more workers to be tested weekly for COVID-19 or vaccinated against the virus."
Rep, Susie Lee (D-NV) also backed the White House move.
"Like everyone else, I am sick and tired of the COVID-19 pandemic disrupting our lives, keeping our kids out of school and people out of work," Lee said in a statement from her office. "The president took this step because we need to get our vaccination rates up to get back to normal – it's that simple."
"Even before this announcement, we'd already seen many businesses here in southern Nevada, including casinos, rolling out vaccine requirements for their employees," Lee continued.
Rep. Dina Titus (D-NV) agreed.
"I applaud these actions from @POTUS which will protect communities and help keep our economy on track," she said in a tweet.
Also, Titus called on Speaker Nancy Pelosi (D-CA) and Senate Majority Leader Chuck Schumer (D-NY) to include language in the reconciliation bill that would provide a path to citizenship for those brought to the country illegally as children, known as DREAMers, those receiving Temporary Protected Status (TPS) and essential workers.
"In every state in the nation, undocumented workers make up a larger share of the workforce than they do the total population," Titus wrote in a letter. "Indeed, using economic impact tools, Dreamers, TPS holders (including those individuals eligible for but not enrolled in TPS), farmworkers, and undocumented essential workers could contribute $121 billion to the economy each year if they were able to become U.S. Citizens."
Her letter came as Senate Democrats made their case Friday to Senate parliamentarian Elizabeth MacDonough to allow them to include that provision in the bill. Under Senate rules, provisions in the reconciliation bill must directly impact spending or revenue and not merely an incidental effect. MacDonough will rule whether it meets the test.
For a full rundown of the measures the delegates supported or opposed this week, check out The Nevada Independent's congressional vote tracker and other information below.
Comment Policy (updated 4/20/2021): Please keep your comments civil. We reserve the right to delete comments or ban users who engage in personal attacks, use an excess of profanity, make verifiably false statements or are otherwise nasty. Comments that contain links must be approved by admin.