Indy DC Download: Senate confirms Biden's last cabinet nominee with votes on gun control, voting rights and infrastructure in the offing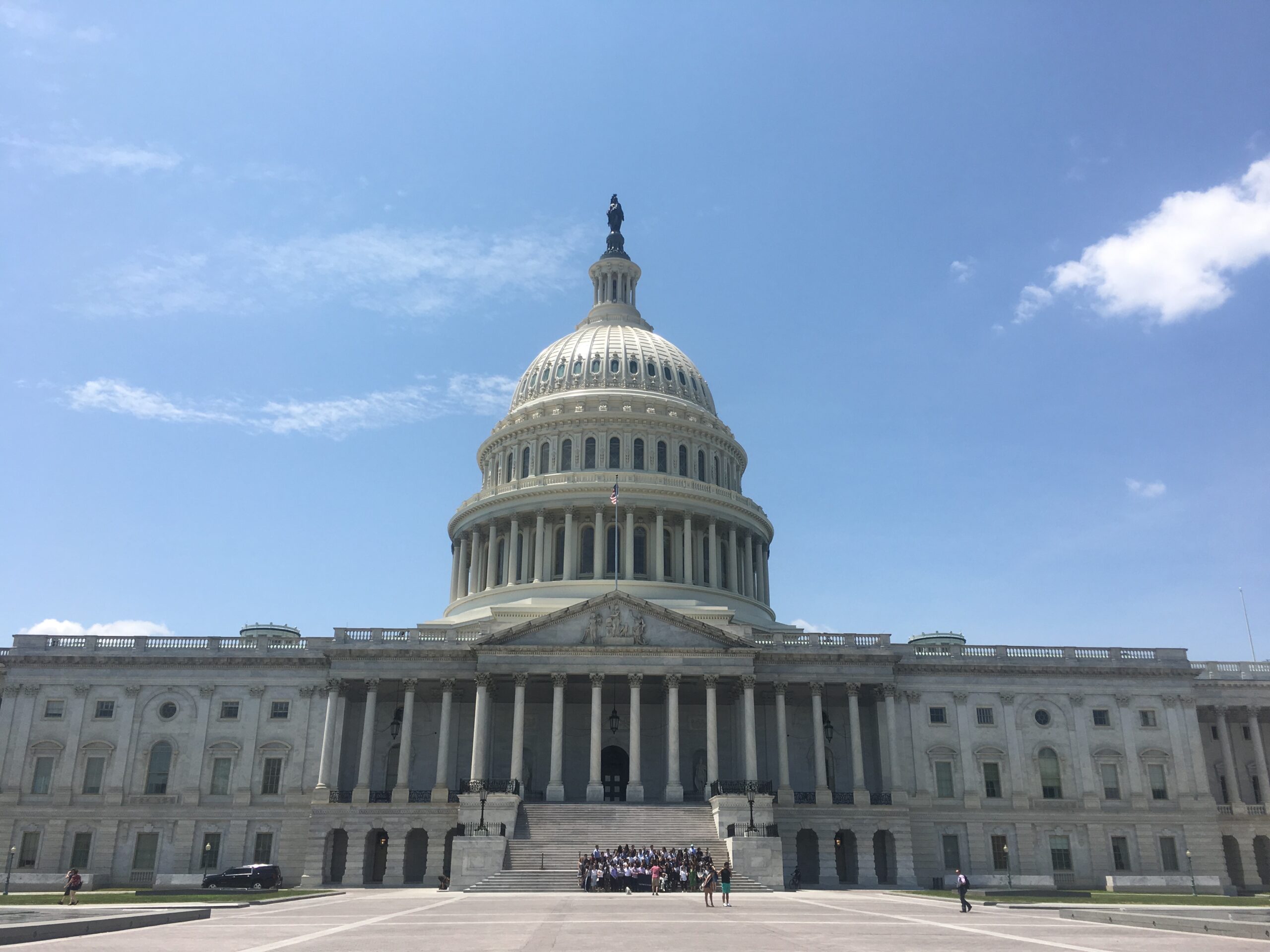 The Senate approved former Boston Mayor Marty Walsh to lead the Department of Labor, the last of President Joe Biden's Cabinet nominees, as the chamber prepares to take up a series of measures including gun control, voting rights and infrastructure legislation after a two-week recess.
"His confirmation comes at a critical time for the American labor workforce, with millions of people out of work and facing the loss of jobless benefits," Sen. Jacky Rosen (D-NV) said of Walsh. "Secretary Walsh supports our unions and will fight to increase the minimum wage."
In Nevada, the state unemployment rate fell slightly to 8.3 percent in February from 8.5 percent in January, according to the Nevada Department of Employment, Training and Rehabilitation (DETR). The Silver State was tied for the nation's fifth-highest unemployment rate in February with New Mexico, according to the Bureau of Labor Statistics (BLM).
"Broadly, the trend in February remains largely flat, and is similar to what we saw in January, with ongoing significant disruption highly concentrated in the Las Vegas area," said DETR Chief Economist David Schmidt. The Las Vegas-Henderson-Paradise metro area had a 9.9 percent unemployment rate in January, according to BLM.
Walsh, whose nomination was also supported by Sen. Catherine Cortez Masto (D-NV) last week, rounded out Biden's cabinet, which consists of the vice president and the heads of 15 executive departments. They include, in order of succession to the presidency: Department of State; Treasury; Defense; Justice; Interior; Agriculture; Labor; Health and Human Services; Housing and Urban Development; Transportation; Energy; Education; Veterans Affairs and Homeland Security.
Last week, the Senate also made history when it approved Rachel Levine's nomination, on a 52 to 48 vote, to be assistant secretary for health at the Department of Health and Human Services. Levine, who helped lead Pennsylvania's response to the COVID-19 pandemic as the state's secretary of health, is the only openly transgender person ever confirmed by the Senate.
All Senate Democrats, including Rosen and Cortez Masto, voted for Levine, in addition to two Republicans, Sen. Lisa Murkowski of Alaska and Sen. Susan Collins of Maine.
The Senate votes came as the House was not in session last week. But members participated remotely in committee hearings.
Gun control
Following the recent shooting at a grocery store in Boulder, Colorado, which left 10 people dead, and the shooting in Atlanta, which left eight people dead, Democrats in the state's congressional delegation called on Congress to take up gun control legislation.
"At this juncture, it is hard to find the words," said Cortez Masto in a speech on the Senate floor Wednesday. "How many more shootings, how many more individuals have to die before we take action?"
She called for passing universal background checks, similar to what the Nevada Legislature passed in 2019. Under state law, which went into effect in 2020, most sales and transfers between private individuals must be processed through a federally licensed dealer to ensure that a background check is conducted.
Senate Majority Leader Chuck Schumer (D-NY) said last week that the Senate would consider background check legislation next month. Both Cortez Masto and Rosen are co-sponsors of Senate legislation to require background checks for almost all sales or transfers of firearms. Exceptions include transfers between law enforcement officers, temporarily loaning firearms for hunting and sporting events, providing firearms as gifts to immediate family members, transferring a firearm as part of an inheritance, or temporarily transferring a firearm for immediate self-defense.
The House recently approved stricter legislation that would require background checks for firearm transfers between private parties, including online and gun shows. The bill prohibits a firearm transfer between private parties unless a licensed gun dealer, manufacturer, or importer first takes possession of the firearm to conduct a background check.
But it's unlikely that Republicans would support the House measure and no GOP senators have co-sponsored the Senate bill. Collins, the moderate Maine Republican and possible gun control supporter, called the House bill "broad" when asked by reporters for her initial thoughts. And Schumer would need to keep all of his Democrats on board, including those from gun-friendly states such as West Virginia and Montana. Neither Joe Manchin (D-WV) nor Jon Tester (D-MT) have co-sponsored the Senate background checks measure.
As with most Senate legislation, Democrats, who control 50 votes, would need all their members and at least 10 Republicans to overcome the bill's filibuster.
Cortez Masto's comments came as part of a group of Democrats who took to the Senate floor to discuss the issue of gun violence and remember victims.
She spoke of the Monday after the shooting at the Route 91 Harvest festival shooting, which left 60 dead and hundreds injured. She said she was in Las Vegas with the families of people looking for loved ones still missing.
"Can you imagine?" Cortez Masto said. "It is the most horrific thing any family member could go through."
She read some of the victims' names and detailed some of the stories of survivors who still live with the emotional damage.
Voting rights
Along with gun legislation, Schumer said last week that he plans to bring up sweeping voting rights, election and campaign reform legislation, known as the For the People Act, to the floor next month.
Cortez Masto and Rosen are both co-sponsors of the bill, which would establish nation-wide automatic voter registration, allow felons who have completed their sentences to vote, expand early voting, enhance absentee voting and make it easier to vote by mail.
"It is our responsibility to protect democracy, and this legislation will make sure that every American is able to exercise their right to vote without undue influence from negative outside forces and individuals pushing their own agendas," Cortez Masto said in a release recently when the bill was introduced in the Senate.
Democrats, including Schumer, also argue that the bill is needed to combat an effort by Republican-controlled state legislatures that are putting up barriers to vote, including requiring identification.
The bill has come under fire from Republicans, such as Senate Minority Leader Mitch McConnell (R-KY), for, among other things, what they argue amounts to a federal takeover of elections from states and localities.
They are also critical of providing a bill that would establish a public campaign finance option for those seeking federal office. The bill would match donations up to $200, considered small-dollar, to participating congressional candidates at a 6-1 ratio. Therefore, a $200 donation to a candidate would attract $1,200 in matching public funds for a total contribution of $1,400.
The National Republican Senatorial Committee (NRSC), the Senate Republican's campaign arm, released a $1 million ad campaign last week, in both Spanish and English, attacking Cortez Masto for supporting the bill.
Speaker Nancy "Pelosi, Schumer and Cortez Masto want to use your tax dollars to fund their political ads," the NRSC ad said. "And they'd let people register and vote without showing any form of I.D."
The NRSC sees Cortez Masto, who will face the voters next year, as vulnerable given that President Donald Trump only lost the state by about three percentage points.
Prospects for the bill in the Senate are uncertain at best. One complication is that Manchin told reporters last week that he wants to win Republican backing for the bill, requiring a significant rewrite of the measure. The House passed it earlier in March with no GOP votes. Manchin, along with Sen. Kyrsten Sinema (D-AZ), has been adamant that he does not want to weaken the 60-vote threshold to overcome a filibuster. Without their votes, no change could take place.
Rosen, who likes to work across the aisle, said she appreciates the filibuster's bipartisan motivation. But she's also ready to talk about reform.
"I do not think we should fully eliminate the filibuster," Rosen said in a statement provided by her office. "It's one of the few things that we have left in the Senate that allows all voices to be heard. But I am open to looking at and discussing reform proposals, like the talking filibuster, so we can get back to talking to each other and effectively governing on behalf of the American people."
Cortez Masto recently came out in favor of enforcing the talking filibuster, which would require opponents of legislation to hold the Senate floor until a compromise is reached or they tire and give up.
Infrastructure
Biden is working with Democrats on a pair of proposals totaling $3 trillion, including funds for rebuilding the nation's infrastructure and another package focused on other homeland priorities such as family leave, education, and workforce development.
At his press conference Thursday, Biden said he would unveil his infrastructure bill Friday in Pittsburgh.
Biden's press conference came as Rep. Dina Titus, at a House Transportation and Infrastructure hearing last week, pressed Transportation Secretary Pete Buttigieg on finishing I-11 between Las Vegas and Phoenix and widening the I-15 corridor to California.
"We need to be connected to our neighbors in Arizona and California," Titus said.
Buttigieg praised the state for improving mobility in the Southwest.
"It certainly got our attention in a favorable way to see how Arizona and Nevada legislators are speaking with one voice," Buttigieg added.
Earlier this month, Titus and Rep. Greg Stanton (D-AZ) wrote to Buttigieg urging him to help fund the remaining Arizona section of I-11. The letter stressed that Phoenix and Las Vegas are the largest cities not connected by an interstate highway.
Buttigieg signaled support for the project.
"It's the kind of project that is a reminder of what might be possible if we were investing more as a country in infrastructure," Buttigieg said.
Miscellany
Another issue that could come up in the Senate next month is immigration reform. The House passed two bills recently, including a bill to provide a path to citizenship to about 2.5 million people brought to the U.S. illegally as children, known as DREAMers. About 12,000 DREAMers live in Nevada.
A group of 16 senators, including Cortez Masto, are working on a proposal that could pass the Senate. The group's first meeting last week came as thousands of unaccompanied children are waiting to be processed in jail-like facilities — in most cases, even longer than the 72-hours stipulated by law.
"We need strong border security to keep Americans safe and a fair immigration system that treats people with dignity," Cortez Masto said in a statement provided by her office. "Unfortunately, the last four years of the Trump administration's incoherent immigration policies created the situation we are seeing today. This week's bipartisan meeting was a productive first step towards addressing these challenges, and I am determined to get something done for the American people."
The group, which consists of eight Democrats and eight Republicans, is expected to meet again soon. Other members include Sen. Lindsey Graham (R-SC), a co-sponsor of the Senate DREAM Act, but recently said he would not vote for the bill because it does nothing to address the situation on the border.
Cortez Masto last week also highlighted the release of $92 million for Nevada schools from the $1.9 trillion American Rescue Plan.
"This is about making sure our classrooms are safe, and these federal dollars will provide teachers, staff, parents, and students with critical resources necessary to return to normal as we work to finally overcome this virus," Cortez Masto said.
The funds, which will be released early next month, will be used to implement screening and testing programs as schools re-open for in-person classes. Serial screening and testing will help schools identify infected individuals without symptoms who may be contagious so that prompt action can be taken to prevent further transmission. The funding will also allow Nevada health departments to provide technical assistance to help schools set up and implement these testing programs.
For a full rundown of the measures the delegates supported or opposed this week, check out The Nevada Independent's congressional vote tracker and other information below.
SEN. CATHERINE CORTEZ MASTO
Legislation sponsored:
S.1004 – A bill to extend the authorization of the Mormon Pioneer National Heritage Area, to designate the Great Basin National Heritage Route in the State of Nevada as the "Great Basin National Heritage Area", to designate the Great Basin Heritage Route Partnership as the "Great Basin Heritage Area Partnership", to extend the authorization of the Great Basin National Heritage Area, and for other purposes.
Legislation co-sponsored:
S.975 – A bill to amend the Internal Revenue Code of 1986 to extend and modify the credit for alternative fuel vehicle refueling property.
S.951 – A bill to direct the Secretary of Veterans Affairs to make grants to eligible organizations to provide service dogs to veterans with severe post-traumatic stress disorder, and for other purposes.
S.942 – A bill to provide that the rule entitled "Short-Term, Limited Duration Insurance" shall have no force or effect.
S.937 – COVID–19 Hate Crimes Act
S.926 – A bill to plan, develop, and make recommendations to increase access to sexual assault examinations for survivors by holding hospitals accountable and supporting the providers that serve them.
S.919 – A bill to establish duties for online service providers with respect to end user data that such providers collect and use.
S.910 – A bill to create protections for financial institutions that provide financial services to cannabis-related legitimate businesses and service providers for such businesses, and for other purposes.
SEN. JACKY ROSEN
Legislation sponsored:
S.958 – A bill to amend the Public Health Service Act to expand the allowable use criteria for new access points grants for community health centers.
Legislation co-sponsored:
S.951 – A bill to direct the Secretary of Veterans Affairs to make grants to eligible organizations to provide service dogs to veterans with severe post-traumatic stress disorder, and for other purposes.
S.942 – A bill to provide that the rule entitled "Short-Term, Limited Duration Insurance" shall have no force or effect.
S.937 – COVID–19 Hate Crimes Act
S.877 – A bill to provide lasting protection for inventoried roadless areas within the National Forest System.
REP. DINA TITUS
Legislation co-sponsored:
H.R. 2120 – To amend the Economic Aid to Hard-Hit Small Businesses, Nonprofits, and Venues Act to include hospitality businesses in grant program for shuttered venue operators, and for other purposes.
REP. MARK AMODEI
Legislation sponsored:
H.R. 2120 – To amend the Economic Aid to Hard-Hit Small Businesses, Nonprofits, and Venues Act to include hospitality businesses in grant program.
Comment Policy (updated 4/20/2021): Please keep your comments civil. We reserve the right to delete comments or ban users who engage in personal attacks, use an excess of profanity, make verifiably false statements or are otherwise nasty. Comments that contain links must be approved by admin.