Indy Environment: Science and history meld in a once-forgotten Nevada cemetery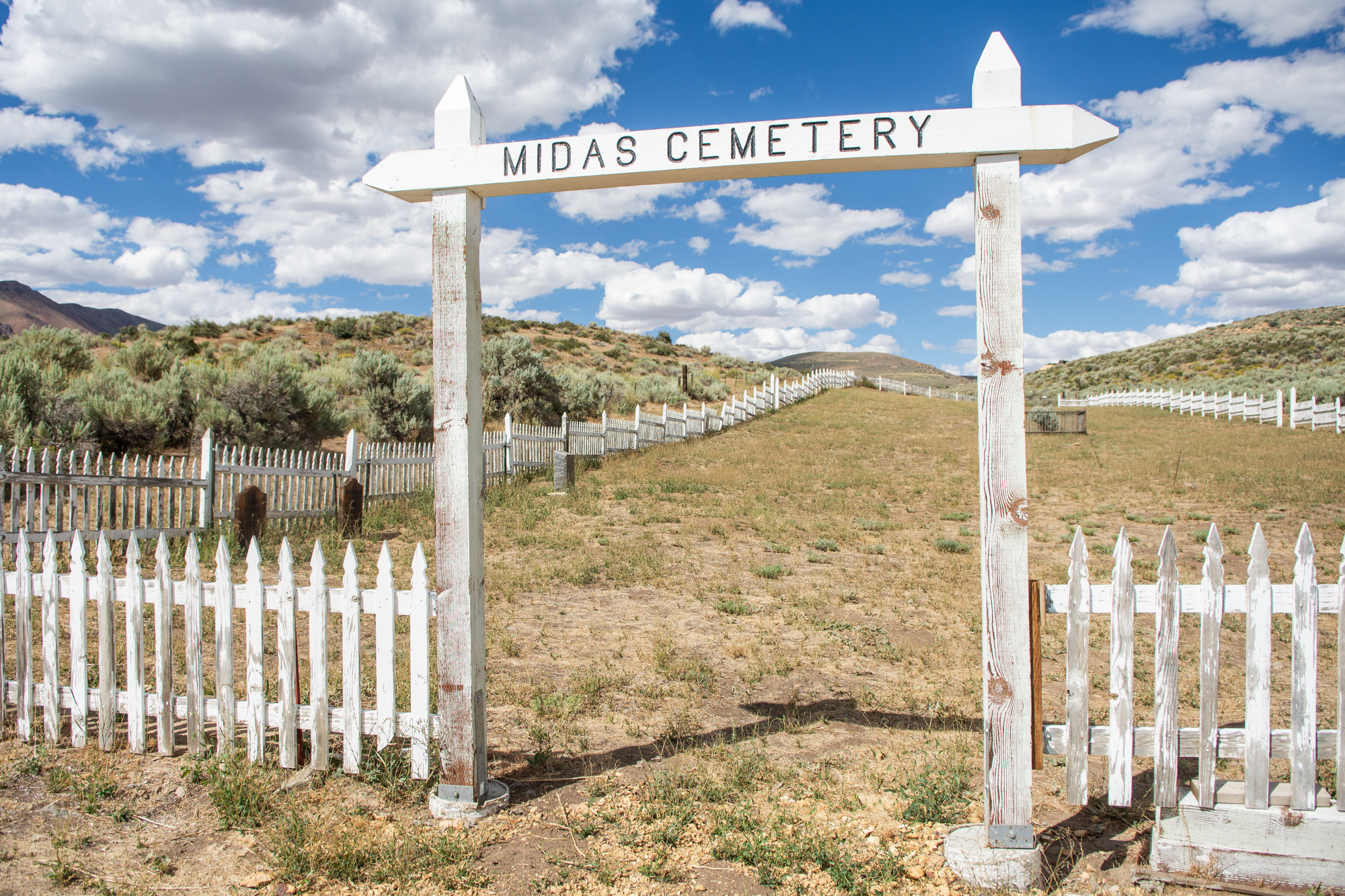 Good morning, and welcome to the Indy Environment newsletter. I'm Amy Alonzo, the environment reporter for The Indy.
In high school, I loved history. Science? It depended on the class. This week, I look at a rural Nevada project that melds the two — using science to recreate a bit of lost history.
Enjoy learning about Midas — a Nevada town that, if you're like me, you had never heard of before — and be grateful you live in a time when falling from a wagon is an unlikely cause of death.
There will be no newsletter on Sept. 21. I look forward to reconnecting with you in October.
As always, we want to hear from readers. Let us know what you're seeing on the ground and how policies are affecting you. Email tips to me at [email protected].
To get this newsletter in your inbox, subscribe here.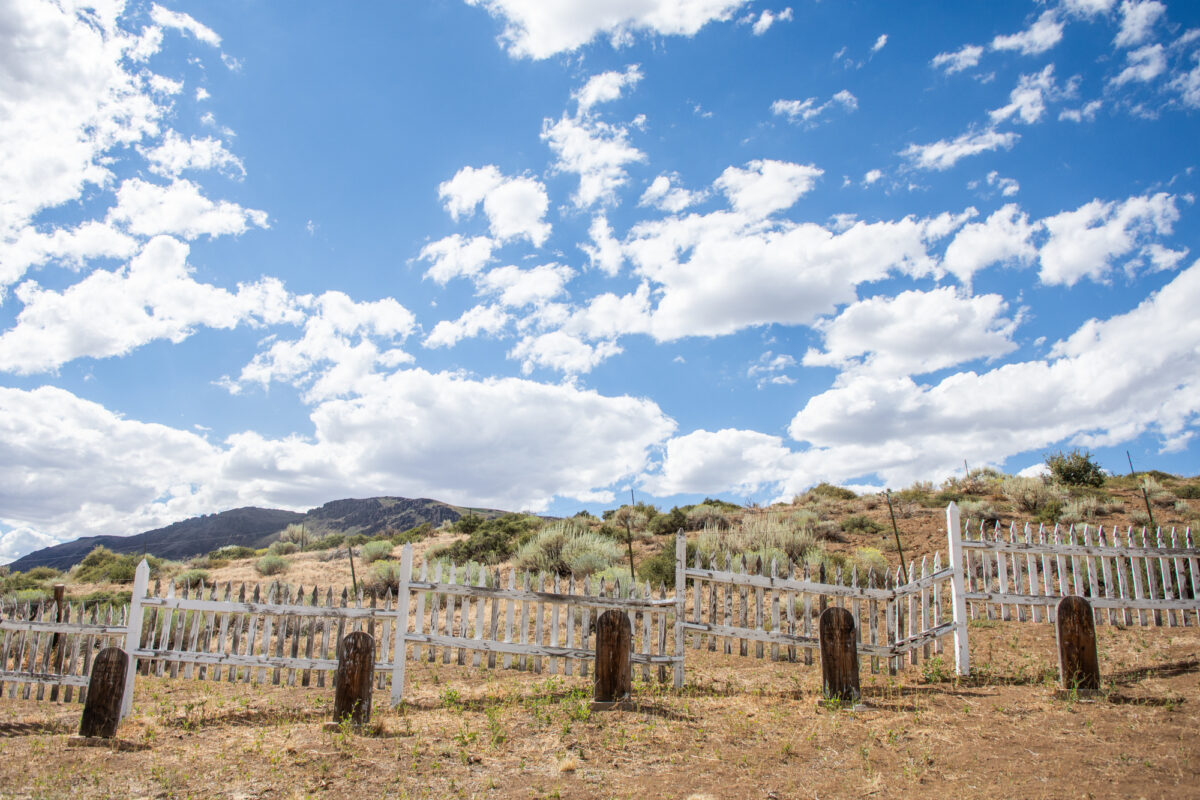 ---
For decades, ground penetrating radar has offered a noninvasive glimpse below the Earth's surface. Using radio waves to capture images below the surface, radar is used in areas as diverse as forensic searches to underground utility and tunnel monitoring.
In rural Nevada, a team of Desert Research Institute scientists is testing the limits of ground penetrating radar in a new way: using it to locate lost burial sites at a nearly forgotten cemetery. It's a project that melds history, community development and science, opening up possibilities for a small town and its residents.
In early August, two assistant research professors — geoarchaeologist Teresa Wriston and snow and ice hydrologist Nathan Chellman — spent three days in Midas, a once-booming mining town north of Battle Mountain in Elko County.
The Midas cemetery was destroyed decades ago by fire and later overrun by grazing livestock.
In the 1990s, members of Friends of Midas, a group dedicated to preserving the tiny town's history, rebuilt the cemetery. Relying on oral history from old-timers, they reconstructed a picket fence and entrance to the cemetery. But its exact location was only a best guess — the actual location of the several dozen bodies laid to rest there is largely still a mystery, making new burials at the site all but impossible.
Intent on making the cemetery once again function as an active burial site, they recruited the scientists to help them locate the bodies.
Wriston and Chellman flew drones and scanned several acres of land with ground penetrating radar to determine the precise location of the town's old cemetery and the bodies laid to rest within it.
"It's a very Nevada problem," Wriston said. "There's a lot of these rural mining communities, ghost towns and stuff; those cemeteries have not been kept up and in some cases, they don't even know where they are."
The rise and fall of the Midas cemetery
In the early 20th century, Midas was a prosperous Nevada mining town.
Gold was discovered there in June of 1907, and the town quickly grew large enough to sustain two newspapers. In 1908, the town saw its first murder, and by April, at least six men had died. The town needed a cemetery.
Residents located it in a draw southeast of town, within walking distance of the Midas mining district. Edmund R. Deakin, 32, was likely its first inhabitant.
Over the years, several dozen pioneers and prospectors were buried alongside Deakin, most of the graves denoted with wooden markers. Three graves were marked with granite tombstones.
The plights of those who were buried at the cemetery vary wildly.
Gardner Bliss died at age 12 of rheumatic fever. Artro Teniente, 28, died from an accidental gunshot. Mateo Azevada died at age 52 after he broke his neck falling from a wagon. Mary Louise West died at 36 from an abortion. Cecelia Clawson Wagner died at 19 from the Spanish flu.
Friends of Midas estimate more than three dozen people are buried at the cemetery.
According to Friends of Midas, the last full burial at the site was Louis Reymond, a 52-year-old mining engineer, in 1932.
In 1922, a fire destroyed the town's mill. Around the time of World War II, the town's mine officially closed, as did the post office.
In the 1950s, another fire burned through Midas, this time wiping out the cemetery. All but the three granite headstones were destroyed.
When the wooden markers disappeared, so did most of the cemetery's defining features. Over the years, sagebrush obscured the plots. Cows from nearby ranches grazed on the property.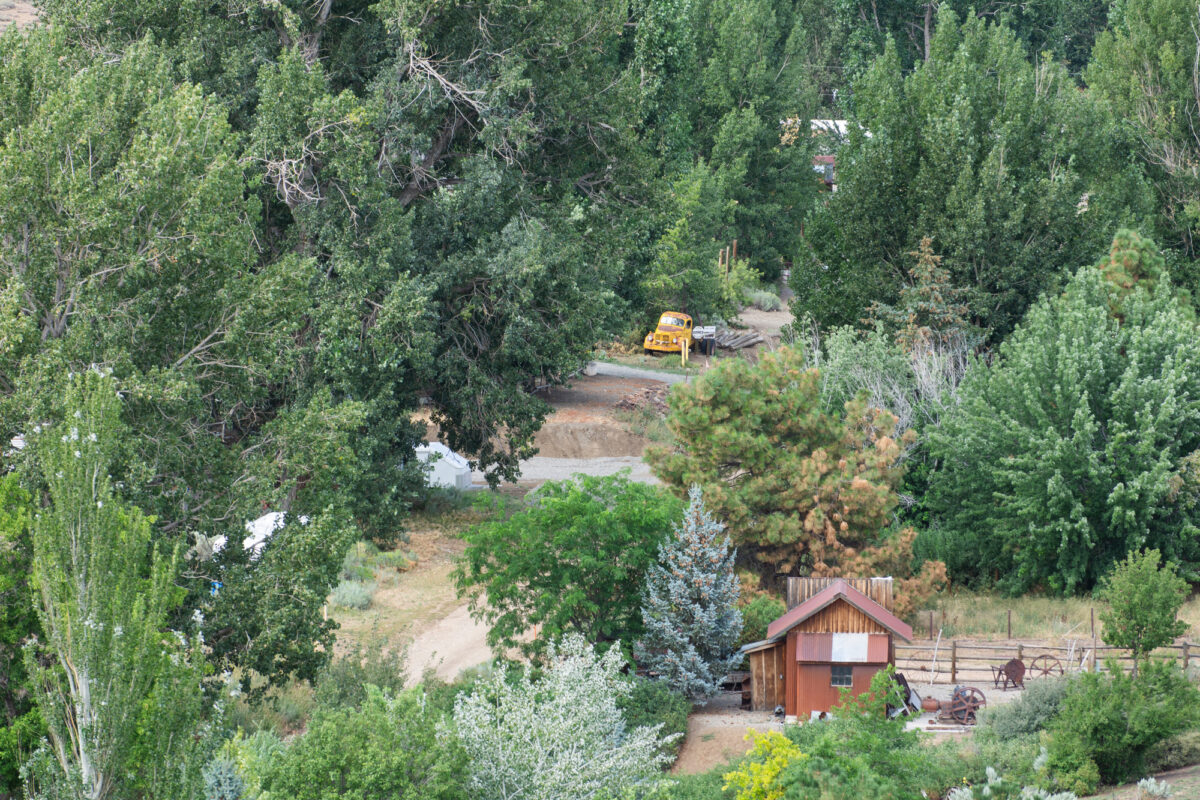 A Halloween graveyard hunt
In 1989, Midas finally received electricity. But in other ways, not much has changed. The closest paved road is 30 miles from town. Only about a dozen residents call Midas home.
One of them is Dana Bennett, a Reno native whose career in public policy development and advocacy saw her work for the Legislative Counsel Bureau and the Governor's Office of Economic Development before serving as interim president of the Nevada Mining Association and president of Friends of Midas.
Growing up, Bennett's family would visit Midas for camping trips. In 1978, her parents bought a house there. That year, on Halloween day, she, her sisters and a couple of other girls decided to try and find the old cemetery.
They tracked down an old-timer who waved them in its general direction. Go near an old mine, he told them, down a hill and in a gully.
Bennett led the group of teens on the hunt for the burial ground. But when some cows came over a hill and startled the girls, the search, at least for that day, was over.
"It turns out we were quite a ways away. We weren't even close," Bennett recalls. "But we were persistent, we really wanted to find it. And eventually we did."
They located the three remaining granite headstones, dating back to 1914, 1915 and 1917.
"Two of them survived the years beautifully. The other, the grave had been covered with a concrete slab," Bennett recalled. Over the years, the concrete slab had collapsed and the headstone toppled into sagebrush. A hole in the middle of the slab led Bennett to believe something heavy, like a cow, had stepped on it, causing it to collapse.
"There are no records to explain a lot of this," she said.
In 1992, Bennett's parents moved to Midas full-time. Her dad, Dan Bennett, helped found Friends of Midas and worked to have the cemetery deeded to the county — over the years, the land around the cemetery changed hands, from Ellison Ranching to Barrick Gold to Elko County.
When he died in 2020, his ashes were interred in the cemetery. An old miner used a sledgehammer and an old drill bit to chisel out the 2-by-2-foot slot for the small box of ashes after a backhoe barely made a dent in the hard packed dirt.
It was one of the few burials the cemetery has seen in the past half century, due to the lack of information about where the bodies are.
Bringing new life to the cemetery
When Friends of Midas started rebuilding the cemetery, they had little information to go off. Four stone piles at 90-degree angles marked what they guessed delineated the corners. One of the town's few remaining residents remembered what the entrance to the cemetery looked like — a large, angular arch painted white.
When Chellman and Wriston surveyed the area, they extended their search beyond the newly constructed perimeter of the cemetery in case some bodies were resting outside the new picket fencing.
Chellman has used ground penetrating radar to study ice cores in Greenland and Wyoming, where much of his research is based; Wriston is trained to observe anomalies in the ground's surface.
She can detect tiny nuances in the earth's surface that wouldn't register for most people, such as changes in vegetation health that imply subsurface water movement.
"By digging the hole (to bury someone), you change the natural subsurface movement of that water. If you dig a hole, it changes hydrology, vegetation health, how water moves across that slope — that in turn affects vegetation," Wriston said. "We are using all these sorts of secondary indicators to determine the digging of the graves in that landscape.
"The traditions of Euromerican burials, with rectangular caskets and certain depths, should make it pretty obvious."
By combining Wriston's trained eye, the aerial drone photos and imagery from the radar, which goes down several meters, she and Chellman can create a 3-D model of the subsurface.
"We don't do historic cemeteries as part of our normal gigs — but the application of these processes is the same," Wriston said. "Usually, I'm looking at stratigraphy. When you dig a grave, you're interrupting that stratigraphy."
Chellman and Wriston are still sorting through their findings, and Friends of Midas won't see the results until this fall. Wriston did confirm they found numerous positive signs of burials, but probably not the full three dozen or so Friends of Midas was hoping for.
As the landowner, Elko County will use DRI's findings to map out acceptable sites for future burials while also ensuring the historical sites are not disturbed.
Corey Rice, Elko County surveyor, said the county doesn't have any official plans to use ground penetrating radar at other locations, but that it could be an option down the road.
"I'm sure many of our cemeteries have that issue," he said.
Friends of Midas raised $40,000 for the cemetery project, including $25,000 for the DRI work, and intends to place new markers made of stone or metal on the located sites, as well as informational placards at the cemetery's entrance.
And eventually, the cemetery can be used for burials again — without the worry of disturbing anyone.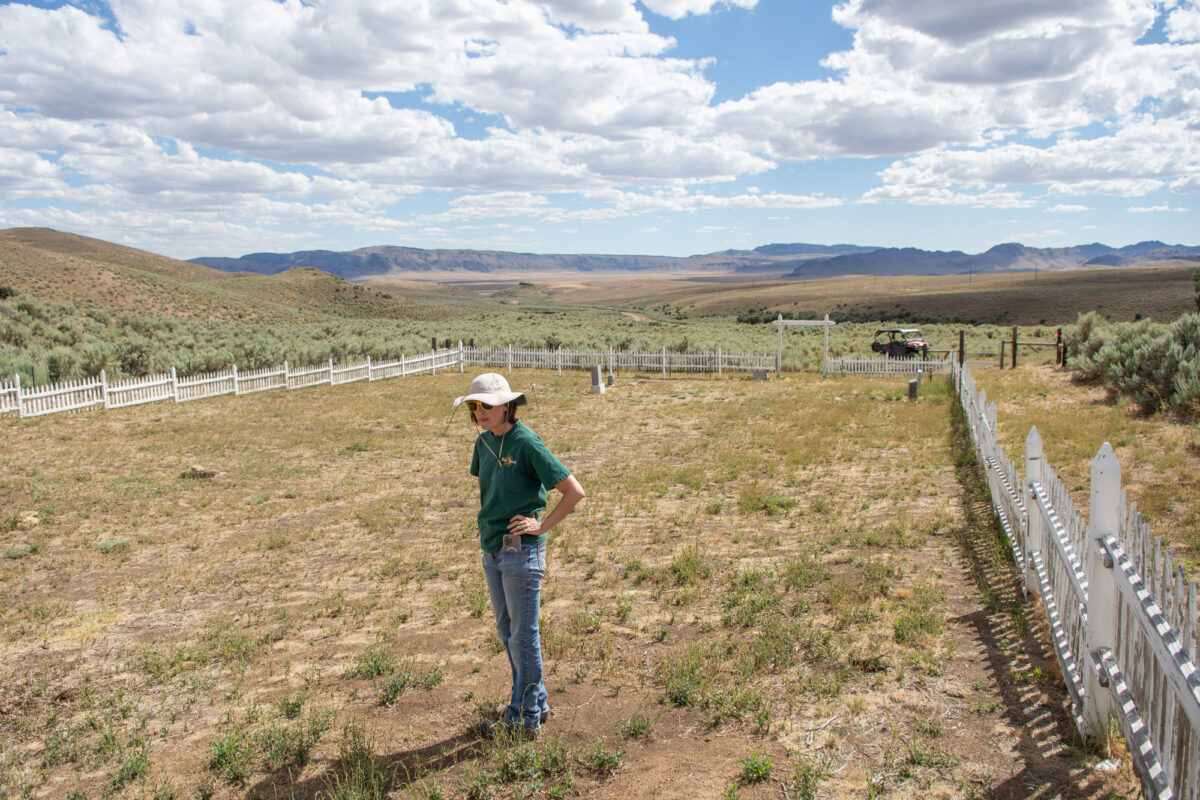 ---
Here's what else I'm watching this week.
Great reporting from Grist on how customers are bearing the cost of financing grid upgrades for utility companies in the age of severe wildfires.
Speaking of power companies, the Las Vegas Review-Journal looks at rate increases NV Energy customers will pay to fund the utility's natural disaster protection plan.
In bad news for wetlands across the nation, the Environmental Protection Agency just rolled back federal protections for the waterways to comply with a recent Supreme Court decision, according to NPR.
Excellent reporting by the NY Times about the impacts of groundwater pumping and the unsustainable depletion of the nation's aquifers.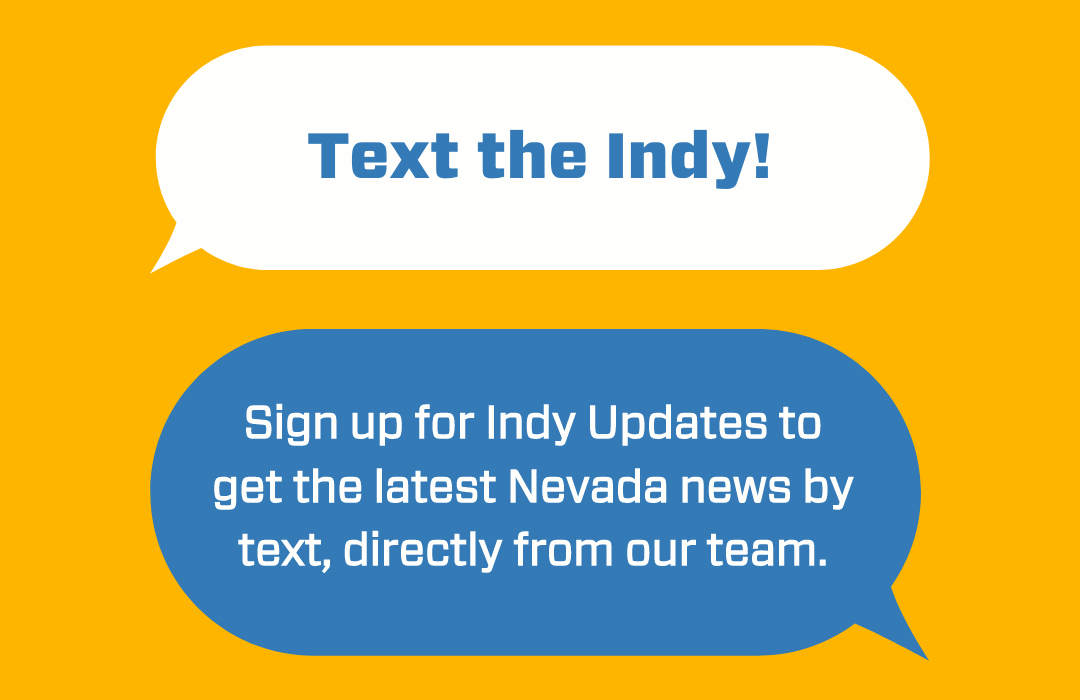 Featured Videos