Indy Explains: How is Nevada trying to curb scams in the document preparation industry?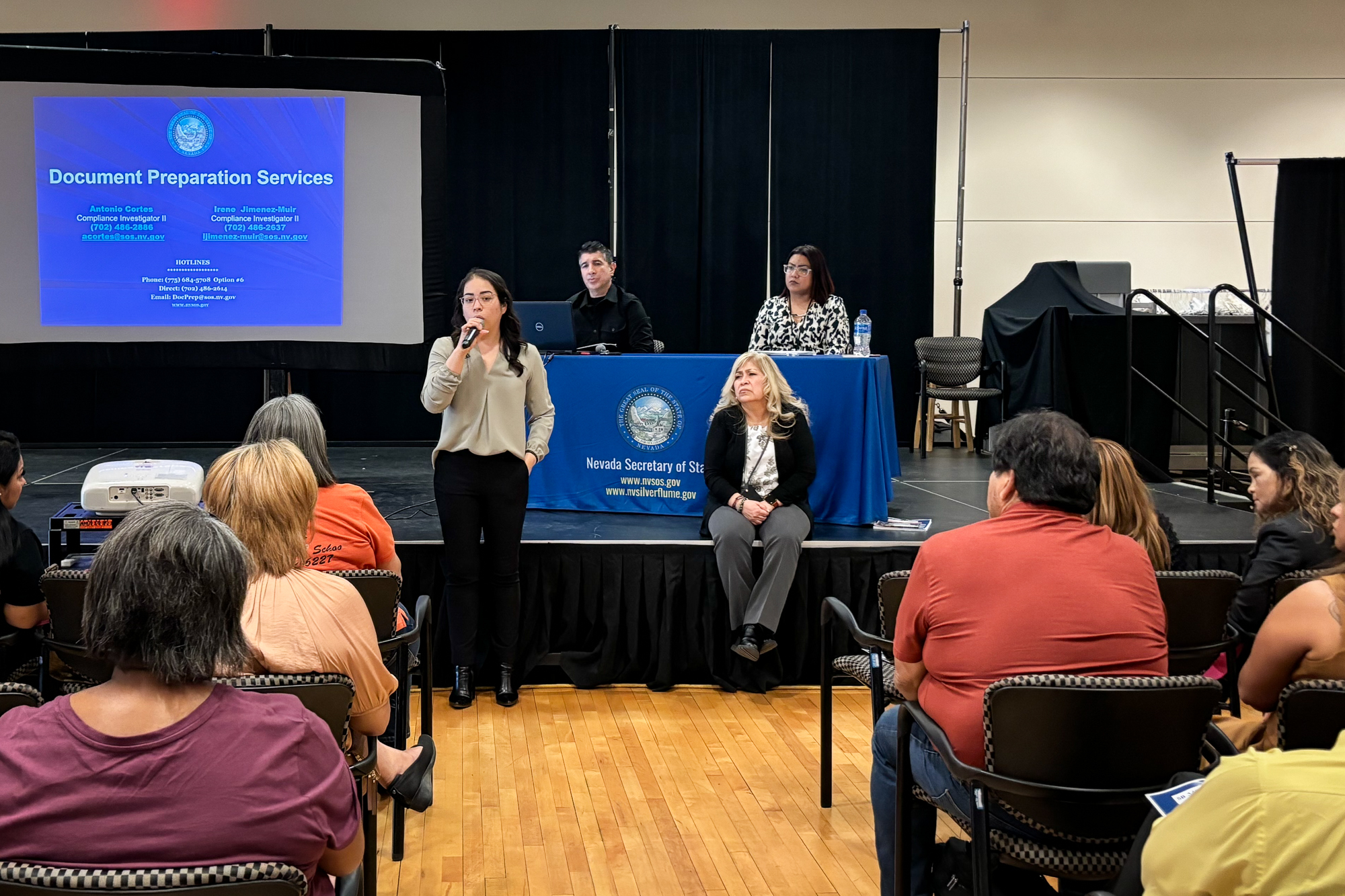 Nevada officials are continuing a yearslong quest to thwart people who misrepresent their qualifications to process important legal documents, sometimes taking advantage of cultural differences in what a notary is.
Because of the changes enacted this year and as a reminder of the laws, the secretary of state's office held workshops in Reno, Las Vegas and virtually last week to help inform document preparation service providers and answer pending questions from them.
Here are some key points about the changes.
What is 'notario fraud'?
In the U.S., a notary is certified to witness and confirm the signing of important documents. But in Latin American countries, a "notario" can have qualifications on par with a lawyer. Businesses that advertise themselves in the U.S. as notarios can mislead Spanish-speaking customers and bungle important paperwork, such as DMV transactions and immigration paperwork.
Maggie Salas Crespo, deputy secretary of state for Southern Nevada, said in a bill hearing for SB349 in April that document preparers often help people who speak limited English with these services.
Although the Legislature passed AB65 in 2015 to prohibit notaries and document preparers from using the direct Spanish translation for "notario" in advertisements, because it has a more legal connotation, Salas Crespo said preventing misrepresentation is still a challenge.
What the Legislature did in 2023
The secretary of state's office is aiming to increase compliance in the document preparation industry by establishing new requirements, implementing registration suspensions and issuing civil fines for violations.
The changes come as part of SB349, or the "document preparation services clean-up bill," that was passed in the 2023 legislative session and was sponsored by state Sen. Edgar Flores (D-Las Vegas).
Flores explained during a bill hearing in April that he began looking into improving the law on document preparation because of the high number of fraud cases and "folks pretending to be attorneys and some bad apples that we wanted to take care of."
The new law requires people operating a document preparation service, such as notaries, paralegals, tax preparers and bankruptcy preparers, to register with the secretary of state and establishes penalties, including suspension of registration for at least a year, revoking registration after a third or subsequent offense and up to $1,000 civil fines for each violation.
The new law also dealt with the issue of whether third-party DMV service providers should be allowed to use the DMV's name in advertisements. The businesses offer assistance with vehicle registration, handicap placard paperwork and new or personalized license plates — sometimes offering to wait in line to submit the documents.
During the April bill hearing, Rafael Arroyo, the president of the Association of Registration Services, said a 2019 law prohibited new businesses from using the DMV's name or likeness in advertising. But it had unintended consequences — the law made it difficult for compliant third-party DMV service providers to promote their services and resulted in fraudulent businesses using DMV's name to attract people.
While still not able to use DMV's logo, the 2023 law allows businesses to use the agency's name with the word "services" after.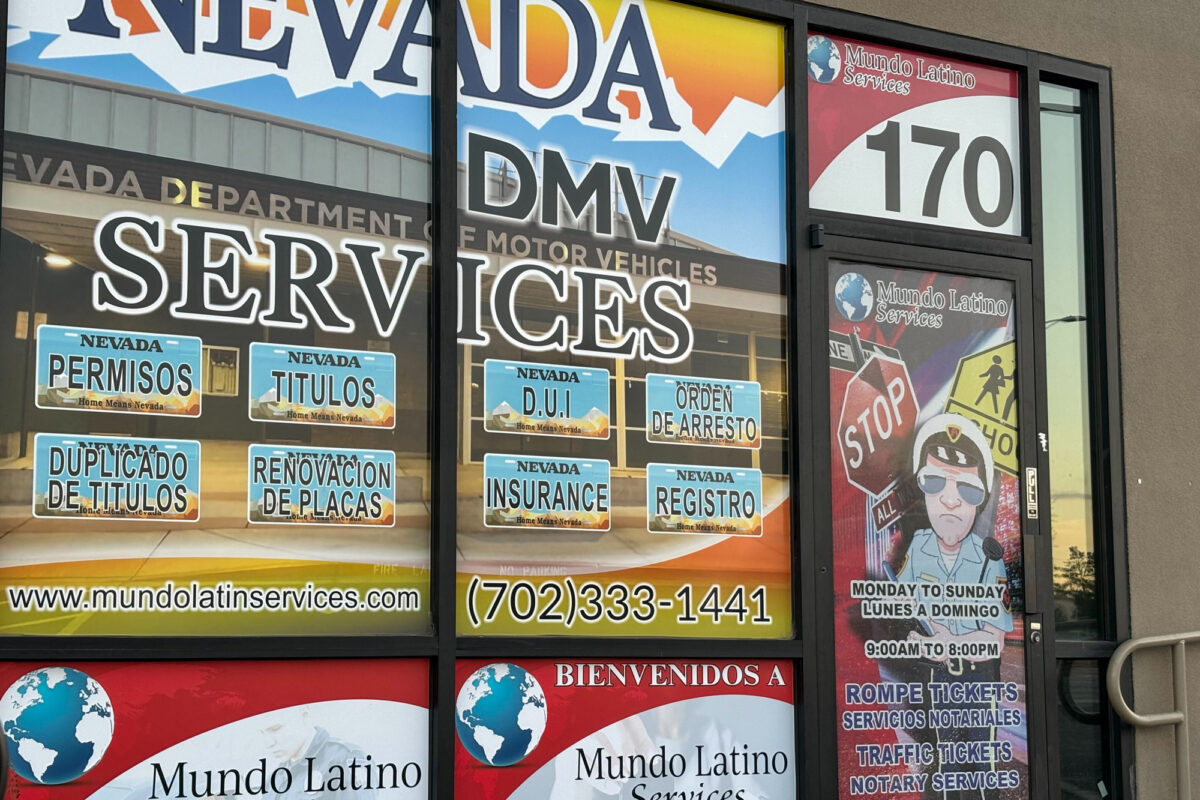 Businesses must display in their space — or on their website if they operate virtually — their certificate of registration with the secretary of state, their Nevada state business license and a statement that they are not an attorney or authorized to provide legal advice as they only help fill out legal documents.
A written contract is also required to provide services to a client — in English and in the customer's preferred language, if needed — stating the service charges and what services will be provided.
To register, an application must be completed through the secretary of state's website, a nonrefundable application fee of $100 must be paid and fingerprints must be submitted for a background check. Document preparation service providers must also post a $25,000 or $50,000 surety bond (a three-party contract where one party guarantees certain obligations.)
Concerns about the changes
A workshop attendee in Las Vegas expressed concern with putting her business license number on her website as there have been cases of people taking that information and making a fraudulent business.
"That's why we have all these tools available for the consumer to use to check that you're registered and that they are going to a legitimate document preparation service," said Irene Jimenez-Muir, a compliance investigator with the secretary of state's office, to more than 50 participants at the workshop. "I have had cases where I have investigated and I'd refer them to the attorney general's office for prosecution. So please, if you do come across a fraudulent scam, please report it to us."
The Nevada Independent is raising $200,000 by Dec. 31 to support coverage of the 2024 election.
Tax-deductible donations from readers like you fund this critical work.
If you give today,your donation will be matched dollar-for-dollar.
Give + Get Matched
Featured Videos