First Lady of Nevada, Kathy Sisolak poses for a portrait in front of one of Ronnie Rector's paintings inside the Governor's Mansion in Carson City, Nev. on Friday, Feb. 7, 2020. (David Calvert/Nevada Independent)
Indy Q&A: First lady Kathy Sisolak embarks on art initiative, gives thoughts on her role
February 11th, 2020 - 2:00am
Kathy Sisolak never imagined she would be first lady of Nevada. Now, going into her second year in the role, she's leaving her mark by introducing her own initiatives on art and financial education and continuing previous women's health initiatives.
She recently teamed up with the Carson City Department of Arts and Culture to create the art initiative, "The First Lady presents …," which features a living contemporary Nevada artist's work inside the historic mansion for six months at a time. Other initiatives Sisolak is working on include financial literacy for youth and breast cancer awareness.
Born in Ely, Nevada, Sisolak has spent most of her life in Las Vegas, where she graduated from UNLV before beginning her career in finance. She was the Clark County budget manager before she was appointed to the board of directors of Employers Insurance Company of Nevada in 2000, then to the board of the Nevada Public Employees' Retirement System (PERS), from which she retired in 2019, upon the election of Gov. Steve Sisolak. 
Sisolak also established her own municipal advisory consulting firm, Hobbs, Ong & Associates, Inc., in 1996, which she is still part of today.
The first couple started dating in 2013, became engaged five years later in 2018, following Sisolak's victory in Nevada's general election, and had an intimate wedding before he was inaugurated in early January 2019.
Sisolak is active in her role as Nevada's first lady. In recent weeks, her calendar has included a re-enactment of the signing of the 19th Amendment, a University of Nevada, Reno Medical School event raising awareness for female heart disease and a trip with her husband at the National Governors Association winter meeting in Washington D.C.
Sisolak and Carson City Department of Arts and Culture Director Mark Salinas joined The Nevada Independent at the Governor's Mansion for a recording of the IndyMatters podcast to talk about the art initiative and Sisolak's role as first lady. This interview has been lightly edited for length and clarity.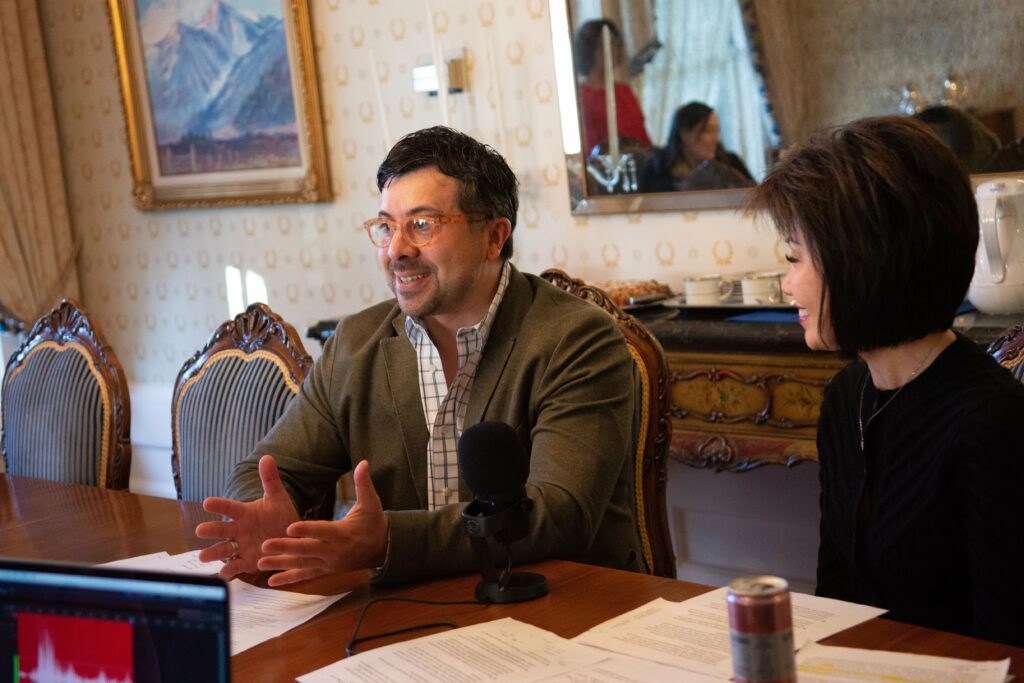 Indy: Is life as the first lady what you expected it to be like?
Sisolak: Well, I had no expectations. I never imagined I would be first lady. Of course I have no expectation, but it's certainly an honor and a privilege to be first lady. We have been able to meet so many wonderful people and see so many parts of Nevada that we hadn't seen before and it's really so much fun to be able to explore the state.
Indy: You were involved in the Public Employees' Retirement System (PERS) and the Clark County budget for a while. Do you feel like you're more involved in politics now or less involved?
Sisolak: Well, being married to a politician, I'm certainly more involved in politics. But, I've always had an interest in politics just because I worked at Clark County. My business is primarily local government, state and local governments and municipalities, so there's always an element of politics in that.
Indy: What do you think your role as the first lady should be?
Sisolak: I think this role is what you make it to be. It's as important as you want it to be or maybe sometimes it's — I don't have a family that's growing up, so my time is flexible. I just hope that I'm a positive influence and that I can help all Nevadans whenever I'm needed.
Indy: Have you had to take a step back from your job as a financial consultant during your time as first lady?
Sisolak: I have not. I have been able to manage both the first lady duties as well as my business. Fortunately I own my own business, so my hours are flexible. It really couldn't happen without a great team and we have a great team.
Indy: What does a typical week in your role as first lady look like?
Sisolak: There's no such thing as a typical week. I cannot describe a typical week or a typical day. It changes every day and things come up and you may think you have something planned and it really doesn't happen or sometimes it just goes very smoothly.
Indy: Do you and the governor like to talk about budget issues, given your expertise?
Sisolak: Well, I think it's situational. We do on occasion talk about budgets, but it's not very often. I try to stay out of the state's budget business, but certainly if he has something that he wants to ask me, I'm happy to try to answer any questions. But really my specialty besides budgeting is issuing bonds, so the budget part of me is kind of in history.
Indy: Do you miss that at all?
Sisolak: I sort of miss it. You know, I'm a numbers person, so enjoying numbers, whether it's issuing bonds or preparing budgets, but when I was working at the county for 15 years, I prepared budgets for 15 years. So that was plenty of time.
Indy: Do you get to spend much time with the governor? Do you get to travel or vacation together or is that limited?
Sisolak: Our leisurely travel is limited just because we're very busy given it's the first year. But we do travel a lot in our first couple roles, whether it's visiting parts of the state or going — like today we're leaving to Washington D.C. for the National Governors Association, so we travel and spend time that way. I think it's good quality time for us.
Indy: I know you're from Vegas — do you spend a lot of time in Vegas or do you try to balance your time between [Carson City] and Vegas?
Sisolak: During non-legislative years, I spend most of my time in Las Vegas and during the Legislature I spend most of my time here, so it varies.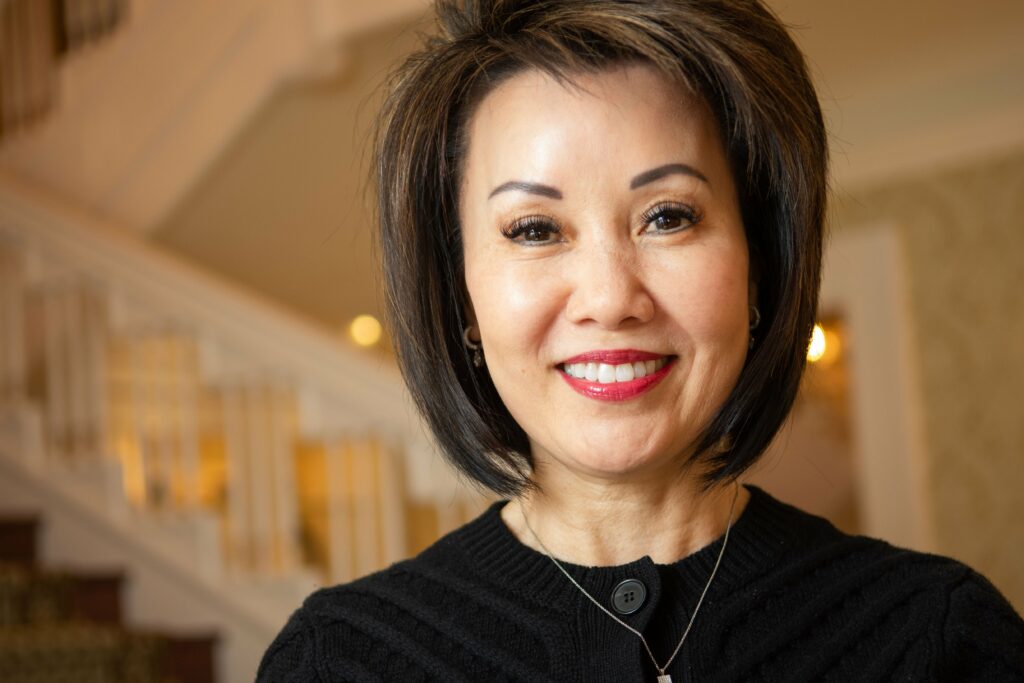 Indy: How did the idea for the art initiative come up?
Sisolak: I thought it was really important to have art in the mansion and particularly Nevada art. This mansion is so beautiful and so historic that we started this exciting program, this art initiative that was organized to display Nevada art works, contemporary artists. We hope to display a prominently so then all the visitors who come here can, including students, honor guests and dignitaries and tourists can take a piece of Nevada art, culture and creativity with them.
Mark Salinas: I totally concur. A bold concept such as this is only executed with the statewide partnership of arts professionals throughout the state that share the common vision and value of elevating the arts through access. It's through the relationships and the communications that we've developed here in Carson City and throughout the state that allowed this to happen.
I think a unique initiative like this challenges artists to see their work with a backdrop of Nevada history. So we have the juxtaposition of contemporary and artifact. I think it challenges the mansion to see itself as an alternative venue for these artworks. And I certainly think that it challenges Carson City to see itself as a cultural destination, sort of as the host of all this talent statewide.
Indy: What do you look for in submissions and a unifying theme for the art?
Salinas: It's eligible for contemporary living Nevada artists. We've identified three or four locations here in the mansion for them to temporarily display artworks for a period of six months. This gives them time for exposure, press, artists' talk reception, stipend and also, to a certain degree, resume building. How we as a community, as a department of arts and culture can help build economic value of our artists in their provenance and who they sell to.
From what I understand, there's actually a bidding war on one of the pieces here, too. Artists can send it in three to five images of their work, and once they're in our registry, they're considered for all future shows.
Sisolak: We believe arts is a good business. Right here in Carson City, we have 114 arts-related businesses that employ 350 people, including our schools, design and publishing, film and radio and visual arts. So we hope to promote that.
Indy: You were born in Ely and lived most of your life in Las Vegas, and now you're [in Carson City]. Do you have any plans to do art initiatives in other parts of the state?
Sisolak: This art initiative is for all artists — statewide — not just Carson City, but, you know, that's something we can do. That's not something we've talked about yet, but certainly something that sounds like a great potential.
Indy: Do you have any other initiatives that you want to see happening during the next legislative session, since you have the ear of the governor?
Sisolak: Not at this moment. As we talked about, breast cancer awareness, Mammovan, is something that first lady Dema Guinn started and we hope to carry on that legacy. My mother is a breast cancer survivor and so is my sister-in-law. So this is a very important program. Today, though, we could talk about Go Red for Women today is "Wear Red Day" for heart awareness, especially for women. It's the leading cause of death for women, so we hope to bring critical awareness to that.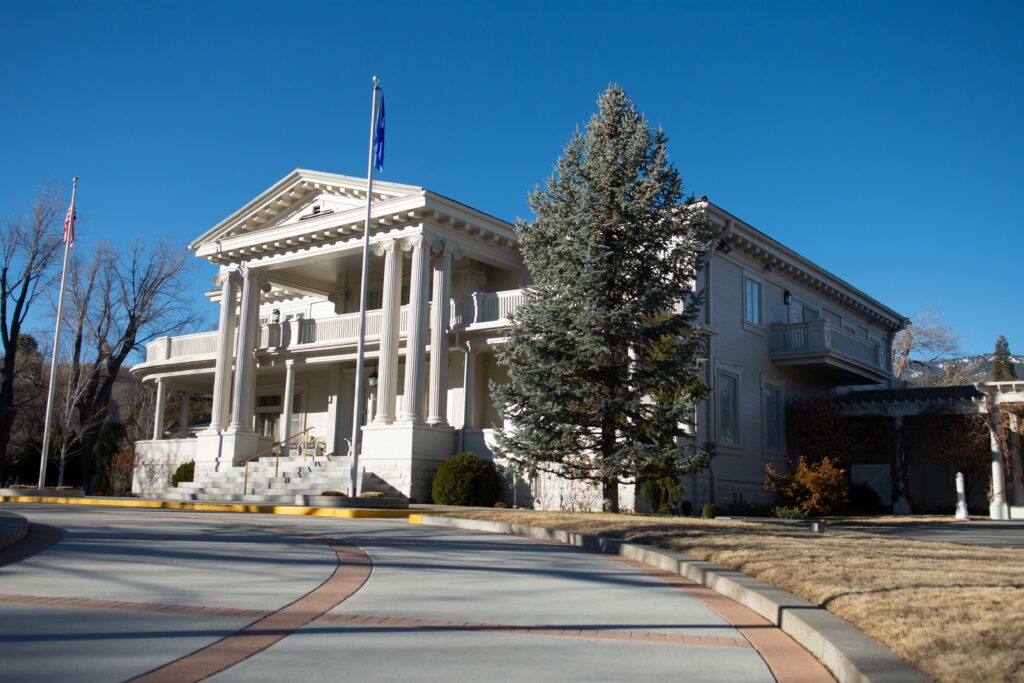 Indy: Can you expand on your financial literacy and breast cancer awareness initiatives — what are your goals?
Sisolak: Legislators, at the last Legislature, passed SB314, which created a financial literacy council, and I am a member of the literacy council. There are 12 members — 10 members and two ex-officio members.
The council will hopefully build critical awareness and develop support and financial literacy education for K-12 students, parents and community members alike. We also hope to bring innovative practices to the classroom and raise the level of instruction and financial literacy education for all schools in Nevada.
Indy: What has been accomplished so far?
Sisolak: We're going to have, in April, a fundraiser for Mammovan [mobile mammography unit] and we hope to have, of course, first lady Dema Guinn there and to raise funds for the continuation of the Mammovan program, which has been hugely successful, particularly in the rural areas where access is not easy for those who can't afford the mammogram. They can go to the Mammovan and get free mammograms.
Indy: Tell me a bit about Ronnie Rector and why you chose to feature her artwork.
Salinas: There are four panelists from Nevada that made that choice, I just chaired it. Ronnie is from Incline Village … Ronnie has been exhibiting down the street for a number of years and has won a number of awards.
Ronnie's watercolors are absolutely spectacular. This first round we have actually received applications from Incline Village to Boulder City and that's just two months in. I believe with more promotion we're going to get applications all throughout the rural and urban areas of Nevada.
Ronnie's work is, for me, very photographic. It's a stillness of a moment. And I love it being here. I mean, look around, this is a beautiful place, especially with this view. I know that people listening can't see, but the sunlight coming into these sheer curtains — it's absolutely beautiful in here this morning. And I think to have a still moment painted by contemporary artists in the backdrop of all this linear history kind of gives me a little, some chills. And I think it's a great way for artists to see their work in Nevadans' history.
Stories
Candidate Trackers
Endorsements, Ads, Policies, Visits
& More
visit now
Comment Policy (updated 10/4/19): Please keep your comments civil. We reserve the right to delete comments or ban users who engage in personal attacks, use an excess of profanity, make verifiably false statements or are otherwise nasty.