"It's really bad for us:" Water managers prepare for extreme drought across the state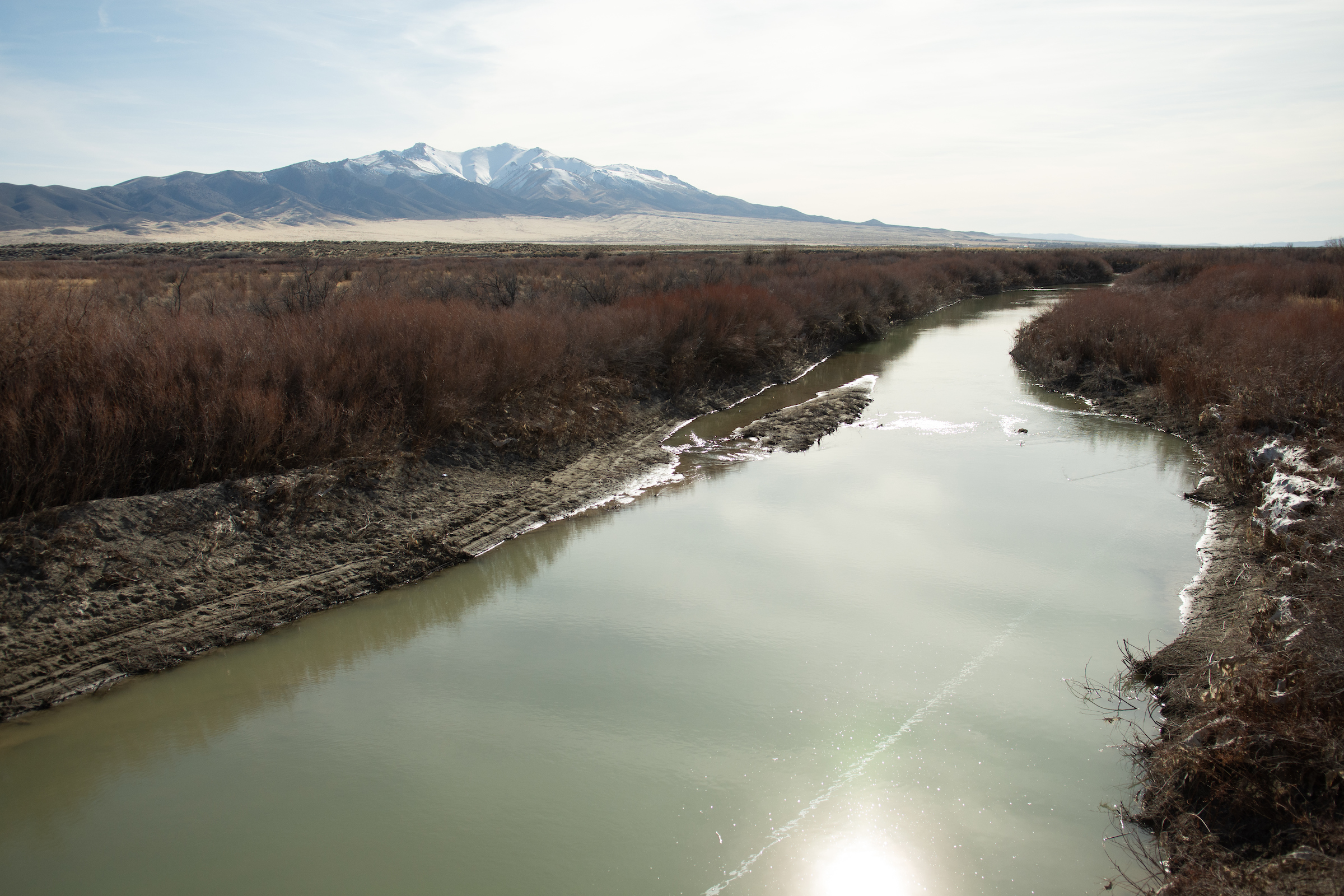 Good morning, and welcome to the Indy Environment newsletter.
As always, we want to hear from readers. Let us know what you're seeing on the ground and how policies are affecting you. Email me with any tips or suggestions at [email protected]
To get this newsletter in your inbox, subscribe here.
---
For the past few weeks, I've heard variations of the same line: "This is one of the worst water years I've seen in a long time." The drought is visible on the ground. There is less snow on the mountains and less water running off into streams. Soil is dry and reservoirs are far below full.
Exactly how challenging is this water year, and how is Nevada responding to it? For this week's newsletter, we include perspectives from across the state. It's important to note that drought affects different parts of the state in different ways, depending on where water is coming from and how it's being used. But with extreme to exceptional drought affecting about 75 percent of Nevada, arid conditions are not limited to only a few pockets of the state.
Live in Las Vegas, Reno or Carson City, and you might not always think about where your water is coming from when you turn on the tap. In many cases, it starts with the snowpack. The water that comes out of your sink and shower often comes from snow melting into rivers and streams.
And this year, across the state, the amount of water flowing through streams is projected to be far lower than average. The USDA's Natural Resources Conservation Service (NRCS), which compiles statewide water supply reports, expects that streamflow will be 7 to 61 percent of average for May to July (the big range accounts for different conditions across the state).
Jeff Anderson, an NRCS water supply specialist, who helped compile and prepare the report, said the forecast has decreased each month, in part because Nevada saw little rain and snow during the spring. In the 12-month period between May 2020 through April 2021, Nevada and other Western states recorded their driest years since 1895. But that's not the full story.
Snowpack was well-below normal, but the soil underneath it was also dry. When soils are dry, it reduces the amount of water that makes it into streams. Instead, more water is absorbed by the parched landscape, and with little precipitation last fall, soil moisture was below average.
"The soil moisture is making the runoff different than it otherwise would be," Anderson said.
With less water making it into streams and rivers, urban and rural water users across the state are closely watching the situation and implementing drought measures.
In Northern Nevada, the Truckee Meadows Water Authority (TMWA), which serves Reno and Sparks, held a press conference last week to announce new conservation measures, including additional public outreach, lawn watering restrictions from 11:00 a.m. to 7:00 p.m. and hiring more "water watchers" to patrol whether residents are complying with the conservation rules.
TMWA gets most of its water from the mountains around Lake Tahoe, where snow melts into the tributaries that form the Truckee River. At a critical point on the river, flows are expected to be about 22 percent of average, and water managers plan to pull water stored in reservoirs.
"Over the last two months, these forecasts have just deteriorated significantly," said Bill Hauck, a senior hydrologist for TMWA and the agency's water supply administrator.
By August, Hauck said the amount of water flowing through Reno will drop off noticeably. But he also stressed that the water agency is prepared for drought and has water stored in reservoirs.
In and around Las Vegas, the situation is a little more complicated. Las Vegas gets about 90 percent of its water from the Colorado River, fed by snowpack from the Rockies.
On the Colorado River, the situation was similar to the one that played out across Nevada. Dry soils decreased runoff, and only about 26 percent of average is expected to reach Lake Powell, a key reservoir. Lake Mead, outside of Las Vegas, is projected to drop below a key threshold, triggering the first ever federally declared shortage — and cutbacks for Arizona and Nevada.
Officials with the Southern Nevada Water Authority have long prepared for cutbacks. In addition, the water authority is pushing an aggressive conservation measure through the Legislature. The bill, AB356, would remove about 5,000 acres of decorative grass by 2026. Water officials expect the conservation push to save more than 10 percent of the state's Colorado River allocation.
"When people see the headlines about the hydrology on the Colorado River, when they read about these looming shortages, I think they need to know that that is serious," John Entsminger, the water authority's general manager, said in an interview earlier this week. "That is not hyperbole. But we as a community have the tools at our disposal to meet that challenge."
Farmers and ranchers are also feeling the early impacts of the drought in rural parts of the state. In Lovelock, which sits at the end of the Humboldt River, farmers are seeing less water, said Ryan Collins, who leads the Pershing County Water Conservation District.
Rye Patch, a reservoir that the district relies on to store water, is at about 32 percent of capacity, according to the NRCS water supply outlook. Last year, it was about 85 percent full.
"It's really bad for us," Collins said. "We're going to use what little we have in the reservoir."
Dan McEvoy, a researcher with the Western Regional Climate Center at the Desert Research Institute, said he has observed this drought intensify faster than the one that started in 2012.
"We're in our second year into the drought, and we're already seeing similar impacts to what we saw four years into the last drought," McEvoy said.
Here's what else I'm watching this week:
---
CARSON CITY AND CONGRESS
Governor signs bill to create state designation for "dark skies:" Gov. Steve Sisolak signed legislation, sponsored by Lt. Gov. Kate Marshall, to create a program for awarding a "Dark Sky Designation." "The signing and implementation of the Dark Skies Bill celebrates this uniquely Nevadan asset by encouraging protection of this public resource, while also sharing it with visitors to our state and thereby increasing tourism opportunities for rural cities and counties," Marshall said. Terri Russell from KOLO 8 has more on the legislation and the bill signing.
A mining tax deal? The Clark County Education Association is dropping cryptic hints.
---
WATER AND LAND
"It's literally the foundational shrub:" Excellent piece by Science Friday's Lauren Young looking at the ecological importance of the sagebrush sea and the many threats facing it.
Why water communication is important: The Record-Courier's Kurt Hildebrand reported on some startling survey numbers: "Not quite a tenth of the residents living in the Carson River Watershed could name the river in a recent survey. Carson River Subconservancy Watershed Program Manager Brenda Hunt told Douglas County commissioners on Thursday that 62 percent either didn't know or think they lived in a watershed at all, and that 70 percent thought they didn't affect the watershed, or only had a slight impact."
A dispatch from the Extraterrestrial Highway: Former Sen. Harry Reid wrote about UFOs in the New York Times: "Let me be clear: I have never intended to prove that life beyond Earth exists. But if science proves that it does, I have no problem with that. Because the more I learn, the more I realize that there's still so much I don't know."
Ammon Bundy is running for governor as a Republican...in Idaho, the Idaho Statesman's Hayat Norimine reports. Last year, Bundy was banned from stepping onto the Capitol grounds.
---
ENERGY AND CLIMATE
A big deal for those watching domestic mining: Reuters reporters Ernest Scheyder and Trevor Hunnicutt are reporting that the Biden administration is shifting course on its earlier statements that it would emphasize the domestic procurement of minerals needed for the energy transmission. From the story: "U.S. President Joe Biden will rely on ally countries to supply the bulk of the metals needed to build electric vehicles and focus on processing them domestically into battery parts, part of a strategy designed to placate environmentalists, two administration officials with direct knowledge told Reuters."
Remember that secret shipment of plutonium? The plutonium is still in Nevada. Reporter Colin Demarest with the Aiken Standard has an update on efforts to move the plutonium.
The U.S. Bureau of Land Management approved a geothermal project in Washoe County.
Reno-based Ormat is acquiring two existing geothermal projects and a transmission line.
The Nevada Independent is raising $200,000 by Dec. 31 to support coverage of the 2024 election.
Tax-deductible donations from readers like you fund this critical work.
If you give today,your donation will be matched dollar-for-dollar.
Give + Get Matched
Featured Videos