Judge shoots down Joey Gilbert election lawsuit over lack of 'competent evidence'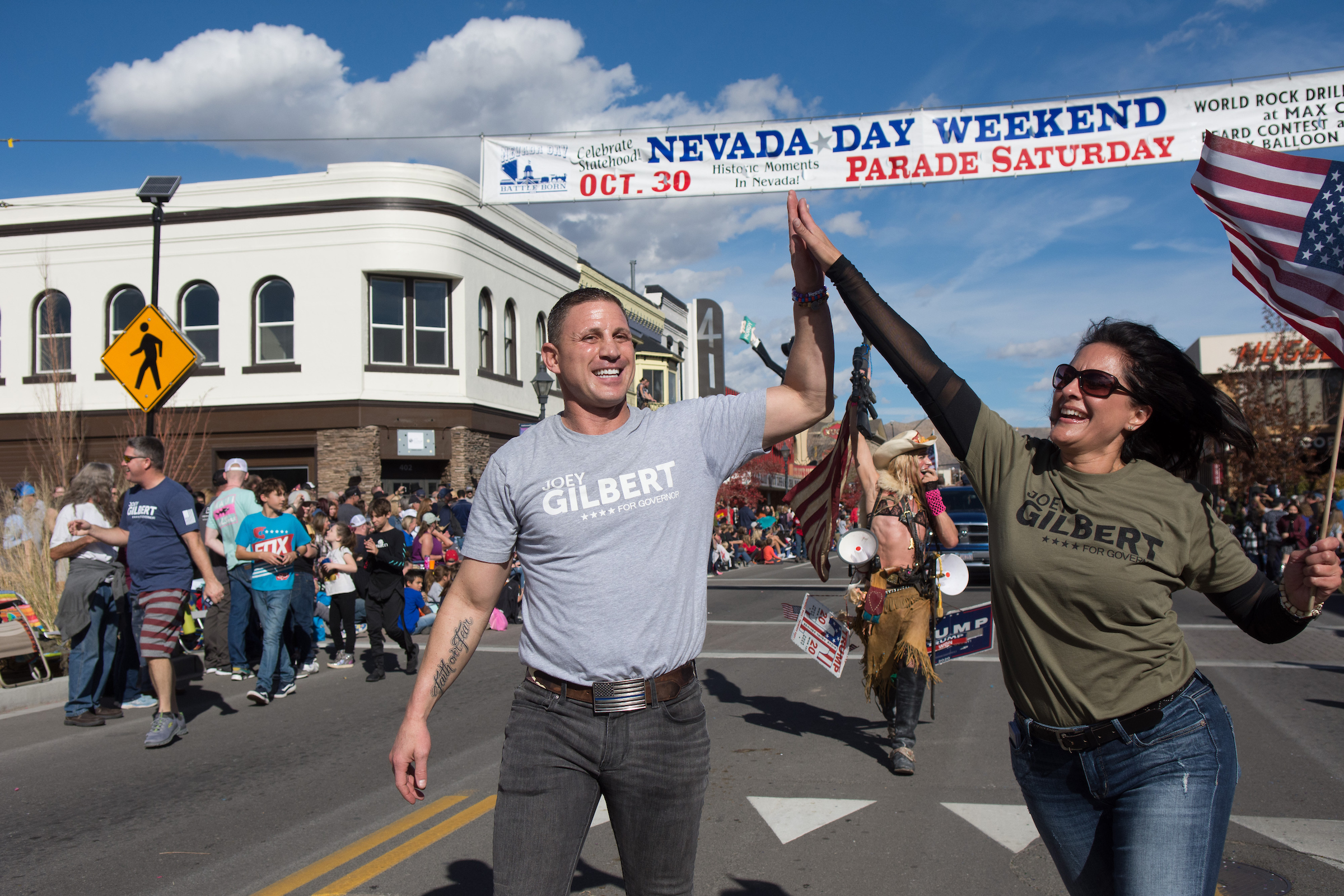 A Carson City judge has blocked Reno attorney and former Republican gubernatorial candidate Joey Gilbert's effort to re-do the 2022 primary election, finding that "no competent evidence" was presented that would warrant the extraordinary changes Gilbert sought.
District Court Judge James Wilson issued the ruling for summary judgment in favor of Clark County sheriff and Republican gubernatorial nominee Joe Lombardo from the bench on Wednesday, blocking the election contest from proceeding further.
Gilbert's election contest, filed after a statewide recount on July 15, heavily relied on testimony from Edward Solomon, identified by the suit as an "expert mathematician," who has alleged since the 2020 election that "algorithms" have been responsible for switching votes in multiple states.
Wilson called the Solomon report "hearsay, first of all," and said there was no showing that the information provided by "the admitted non-expert Mr. Solomon … is the product of a reliable methodology."
Beyond that, Wilson said the mathematical claims included in Gilbert's suit had not met the standards laid out in state election law that would allow a judge to make a ruling reversing the results of an election or ordering a new one. He said the law specifically required the candidate making the election contest challenge to show that the alleged defects or number of challenged votes would be enough to make a difference in the final election results.
"The court finds that the math calculations, whether they are correct, for the purpose of this assuming that they are correct … that that is not enough," Wilson said.
In a statement to The Nevada Independent provided by his campaign, Lombardo said "It's time to take our state back."
Gilbert lost his race to Lombardo by more than 26,000 votes in the June primary election, but refused to concede the race and later filed for a statewide recount that did not substantially change the results. The recount and the legal challenge to the result have been funded by Reno-based cryptocurrency millionaire and conservative activist Robert Beadles. In a blog post after the hearing, Beadles said the case would be appealed to the state Supreme Court.
Broadly speaking, the election contest lawsuit claims an "illegal formula" was used to tabulate votes, and that the distribution of reported 2022 primary election results from mail, early and Election Day voters do not line up with expected results in a "fair election." Those claims center largely on a 40-page analysis from Solomon.
Attorneys for Lombardo had sought to depose Solomon, but Gilbert's attorney Craig Mueller kept him off the stand because he did not technically qualify as an expert under Nevada law, and because three other experts named in the suit had submitted affidavits confirming the accuracy of his math.
On Wednesday, Lombardo's attorney J. Colby Williams said his client "vehemently dispute[s] the math," but even assuming it was correct, attorneys for Gilbert had not been able to provide expert testimony that would show Gilbert earned more votes than Lombardo, given that Solomon did not qualify as an expert under state law and that the three additional experts who testified on Gilbert's behalf had largely just vouched for Solomon's work and had not provided any independent evidence.
In depositions with those experts, Williams said one had testified that they had no opinion on what the vote share tallies should have been "because he doesn't even know if it's possible to do such a calculation." Another, per Williams, said that he had tried to replicate Solomon's work in a "traditional mathematical way," but was unable to recreate the results.
"It's just regurgitating the inadmissible hearsay opinion of Ed Solomon," Williams said. "It's improper because it's hearsay and it's improper because it's witness vouching once again."
Mueller, representing Gilbert, said the case presented "mathematical proof beyond a reasonable doubt" and that a "formula" was used to generate mail-in ballot totals, and urged Wilson to consider ordering another election "entirely with paper ballots."
Nevada law allows candidates or voters to contest an election, and lays out a variety of grounds on which a contest can be brought, including proof that an election board was guilty of malfeasance or illegal or improper votes were cast in an amount equal or greater than the margin of victory or "in an amount sufficient to raise reasonable doubt as to the outcome of the election."
Only two elections in state history have been overturned after a legal challenge — once for a Douglas County state Senate seat in 1878, and in a 1970 Assembly race where a faulty voting booth incorrectly marked votes for the wrong candidate.
Updated at 4:16 p.m. on 8/10/22 to include a statement from Lombardo's campaign. Updated again at 4:43 p.m. to include details about an appeal.
The Nevada Independent is raising $200,000 by Dec. 31 to support coverage of the 2024 election.
Tax-deductible donations from readers like you fund this critical work.
If you give today,your donation will be matched dollar-for-dollar.
Give + Get Matched
Featured Videos