Nevada Labor Commissioner Shannon Chambers, right, speaks to day worker Alejandro Monarrez during a meeting at Arriba Las Vegas Worker Center on Tuesday, March 12, 2019. (Jeff Scheid-Nevada Independent)
Labor commissioner, day workers clash in contentious meeting
March 14th, 2019 - 2:00am
Nevada Labor Commissioner Shannon Chambers probably figured she'd get some pushback when meeting with under-served workers at the Arriba Las Vegas Workers Center on Tuesday night. But she was visibly unprepared for – and unhappy with – the chaos that ensued when she arrived.
Originally scheduled for a 90-minute workshop to discuss workers' rights and listen to concerns from "jornaleros" – primarily Hispanic independent contractors who work different daily jobs in labor industries including construction, landscaping and housekeeping – Chambers left after an hour of being challenged, insulted, booed and laughed at. She had to push her way through a buzzing crowd of 40 attendees to do so.
"We're not doing this again," the labor commissioner told Arriba Las Vegas lawyer Cal Soto on her way out the door. "You know we can't do all these things."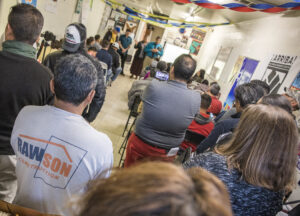 The gathered crowd, which included workers whose informal agreements with landowners and business owners had fallen through at some point during the last six months — meaning they didn't get paid for their work — spent the evening outlining and protesting the wrongdoings in Nevada's unregulated daily work market.
Attendees argued that the Labor Commissioner's office wasn't doing enough to protect them from being taken advantage of by their employers, and claimed the agency was purposely ignoring the workers' wage theft claims by sending them to a small claims court.
The agency's job, per the labor commissioner's website, includes helping workers understand their rights and making sure employers don't violate the law. The office's responsibilities also include investigating wage theft cases, enforcing minimum wage laws and ensuring working conditions comply with state safety regulations.
Although Chambers repeatedly said throughout the evening that her department did not have the authority to immediately prosecute or fine business owners accused of wage theft without at least giving the business owners the benefit of due process of law, event organizers referred to NRS 607 — which gives the labor commissioner the power to files lawsuits against employers violating state law — and NRS 608 — which calls for criminal penalties for employers that don't pay their employees on time — to rebut her claims. They also advocated that Chambers' office invest more resources into educating Nevadans about the existence of the labor commissioner's office.
Arriba Las Vegas is one of more than 50 groups associated with the Los Angeles-based National Day Laborer Organizing Network, a left-leaning organization that looks out for migrant workers' rights.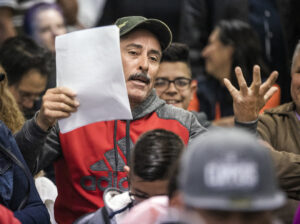 Alejandro Monarrez, a local worker born in Mexico, described being struck in the forehead with a shovel held by a man whose home Monarrez was pouring concrete to help build. After being paid for three weeks on the job, Monarrez said he worked 76 hours during a fourth week. The homeowner refused to pay him for the final week, and when Monarrez protested, he said the man struck him.
Monarrez's wife and two young sons sat sobbing in the back of the room as he recounted the story to Chambers in Spanish and the crowd listened. Attorney Cal Soto of the National Day Laborer Organizing Network translated Monarrez' testimony to English as Chambers and others listened to the interpretation through headphones.
"I want you to help me ensure I get paid for what I deserve," Monarrez said.
Yesenia Mejia, a documented U.S. citizen of Mexican descent, took up construction work shortly after the recession earlier this decade to help support her three sons. After being shafted on a payment last October for $1,600 by a local drywall company, she said she couldn't afford gifts for her 12-year-old and 7-year-old sons for their December birthdays. Instead, she said she had waited until January before the Arriba Las Vegas Workers Center communicated with the company and negotiated a settlement.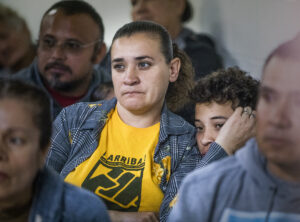 Mejia urged Chambers to fight harder against businesses that stole wages from jornaleros and argued that while she was eventually paid for her work, the company went otherwise unscathed from their unethical business practices.
"Are you going to help us get more penalties for these contractors that aren't paying these people?" Mejia asked Chambers in front of the crowd.
The most contentious moments of the night came after Monarrez, Mejia and three others had finished sharing stories of being robbed of their wages. One hour into the workshop, Chambers informed Las Vegas Workers Center Director Bliss Requa-Trautz and four other Arriba Center workers present at the event that she had to leave.
Raising her right arm, palm toward Chambers to stop the commissioner where she stood, Requa-Trautz motioned for event organizer Francis Garcia to read a declaration demanding immediate changes for the office. Those changes included recognizing day laborers and domestic workers as legitimate employees in the labor force and honoring wage theft claims made by workers in those fields.
Requa-Trautz asked Chambers when the changes could potentially be enacted, and when the labor commissioner responded "six months to a year," a loud reaction of lasting groans, sighs and sarcastic laughter filled the room.
"Thank you commissioner!" a young attendee yelled out sarcastically.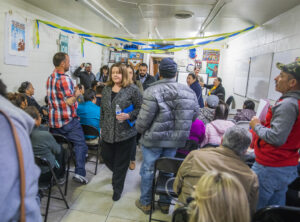 As Chambers made the 30-foot walk from the front of the room to the exit, Requa-Trautz and Garcia led a raucous chant. The Arriba leaders asked the crowd when they wanted justice, and the crowd roared, with Chambers still walking out of the room "now."
"Not in six months, not in one year," Garcia shouted.
The labor commissioner did not speak with media members on Tuesday night and did not respond to request for comment Wednesday morning. But despite the contentious atmosphere, event organizers said they're more confident under-served workers voices will be heard by the labor commissioner's office in the future.
"We're not doing this as a personal attack on her," Soto said. "We just want her to know what's going on and make sure they're working to protect Nevada's workers."
Stories
Candidate Trackers
Endorsements, Ads, Policies, Visits
& More
visit now
Comment Policy (updated 10/4/19): Please keep your comments civil. We reserve the right to delete comments or ban users who engage in personal attacks, use an excess of profanity, make verifiably false statements or are otherwise nasty.