Las Vegas school lauded as model for closing achievement gaps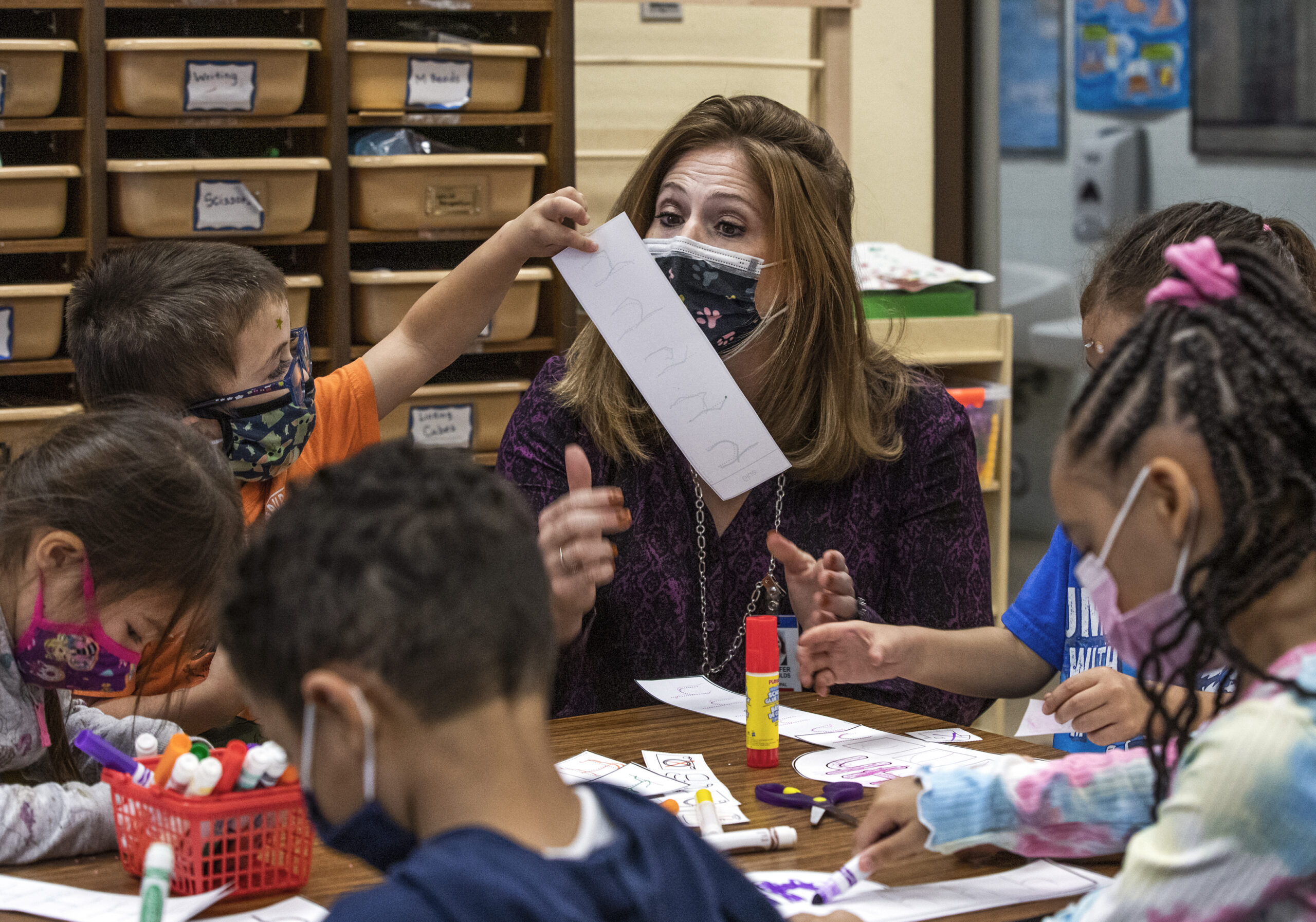 "Hi, Ms. Reynolds!" a chorus of children called out as the principal at Charlotte Hill Elementary School peeked her head in a first-grade class.
Walking down the hallway, Jennifer Reynolds waved at children headed to the restroom, sparking up a conversation — "Glad you made it today, was your bus on time?" She said she makes an effort to connect with each of the 500 students, from pre-K to the fifth-graders.
In September, Charlotte Hill was one of three Nevada schools to be recognized as Blue Ribbon schools for 2021 — a national designation by the U.S. Department of Education for schools that have either high performance or are exemplary at closing achievement gaps. Nationally, 325 schools received recognition. 
The school holds a four-star rating. In its application for the award, Reynolds talked about Charlotte Hill overcoming socioeconomic challenges and its improvement in English language arts (ELA) and math assessments between 2017 and 2019. According to Reynolds, the school showed an 11.7 percent growth in ELA proficiency — English learning students alone showed 13 percent growth — and 8.3 percent growth in math.
Reynolds' philosophy for closing achievement gaps is based on having a more personal connection with students, from knowing them by name to analyzing a student's academic progress in order to mold their education to individual needs.
"You gotta know your kids," Reynolds said. "The art [of teaching] is how to reach the individual, unique kids and really pinpoint what their need is. Their need may not have anything to do with reading or writing or math. It might have to do with 'how can we support them with their own internal motivation' or 'how do we support the student with feeling safe at school.'"
Charlotte Hill is located near Harry Reid International Airport, in a diverse working-class neighborhood. It's a majority-minority student body, where 37 percent of students are Hispanic, 12 percent are two or more races and 11 percent are Black.
The Blue Ribbon recognition was years in the making. Before becoming principal in 2018, Reynolds was assistant principal, and her predecessor also made it a priority to get to know each student and their needs. The school's culture is reflected in its mission statement: "To take responsibility for the academic, social, and emotional growth of every child to be college, career, and citizenship ready."
The award for "Exemplary Achievement Gap Closing" is given to schools that have made "the greatest advances" in closing achievement gaps in English and math over the past three to five years.
"But also, being clear is really important … How can we get upset with a child if they don't know the expectations?" said Reynolds, who has worked in the education field since 2001. "Every student needs to know what they're learning, why they're learning it and what they're going to do with it. And if a student knows those things, then they're going to be successful."
Charlotte Hill and Frank Lamping Elementary Schools, both in Clark County School District, were recognized for the "Exemplary Achievement Gap Closing" category, while Pinecrest Academy of Nevada Inspirada, a public charter school, was recognized for its high performance. Since the program's first awards in 1983, 54 Nevada schools have been named National Blue Ribbon Schools.
State Superintendent Jhone Ebert chalked up the award to "the tireless work of countless dedicated school community members."
Although there isn't a grant or scholarship that comes with the Blue Ribbon School designation, the schools' successes will help the state and school district better identify and address inequities in other classrooms and schools, CCSD Superintendent Jesus Jara told The Nevada Independent.
"When visiting [Charlotte Hill or Frank Lamping Elementary Schools] you feel the energy. You feel the staff are so committed to every single child. And that's what's so encouraging," Jara said. "How do we then put this together so more schools are recognized? And I think this is what we're learning from these schools. We want to make sure that we move from pockets of excellence to a school system of excellence in everything."
Charlotte Hill was not immune to the struggles that the COVID-19 pandemic brought to schools around the nation. One of the biggest challenges during distance learning was ensuring the needs of all students were met academically, socially and emotionally, Reynolds said.
"What's tough is there's always a percentage of students that are struggling academically. Now it's a higher percentage … It could be that they didn't have the best access to online education, or they weren't motivated to participate online," she said. "There is not a student that cannot learn. Every student will learn. It's our job to find out how to support them to reach their potential."
Comment Policy (updated 4/20/2021): Please keep your comments civil. We reserve the right to delete comments or ban users who engage in personal attacks, use an excess of profanity, make verifiably false statements or are otherwise nasty. Comments that contain links must be approved by admin.