Las Vegas would be good for A's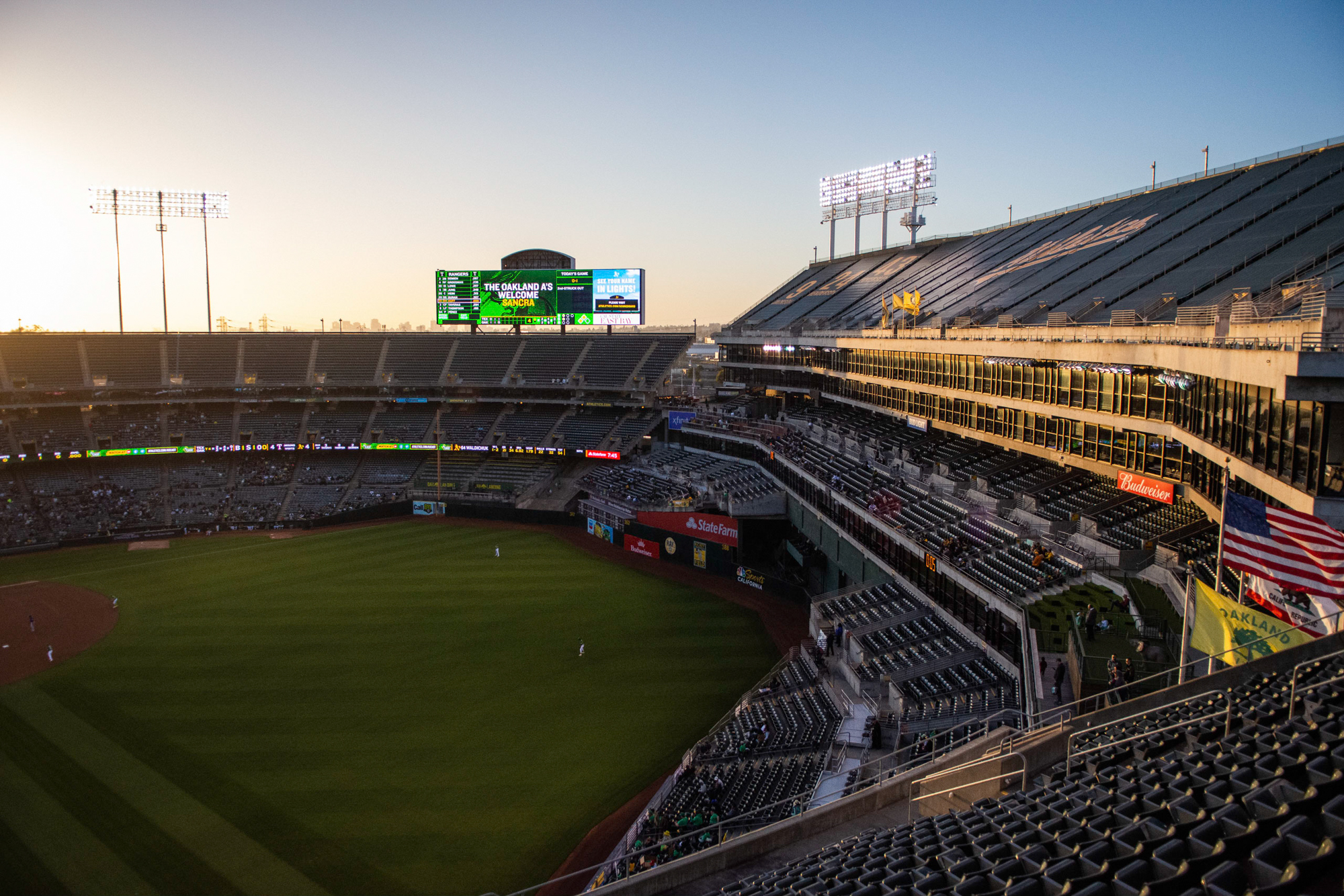 I can still recall where I was on Saturday, Oct. 13, 1973. I was admiring the Oakland Hills from section 313, row 17, seat one, high above home plate at the Oakland-Alameda County Coliseum. A's hurler Ken Holtzman was preparing to face Wayne Garrett, leadoff hitter for the New York Mets. It was game one of baseball's 1973 World Series.
As a freshman at the University of California, Berkeley, that was the day I jumped on the bandwagon of the defending 1972 champs and became an Oakland A's fan.
It was a team of feisty characters, many with facial hair and names like Reggie, Rollie, Catfish, Vida, Campy, Blue Moon and Sal. With a hard-ass manager, Dick Williams, who lived up to his first name. And a whacky owner, Charlie O. Finley, who turned a mule into a mascot, invented orange baseballs and later filled a roster spot with baseball's only full-time designated runner.
The team defended its crown that fall and did so again in 1974, securing the third three-peat in World Series history dating back to 1903. The only other franchise to earn at least a three-peat is the New York Yankees.
Yet Oakland rarely has embraced the A's. This is not due solely to the current owner's penny-pinching ways, as most "Save the A's" advocates would have you believe. Most of Oakland's tenure has been scarred by poor to mediocre fan support. In 1974, the three-peat season, the A's ranked a miserable 11th of the 12 teams in American League attendance.
Records dating back to Oakland's inaugural campaign in 1968, as detailed by Baseball Reference and Baseball Almanac, reveal a history of fan support so poor the A's have topped average American League attendance only eight seasons in 56 years. Oakland's love for football's Raiders far exceeded its support of the A's. Raiders attendance numbers prove it.
As poorly as the A's are playing this year, here are two more remarkable statistics: From 2000 through July 2023, the A's boasted the fourth best regular season record among the American League's 15 teams, according to the website champsorchumps.us, and are tied for second with the Boston Red Sox for American League playoff appearances (11), trailing only the Yankees (19). Yet, the A's ranked 10th or worse in league attendance 18 of the past 24 seasons.
The numbers suggest the A's possible departure to Las Vegas, which I have called home since 1991, is completely meritorious. Need more evidence?
Poor attendance has afflicted the franchise as far back as the early 1930s, after the glow faded from the great Philadelphia Athletics teams of 1925-1932. As Hall of Famers Lefty Grove, Jimmie Foxx, Mickey Cochrane and Al Simmons departed, so did the fans.
When the Athletics moved to Kansas City in 1955, 18,330 Kansas City fans turned out per game at Municipal Stadium, good enough for second best in the eight-team American League. Attendance gradually slid after the team traded players such as Roger Maris, Ralph Terry and Clete Boyer to the hated Yankees, who used those men to win more championships.
When the Athletics moved to Oakland in 1968, only 10,090 fans turned out per game, good enough for eighth among the 10 teams in the American League. In other words, more than 8,000 per game fewer than those who bought tickets for the inaugural campaign in Kansas City more than a decade earlier.
Future Hall of Famer Reggie Jackson, the first A's superstar in Oakland, had his greatest year statistically in 1969. But that year saw a drop in attendance to only 9,608 per game, placing eighth in an expanded 12-team league.
When the A's won its first championship in Oakland in 1972, it placed fifth in league attendance. But attendance inexplicably fell to eighth for the back-to-back title in 1973 and then to 11th for the three-peat in 1974, with a mere 10,441 per game. That, my friends, is fan malpractice.
After Finley dumped star players because of free agency and his own financial woes, the low point for the A's came in 1979, when only 306,763 fans showed up for 81 games, averaging a paltry 3,787 per game. The Raiders, playing in the same stadium, drew 436,515 fans for only eight games that year, or more than 54,000 per contest.
In 1980, the year Finley sold the team to Walter Haas Jr. of Levi Strauss fame, exciting new leadoff hitter and future Hall of Famer Rickey Henderson became the only player in American League history to steal 100 bases. The fans showed their appreciation by ranking 12th among 14 league teams in attendance that year.
The despised John Fisher, the billionaire who took control of the team in 2005, has overseen a slide in average attendance from 26,038 that year to 10,077 this season, lowest in the league. There have been times when the Las Vegas Aviators, Oakland's AAA affiliate, has outdrawn the parent club at the Las Vegas Ballpark in Summerlin.
Under Fisher, the A's have been 10th or worse in league attendance 17 out of the past 19 seasons. But the team was also 10th or worse in 19 other seasons under prior owners, resulting in 36 of 56 seasons of deplorable attendance.
Oakland has ranked fifth or better in attendance only six times. Four of those seasons were consecutive: from 1989-1992. Who was missing those four years? The Raiders, who played in Los Angeles from 1982-1994 before returning to Oakland in 1995.
When the Raiders returned, so did the fans, but only for football. This was true even in 2006, when the Raiders went a miserable 2-14, drawing more than 60,000 fans in an expanded stadium for six of their eight home games. The A's, who made the playoffs that year, ranked 12th in attendance among 14 league teams. Go figure.
Beyond poor attendance it's easy to shoot down arguments by those who believe Oakland remains a better fit for the A's than Las Vegas.
The argument: Oakland has a right to retain the team and its name. My take: No it doesn't. No less than 20 other cities have lost at least one major sports franchise to another municipality since the 1950s.
The argument: Oakland, with more Black and Asian residents, is better suited for the A's because it is more racially diverse than Las Vegas. My take: Data from the 2020 U.S. Census reveals Las Vegas more closely resembles the demographics of Major League Baseball players, according to numbers reported on MLB's website that show this season they are 59.6 percent white, 30.2 percent Hispanic, 6.2 percent Black and 3.2 percent Asian.
The argument: The reverse fan boycott held at the Oakland Coliseum for the June 13 game against Tampa Bay was a wild success. My take: More like a dud. According to the 14 major league box scores published on ESPN's website that day, nine other games drew larger crowds than Oakland despite eight of those games played in smaller ballparks than the 46,847-seat coliseum. Average attendance for the 14 games was 31,130, which was 3,371, or 12 percent, above the reverse boycott.
The argument: The 30,000-seat stadium proposed for Las Vegas is too small for a major league team like the A's. My take: That will be plenty big. In 56 seasons, the A's have exceeded average attendance of 30,000 only four times — all from 1989-1992. If anything, it proves the coliseum was overbuilt for baseball, with tens of thousands of empty seats masquerading as fans much more often than not. The argument that the 9-acre site proposed for the Las Vegas ballpark is too small a footprint also doesn't hold water. Fenway Park in Boston, one of sports' architectural wonders of the world, sits on 9 acres. Target Field, home of the Minnesota Twins, is even smaller.
The argument: The Nevada Legislature and Gov. Joe Lombardo should be ashamed for approving $380 million in public funds to help construct a baseball stadium in Las Vegas for billionaire Fisher. My take: As distasteful as corporate welfare is, it remains unavoidable as long as cities and states battle each other by using free land, tax exemptions, zoning and rights-of-way inducements to lure corporations and jobs.
If only the 30 existing major league locales were interested in hosting baseball, Fisher would have been forced to negotiate with Oakland for better facilities. But there's a growing list of cities beyond Las Vegas that would love a major league team, which gives Fisher corporate welfare leverage because of the competition.
Shouldn't Las Vegas wait instead for baseball to expand? That could be a long wait, and baseball might choose not to expand. The sport hasn't expanded since 1998.
Many people thought the National Basketball Association would expand to Las Vegas soon after playing its 2007 All-Star Game at UNLV. Sixteen years later, Las Vegas is still waiting — the NBA's annual Summer League notwithstanding.
It has also been repeatedly argued that Las Vegas retains only the 40th largest television market in the nation, which would make it the smallest in baseball. So where are all the fans going to come from? This is where studies critical of publicly funded stadiums fall short. They rarely account for tourism.
What is tourism really? It's the import of discretionary spending from one community to another. And Las Vegas extracts this money better than just about any other city in the world. Some 38.8 million visitors brought those dollars with them last year, the Las Vegas Convention and Visitors Authority boasted. Do you know how Las Vegas goes about increasing that cash grab? By possessing a relentless drive to fill dead spots in the tourism calendar. A baseball stadium with a retractable roof on the famed Las Vegas Strip would help satiate the city's appetite to fill any dead spots that remain during the sizzling summer months.
Las Vegas already hosts the nation's fastest-growing sports industry. It's a no-brainer the A's will be a major hit on the Las Vegas Strip.
I can still recall where I was on June 13, the same day as the reverse boycott. I was admiring all the bedlam from section 212, row R, seat one of T-Mobile Arena. It was game five of hockey's Stanley Cup Final and the Vegas Golden Knights, a team most sports pundits thought would never excel in the desert, were gleefully parading the Stanley Cup around the ice like a bunch of kids bolting school for summer vacation. As an inaugural season ticket holder, I still haven't been able to process what I have witnessed with this miracle team over the past six years.
Which brings me to my parting thought. Wouldn't it be nice if Fisher seeks marketing advice from Knights owner Bill Foley, who has become a folk hero in the desert? It was Foley who six years ago boldly predicted "Cup in Six." We all thought he was nuts. My advice to Fisher: Offer Foley minority ownership of the A's and watch them turn the tables on the hated Yankees for a change.
Steve Kanigher is a retired award-winning journalist from Las Vegas who worked for newspapers for 40 years and television for four years.
The Nevada Independent is raising $200,000 by Dec. 31 to support coverage of the 2024 election.
Tax-deductible donations from readers like you fund this critical work.
If you give today,your donation will be matched dollar-for-dollar.
Give + Get Matched
Featured Videos