'Libertad' chants echoed 2,000 miles from Cuba in Las Vegas rallies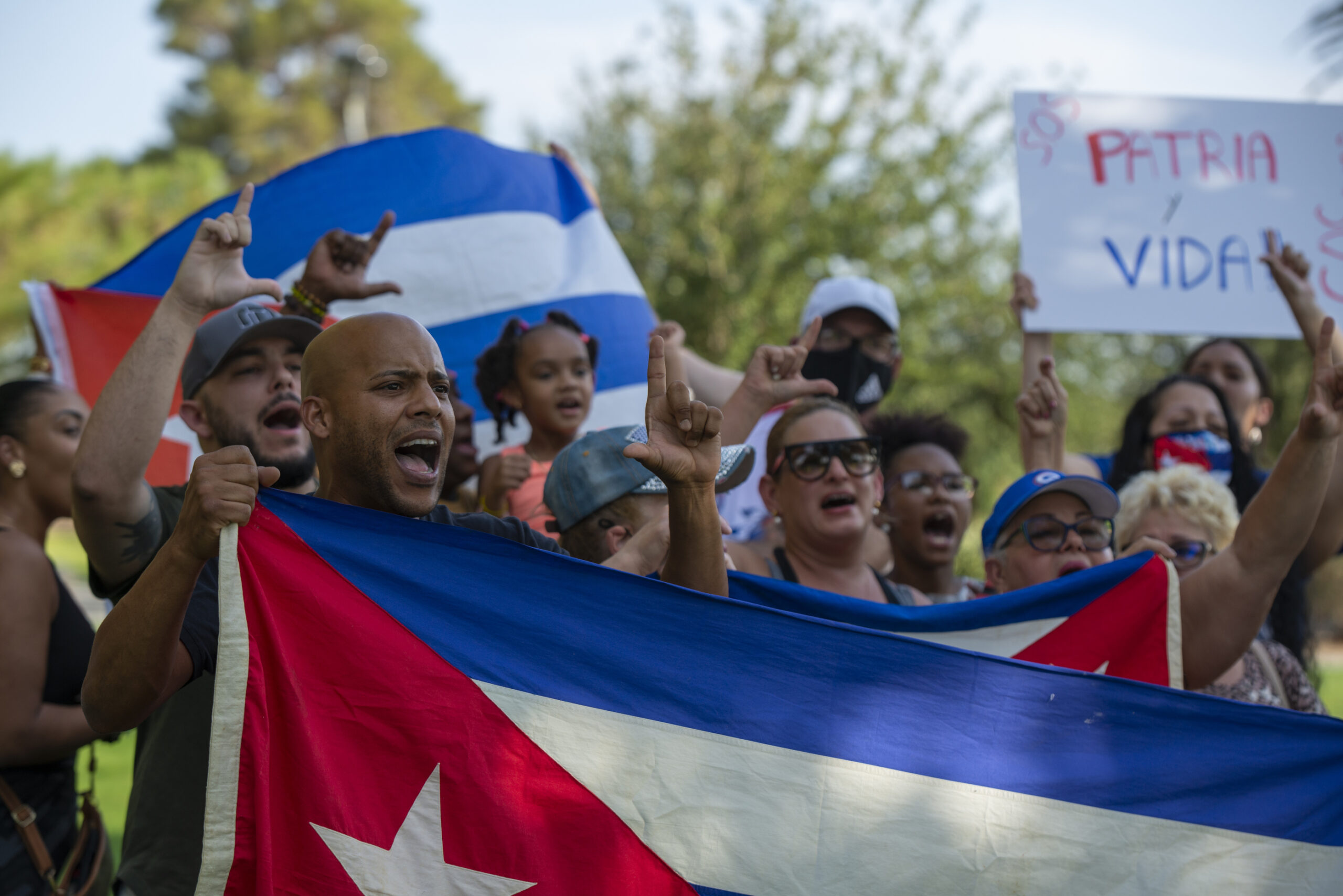 The "Patria y Vida" (Homeland and Life) movement reached Las Vegas' Cuban community this week, prompting a series of gatherings as people called for freedom in their origin country, where anticommunism protests have sparked after worsening shortages of food, water and medical supplies, internet and electricity outages and rising costs of everyday necessities.
Dozens of people met up Monday evening at Sunset Park in Las Vegas wearing red, white and blue, holding signs, waving the Cuban flag and chanting "libertad" while forming their fingers in the shape of an L.
"We're here today to denounce all the wrongdoings in Cuba," Oscar Alonso Oduardo said in Spanish at Monday's gathering. He's an organizer of the Facebook group Patria y Vida Las Vegas that has helped assemble the rallies along with other Las Vegas Cuban Facebook groups. "The people are under fire. They are oppressed, censored. There is no freedom, they are very hungry, there's no medicine. People are dying likewise from the [COVID-19] virus and from lack of clean water and food."
In Cuba, thousands have taken to the streets, some protests turning violent, as tensions between the people and the government grow. Although Cubans have endured economic struggles for decades and previous political movements fell short, the anger appears particularly strong this time.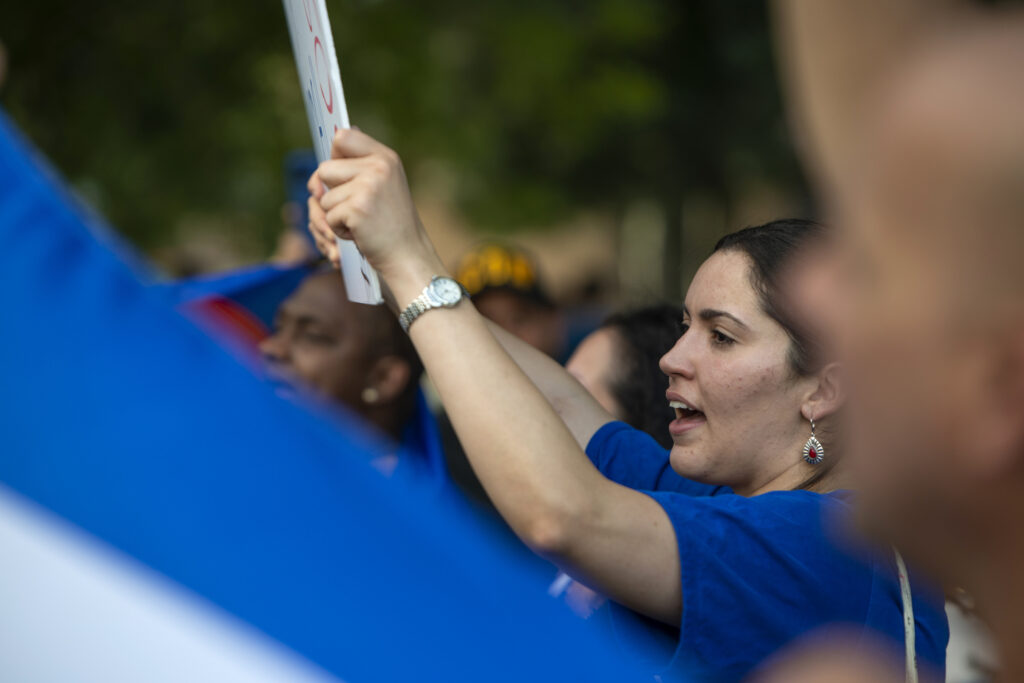 Cubans across the United States are joining the uprising, elevating the island residents' voices while the Cuban government attempts to silence them with threats and internet and power outages. Vivi Lopez, a nursing student who moved to the United States as a teen with her parents, says this has been the moment Cubans who left the island have longed to see — their people finally speaking up.
"It's something that everybody that lives outside of Cuba has been waiting for for the longest because there was nothing we could really do unless we saw people in Cuba actually want to do something about it," Lopez said. "It's not even about communism, socialism, or capitalism. None of that matters anymore. You just want your people to be free and have basic rights... Your people are suffering and you just want to fight for their well-being."
Young Cubans make up a large share of the demonstrators in the streets against the 62-year-old regime. Oduardo, who left Cuba with a couple friends to work in the United States as registered nurses, said the younger generation has spearheaded the movement.
"We are a younger generation now, we opened our eyes more to the injustices," Oduardo said. "Fidel [Castro] deceived the previous generation, and now the youth want to leave Cuba. They want to flee. That's the only future they have."
The movement has seen support from U.S. leaders, including President Joe Biden who released a statement on Monday calling the protests in Cuba a "clarion call for freedom and relief from the tragic grip of the pandemic and from the decades of repression and economic suffering to which they have been subjected by Cuba's authoritarian regime."
Some have said that the pandemic added to the already existing multitude of crises. Florida Sen. Marco Rubio, of Cuban descent, said in a tweet that "Socialism promises guaranteed food, medicine and income if you give up your freedom. When, as always, it fails to deliver, you don't get your freedom back. That's why the protestors are chanting, 'Libertad'."
"We want the message sent to Cuba to be clear and to not confuse what we're asking for," said Vladimir Almeida Baldomero, a co-organizer of the Patria y Vida Las Vegas Facebook group who also came to the United States to work as a registered nurse. "Biden needs to support the people, not the government. And in his statement, his message is not very clear or strong enough."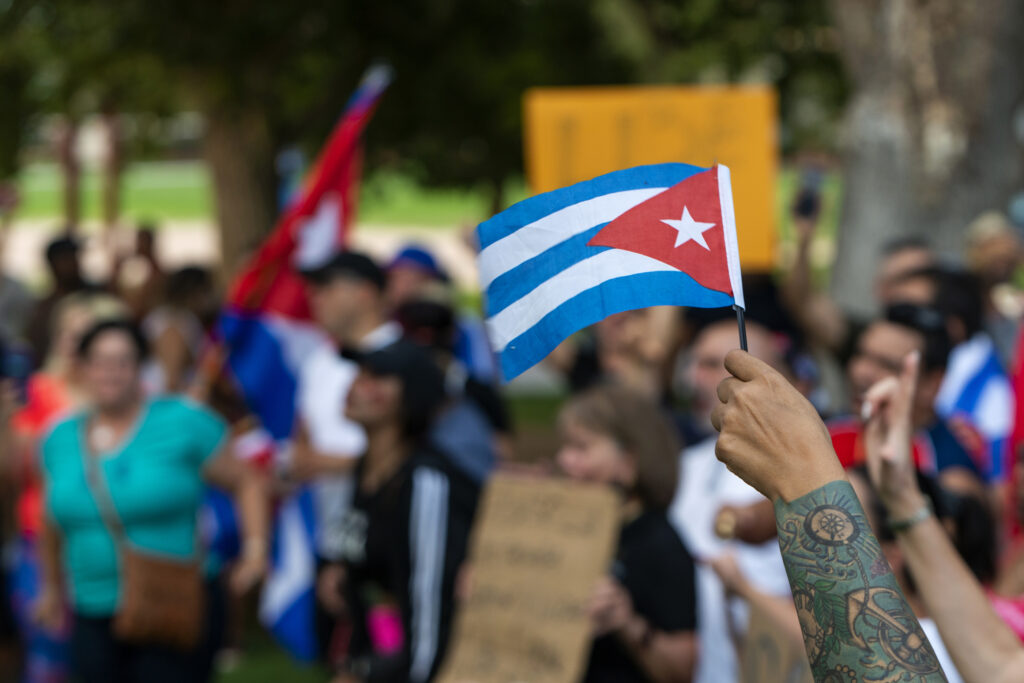 Sunday evening, while an impromptu rally of nearly 300 supporters filled the front sidewalk of the federal Lloyd D. George Courthouse in downtown Las Vegas, Peter Guzman, president of the Latin Chamber of Commerce, sent a message in support to the Cuban community on social media.
He shared that his dad "escaped" the communist regime in Cuba and hopes that Biden will "recognize the importance of this uprising."
"Time is up. Let freedom ring and democracy flourish," Guzman told The Nevada Independent in an additional comment.
Sen. Catherine Cortez Masto also took to Twitter with a statement, calling the movement "an opportunity to create real, lasting change."
The Las Vegas events continued into Tuesday evening when Cuban community members and supporters met and marched along the Las Vegas Strip to raise awareness.
"The world should understand that it's a dictatorship. There's no law. The law is what they say," Oduardo said. "No one can speak up. If they say today the grass is blue, it's blue. If you say it's green, you're incarcerated or killed."
IndyFest is proudly sponsored by:
Comment Policy (updated 4/20/2021): Please keep your comments civil. We reserve the right to delete comments or ban users who engage in personal attacks, use an excess of profanity, make verifiably false statements or are otherwise nasty. Comments that contain links must be approved by admin.