Light rail is a long overdue solution for the Las Vegas Valley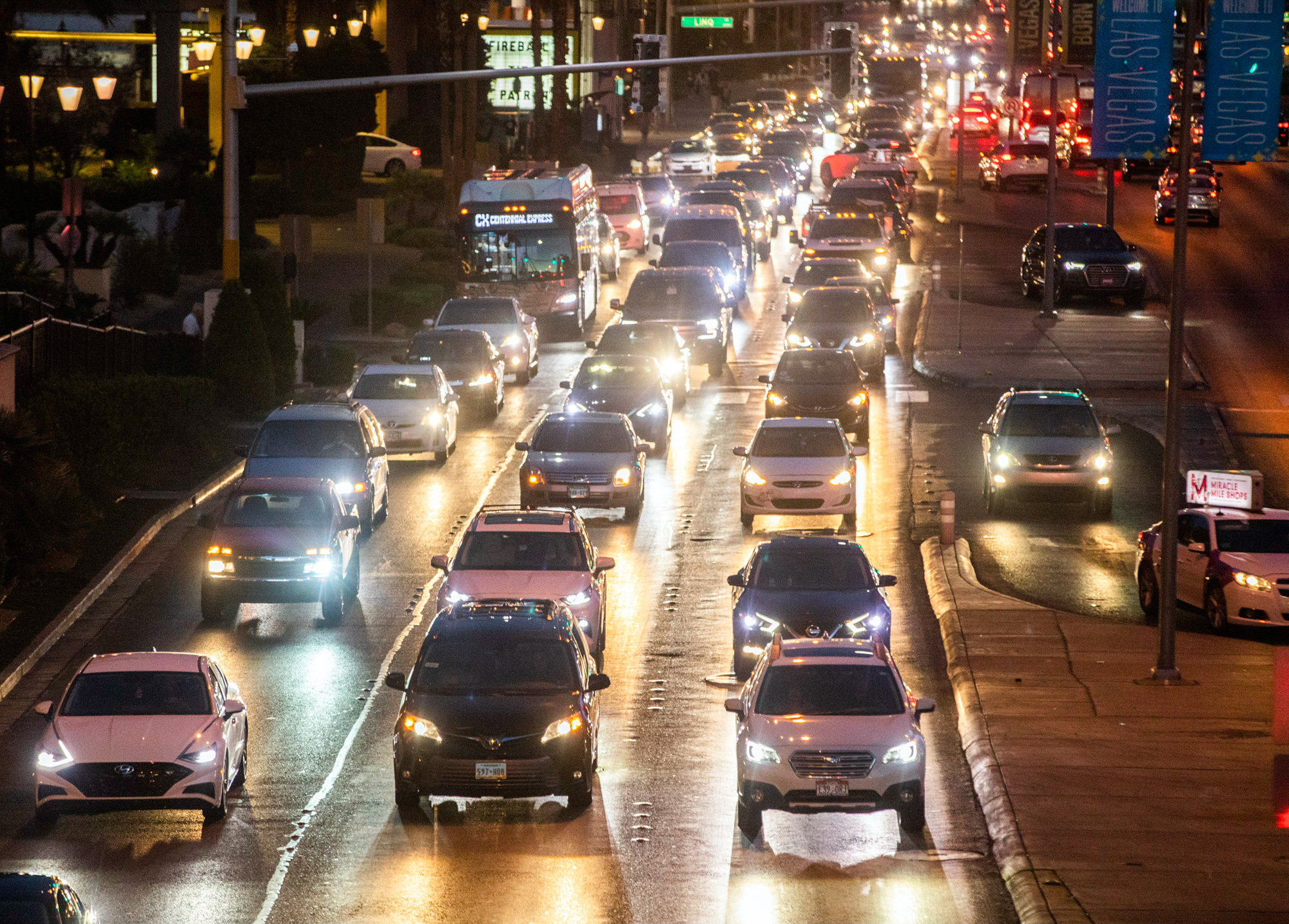 In the glittering expanse of the Las Vegas Valley, a pressing transportation issue remains primarily unaddressed. Despite being a central metropolitan hub that attracts millions of tourists each year, the valley lacks an essential component of modern urban transportation networks: a light rail or tram public transit option. As the backbone of a city's infrastructure, public transit facilitates the daily commute, shaping the urban landscape and the fabric of community life.
The Las Vegas Valley remains the only large metro region in the Mountain West without a developed light rail system. In a city where transportation should be smooth and efficient to cater to locals and tourists, relying on cars, buses, the limited Las Vegas Monorail, or even The Boring Company's emergency-exit-free tunnels is not just inadequate — it's an insult to progress. Implementing light rail would also serve as a testament to Las Vegas' commitment to sustainable and accessible urban development.
The argument for light rail becomes even more compelling when we look at successful implementations such as the one in Salt Lake City, Utah. The initial phase of its TRAX system, spanning roughly 15 miles from Sandy to Downtown Salt Lake, cost a mere $312 million. Salt Lake City has roughly less than one-third (31 percent) of the population of Las Vegas and was able to mark 1 million riders just two years into operation, and increase to 10 times that amount a year later.
In stark contrast, the Las Vegas Monorail's price tag came in at a staggering $650 million, more than double the cost for a system that lacks TRAX's expansive coverage and functionality. This discrepancy highlights not just a missed opportunity for cost efficiency but also a need for foresight in serving the broader transportation needs of the region.
While some argue that the monorail, with its proximity to the Strip, was designed mainly for tourists, its pricing tells a different story. At $15 per person for a one-day pass, it's more than just locals who might think twice about hopping on. Tourists, especially those traveling in groups or families, could easily find this fare burdensome. Instead of alleviating transportation woes, the monorail's price tag exacerbates them. And in a city that prides itself on entertainment, a transportation system that gouges wallets can hardly be considered "entertaining."
Furthermore, the limited scope of the monorail means locals have no compelling reason to use it, reducing its potential as a revenue-generating system. A public transportation system that doesn't cater to the public is, at best, a white elephant and, at worst, a drain on resources. For a transportation system to truly serve its purpose, it must align with the community's needs, ensuring that every dollar spent on its maintenance and operation is invested in the public good.
Light rail could be a game changer for residents in the less affluent areas of the valley, many of whom lack access to private vehicles. For these individuals, a reliable, affordable public transit option would be more than just a convenience; it would represent a vital lifeline. Residents would gain improved access to employment opportunities, health care facilities, educational institutions and other less accessible services. On the flip side, employers and businesses across the valley would have larger pools of candidates. Such a network would help bridge the socio-economic divide, offering a more equitable transit solution that supports the diverse needs of those who live here.
A central spine along the Strip would be essential, providing easy access to major resorts and attractions and extending from Harry Reid International Airport to downtown Las Vegas. The lines would branch from this core into residential neighborhoods such as Summerlin, Henderson, and North Las Vegas, along or near the heaviest traffic routes, facilitating local access to the city's heart.
Connecting critical institutions such as UNLV, major hospitals including University Medical Center and government offices would be paramount to support students, health care professionals and public servants. Expanding routes to suburban and industrial areas would sustain economic expansion as the city grows. Park-and-ride facilities encourage usage from lower-density areas and special lines or express services could cater to significant events and conventions, especially at the Las Vegas Convention Center, Allegiant Stadium or the newly opened Sphere.
There's a genuine need for a robust public transportation system that serves locals and tourists. A light rail or tram system would reduce traffic congestion, promote environmental sustainability, and boost economic growth. More passenger counts mean more revenue.
A 1975 study by the Transportation Research Board suggested that a light rail system could be self-sustaining if it had at least 600,000 riders per month (or 20,000 per day). This threshold is easily achievable, given the current population of the metropolitan area, even before accounting for the influx of tourists. This figure represents a mere 17.9 percent of the total tourist visits recorded for September 2023, underscoring the immense potential for ridership. Beyond mere transportation, light rail systems are engines of urban renewal, stimulating local economies and job creation. They are not just a means of getting from point A to point B; they are powerful tools for community development, bringing growth and enhanced connectivity to the areas they serve.
Such a system would also elevate the experience for tourists, offering them an efficient, affordable means to explore beyond the confines of Las Vegas Boulevard. There's no reason Las Vegas should be left behind. A well-integrated light rail system would bridge the gaps in the current transit options, providing a seamless and enjoyable travel experience reflective of the city's vibrant character.
Las Vegas has always been at the forefront of bold ventures and must address this glaring deficiency in its urban planning. The Las Vegas Monorail, with its high costs and limited utility, has unfortunately demonstrated what happens when a transport solution falls short of meeting the broader needs of a community. It stands as a stark reminder that high expenditures do not necessarily translate into high functionality.
Moreover, while technologically intriguing, The Boring Company's proposed tunnel network offers an equally inadequate vision. It is a niche, small-scale solution that, much like the monorail, fails to serve the wide-reaching transit needs of the larger community.
Clark County merits an expansive, reliable and inclusive transportation system that meets the demands of its residents and visitors as a cornerstone of a forward-looking, interconnected city — allowing us to chart a new course that would see Las Vegas not only as the "entertainment capital of the world," but also as a beacon of urban transportation ingenuity.
Noah Fischel is a writer, comedian and former Democratic campaign strategist and fundraiser. He remains active in local issues and currently works as an office manager for the State of Nevada.
The Nevada Independent is raising $200,000 by Dec. 31 to support coverage of the 2024 election.
Tax-deductible donations from readers like you fund this critical work.
If you give today,your donation will be matched dollar-for-dollar.
Give + Get Matched
Featured Videos