Lombardo turned to lobbyist tied to COVID lab scandal for help with budget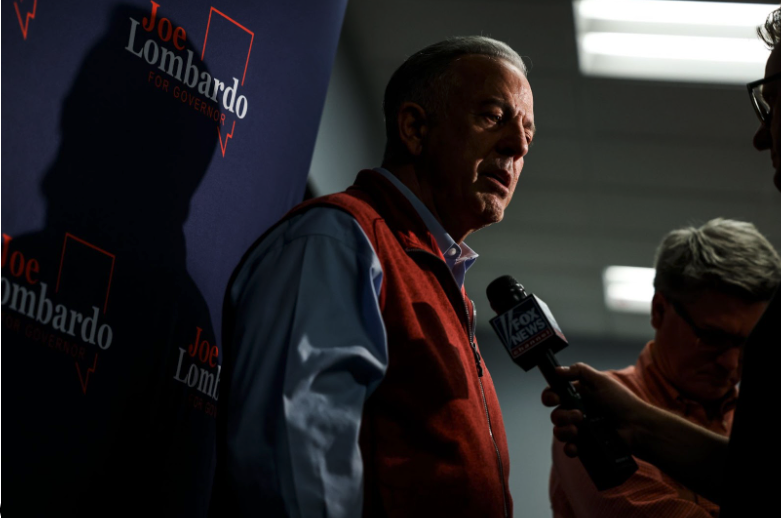 Editor's note: This story is being co-published with ProPublica, a nonprofit newsroom that produces investigative pieces in the public interest.
During his contentious campaign to become Nevada governor, Joe Lombardo accused the Democratic incumbent of catering to the family of a donor and their lobbyist who helped an error-prone COVID-19 testing lab get licensed in the state.
Shortly after he won the race, Lombardo, a Republican, quietly turned to that same lobbyist for help building the state budget, giving him access to confidential documents and putting him in a position that allowed him to advocate for state funding sought by his clients.
Lobbyist Mike Willden's name doesn't appear on the list of people Lombardo appointed to his transition team as he takes the reins from former Gov. Steve Sisolak. But emails and budget documents obtained by ProPublica show Willden was invited to budget meetings with each of Lombardo's department directors, provided advice on health care spending and was involved in discussions on changes to the spending plan worth nearly $30 million a year to his clients — though not all of those changes were ultimately approved.
He also was involved in discussions on an effort to extend a nearly $600 million contract for one of his clients to continue administering Nevada's Medicaid program.
Willden has expertise in state government, including the complex Medicaid budget. He served as chief of staff to the last Republican governor, after decades working for the Department of Health and Human Services, including 13 years as director.
The owner of the lobbying firm that employs Willden said in a statement that Willden volunteered hundreds of hours to help Lombardo's transition team with the budget and that none of his clients "materially benefited from Mike's involvement."
"He has been involved in five gubernatorial transitions and has played a vital role in the preparation of more than 20 budgets," said Richard Perkins, owner of The Perkins Company and a former state assemblyman. "He has unique expertise, experience and integrity. His involvement is especially critical, in the incredibly compressed time frame" a new governor has to prepare a budget.
"I know that cynicism and skepticism dominate our political and governing environment these days, however, it's a shame that a long time, trusted public servant, like Mike Wilden, is criticized, and not truly appreciated," Perkins added.
Willden played a central role in a controversy that rocked the final year of Sisolak's administration. In late 2021, Willden leaned on his relationships with state regulators and Sisolak's office to speed the licensing of COVID-19 testing laboratory Northshore Clinical.
Last year, ProPublica detailed serious problems with the lab's operations in Nevada, including questionable billing practices and a high rate of false negative results. At the time, Willden said he was trying to help the state address a critical shortage in testing by assisting Northshore's two Nevada representatives, who were family friends of Sisolak's. Willden said he wasn't paid by the company or its representatives and was unaware of problems with the lab's services.
During the gubernatorial race, Lombardo and Republicans spent heavily on advertising that used the Northshore debacle to portray Sisolak as corrupt and accuse him of jeopardizing the safety of Nevadans to enrich his friends. Lombardo described it as the "biggest scandal in our history" on Twitter, and his campaign dubbed Sisolak "Northshore Steve."
Sisolak denied showing favoritism toward the company and said his administration had acted quickly once problems with Northshore's tests became known.
Lombardo's chief of staff, Ben Kieckhefer, said the campaign attacks weren't on his mind when Willden was asked to help prepare the $11.4 billion, two-year budget, which the governor recommended to the Legislature this week. Under state law, Lombardo had three weeks from the time he took office to complete a proposed spending plan.
"My thought was we needed to get a budget built. That was my focus," Kieckhefer said. He dismissed the idea that Willden's involvement could open Lombardo to the same criticisms the Republican leveled against Sisolak.
"You'd be hard-pressed to find someone who knows more about the Medicaid budget than Mike," Kieckhefer said. "Coping with potential conflicts? That's on me, not on Mike."
Documents show Willden worked with Kieckhefer, as well as the incoming deputy chief of staff and two members of the transition team: state Senate Minority Leader Heidi Gansert and Jeremy Aguero, an economic analyst with clients who do business with state and local governments in Nevada. The group held budget meetings with each of the state's department directors to review funding requests, raise issues and decide what changes should be made to the draft budget from the previous administration.
Kieckhefer said Willden was already part of the transition team's budget subcommittee when Kieckhefer was named chief of staff and took over management of the budget process.
The documents obtained by ProPublica include an "open issues list" drawn up by the working group in late December. It shows that issues affecting three of Willden's clients featured heavily in the budget discussion.
For example, Willden lobbies for the Nevada Health Care Association and Center for Assisted Living, an industry group for nursing homes and assisted living facilities. That industry stands to lose $24 million a year in extra Medicaid funding related to the pandemic that's expected to expire when the public health emergency ends. The document states it's the industry's "desire not to experience payment reductions."
The document also highlights a requested rate increase worth $4.5 million a year to providers of early childhood intervention services. Willden is a paid lobbyist for the Early Intervention Community Providers Association.
The largest issue, and perhaps the thorniest, is a lucrative contract to administer the state's Medicaid program, which provides health insurance for more than 900,000 lower-income Nevadans. Gainwell Technologies, which holds the $558 million contract, is one of Willden's clients. The contract expires in June, and efforts to renew it have stalled.
"Immediate action needs to be taken to negotiate a contract extension with Gainwell or there will be no contracted vendor in place as of July 1, 2023," the document says.
Kieckhefer said he did not include the request for additional money for nursing homes in the recommended budget but did include the rate increase for early intervention providers. That increase was listed as a top priority of the department director before Willden's involvement, Kieckhefer said. The Gainwell contract has no bearing on the state budget but was flagged as a serious issue that needs attention, he added.
Kieckhefer said Willden was "always forthcoming about who he represented" during his work with the transition team. He said he wasn't too concerned that Willden's participation may give his clients an advantage.
"My job is to weigh all the considerations and then act in the way I think is in the best interest of Gov. Lombardo and his priorities," Kieckhefer said. "I rely on my previous experience and taking counsel from people who also may have experience one way or another. Ultimately, it's me and the governor making decisions about what's included in the budget."
The Nevada Independent is raising $200,000 by Dec. 31 to support coverage of the 2024 election.
Tax-deductible donations from readers like you fund this critical work.
If you give today,your donation will be matched dollar-for-dollar.
Give + Get Matched
Featured Videos