In shifting Nevada economy, manufacturing taking more prominent role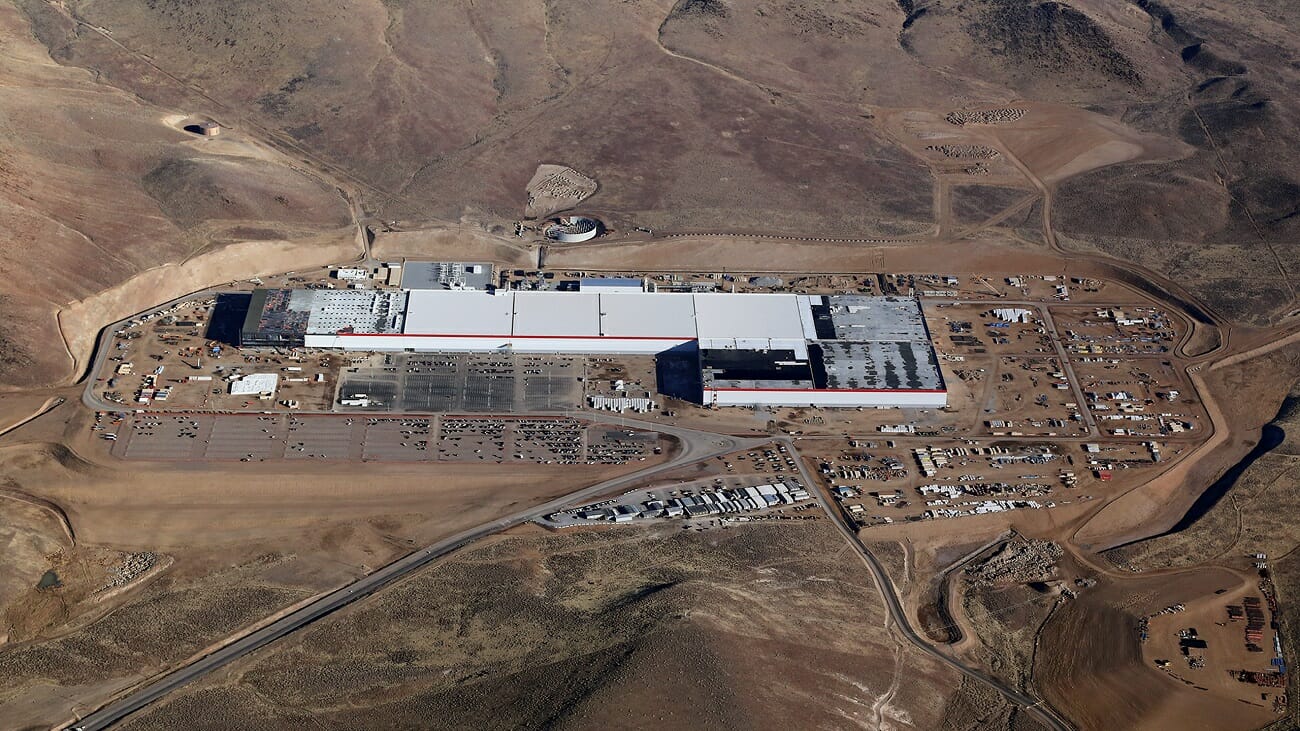 The manufacturing worker base grew to an all-time high of 5 percent of Nevada's employment landscape, an increase that signals a shift in the local economy as the state has now exceeded the number of jobs it had pre-pandemic but also as the hospitality industry remains 33,000 jobs short of pre-COVID levels.
Economists said it's unclear whether hospitality-related employers are cutting costs and not hiring people back, or if workers left the industry voluntarily for other opportunities.
"If you look at transportation, warehousing and utilities, it's up 18,300 jobs, and this is all statewide," said Bob Potts, deputy director of the Governor's Office of Economic Development (GOED). "Manufacturing is up 5,200 jobs above pre-pandemic [levels]."
And more jobs are on the horizon. In June, Gov. Steve Sisolak announced on Twitter that seven new companies were coming to or expanding in Nevada — and many of the related jobs fall into the categories of transportation, logistics or manufacturing. For instance, the footwear company Crocs is establishing a distribution and warehouse facility in North Las Vegas that will eventually bring 325 jobs, and a polystyrene manufacturing company called FMI is opening a facility in Clark County that could add 720 jobs within five years.
Sisolak said the companies, which received tax incentives, are expected to generate $178 million in tax revenue over the next decade.
Companies rolling in are paying average hourly wages ranging from $30 to $45 while offering more than 1,000 jobs across the state.
Nevada's labor force is made up of more than 1.1 million workers. Leaders at DETR said that the local workforce is ready and prepared to take on manufacturing jobs and that there are many training opportunities available.
"We're seeing that manufacturing growth taking place and that tells me that we do in fact have the workers to support it," said David Schmidt, chief economist at the Nevada Department of Employment, Training and Rehabilitation (DETR).
According to a May report with data from DETR, industries including warehousing, utilities, transportation and manufacturing make up the Nevada manufacturing sector and gained 24,000 new workers, reaching a high of 75,000 employees and recovering beyond 100 percent from the COVID downturn. In comparison, the 300,000-person hospitality and leisure worker base remains only 91 percent recovered from the pandemic, and 80 percent when it comes to the casino and hotel industry — the lowest rate of recovery for all job sectors in Nevada.
For years, state leaders have tried to diversify Nevada's economy, which is heavily reliant on the hospitality and tourism sector and susceptible to any financial downturns when consumers pull back on leisure spending. Nevada's cyclical economy led the state to become hardest hit by the 2008 recession and made headlines that year for having the highest unemployment rate in nationwide history at 14 percent.
At its COVID peak, unemployment reached 28 percent in Nevada. But as of June, it had fallen to 4.7 percent.
"Because of the low unemployment [rate] … we are seeing shifts," said John Pearl, an economist at DETR. "Most of the businesses and companies that we work with are willing to lower their [job qualification] standards so they can accommodate [workers] who may not have the required skills, so they can train them."
Pearl said just about every state is seeing shifts in their workforce landscape, while CNBC reported that 48 percent of American workers who left their jobs during the "Great Resignation" of the last few years joined new industries.
As Nevadans shifted from hospitality into manufacturing jobs, they have seen their pay increase. Hospitality workers make $500 to $800 per week on average, while manufacturing workers bring in $1,100 to $1,300 per week, according to the report from DETR and GOED.
"Nevada's economy as a whole is diversifying," Potts said. "And it's diversifying organically in many ways."
Potts and Schmidt said Nevada's proximity to the large California economy and its location in the West, in between various states, position it as a pass-through for goods and services flowing by ground transportation to the rest of the country. Potts said the pandemic played a direct role in the industry's growth because many people went from shopping in retail stores to online.
Leaders of GOED said not only is the economy strengthened by "high-quality jobs with strong wages" through the manufacturing sector but also because it's an export industry. As such, the manufacturing sector brings in new revenue from outside of the state when products are sold in places other than Nevada, boosting local supply chains, productivity and profits.
"[Manufacturers] exchange what [they] make for money," Potts said. "That money that flows back in takes the form of earnings … then those dollars are spun off and spent back into the local community for what we call secondary industries, like grocery stores, dentists, doctors and car dealerships."
Economists find it especially important to balance the local economy in order to better combat financial catastrophes like the one incurred by the 2020 shutdown in which Nevada was one of the hardest-hit states economically.
Potts said that in Reno and Sparks, manufacturing jobs helped balance out the workforce and bolstered the economy to the point it caused housing prices to increase. In January 2020, the median home price in the Reno-Sparks area was $400,000 but has since surpassed $600,000.
He added that it is the kind of growing pain that happens when an economy outgrows the region.
"Reno kind of is the example of, I think, where Southern Nevada has the opportunity to go," Potts said.
Manufacturing in America, Nevada
Samuel Slater became known as the "Father of the American Industrial Revolution" and built the first factory in America in 1790 — a cotton-spinning mill — which expanded on methods from British fabric factories. In the decades that followed, an American manufacturing system evolved as industrialization took place prompting the American way to become the global standard.
The new labor system formed from successfully commercializing the use of interchangeable parts, allowed employers to break up tasks into departments. American factories focused on using labor more efficiently, with semi-skilled workers, distinct from British manufacturing.
"If you're looking in terms of 'will manufacturing production get back to 20 million [workers] where it was in 1979' — no," manufacturing economist, Daniel Meckstroth, told the Wall Street Journal 10 years ago when American manufacturing started to show an uptick.
The U.S. dominated manufacturing globally until about the '70s when corporations moved labor offshore to save money. But now, companies are learning that it is more cost effective to produce domestically.
Manufacturing is an area of special focus for Nevada officials working to attract new businesses to the state.
"While we are happy to work with every company, we do sort of have those key industries in mind, and manufacturing and logistics are definitely one of those," said Melanie Sheldon, director of business development for GOED, in an interview.
Sheldon said manufacturing companies are moving into Nevada for many reasons, including the strong labor force, availability of land and the low tax and regulatory climate.
"Nevada, in general, has really become attractive [to manufacturers] for a variety of reasons," she said, "whether it's competitive utility rates for commercial operations, major industrial perks … available [buildings and] developed land zoned for industrial use."
One of the biggest victories the state, and specifically GOED, has ever had in attracting large manufacturers was the Tesla lithium-ion battery factory. Announced in 2014 and located east of Reno in Storey County, it had a lot to do with the transformation of the Northern Nevada economy.
At a 2014 press conference, Tesla's co-founder and CEO Elon Musk said there were many reasons he chose the Battle Born state for the company's national manufacturing operations, besides the $1.25 billion tax break it received to manufacture ​​electric car batteries in Northern Nevada eight years ago.
Tax incentives are statutory in Nevada but only if a business qualifies for them, which is decided by lawmakers.
"[Abatements] are basically available to any company that meets the statutory criteria," Sheldon said. "And that is around job, wages and capital equipment investment in the state."
At a June meeting, the governor's economic development board approved tax abatements for several factories, adding up to more than $65 million in savings for companies over the next 10 years.
The requirements each company had to meet to be eligible for the tax incentives include:
Offering competitive pay that is 100 percent of the average statewide hourly wage
Generating 50 percent of revenue from outside the state, bringing in new dollars
Hiring 50 or more full-time employees in urban areas and 10 or more in rural areas.
"I think the abatements have been quite a good draw card for manufacturing companies … which in turn has helped us sort of fulfill our mission of diversity, diversifying the economy, bringing new industries, bringing different industries and maybe offering alternative jobs for Nevadans," Sheldon said.
Moving to Nevada from California, a polystyrene manufacturing company is set to open in Clark County in June, and has already broken ground. Tom Akers, the contact for FMI, the California-bred foam company, said the tax climate in Nevada made the state favorable for relocation.
Additionally, Akers said officials were hands on and supportive throughout the process of relocating.
"They cared," Akers said. "I guess they were really showing us that they really care about business."
He said the company is currently working with job centers and local colleges, such as the College of Southern Nevada, to provide workers with paid vocational training in advanced manufacturing.
Sheldon said the goal at GOED is not to compete with the hospitality and leisure sector but to diversify the local workforce with promising industries. And after years of gradually moving to Nevada, factories, production facilities and warehouses are starting to help balance out the local workforce.
"[This] is really great for us in economic development, because we have the current flowing in our direction," Potts said. "The winds at our back, as they might say."
The Nevada Independent is raising $200,000 by Dec. 31 to support coverage of the 2024 election.
Tax-deductible donations from readers like you fund this critical work.
If you give today,your donation will be matched dollar-for-dollar.
Give + Get Matched
Featured Videos