Marginalized youth cry out for 'liberation over incarceration' at Las Vegas park
Youth yearn for support, mentorship and 'open gym' to thrive.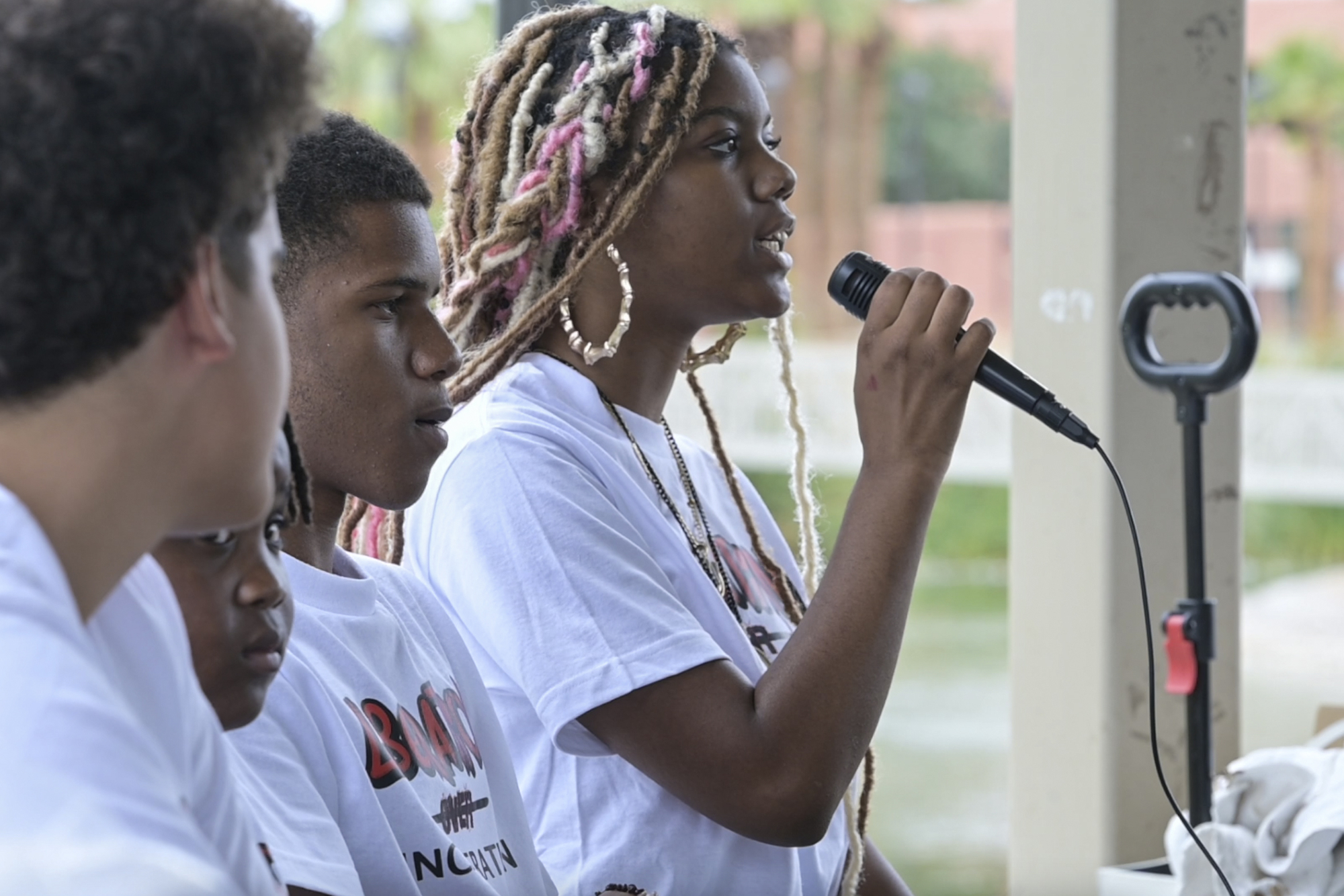 Eighteen-year-old Makhi Wright and his mother, Sonia Parker, 53, got into an altercation recently that led to Wright spending time in the North Las Vegas Detention Center on charges of domestic battery.
Parker and Wright blame each other for the situation — Parker said her son is volatile because of his marijuana use which she said started in sixth grade, and Wright says his mom threatened him — but the result is that Wright took a "no contest" plea that he now questions.
"If I would've had a very well understanding of my rights, I wouldn't have listened to the public defender when she was whispering in my ear while I'm at the podium — 'take the plea deal, take the plea deal, no contest, no contest,'" he said. "That right there struck fear in me, because I'm like, the public defender is the person supposed to be sitting here defending me."
Wright's mother also filed a "stay away order" against him and he cannot appeal the conviction after taking a plea deal. It will remain on his record until a judge decides if or when it can be sealed.
He said that his experience with the justice system took a toll on him mentally.
Wright was one of four teens who joined a discussion about youth incarceration at Lorenzi Park in Las Vegas earlier this month in an event that launched the "liberation over incarceration" campaign. The event included a press conference and panel, where mostly Black youths discussed the school-to-prison pipeline, the psychological effects that an over-policed community has on youth populations and ways to help people aged 15 to 24 thrive.
The panelists, aged 8 to 18, highlighted that they generally feel unsafe, unprotected and oppressed.
"Even I have personally never felt safe until I started leaning into community work like this," said Desiree Smith, 22, founder of the Las Vegas-based police watchdog organization More Than A Hashtag. "Our goal today is to talk about the launch of our campaign — liberation over incarceration — and [discuss] what that looks like to the youth, whose opinions have long been ignored in the struggle for liberation."
The event, which drew about 30 attendees, was organized by the youth arm of the Las Vegas-based nonprofit and abolitionist group Mass Liberation Project — which seeks to eliminate jails, especially for youths, believing alternatives to incarceration, such as mediation, meditation, healing circles, education and de-escalation training, would help younger generations thrive.
Smith, who is leading the liberation over incarceration campaign, is a youth leader at Mass Liberation, whose projects include creating a nonviolent code of conduct for youths, which is a work in progress, distributing surveys about gun violence and organizing forums.
"We don't harm each other — that's number one," she said when speaking about a "community code."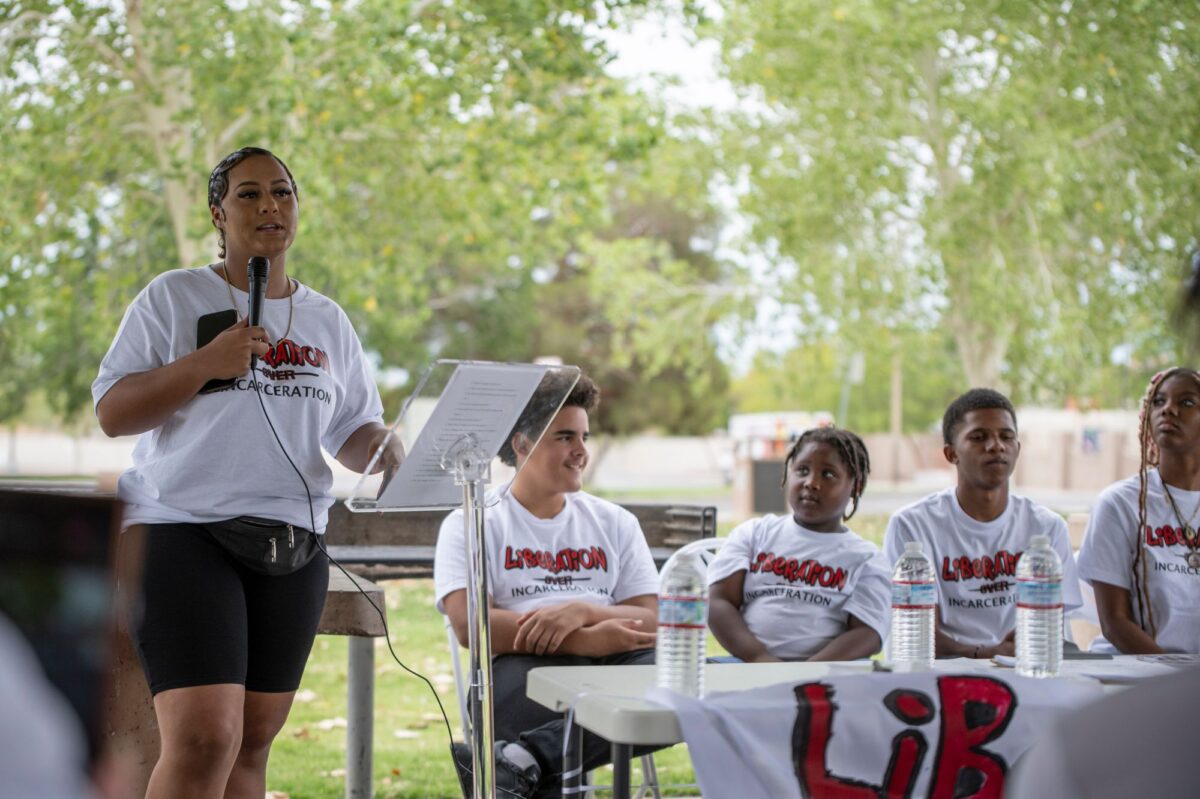 Grassroots leaders attending the event included members of the faith-based, Black nationalist organization Nation of Islam, the self-identified "socialist and communist" group Black Riders Liberation Party, El Shaddai Refuge Homes, which helps youths transfer out of the foster care system, the Service Employees International Union and Red Desert Collective, which describes itself as the "working class organization dedicated to revolutionary change."
"We remain realistic to the fact that adults, including police, actively violate our rights and do not face consequences," said Smith, who moderated the press conference and panel while two police marshal trucks huddled a short distance away, and a third drove slowly by it twice.
The event comes nearly two months after the U.S. Office of Juvenile Justice and Delinquency Prevention (OJJDP) reported that youth arrests had decreased by 77 percent across the nation over the past two decades and that "youth violence is at or near historically low levels."
Despite declines, according to data from National Center for Juvenile Justice, "at each stage of juvenile court, Black youth are overrepresented relative to their proportion of the population."
"And they're not overrepresented by a small degree," said Chaz Puzzanchera, senior research associate at the National Center for Juvenile Justice, during a May presentation of the 2022 national report on the juvenile justice system. "In fact … [during] all of the juvenile court stages, they [represent] at least twice their proportion in the youth population."
Black youth emerged as an outlier in overrepresentation, making up 15 percent of the population but topping almost every category. They make up 40 percent of those detained, 41 percent of those adjudicated and placed (found in violation of the law by a judge) and 53 percent of those judicially waived or moved to adult criminal court, whereas other racial groups remained relatively proportionate or underrepresented.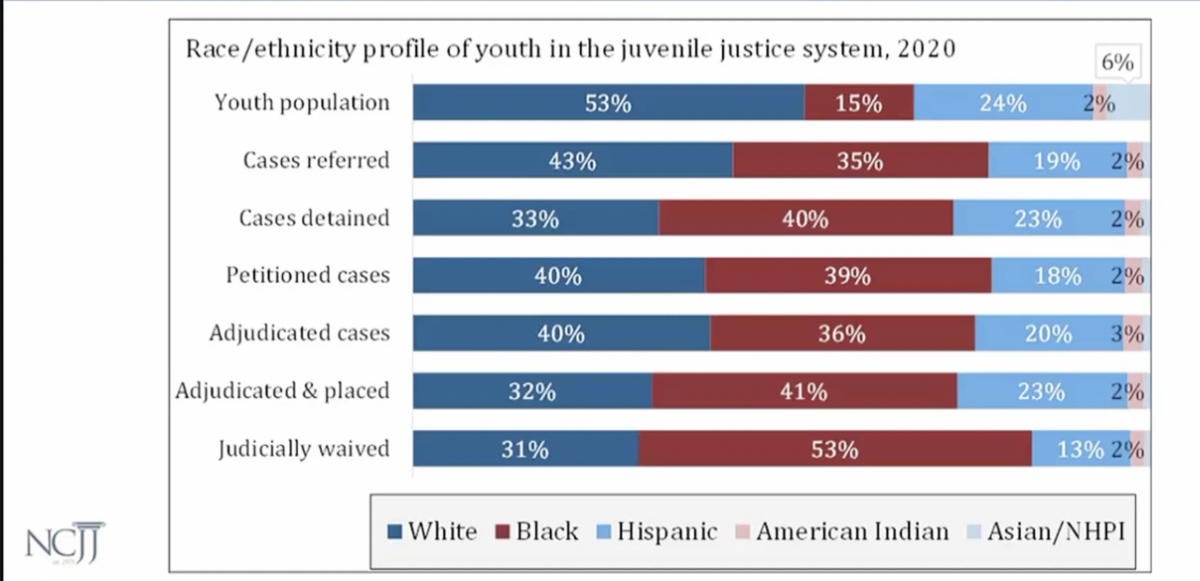 School-to-prison pipeline
Fresh from high school, Wright, who performed a rap song during the youth press conference that was partly dedicated to a friend who was shot in the face this summer, has a record with a violent crime. That makes it more difficult to get housing, educational opportunities and jobs.
"After you go through that pipeline, you're out of school and … it's like walking around with a big target on your back," he said when asked about the school-to-prison pipeline. "And now you're looked at as a delinquent. You're looked at as a criminal, and now your every move is being watched."
The American Civil Liberties Union defines the school-to-prison pipeline as a "national trend wherein youth are funneled out of public schools and into the juvenile and criminal legal systems." Many have learning disabilities, live in poverty or experience neglect or abuse.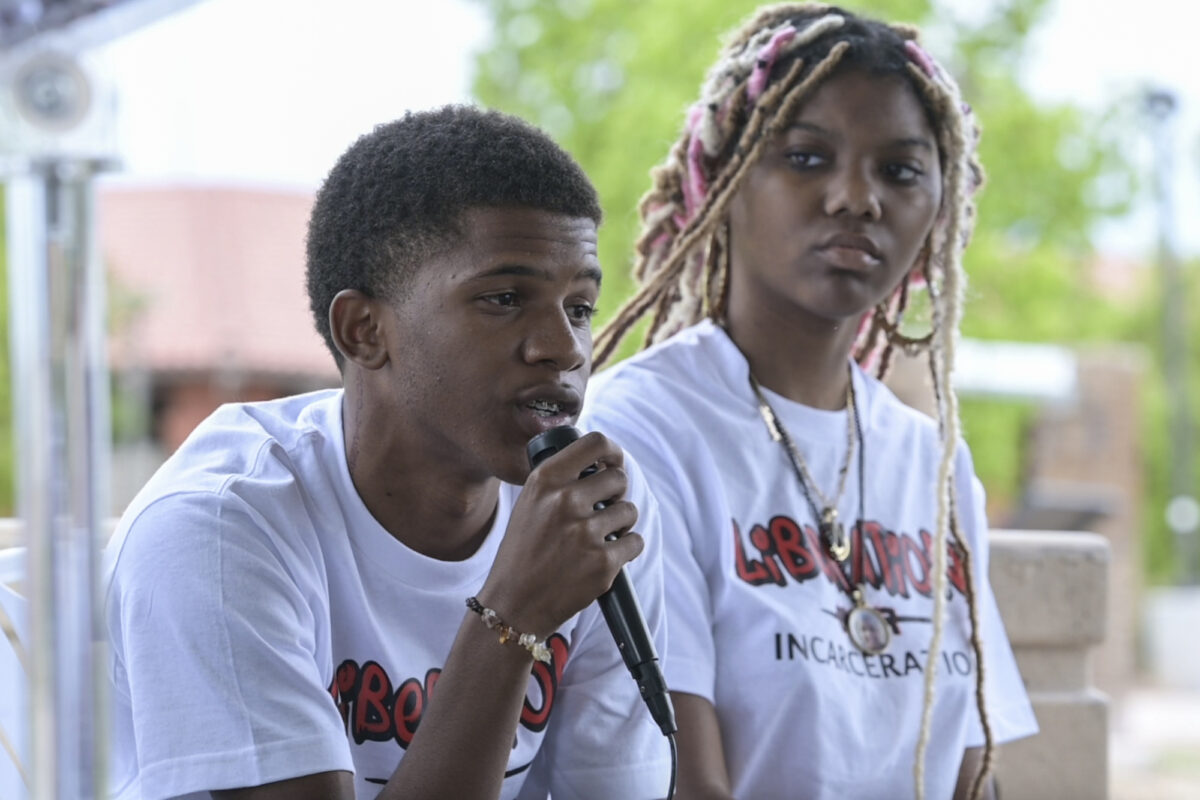 Christopher Smith, 13, defined the school-to-prison pipeline as the mistakes that children or young people make that sometimes led them "immediately" into the justice system.
Panelist Jaleah Walker, 17, a senior at Legacy High School in North Las Vegas and member of the Black Student Union, said that the school-to-prison pipeline is "like a domino effect" — when kids are penalized, expelled or suspended from schools, that creates a record of delinquency, which she believes leads to greater calamities.
"Most recently, I had a friend who ended up being incarcerated, freshly after middle school," she said. "It became like a regular occurrence and he just recently passed this year due to gun violence."
Walker told The Nevada Independent that her experience with homelessness led to a "tremendous" drop in her GPA, making her feel penalized for things she said were out of her control.
While temporarily homeless, she missed at least 10 days of school last year, which she said contributed to automatic failures because they were unexcused absences.
"At one point … I was traveling a lot to different housing," Walker said. "And they know that, but it didn't affect them when failing me."
She said transportation was a struggle and that sometimes she was much too far away to take the city bus to school.
Walker said she is going through an appeal process to get her GPA back up.
Many of the panelists — except Wright, who was recently jailed — said they do not think about being incarcerated when asked if it was something that was weighing on their minds.
"I don't think about it, because every time I think about it, it kind of makes me want to cry," said 8-year-old Nasir Herrera. "Because I think about the good people that are locked up in a cold room, with a bed with almost no bed sheets, and just looking at a wall."
How youth can thrive
Youth attendees spoke about feeling led astray by rap music and television, neglected or abandoned by leaders and over-policed in schools or neighborhoods — calling for simple solutions such as mentorship or "open gym," which means free access to gyms inside community centers to play a wide variety of games or sports.
Smith said she planned the press conference to show leaders that youths have their own voices and to invite the community to hear what young people need to excel in life.
"I think that's what the problem is in our community, is that the adults are pushing these so-called solutions but they're not hearing out what the youth wants," she said. "And the other message is, the youth doesn't belong in cages."
The event was devoid of elected officials and city leaders.
Each panelist said in order for children to thrive, they need to know that they're supported by their communities and surrounded by thriving individuals.
"I thrive off of the community and people like us who are blessed to be here with each other," Walker said. "But also safety. You can't thrive in fear. So feeling safe really does [matter]."
She said the things that make her feel safe is "knowing that I have a community that's willing to support me and knowing that they are willing to help me build and be better for myself."
This story was updated at 11:45 AM on August 28, 2023 to reflect that the Nation of Islam is a Black nationalist organization.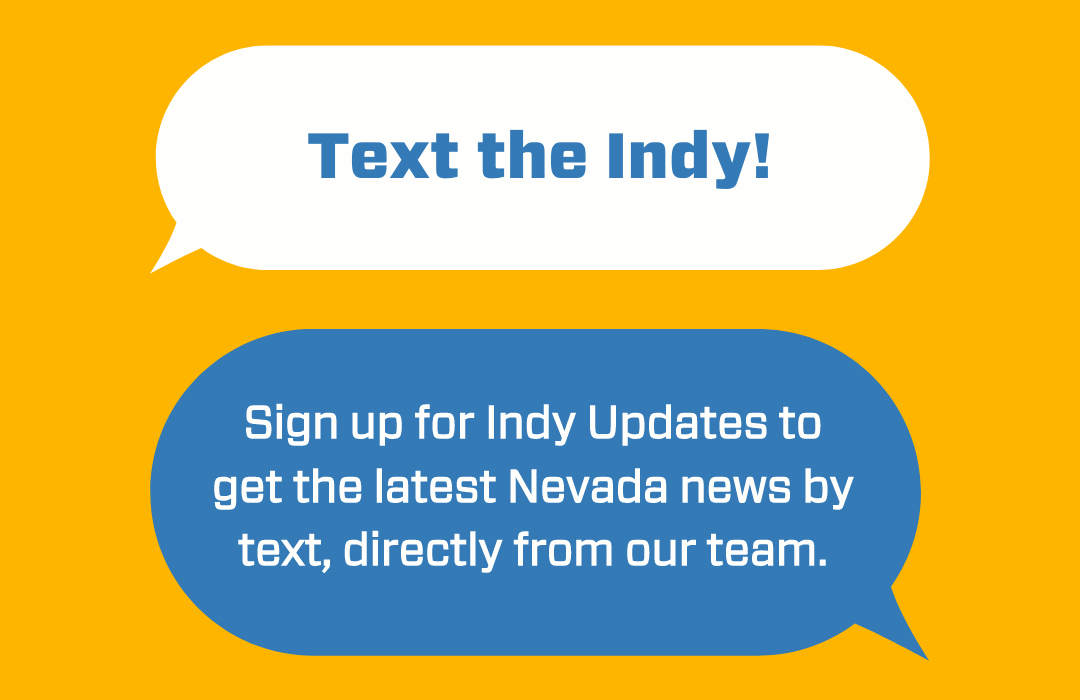 Featured Videos