Meet The Indy's special correspondent: Heather Murren
January 21st, 2017 - 9:53pm
As the editor of a new enterprise, I was thrilled to have recruited an incomparable managing editor, a stellar reporting team and two superb columnists. To have added Heather Murren to the mix is not just an unexpected delight, but one that will take The Nevada Independent to another level.
I have known Heather for some time, and she is one of the more remarkable people I have met in three decades in Las Vegas. Smart, dedicated and talented, she has been on two presidential commissions and has committed herself to making the world a better place. For some, that is a cliché; for Heather, it is self-evident.
You can see all that she has done from her bio. It's manifestly impressive.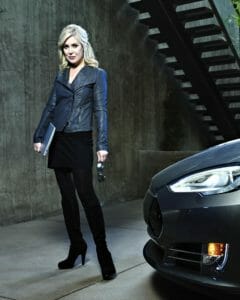 But I am much more excited about what she will do than what she already has. Murren, who is working for us pro bono as a special correspondent, wants to have an impact on critical issues, including cybersecurity. Her first piece will show you just how good she is and how her experience on the Commission on Enhancing National Cybersecurity will prove invaluable.
But this is just the beginning. Heather will continue to write about that topic and others, including knowledge garnered from her tenure on another federal panel, the Financial Crisis Inquiry Commission, formed after The Great Recession.
Many who know of Heather Murren but don't really know her surely are unaware that she long harbored dreams of working in journalism. She is a natural writer whose intensity and depth are redolent in her prose.
"I'm thrilled to be contributing to The Nevada Independent on issues that span a variety of subjects and sectors," she told me. "With a background that includes experience in everything from finance to health care, consumer products and cybersecurity, I hope to bring an informed perspective — grounded in skilled research — to every story I write."
I am sure some people will wonder about the nexus between Heather's work here and her husband, Jim, who chairs a company, MGM Resorts International, whose Foundation is one of our biggest donors. That's an insult to Heather, whose work will stand on its own and stand tall.
We are very lucky to have her. I am sure you will agree once you start reading her work.
Disclosure: MGM Resorts International has donated to The Nevada Independent. You can see a full list of donors here.
From the Editor
The Nevada Independent
is a 501(c)3 nonprofit. We need help to attain the elusive goal of sustainability. We depend on recurring donations from you, the readers who believe in our mission of nonpartisan, transparent journalism. I know you are busy. I know you have many commitments. But if you would take a moment to
support our work
or bump up your current donation, I would be forever grateful.
Thanks for all of your support.
Best,
Jon Ralston
get our morning newsletter,
The Daily Indy
Thanks to everyone who made our October #IndyGive drive a huge success.
With your help, we raised more than $461,000 and welcomed 397 new donors to The Indy family.
If you are new to The Indy, please take a moment to read more about our nonprofit news venture — and consider supporting our work.
@TheNVIndy ON TWITTER