MGM-funded 'urban farm' addresses food insecurity in Historic Westside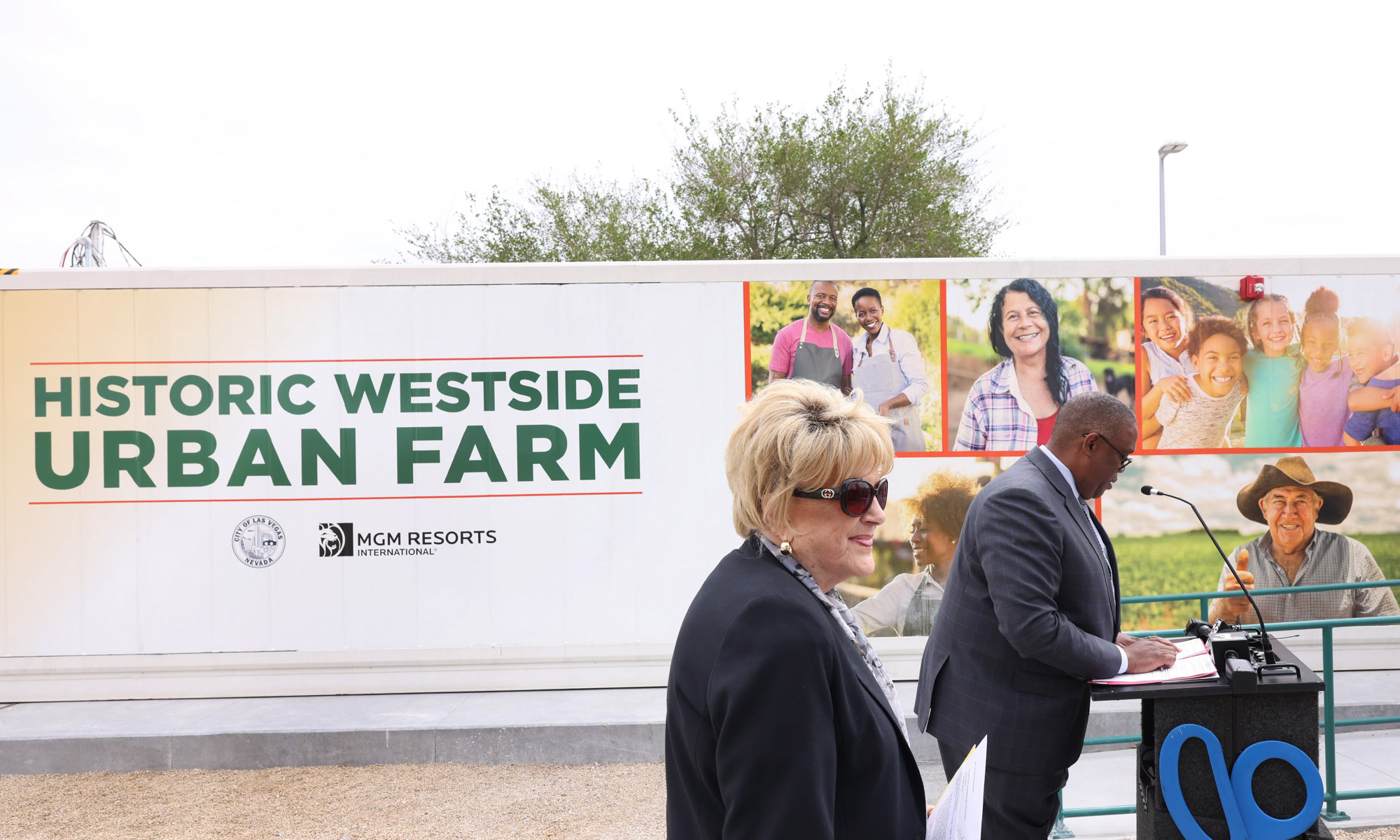 Las Vegas officials hope a mass-producing "urban farm" located in a park in the Historic Westside will help address food scarcity in the area.
The development was secured through a public-private partnership involving MGM Resorts International, which donated $500,000 to the City of Las Vegas for the purchase of two climate-controlled hydroponics containers that grow produce, house plants and flowers year-round.
The park that now houses the farm operation closed in 2013 to remove homeless encampments but was reopened last month with a new name, James Gay Park — a tribute to James Authur Gay III, who was born in 1915 and later "played a fundamental role in desegregating the Las Vegas Strip" during the 1960s.
Las Vegas Mayor Carolyn Goodman, Las Vegas Councilman Cedric Crear (Ward 5), MGM executive Anthony Williams and others celebrated the opening of the farm April 12 during a ribbon-cutting ceremony. Crear said the HUNDRED Plan, or the Historic Urban Neighborhood Design Redevelopment Plan, was the impetus of the project.
"Today's opening of the urban farm represents the park's rebirth and reimagination as we begin to open up in phases," said Crear, whose ward includes the park and who is running for mayor next year.
Crear said the farm is not just a food source for the area that could supply residents along with the existing Mario's Westside Market and a planned cooperative grocery store in James Gay Park, but also a place for community gatherings and cultural and educational programming. A cooperative grocery store is usually owned and managed by those who shop there.
The high-tech farm is expected to yield as much produce as is typical for 3.5 acres of land, or eight tons of produce per harvest, with the first harvest expected this month. The upkeep and harvesting will be managed by urban farmers Ronald Voight and Thomas Blount, who own Las Vegas-based Agricology Solution Services.
Earlier this year, KNPR reported that one in four residents in Las Vegas' Historic Westside are food insecure, which is the highest rate in Las Vegas. According to the U.S. Department of Health and Human Services, a person is food insecure when they have uncertain access to food that is nutritionally adequate because of low household income or lack of access to full-service supermarkets.
Goodman told a crowd of roughly 50 people that the containers will grow green beans, Nevada lettuce, parsley, arugula, collard greens, basil, cilantro and bok choy. The bright green Nevada lettuce or Lactuca sativa, is a crisp and buttery lettuce that can grow in any climate and has a high heat tolerance.
"Many of us take for granted that we grew up eating fresh fruits and vegetables that were readily available to our families," Goodman said. "But for many in the Historic Westside, access to fresh produce has not been the reality."
The farm comes three years after community advocates in the neighborhood confronted a store owner for consistently selling unsanitary foods at Fresh and Less on Owens Avenue and J Street.
And parts of the Westside are designated as food deserts — a label the Centers for Disease Control and Prevention (CDC) applies when the area is "lacking access to affordable fruits, vegetables, whole grains, low-fat milk, and other foods that make up a full and healthy diet." An area is considered to have low access if a grocery store is more than a mile away from a low-income census tract.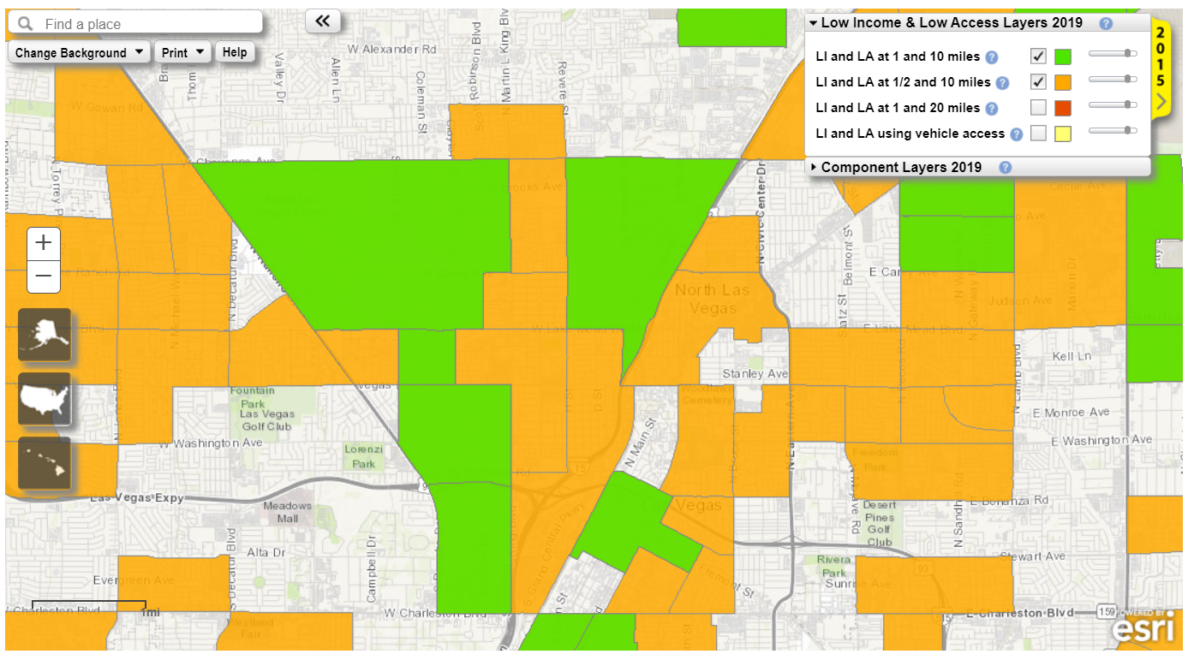 Modeling a similar project in Denver, residents in the community will get discounts on purchases of food at the farm, food stamp recipients will receive food for free and residents who live outside the community will pay the market rate.
"We've traveled around the country looking at best practices regarding homelessness, regarding neighborhood health, regarding the revitalization of underserved communities," Crear said. "And we saw this product working in Denver."
When asked if the containers would overshadow a nearby community farm just a block away, Tammy Malich, the director of youth and social initiatives for the City of Las Vegas, said the two farms serve different purposes and would actually complement each other.
"This [system] grows on steroids … we're growing 365 days a year," Malich said about the urban farming containers. "There's no downtime in these. The lights, water, nutrients are keeping these plants growing, believing they're outdoors on a spring day all the time."
She also said the Historic Westside deserves multiple sources of food and that along with the neighboring community farm, The Obodo Collective, the two gardens will support families across the valley with workshops on farming while increasing healthy food options in the area.
Malich said the team developing the urban farm tried to be thoughtful about the project to ensure it would fit in with the community and was respectful to the legacy of Gay, the park's namesake.
"He made incredible contributions to this community specifically, that people don't even know about," she said. "We're already brainstorming on how to do wayfinding signs or walkways that provide information and highlights on him so people get to know him, especially future generations."
'We're getting things done'
Crear said everyone he speaks to is very happy about the progress being made in the Historic Westside.
"I think [the park] shows residents that we're actually doing what we said we're going to do," he said. "That's important because for so many years, nothing's ever happened. There's been no movement in our community. And so they're seeing action taking place."
Wendell West, 63, is a local real estate agent who's sold houses in West Las Vegas for more than three decades and attended the ribbon-cutting ceremony last month. He said the farm marks the beginning of new developments coming into the community, but that there is a long way to go in order to get things back to the neighborhood's Black cultural renaissance days, when midcentury anti-Black laws confined African Americans to the west side of Las Vegas.
The subjugated Black community developed businesses, nightclubs, cultural events and casinos, including the Moulin Rouge, which made the front page of TIME Magazine in June 1955.
West said he has attended every community meeting regarding the redevelopment of the Historic Westside and that he hopes bringing a casino in the area remains on the agenda, as well as "increasing rooftops" in the neighborhood.
"I know everything that's going on," he said. "I just want to see it completed. For so many years, we started something and then it never got completed. It always stopped."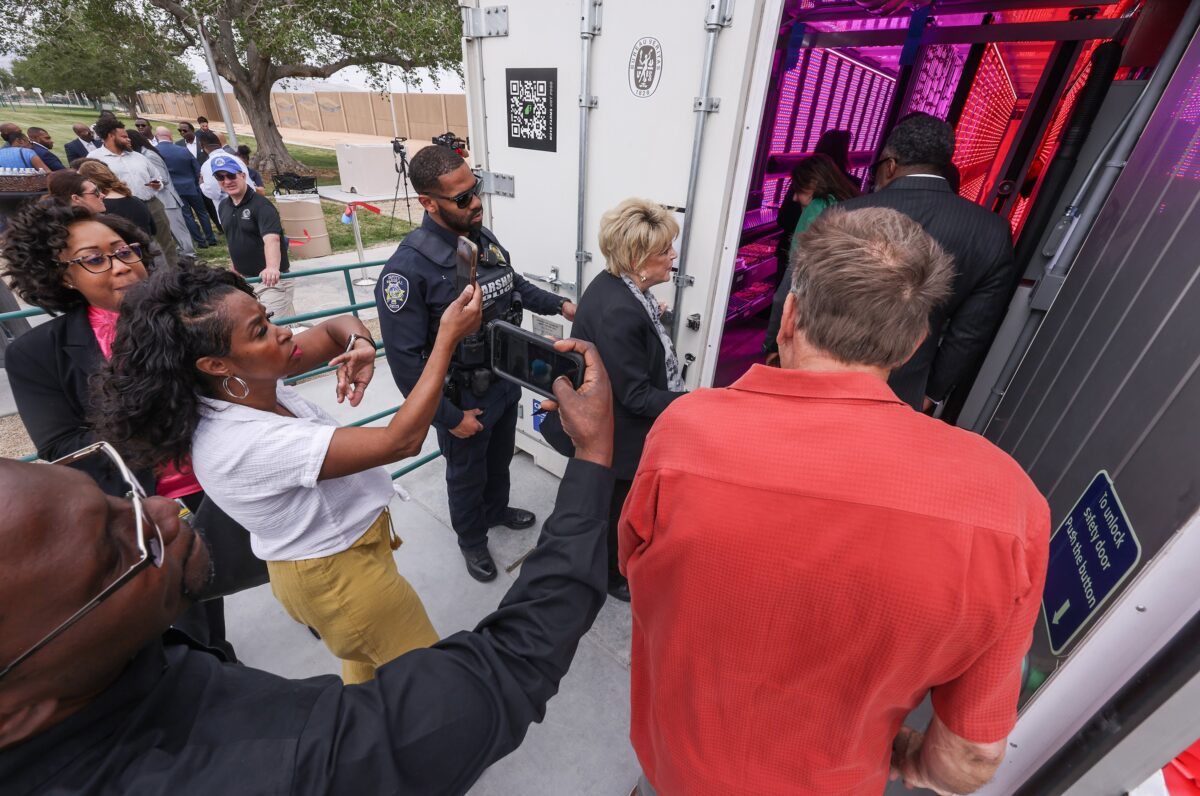 After decades of stalled plans for revitalization, Crear and then-Clark County Commissioner Lawrence Weekly released an updated rendering of the HUNDRED Plan in 2020, alerting people that leaders were moving forward with the plan using new resources.
Since then, several new developments have been launched, including the Jackson Avenue Complete Street project that broke ground in December, the College of Southern Nevada workforce development center at the Historic Westside School, an 84-unit housing development planned for Jackson Avenue and plans geared towards the rebuilding and relocation of the West Las Vegas Library. Crear said the projects have "been a long time coming, but the best is yet to come."
Though many plans came before the HUNDRED Plan, according to the city's website, it was not until 2015 that the Historic Westside became a designated area by the Las Vegas Redevelopment Agency (RDA). The area has a history of disinvestment dating back to 1944, prompting residents to petition for simple amenities such as paved streets, electricity and sewage lines. Areas included in RDA plans are zones that city officials help plan and develop through tax incentives, discounted land or policy changes.
While city leaders plan the future of local working-class communities, sometimes they experience backlash from residents who are fearful that the changes will displace resources or push them out. One example is from last February, when Crear came face to face with the mistrust of residents after seeking to move, upgrade and expand the West Las Vegas Library.
But he's defending his work.
"The bottom line is that we're getting things done … just come down here and take a look at what we're doing," Crear said.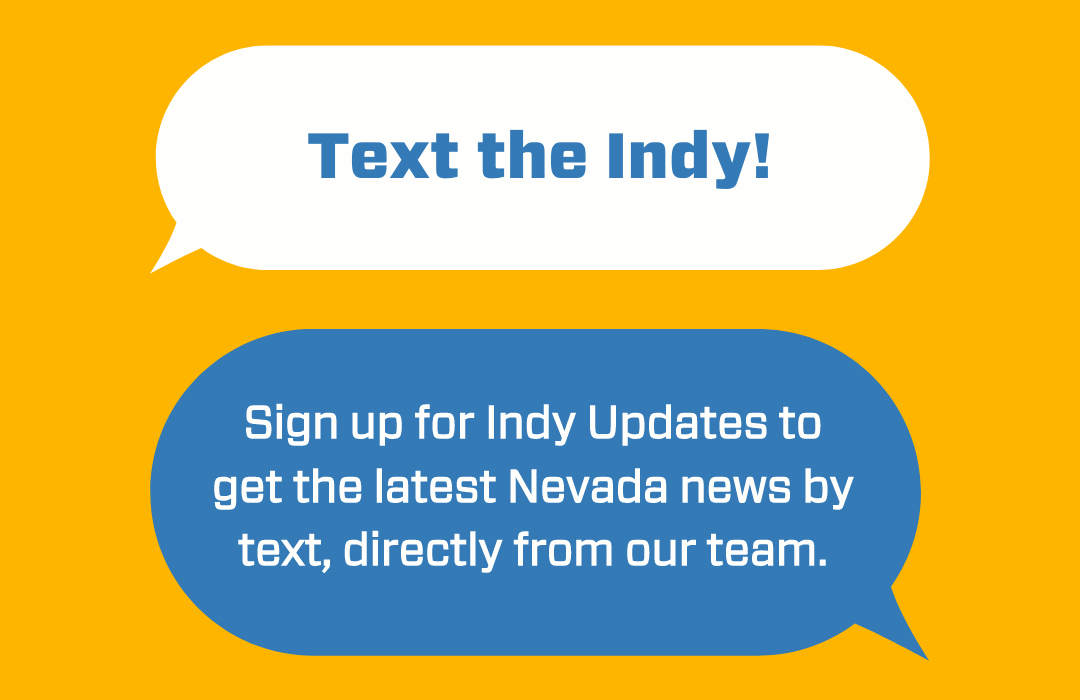 Featured Videos
Comment Policy (updated 4/20/2021): Please keep your comments civil. We reserve the right to delete comments or ban users who engage in personal attacks, use an excess of profanity, make verifiably false statements or are otherwise nasty. Comments that contain links must be approved by admin.