Presidential candidate Rep. Seth Moulton, D-Mass, speaks to a group consisting of mostly veterans at American Legion Post 10 on Saturday, June 1, 2019. (Jeff Scheid/Nevada Independent)
Veterans tell stories of mental trauma to presidential candidate Moulton in Las Vegas
Massachusetts Rep. Seth Moulton spoke to an issue close to his heart — mental health care for veterans — during a campaign stop Saturday morning in Las Vegas.
The presidential candidate spent the majority of the two-hour event, hosted by the American Legion, with veterans who shared stories of their time deployed, their struggles with mental health when they returned and their hopes for more veteran's resources in the country.
Moulton, a Marine combat veteran who served four tours in Iraq, has spoken of mental health issues among veterans previously in Congress. He started Veteran Town Halls aimed at bridging the divide between veterans and community members.
Earlier this week, the  Democratic congressman pitched a three-part policy directed at mental health.
The plan involves ensuring active-duty members see a mental health professional for an annual checkup, mental health screening for high school students and establishing 511 as the national hotline for those struggling with mental health issues.
In a response to a question from The Nevada Independent, Moulton said the first and third part his plan would address the high suicide rate, particularly among veterans, in Nevada.
"I have sadly heard too many stories of veterans who call for help but can't be seen by the VA soon enough. I have a very good friend who was suicidal and the VA said he could come in three months," Moulton said.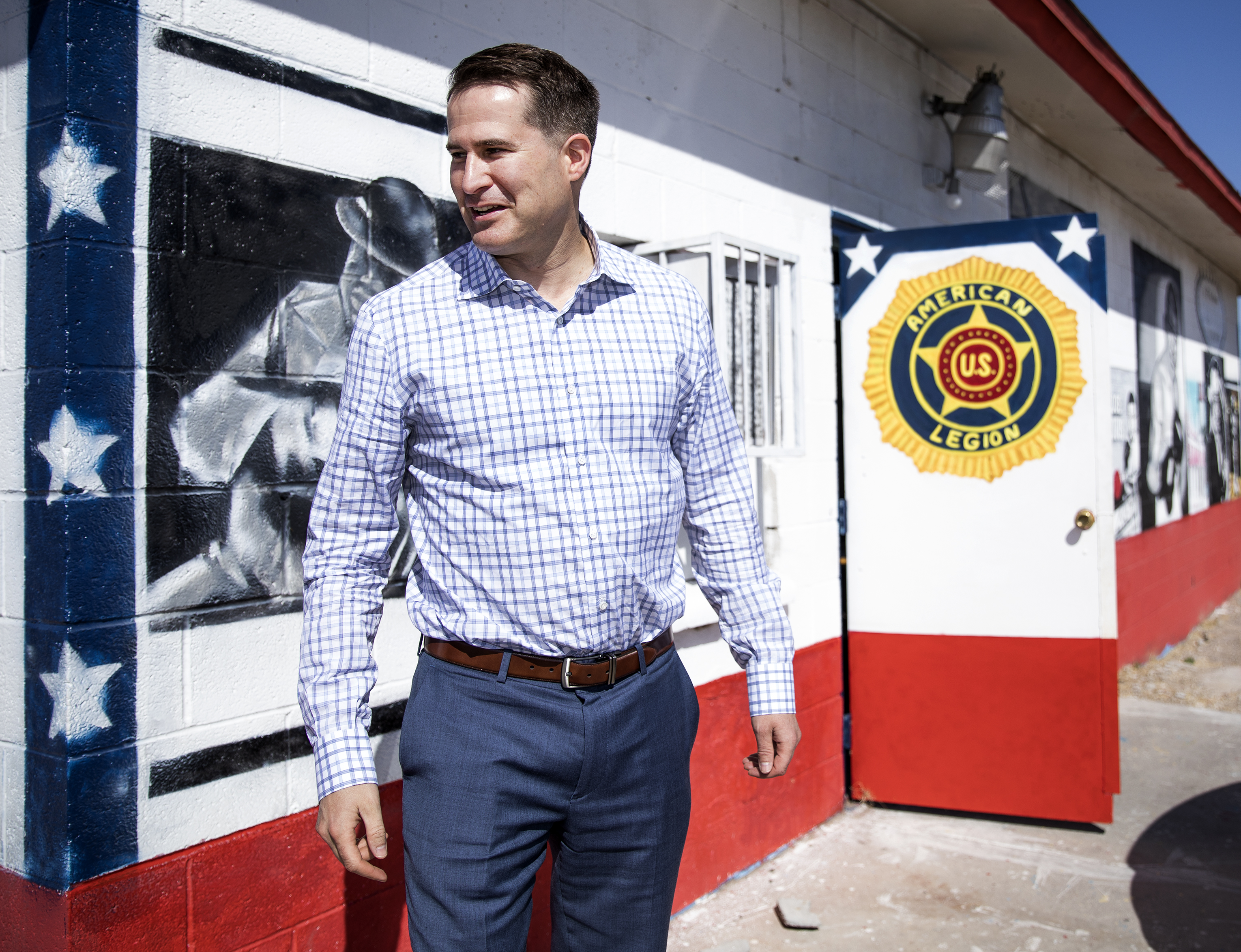 But for Moulton, the real test for his bravery isn't his military service or leadership in office, but coming forward honestly about his own experience. He dedicated this week specifically for talking to veterans about mental health.
"One of the first principles of leadership is lead by example," said Moulton, who for the first time this week shared his own struggles with post-traumatic stress disorder. "If I'm not out there sharing my own story, then that's not really leading by example."
The story he recalled was the haunting image of a young boy, parents dead, writhing in pain in the middle of a highway.
"That moment I made one of the most difficult decisions I ever made in my life, which was to drive around him and keep going," Moulton said, explaining that stopping would have endangered the lives of the men he was leading.
Moulton said that image followed him for a long time. He couldn't go a day without thinking about it. While at school on the G.I. Bill, Moulton met a professor of psychology who encouraged him to see someone. So he did. After sifting through two or three professionals, he found a therapist he could connect with.
"I cannot tell you what a difference it made in my life," said Moulton, who hopes to help break down the stigma against mental health. "I think that having gone through this experience and dealt with this and come out the other side has made me a stronger person. It has made me a better leader. I certainly think it makes me more qualified to be president, having made life or death decisions in my life before and dealt with the consequences."
Moulton's introduction opened the door for other veterans to share their own stories.
Johnny Jackson, a Vietnam veteran, said it took him a long time to admit he had PTSD. After coming home and being treated terribly, he kept a lot of the things he experienced to himself.
"I didn't even tell my mother this," said Jackson as he told the story of seeing men and women gunned down and killed.  
Rodney Smith, an Air Force veteran, was called back to service after retirement based on the uniqueness of his mission. He wore a Purple Heart cap, an honor awarded to those wounded or killed while serving. When he came back from serving, he was paralyzed from the waist down.
He spoke about the struggle of identity as a member of the Air Force, the lack of appreciation after coming home, the misdiagnosis between veterans with traumatic brain injuries versus PTSD and the lag-time of veteran benefits.
"Civilians don't quite have a grasp why our needs might be as great as they are," said Smith, whose injuries sustained during service also affected his family. "To have someone in the office that has that background experience is really important."
Cesar Lopez, a former Marine, was deported in 2013 after he had lived in the United States since age 3. He commended Moulton signing on as a co-sponsor of the Repatriate our Patriots Act which would put in measures for deported veterans.
Lopez asks Moulton what he has asked several other candidates on the campaign trail: "Will you stop the deportation of military veterans and pardon those of us who have been deported already?"
"Yes," Moulton responds, saying that this issue is one he has been talking about a lot, even before the campaign trail.
"Congress has failed us. Now, it's up to the president of the United States because the president can make an executive order to stop the deportation of any military veteran, and give a presidential pardon to those who have been removed from the country," said Lopez to the crowd.
Other veterans spoke about adjusting to life after the war, how PTSD has affected their personal lives, the inability to stay in school or work, sometimes driving them to criminal behavior or depression.
Brandon, who declined to give his last name, served in the Marines for four years and then returned and felt like there was nothing for him in the civilian world. He then committed to doing outside work for the intelligence community.
"The thing I found very lacking in the VA and all sorts of veteran support is that there is no one to really talk to about the things you've done when you know what you've done can hurt other people, and even putting that information out there is hurting other people," said Brandon.
Mikey Kelly, the chair of the Democratic Veteran and Military Family Caucus, said that Moulton's campaign gives him and other veterans hope. Passing the message on from a Vietnam veteran that told him the same thing earlier in the week, he reminds the other veterans in the room to "stay in the fight."
While Moulton said he might miss the first presidential debate, he shrugged it off: "That's okay. It's a long campaign." He said his leadership is individual to the other candidates, and that these conversations are a big point he hopes to continue to spread.
"I hope this starts a conversation that will be helpful for everybody in America who's touched by mental health issues," he said. "I want to come back here and see this happening in Las Vegas whether I'm here or not. That's the goal."
This story has been updated to correct the location of the campaign event.
Comment Policy (updated 10/4/19): Please keep your comments civil. We reserve the right to delete comments or ban users who engage in personal attacks, use an excess of profanity, make verifiably false statements or are otherwise nasty.