Moving Nevada forward on climate action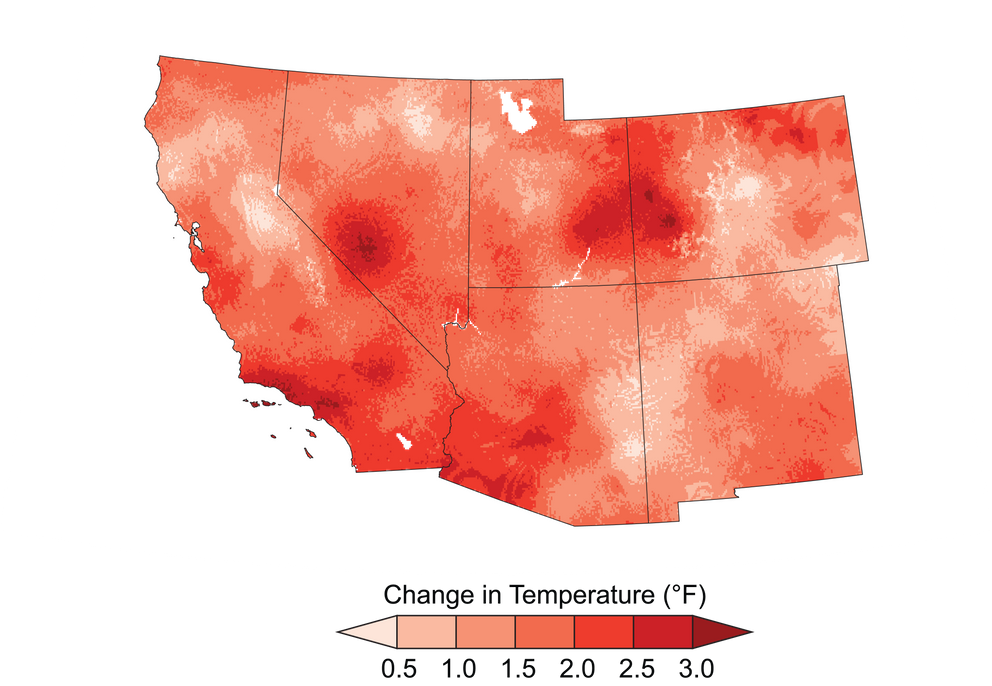 By Bradley Crowell, Kristen Averyt and David Bobzien
Today marks the 50th anniversary of Earth Day and Nevada is joining others across the United States and around the world to mark the occasion under the unified theme of "Climate Action".
Climate Action might not initially appear relevant in the context of our current daily reality of the COVID-19 pandemic. However, a closer look reveals the clear link between those most severely affected by COVID-19 and our friends and neighbors most vulnerable to the health impacts of climate change: people of color, older people, and disadvantaged communities. This is an unfortunate reality both in the U.S. and around the world.
In fact, a recent study from Harvard indicates that Americans living in areas with poor air quality – which is exacerbated by climate change - are more likely to succumb to COVID-19. This suggests a connection between the compounded health impacts of exposure to polluted air and the body's ability to fight a novel virus that attacks the lungs. Unfortunately, it is the communities least able to protect themselves that suffer most. They deserve better.
Fortunately, these connections are within our control to address: Strong climate action at the state and local level will benefit the health of our most vulnerable populations while establishing a stronger, more resilient economy for all Nevadans.
Climate change threatens our collective health by diminishing our air quality and contributing to the sources of air pollution. Improvements made in Nevada's air quality over the past several decades are now threatened by the effects of climate change. Meanwhile, larger, more intense, and more widespread wildfires are impacting both the air we breathe and the natural landscapes we love in all corners of our great state.
These increased levels of pollution include both harmful fine particulate matter and ground level ozone that can damage a person's heart and lungs, increasing the risk of sickness and premature death.
While the causes of ground level ozone are complex, we know it is accelerated by increasingly hot day and nighttime temperatures. Both Las Vegas and Reno rank among the fastest-warming cities in the US, and recent analysis shows that our most disadvantaged neighborhoods are located in the hottest parts of North Las Vegas and Las Vegas, making these communities among Nevada's most vulnerable.
Make no mistake: climate change is a first order public health issue. But if Nevada takes aggressive and strategic action to address climate change we can help mitigate these harmful impacts. To do so we must, at a minimum, fully leverage our abundant renewable energy resources and take decisive action to tackle our largest and rapidly growing source of greenhouse gas pollution: transportation emissions.
Fortunately, Nevada is already ahead of the curve in planned production of electricity from renewable energy resources through our recently expanded Renewable Portfolio Standard (RPS). But we have much more we can and should do to tackle transportation related emissions; including improving the efficiency of the cars and trucks we drive as well as modernizing our urban planning efforts through transit-oriented development and creating affordable green housing. These actions can improve the health of all Nevadans and strengthen our economy simultaneously.
Climate action can also help us rebuild and recover our economy from the impacts of the COVID-19 outbreak.
Resilience is a defining characteristic of Nevada. We powered back from the last recession and we will make it through the challenges of this pandemic. As before, a key component of rebuilding will be continuing to diversify our economy. We have the opportunity to expand and lead our reemergence through establishing a more resilient, climate-friendly economy in Nevada.
Like other areas of our economy, the clean energy sector has contracted through the pandemic.
But climate-friendly technologies will rebound. Demand for renewable energy, low- and no-emission vehicles, and energy efficient technologies will continue to increase globally. The states that adopt forward-looking policies and make smart investments to reduce greenhouse gas emissions will capture this economic opportunity.
Nevada has the most solar power potential in the US. Expanding utility scale and distributed solar energy generation will create more well-paying jobs in both the technology and construction sectors. Nevada also ranks second nationally in generating power from geothermal resources. Already, nine of the 11 top geothermal firms are based in Nevada. We are also home to a suite of new, innovative companies focused on advancing the next generation of carbon free technologies.
Now is the time to set a new trajectory that will lead to healthier communities across the Silver State and establish Nevada as a leader in the clean energy economy.
The COVID-19 pandemic shows the importance of science in protecting our society. Nevadans are suffering from this disease and the economic impacts of the aggressive social distancing measures needed to fight it. However, local and state leaders, such as Governor Sisolak, who acted early on scientific information are successfully "flattening the curve" and avoiding the worst-case scenarios.
Looking beyond the current crisis, scientists are unified that we must take climate action now to avoid similar worst-case scenarios. Just a few degrees of warming has thrown the planet off-balance. The science is not debatable; continued emissions of greenhouse gases are leading us on a dangerous trajectory, globally and locally.
Governor Sisolak and the legislature laid the groundwork to put Nevada on a path toward climate resilience. As key members of the Governor's administration, we are taking coordinated steps to help move Nevada forward by developing Nevada's first State Climate Strategy. This strategy will focus on building the Silver State's economic resilience and establishing Nevada as a leader in mitigating the emerging global pandemic of climate change.
On this 50th anniversary of Earth Day there will be no marches, no rallies, no street fairs celebrating our planet. But COVID-19 illuminates why action on climate change is urgent and how Nevada can lead the way to a more climate friendly future for all Nevadans.  
Bradley Crowell is director of the Nevada Department of Conservation and Natural Resources. Dr. Kristen Averyt is Nevada's first-ever state climate policy coordinator. David Bobzien is director of the Nevada Governor's Office of Energy.
Comment Policy (updated 4/20/2021): Please keep your comments civil. We reserve the right to delete comments or ban users who engage in personal attacks, use an excess of profanity, make verifiably false statements or are otherwise nasty. Comments that contain links must be approved by admin.