Nevada among hardest-hit by baby formula shortage; parents count on community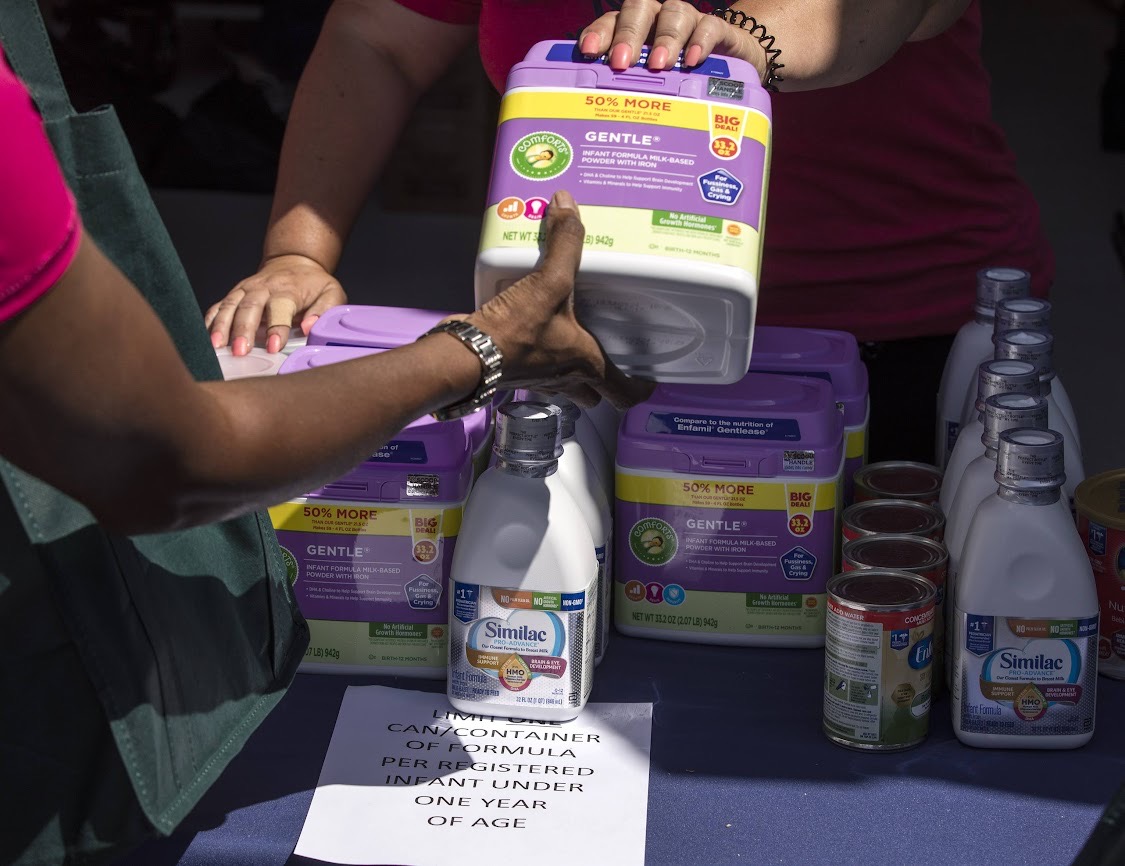 Trevion Jones recently traveled to Boulder City from his home in North Las Vegas to look for premade formula for his 9-month-old daughter, noting in a Facebook post that the fear he felt in that moment of desperation had been the worst thing he has ever endured.
Jones said in an interview that his wife has been more stressed than he has been by the nationwide formula shortage — which is driven by a lack of diversification in the formula industry and exacerbated by recent large product recalls — and that she spends her time researching breastfeeding. On top of caring for a baby daughter who eats solids and drinks bottles of milk, Jones' wife is expecting another baby and hopes she can be prepared if the shortage persists.
"We had nine cans of formula that were on the recall list and we had been feeding our daughter that," said Jones, a local hospitality worker.
Nevada is among the top five hardest-hit states, experiencing at least a 50 percent decrease in formula supply, and even Jones' family from California and Georgia is finding it difficult to help because his daughter needs a special type of milk.
"I can't just give my daughter a different type of milk, and my wife is not able to produce breast milk," he said. "So my only option is to go above and beyond to find this particular milk."
After being prescribed a new formula because of the recall, Jones was given a sample package from the doctor. He said they were down to about four days' worth of baby formula when he went all over Las Vegas in search of Enfamil Gentlease and eventually expanded his search to Boulder City.
Jones said most of his support has come from the community after he and his wife were vocal about the issue online. He said some people reached out to him trying to sell milk at extremely inflated prices while others just gave the milk away.
Jones said if he has extra milk at home when people call to help, he sometimes pays it forward out of concern for other babies.
"My concern is – yes – for my child," he said. "But what about the new babies who can't have soft food?"
Hard-hit Las Vegas
Las Vegas ranked earlier this month as the No. 1 metro area in the U.S. with a baby formula deficiency, at 52.7 percent below stock, causing a health crisis for the hungry little mouths who rely on it. That report, by retail data tracker Datasembly, said the average drop in inventory was 30 percent at the beginning of April and 11 percent back in November.
Recalls of baby formula were issued twice in February after two infants died from Cronobacter bacteria that was found at an Abbott Nutrition plant in Michigan that is responsible for producing a large portion of the nation's baby formula. The recent recall included the Food and Drug Administration (FDA) shutting down that plant, stressing the supply chain even more.
In response to the nationwide shortage, President Joe Biden invoked the Defense Production Act last week to alleviate the bottlenecks in baby formula production. The move requires manufacturers to prioritize the goods most in demand for its production, shipping and distribution.
The Biden administration will also use commercial aircraft to import formula from other countries in what it's calling "Operation Fly Formula," and officials agreed to Abbott Nutrition's reopening if they take "corrective actions," which include keeping an independent expert on staff to help with compliance operations at the Sturgis, Michigan facility.
The FDA estimates the current shortage could take weeks to stabilize as the factory will need to ramp up production once it reopens and the new formula could take six to eight weeks to reach shelves. With growing babies drinking about four to six bottles of milk a day, the situation has been increasingly problematic for caregivers whose babies need special formula.
"I went one day without milk with her," Dahlia Motta said about her daughter in an interview. "And I had to just give her water with a little bit of sugar to calm her down."
Motta, who lives in Las Vegas, said both of her babies needed hypoallergenic formula at the time of that incident in February, and that last year she had to travel to Utah for it. She is hoping relief is coming soon after scouring for formula since last November.
"I'm just looking forward to the moms getting more together … to get the president to do something about it," she said. "If he's such a good president, then prove it to us."
It has become a campaign issue, too. Republicans, including Senate hopeful Adam Laxalt, have accused Democrats of mishandling the situation and blamed them for the crisis after the Biden administration shut down the Abbott Nutrition plant in February seemingly without a plan to fill the void it would create.
Officials from the Nevada Division of Public and Behavioral Health said they are aware of the limited availability of infant formula and are working closely with their community partners to navigate the situation. Nevada WIC, which offers food benefits to low-income women, infants and children, has temporarily expanded the list of formula brands and sizes available to participants.
"While the Division can provide individuals with some assistance finding retailers selling formula, we are still reliant on the manufacturers of formula to provide it," said Eric Duran-Valle, an agency spokesman.
Duran-Valle said Nevadans who need guidance on infant formula or other infant services can contact Nevada 211 by dialing 2-1-1 or visiting www.nevada211.org.
Misconceptions, support and ancient remedies
In Nevada, only 41 percent of infants were reported as exclusively breastfed for the first three months, according to the 2017 CDC Breastfeeding Report, and 21 percent were exclusively breastfed for up to 6 months.
"There's nothing more frustrating than scrolling social media and seeing people make comments like, 'God made breastmilk for a reason,' or 'why don't you just breastfeed,'" Jones said. "Those kinds of comments are frustrating."
Jones said because his wife is pregnant and has not breastfed in nine months, their doctor advised against breastfeeding. He said the situation makes him feel empathetic for first-time mothers who can't produce enough milk for their babies and who are otherwise vulnerable when formula is in short supply.
After taking his 9-month-old daughter back and forth to the emergency room from trying different milks because of the recall, he does not want to experiment with alternatives besides the milk they were prescribed, even though he and his wife have been scouring the special milk for the last month.
"I was told by the hospital, in so many words, that 'we can't give you anything but if she gets sick, we can treat her at that point,'" said Jones. "As a parent, I took that as 'we're not able to help you until it's too late.'"
He also urged people to be more sensitive during this time by remembering single dads who may have lost their child's mother during childbirth and rely on formula. Federal guidelines have advised against parents making their own formula, using toddler formula for infants or watering them down.
Local organizations have been trying to fill the gap. Baby's Bounty Las Vegas, which has been helping families with diapers since the start of the pandemic, was able to provide 274 cans of baby formula to families at its anniversary diaper bank event this month. Most of what the organization secured was from Three Square food bank, and they gave each caregiver at the event one can each.
"People are gouging on Amazon and we've seen prices three and four times what they normally would be," said Kelly Maxwell, head of Baby's Bounty. "Retailers like Walmart, Target and some grocery chains are limiting how many cans you can buy."
Meanwhile, other entities are trying to address the problem through human breastmilk banks, breastfeeding training and vegan alkaline recipes from herbalists.
Organizations such as Eat on Feets and Human Milk for Human Babies Nevada are helping locals with milk sharing, while nursing mothers in the valley sprung to action on Facebook by offering breastmilk to those in need.
Herbalist Yaya Jones offered up natural remedies on Facebook, advising that mothers can boil soursop leaves, among other bitter leaves and seeds, and drink the brew to immediately increase milk production. Jones said that though she is not a medical doctor, her approach has roots in ancient healing practices from diasporic cultures, stating the leaves can usually be found in Asian, Caribbean and African markets.
Some families have taken matters into their own hands and are trying to make their own formula for babies, although experts caution against that. Maxwell said families should seek guidance from doctors for solutions amid the crisis.
Motta said she will not try to make her own baby formula and that she fears using anything she has not been advised to use by a doctor because her baby is lactose intolerant. She said friends who switched their babies' formula broke out with glass-like hives or had negative bodily reactions.
"What if your baby's hungry right now?" asked Motta. "What are you going to do?"
Updated at 9:30 a.m. on 5/24/22 to add information from state officials about resources for families struggling with the shortage.
The Nevada Independent is raising $200,000 by Dec. 31 to support coverage of the 2024 election.
Tax-deductible donations from readers like you fund this critical work.
If you give today,your donation will be matched dollar-for-dollar.
Give + Get Matched
Featured Videos