Nevada closes books on early voting period marked by long lines, high turnout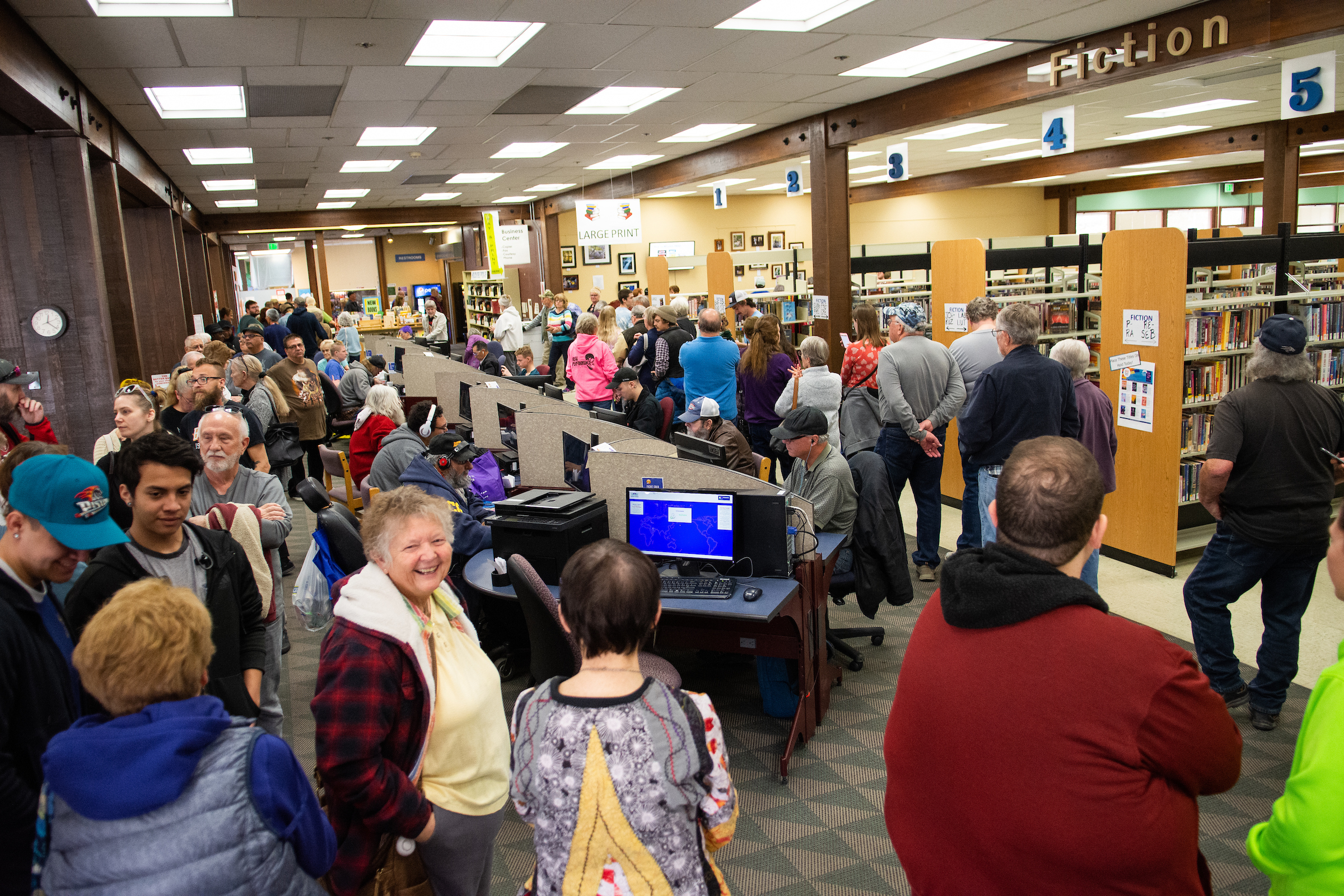 [Reporting from Tabitha Mueller, Luz Gray, Jazmin Orozco-Rodriguez, Michelle Rindels, Kristyn Leonard, Jacob Solis]
Some came in cars, or buses, or marching the streets behind Vermont Sen. Bernie Sanders after a campaign rally. Some were still teenagers, participating only because they'll be 18 by the time of the general election, while some needed the help of a walker, a cane or strangers.
More than 36,000 Nevadans opted to vote early in the first three days of Nevada's Democratic caucus — the first time that the unique early voting option has been available in a contest of presidential preferences. Turnout levels in four days of early voting alone were not available at press time, but could amount to well over half of the total turnout in the party's one-day, 2016 caucus, when 84,000 people participated.
While some complained of long lines, a lack of parking and a shortage of volunteers, many say they far preferred the early vote to the hours-long, at-times chaotic atmosphere of an actual caucus. For some, that's because they're new to the state and come from states like California that have a primary. Others say a bad experience last time has converted them to early voting.
"I did caucus about four years ago, and it just took up too much of my time," said 70-year-old Barbara Pennington, whose top choices were former Vice President Joe Biden, Minnesota Sen. Amy Klobuchar and former South Bend Mayor Pete Buttigieg. "I think they ought to get rid of the caucus, personally. But I think this is great."
With the specter of the Iowa caucus in the rearview mirror, the state's Democratic Party took deliberate steps to ensure voters left behind both computerized and paper-based records.
The iPads used to browse cumbersome voter registration files and enter voter information proved a persistent, if minor, inconvenience that served to slow down processing times at early voting sites. In some urban locations, the cumulative effect of those delays was wait times stretching for three or four hours, even when some sites were granted permission to skip the Google Forms-based check-in step.
"They had to scroll like manually through the iPad to find your name. That took probably like three minutes for her to do," said Camille Glanzmann, 27, who caucused in the Reno area. "It's a small delay, but something that could be mitigated with a better search option, I think."
Presidential candidates scheduled several events on Tuesday as an effort to drum up interest and turn-out for the state's last early voting day. Sanders held rallies and walked groups of supporters to early vote sites at the University of Nevada, Reno and UNLV, while others including Biden, Buttigieg, Klobuchar and California billionaire Tom Steyer scheduled events or rallies in Southern Nevada.
With early voting over, the Nevada State Democratic Party now has three days to process the votes that came in from across the state. Those results will flow to precincts on Caucus Day, where they will be factored into the action at those sites.
Still, not all voters are confident about what happens next. Some Sanders voters said they fear their candidate might win the popular vote but not the delegate math.
"I think caucusing is all stupid because just the math doesn't add up. Like all the rounding. Like how can Bernie get 3,000 more votes but still get the same amount of delegates?" said Eric Larson, 19, who voted at the University of Nevada, Reno's early voting site. "It just doesn't make any sense to me. I think it should be primary. Whoever gets the most votes wins."
Different venues
The 80 different early vote sites in Nevada ranged from schools and community centers to an Ethiopian restaurant and a synagogue — all with different quirks and crowd counts. On a chilly Tuesday morning at Coronado High School in Henderson, one of the busiest sites in the state, students and voters competed for scarce parking spots.
A school staff member walked up and down the line of early voters, taking coffee, tea, and hot chocolate orders. Rebecca Miller, a staff member, said the special education students have been operating a cafe stand for students as a fundraiser and were excited to expand their customer base to include the waiting voters.
Olivia Flunder and her husband, who arrived to cast a ballot in the morning, even brought their own chairs to the high school.
"I wanted to be able to exercise my right to vote, but I didn't want to wait in line, so long, standing," she said.
Not all the sites were so busy. Only a 25-minute drive from the long lines in Henderson, the lone early voting site in Boulder City — Garrett Junior High — didn't see more than five people in line all morning as voters quickly went through the process.
It was a family affair for the Houltons on Tuesday afternoon, who all came out to support their first choice candidate — Sanders.
Daughter Alex Houlton is eligible to vote for the first time this cycle and took advantage of Nevada's same-day voter registration at the site. The whole family was done in 15 minutes.
Kathleen Wilbur, a Buttigieg supporter, said voting took her less than five minutes. She said she had chosen early voting over the caucus because she liked the process of putting her vote on paper.
She said she wasn't able to participate in the caucus in 2016, a process she said was "disenfranchising."
"I had to work, I had just moved here, and, in 2016, the hours were very limiting," she said.
By the time polls officially closed at 8 p.m., at least an hour wait remained for those who put off their early vote to the last possible moment at Coronado. A line of several hundred curved outside the school's front doors, but voters who spoke to The Nevada Independent remained in high spirits — even if they did have a few complaints about the caucus process.
"I'm so happy, even if I have to stand in this long line, I'm so happy that there's such a wonderful, huge turnout every day," voter Sharon Lee said.
For Peter Shalvoy, sweatpants did little to protect against the frigid nighttime air. As he stretched in place to keep moving, he had a few choice words for the process itself.
"It's better than caucusing, but I wish we had a primary," Shalvoy said of the early voting process. "We'll see what happens. I just hope the DNC values our votes and doesn't use super delegates and wastes our votes."
And for the last man in line, Ralph Goudy, skating in just before the 8 p.m. cutoff was still worth it, even if he did still have to wait more than an hour.
"It worked, didn't it? Those people coming out said two hours," Goudy said. "I'm glad I came. I think it's a right we all have, that we have to take advantage of, and having a voice is important."
Bernie or Bust
Sanders has led the pack in all recent polls of the state, and his momentum coming off strong performances in Iowa and New Hampshire was evident on the ground during early voting. Rallies on college campuses in both Las Vegas and Reno on Tuesday also served to usher his fans to nearby voting sites.
Chava Bat-Esha, 70, said she cast her ballot Monday at UNR and checked Sanders as every option.
"Bernie first. Bernie second, Bernie third. Bernie fourth. Bernie fifth," she said. "I thought I might be for a few and then I started reading more about them and who's supporting them and it's big money and against the people."
Matthew Battaglia, 23, came to the voting center at UNR after attending Sanders' on-campus rally, which ended in a march to the polls. He knew Sanders would be his first choice, but wasn't sure how he'd fill out the rest of his preference card.
"His political stances haven't really changed for his entire political career," Battaglia said. "So looking back you could see that he's actually honest in what he's doing and he's not just saying it to get popular votes."
He said he does not like the other candidates because they are "flippy flop on whatever their stances are based on the popular view of people," and noticed growing momentum for Sanders on campus after the first two states in the form of stickers, T-shirts and signs.
Eugene Wells, a Tesla employee and part of the Reno-Sparks Indian Colony, brought his sister to the voting location but voted on Monday. He said he has seen a lot of support for Bernie within his Native American community and said Sanders has "a lot of pull with Native Americans."
"Bernie actually addresses the causes for Native American rights and lands," Wells said. "Our sovereignty is at stake right now with Donald Trump for three years in a row ... So he's actually addressed that a lot with trying to get the Native American rights back, mineral rights, water rights."
But voters took different sides on whether Bernie could win against Trump.
Jessica Gardner, 41, doesn't buy the arguments that Sanders is "unelectable." She said one of the reasons she is voting for him as opposed to other candidates is because he has not waffled on issues such as climate change, health care, and the Dakota Access Pipeline.
"I believe Bernie Sanders has been slighted by the media," she said. "I believe that he is incredibly electable because he pushes the issues that people really care about."
Eric Larson, 19, believes Sanders can fight fire with fire.
"I mean, Trump won by populism and so I think Bernie is going to win by the exact same thing," he said.
Moderates
Greer Westerink, a financial adviser from Incline Village, brought her children to see Buttigieg in Reno on Sunday, but has also brought her children to see other candidates she supports. She wanted her girls to see Massachusetts Sen. Elizabeth Warren so they see a female presidential candidate, and she'd long supported Biden, who underperformed in the first two states.
"I just don't know what's going to happen now. It's just kind of really scary. I just want to beat Trump — whatever that takes. I'll vote for your dog. So nobody is off limits," said Westerink, 53. "But I definitely think we need to have somebody that is more middle of the road that can appeal to voters that we need to be able to win the election."
Mike Brooks, 21, said he is voting for Steyer, Klobuchar and tech entrepreneur Andrew Yang, in part for their outreach to people of color. Brooks is part of a historically black Greek-letter organization and he has been impressed by Steyer's outreach in Nevada in particular.
"Tom Steyer ... has made it his mission at least in the state of Nevada to reach out to our organizations and figure out exactly what his campaign should be saying instead of thinking he has all the solutions," he said. "Asking what these issues are, what are the things that concern you about the upcoming election. That speaks very loud."
He said he is still voting for Yang, who dropped out of the race the day of the New Hampshire primary, because of what Yang represents. Jhoern Andrion, 20, wore a Yang button to the polls and said he planned to do the same thing.
"I still believe his values and I think his campaign was very strong for being not a politician," he said. "Out of all the candidates, I think he's the most interesting. And if anything, he would have a really good chance against the incumbent."
For several voters who cast ballots at the Culinary Union voting site on Monday, electing a candidate who would keep the union's hard-fought health plan intact was top of mind. The union had told its members that the Medicare for all policy championed by Sanders could abolish their health plan as they know it.
Edgar Cervantes, 55, said his top picks were Biden, Klobuchar and Steyer. He likes Biden because he's familiar with his long career in politics, but also liked how Klobuchar answered questions when she did a forum with the Culinary Union, and he liked Steyer's emphasis on the economy and the well-being of all.
Health care "for all is good, but even so, those of us who have a good plan at the Culinary want to still have it," Cervantes, who is a cook at the Wynn Resort, said in Spanish.
One of his biggest concerns is for his children — he sees prospects looking bleaker for them than those who have gone before them.
"I have kids who are growing up and I hope that they have a better opportunity to have a house, everything that comes from working hard," Cervantes said. "They were born here and they have fewer and fewer opportunities."
Carolina Hernandez, 53, said she has voted in every election since she became a citizen seven years ago. A maid at the Treasure Island casino, she said her top pick was Steyer.
"He's more focused on the Latino community and it seems to me that he has more experience, because of his age," she said in Spanish. "And I like him."
Hernandez's main focus is considering "who is wanting most to protect the Latino community," including expanding opportunities for people to legalize their status that would in turn help them get better-paying jobs.
She also wants to exercise her power as a voter and as a Latina.
"We have this right to come and choose the candidate that we like, not that other people like," she said. "We have to come and make a decision as Latinos, and let them know that we are here and that we also have the power to vote."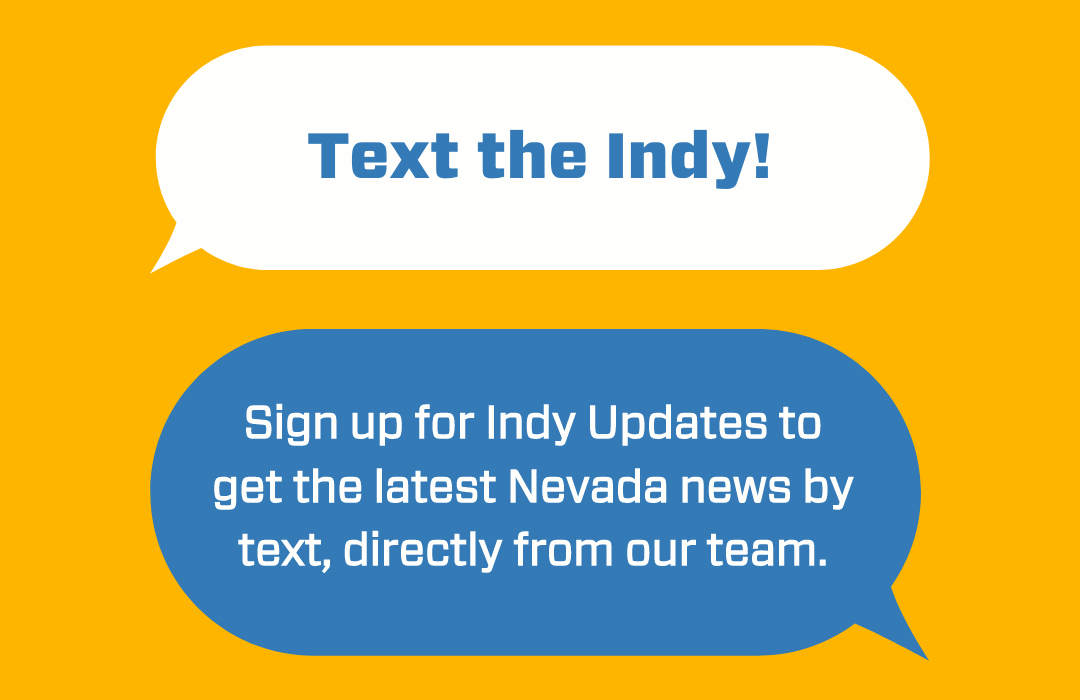 Featured Videos
Comment Policy (updated 4/20/2021): Please keep your comments civil. We reserve the right to delete comments or ban users who engage in personal attacks, use an excess of profanity, make verifiably false statements or are otherwise nasty. Comments that contain links must be approved by admin.