Nevada Highway Patrol banned, but quickly and partially reversed stance on 'Blue Lives Matter' flags and other pro-police symbols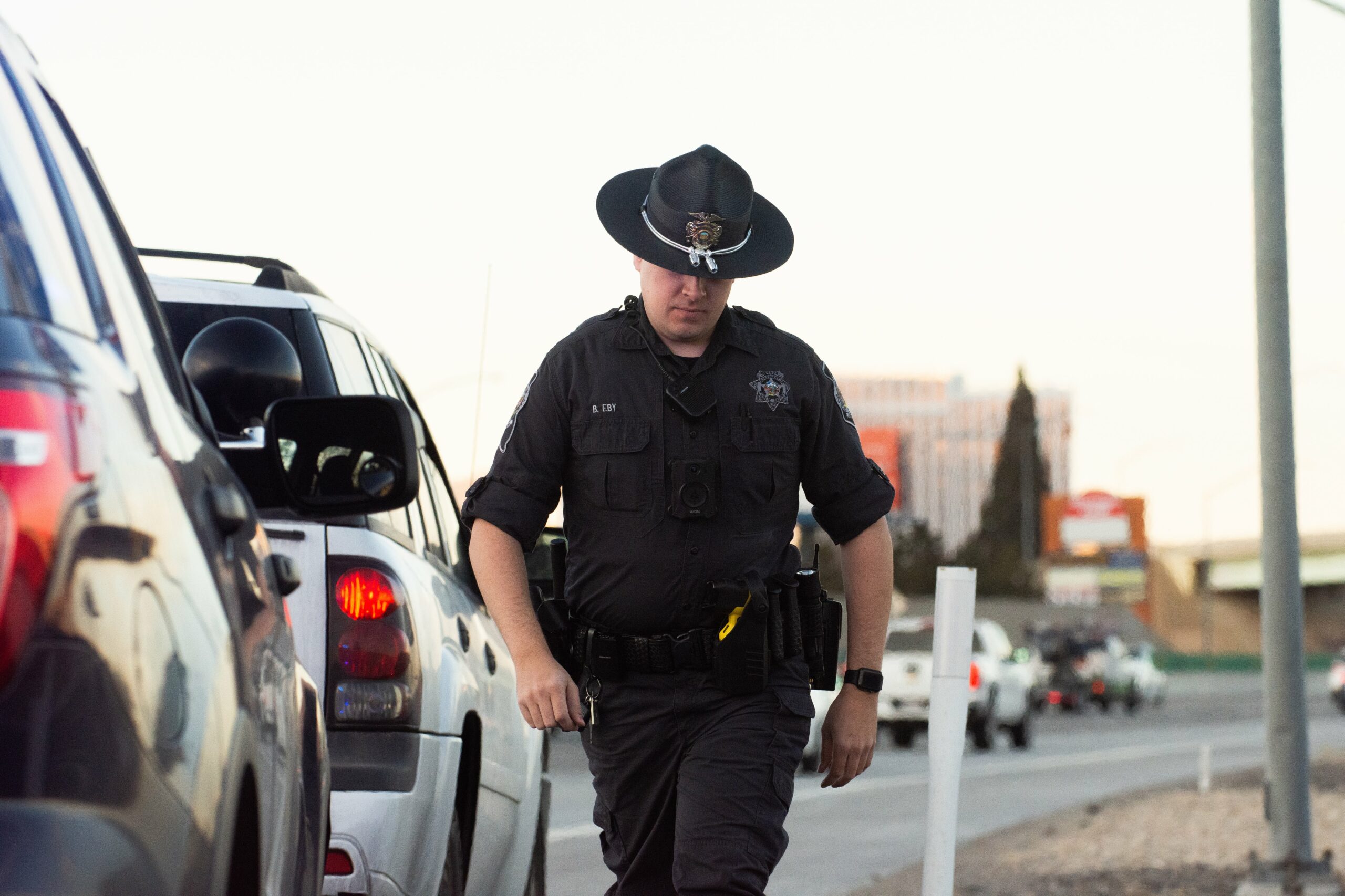 Nevada Highway Patrol leadership implemented, but quickly and partially reversed, a ban on symbols and iconography occasionally affiliated with far-right extremist groups that was criticized as overly broad by an employee union, according to emails obtained by The Nevada Independent.
In mid-June, leadership of the Nevada Highway Patrol sent a department-wide email detailing a new ban on stickers, patches, decals and even body art that references the "Punisher" symbol or "Blue Lives Matter" flags while officers are on duty, citing a renewed desire to avoid politicizing the actions of police officers employed by the state while on duty.
But within 48 hours, that decision was partially reversed amid an outcry by the union representing highway patrol troopers, who criticized it as overly broad.
"To see that email come out was absolutely shocking," Nevada Police Union and Nevada Highway Patrol Sgt. Wayne Dice said. "I have been (in law enforcement) for 26 plus years, and the members that I have talked to were absolutely outraged to have to read this."
The final decision now holds that state-employed law enforcement officers cannot display any "Punisher," skull type or "symbols of extreme groups" for personnel on duty, but excludes the "thin blue line" and blue-striped American flag from the order.
But it also demonstrates a behind-the-scenes look at the push and pull between law enforcement leaders, rank-and-file troopers and members of the community over what is, and isn't, politically appropriate for officers to wear while on duty.
The initial email was sent by Nevada Highway Patrol Colonel Dan Solow on Monday, June 15 to staff within the state's Department of Public Safety and to Highway Patrol command centers throughout the state.
Solow's email referred to "current events and media attention" on symbols affiliated with police, saying that "we, as executives, need to take a hard look at our agency and the relationship our agency has with the communities we serve." He included links to media stories regarding use of the "thin blue line" or "Punisher" symbols, including a June 12 article in Forbes that interviewed the creator of the "Punisher" comic book character.
Solow highlighted a quote in the article from Punisher creator Gerry Conway, who said "It always struck me as stupid and ironic that members of the police are embracing what is fundamentally an outlaw symbol."
It included a broad prohibition on use of the "Punisher" symbol, as well as the "Blue Lives Matter" flag, for use by personnel on duty, whether as stickers, patches, decals, in offices, on state-owned vehicles, and requiring any related body art to be covered up while on duty.
A day later, Solow sent out another email including a link to a Good Morning America story on a viral Facebook post detailing how a Black state health inspector gave a heads-up call to police while inspecting a mobile home park, "just in case a citizen calls and says some strange black man is walking around." The emailed article included another quote highlighted by Solow, referencing police reform and the "thin blue line" concept.
"The thin blue line, the very idea of a line suggests segregation and if I'm not on the same side of my community, I'm failing them, I'm failing this badge -- any officer that disagrees with me needs to think about doing something else," the article quoted Sgt. Justin Pletcher as saying.
Many symbols or supportive phrases used by law enforcement have come under additional scrutiny in the wake of the killing of George Floyd and a national reckoning over policing and community relations.
The "Thin Blue Line" mantra and concept arises from a popularized 1854 British battle formation ( the "thin red line"), further popularized by Errol Morris's 1988 documentary, The Thin Blue Line, — which detailed the trial and wrongful conviction of a man accused of murdering a Texas police officer. According to The Marshall Project, many in law enforcement say the symbol "stands for solidarity and professional pride within a dangerous, difficult profession and a solemn tribute to fallen police officers."
But use of the iconography appeared at the 2017 white supremacist rally in Charlottesville, Virginia, and has been criticized by community activists and others who feel it enforces and reiterates a dangerous separation between police agencies and the public they are supposed to serve.
Solow received at least two emails regarding the directive; one from a DPS deputy director who said it was a "good call," and another from a Highway Patrol lieutenant asking if the new rule would apply to memorial stickers for Sgt. Ben Jenkins, a highway patrol officer shot and killed while responding to a call in White Pine County in mid-May. Solow said the rule didn't apply in that case, calling it a "limited, exceptional use that will continue (because) of many factors."
But the announcement elicited a strong rebuke from the Nevada Police Union, the collective bargaining unit representing members of the Nevada Highway Patrol and other state law enforcement employees. In posts on Facebook and Twitter, the union said it "strenuously disagrees" with the decision, and that the "blue line" symbols represent nothing more than "the sacrifice law enforcement officers make each day to preserve and protect the peace."
"Shame on those that continue to push these abhorrent and false narratives about police officers and what the thin blue line symbolizes," the group wrote on Twitter.
Dice, a Highway Patrol sergeant and member of the union's executive board, said in an interview last week that the symbol represents a protective line between "peace and chaos," and that the ban was unfair and overly broad.
"The majority of police officers, we all know, are great people that really care about their community, that do care about their department, and making things better," he said. "And for us to have to see this email that came out, depicting us as extremists, was very upsetting."
Two days later after announcing the ban, Solow sent out another email that partially reversed and clarified the new rules.
In the email, he wrote that "after further discussion and thought" it was important to clarify the directive and explicitly stated that the "thin blue line" and "blue line American flag" are still permitted under the order.
"Symbols are powerful and important to many people," he wrote. "Symbols can offend people because of what they stand for or mean. Symbols can also identify people, such as law enforcement officers, making them targets for negative speech and other conduct. As a public entity, we have a responsibility to remain apolitical and not support or oppose political movements or ideas in our official capacity."
Prior to sending out that email, Solow sent an initial draft of the statement to DPS Director George Togliatti and Gov. Steve Sisolak's general counsel, Kyle George. The only change between the draft and final emails was inclusion of a line stating that it was solely Solow's "decision to address this issue in regards to the current state of police/community relations."
The Nevada Independent is raising $200,000 by Dec. 31 to support coverage of the 2024 election.
Tax-deductible donations from readers like you fund this critical work.
If you give today,your donation will be matched dollar-for-dollar.
Give + Get Matched
Featured Videos