Nevada Interrupted: Immigrant workers struggling without coronavirus aid call on state to provide economic relief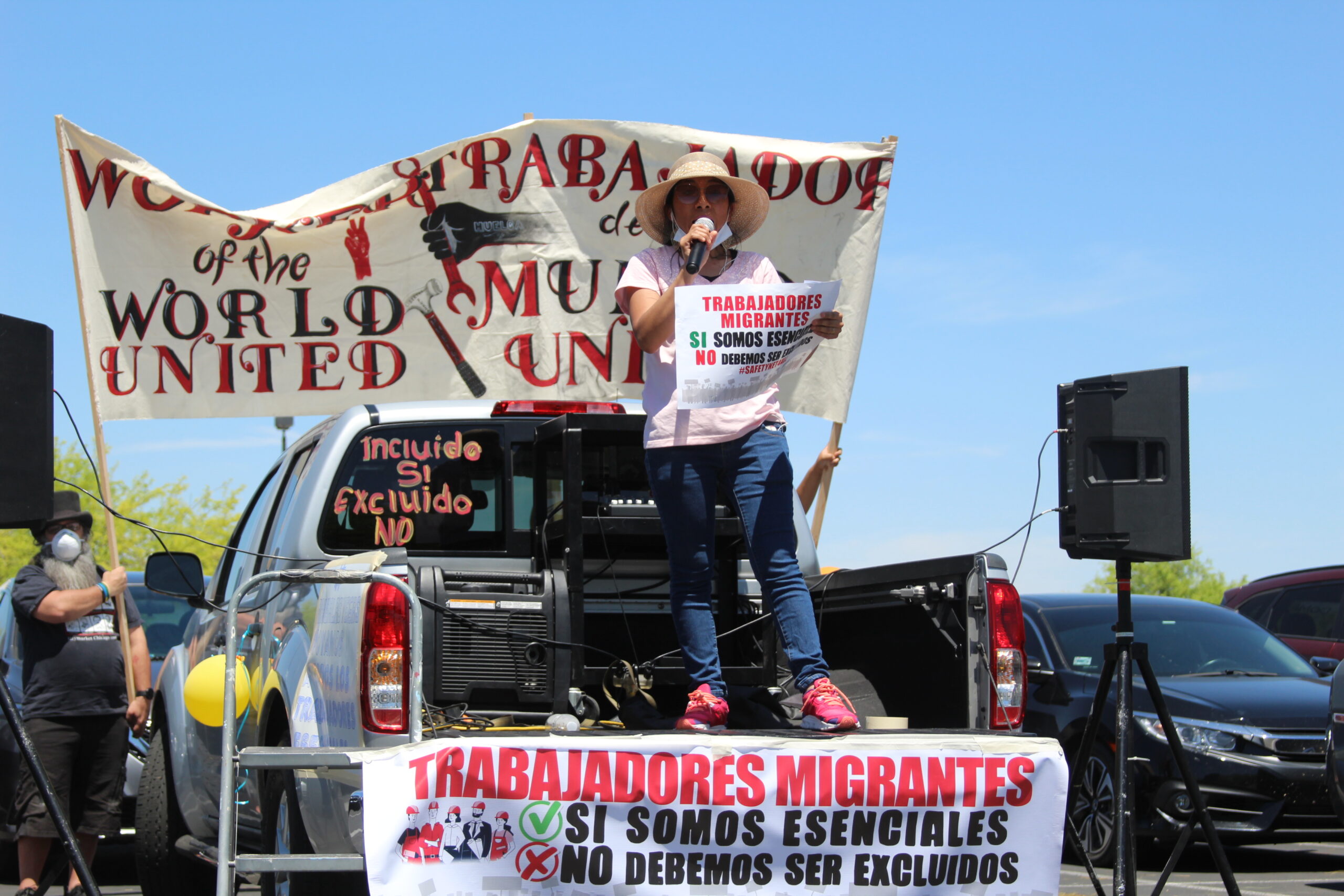 Many Nevadans are adjusting to the spread of COVID-19 by practicing social distancing, stocking up on supplies and staying at home. The Nevada Independent is sharing their stories each day.
If you are a Nevada business owner or worker whose job has been upended by the coronavirus, we would love to feature your story. Send an email to [email protected] for consideration.
***
More than 100 cars proceeded down Las Vegas Boulevard toward the Grant Sawyer Building last Friday in a caravan, waving colorful signs and flags from Latin America and calling for more economic support for immigrant essential workers and their families who are left out of many coronavirus aid packages.
It wasn't the first caravan for Elvira Elizabeth Velasquez, who came to the U.S. in 2018 with her three children and others seeking escape as part of a more than 1,700 mile trek from Guatemala. An arduous journey and long-awaited arrival was followed by President Donald Trump announcing his "Zero Tolerance" immigration policy. She was initially incarcerated in El Paso, Texas and separated from her children for a time.
"[The caravan from Guatemala] was really large and we went through many obstacles, but at the end I understood … everything we did was a sacrifice, but we made the accomplishment of making it [to the United States] alive," Velasquez, 35, said in a Spanish language interview with The Nevada Independent. "Likewise, that's how I see the beginning of this journey with [the protest caravan] … because I feel that we are going to accomplish a lot, not just for my family, but for many other families … going through difficult moments, too."
Velasquez said she was transferred from a prison in El Paso to another detention center in Texas. As the center filled past capacity, Velasquez recalls, officials said they needed to let a few immigrants out. They approached her and asked whether she had any family in the country. 
She explained that her husband had been living and working in the U.S. for about seven years. When officials asked her for his contact information, Velasquez remembered that she had written his phone number on a piece of paper and taped it to the sole of her shoe for safekeeping.
The next day, Velasquez was released and taken to a bus station, then headed to Las Vegas. Her children weren't returned to her and her husband for more than a month after they were reunited.
In Las Vegas, Velasquez found work cleaning peoples' homes — until the coronavirus outbreak. She stopped working in mid-March out of concerns for her own health and those of the families whose homes she cleans. Her husband, a construction worker, hasn't been able to work since mid-February because of a work-related injury.
She is among millions who have lost their jobs because of the COVID-19 pandemic and among the millions whose immigration status precludes them from receiving federal aid including a stimulus payment. She's also ineligible to apply for unemployment benefits without a Social Security number.
With no income, Velasquez said her family has relied on food donations from religious and non-profit organizations in order to survive. But she's still concerned about the bills, including rent, that can't be paid unless they get support from outside sources.
"I think if they are people who have hearts and have families," she said, referring to state leaders, "nobody likes to see anyone suffer and in having a family, think about those of us that are also here and have families."
While protestors and advocates have made an effort to be seen by members of state government, some organizers have called for a specific state-led approach for economic relief.
Bliss Requa-Trautz, director for the Arriba Las Vegas Workers Center, said the economic crisis immigrant workers are facing needs to be met with solutions that "come from the ground here in Nevada."
"It's an important moment for Nevada to recognize the importance of immigrant workers here in our state — that immigrant workers are essential to our normal economic operating and immigrant workers will be particularly essential as we move into the first stages of the governor's plan for state recovery," Requa-Trautz said.
In a statement to Telemundo Las Vegas in mid-April, Gov. Steve Sisolak's office said he was looking into options for aid for undocumented immigrant workers in collaboration with the Office for New Americans and would provide information as soon as it was available.
Sisolak's office did not immediately reply to a request for comment for this story.
A major criticism immigrant workers and advocates have of federal and state economic relief is that it excludes tax-paying undocumented immigrants, American citizens married to undocumented immigrants, immigrant essential workers and their children.
Three class action lawsuits have been filed against the Trump Administration in recent weeks alleging the Coronavirus Aid, Relief and Economic Security (CARES) Act denies tax-paying American citizens' their constitutional rights. Two of the lawsuits, filed in Illinois and Maryland, are filed on behalf of American citizens married to undocumented immigrants whose families have been precluded from the economic relief legislation. The other lawsuit, filed in Maryland this week, was filed on behalf of American citizens whose parent(s) are undocumented immigrants and therefore the minors are precluded from the $500 promised to minors in the legislation.
Immigrant workers have also made the argument that although they may be undocumented, they contribute to the country through the taxes they pay yearly and the work they do in various industries.
Velasquez said she has not filed taxes the past few years because her income was too low, but her husband pays taxes using an Independent Taxpayer Identification Number (ITIN), along with a reported 55 percent of undocumented immigrants across the country, according to researchers from the Urban Institute, the Migration Policy Institute, the Pew Hispanic Center and the Center for Immigration Studies.
In Nevada, immigrant-led households contributed $2.2 billion in federal taxes and more than $700 million in state and local taxes in 2014, while undocumented immigrants contributed $86 million the same year, according to the American Immigration Council.
Six million immigrant workers are considered "front-line" workers, according to the Migration Policy Institute, working in industries like health care, essential retail or grocery stores, manufacturing and agriculture. Likewise, immigrants make up a large portion of workers in "hard-hit" industries like hospitality and food services, domestic workers, like Velasquez, and construction, like her husband.
Another immigrant worker, Walter Martinez, said he feels fortunate to have fared better than most, but participated in the caravan protest for his friends and fellow community members who are struggling.
"As immigrants, we came to work and we came to contribute to this country," he said in Spanish.
Martinez, an immigrant from El Salvador who has had Temporary Protected Status (TPS) since 2001, works at the Wynn Las Vegas casino in the utility department and has continued to receive regular paychecks since the casino closed its doors to the public. He also received a stimulus payment two weeks ago.
But he worries about other friends who continue to go to their daily jobs in the construction industry, potentially risking their health, and who have yet to receive their stimulus payment.
Immigrants like Velasquez and Martinez know the struggle of uprooting their lives and overcoming difficult obstacles in order to achieve greater opportunities and acknowledge that although the struggle will continue, they must persevere.
"We will keep fighting until we are heard," Velasquez said, "because this is not today's fight or yesterday's fight, this is an everlasting fight so [state government and leaders] can turn to see us and treat us with the worth we deserve as people."
Updated on May 6, 2020 at 10:03 a.m. to include lawsuit information.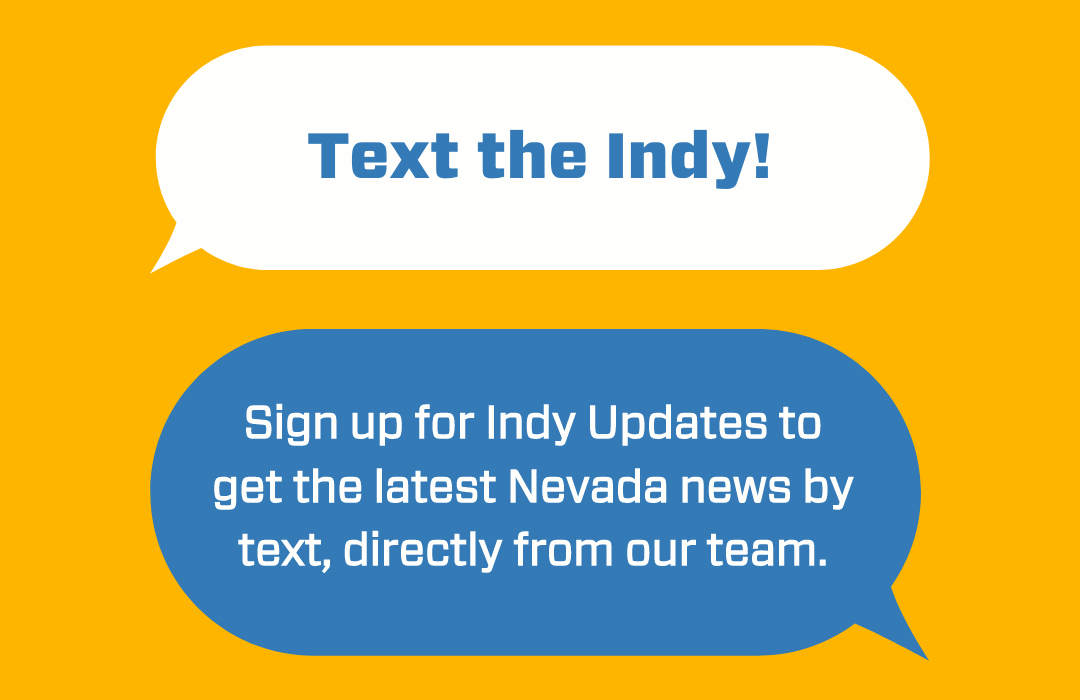 Featured Videos
Comment Policy (updated 4/20/2021): Please keep your comments civil. We reserve the right to delete comments or ban users who engage in personal attacks, use an excess of profanity, make verifiably false statements or are otherwise nasty. Comments that contain links must be approved by admin.