Nevada recycling programs squeezed as trade dynamics trickle down, customer behavior trickles up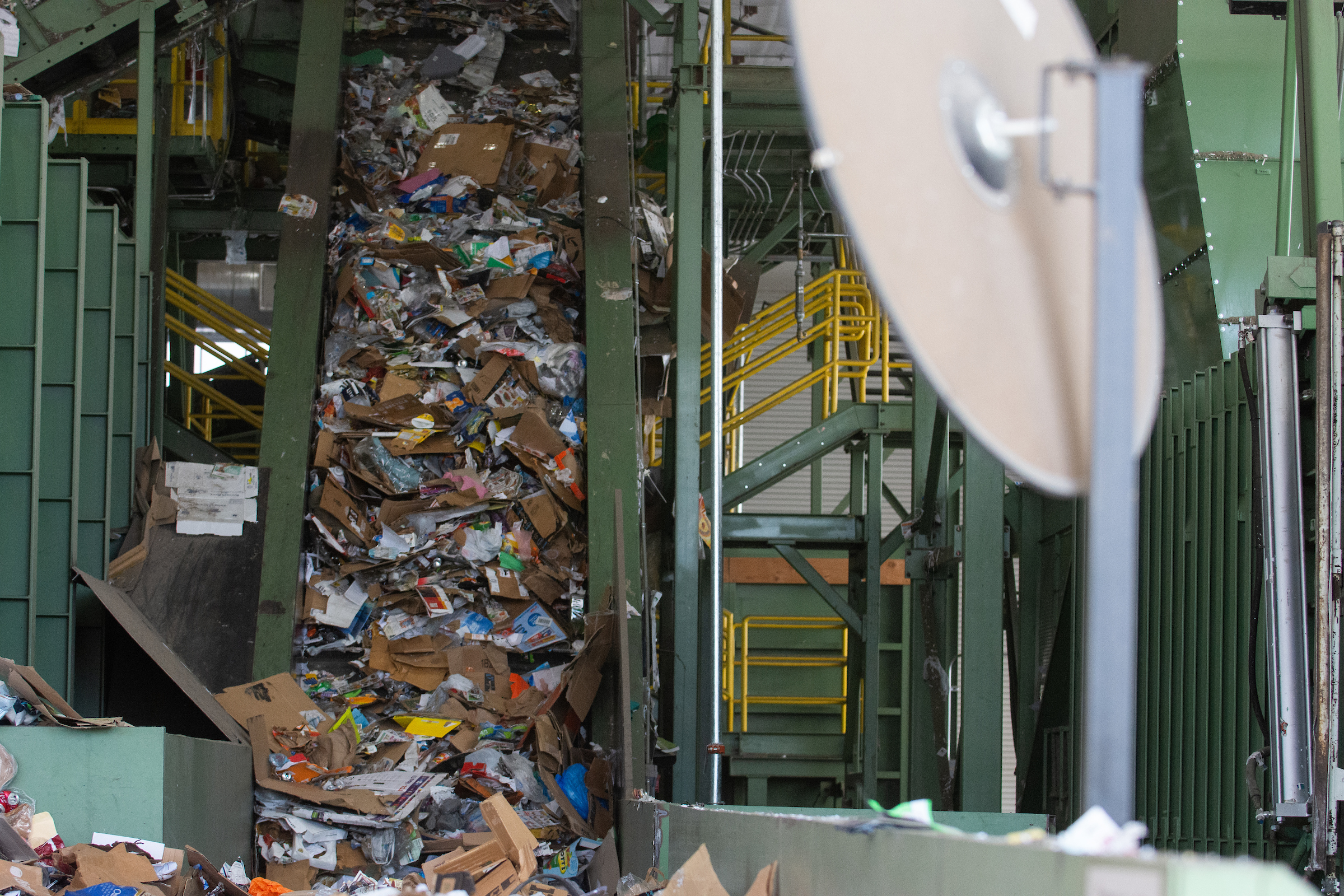 If you're throwing away your recycling in a plastic bag, you're doing it wrong. Completely wrong.
Waste Management and Republic Services do not like plastic bags. They often get caught in the heavy machinery that trash collectors use to sort recycling and in rare instances, "contaminants" such as plastic bags, batteries, wood and motor oil, can contribute to fires, Mickey Eckman, who runs Waste Management's Material Recovery Facility in Reno, tells me at the sorting center.
"If people are recycling their polystyrene foam inside boxes and it makes it past us, it ends up [in a cardboard bundle]," Eckman said, something that reduces the quality of recycling.
Waste Management has received wires, dog poop, a washing machine — even horse manure.
The waste industry calls this problem "contamination," and it has always been a costly issue for recycling programs. But in the past few years, it has become a more pressing challenge as the industry gets squeezed from another end, a dynamic that could ultimately result in higher rates.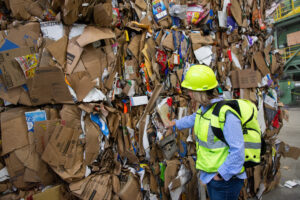 A combination of trade relations, Chinese regulations and tariffs have made it more expensive for Waste Management, which serves Northern Nevada, and Republic Services, which serves Southern Nevada, to sell their recycling. It is a problem nationwide, and both companies have acknowledged that the result could eventually be higher rates for customers in Nevada.
"There has been much less material moving to China," said Pete Keller, a vice president for Republic Services. "That's greatly impacted the value of commodities in the marketplace."
Keller said, in the past, a lot of Las Vegas's recycling went to China through California ports. So far, Keller said, the company has been able to sell recycling to other markets, but the value of the product has decreased as China has imposed new environmental regulations and bans. Keller said that with less recycling going to China, alternative markets are now oversupplied.
Even though tariffs have been in the news, Keller said the changes to the markets are largely being driven by other decisions in China. In April, the country, historically one of the largest buyers of American scrap material, banned several products, including mixed paper and some plastics. China also raised purity standards for some products, including cardboard. Both of the decisions were part of the country's effort to crackdown on environmental quality and pollution.
Republic Services can still sell cardboard to China, but because of the purity standards, it is much more expensive and risky because the country could turn recyclables away at the port. China's move has forced the company to invest more in labor and capital, driving up costs.
"There's a lot of disruption in the marketplace now," he said.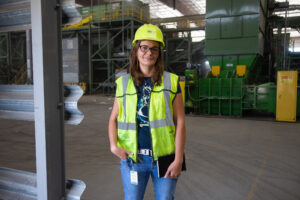 Most recycling plants were engineered to create a product that contained only about 2 percent of impurities. For instance, only 2 percent of recycled cardboard could contain other materials. Now the standard is 0.5 percent, and Keller said most recycling plants aren't built to handle that.
Products like cardboard become contaminated when consumers throw out things that shouldn't be recycled. Keller rattled off a few examples collectors often see: diapers, foods, liquids, pens.
"All of China's environmental focus is about reducing contamination in materials they are receiving," Keller said. "If you swim all the way upstream to the curb and alleys where this material is being collected, a big reason that there is concern about contamination in the commodities is because there is so much contamination [entering] the recycle stream."
As costs rise to remove contamination and reckon with oversupply, companies like Republic Services and Waste Management have started operating with new financial hurdles, sometimes taking in recycling they can't sell. Eventually, those costs could be passed along to ratepayers.
"We can't have environmental sustainability without economic viability," Keller said.
That's where consumers come in. Republic Services and Waste Management are ratcheting up their public outreach to reduce contamination, which could keep costs — and rates — down.
"The end line recyclers are focused on contamination," said Eckman, the manager at Waste Management. "With all that's going on in China..., quality is becoming even more important."
When you throw out your recycling in Reno, it gets transported to Waste Management's facility on Commercial Row, where scrap metal and trash are separated first. A conveyor belt moves cardboard, which is screened manually, as a loud, heavy machine smashes glass. Plastic, tin and aluminum are then compacted and sent off to Sacramento for further sorting. Inside the plant, the signs of contamination are very present. Where there is supposed to be a pile of only glass, there are hundreds of colorful bottle caps, a Sharpie, even the sole of a long forgotten shoe.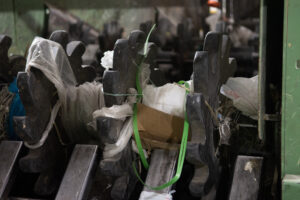 In Reno, which is served by Waste Management under a franchise agreement, contamination has improved in recent years from over 30 percent to about 25 percent, Eckman said. But the company wants to reduce contamination further with education, and as a last resort, issue fines.
Waste Management has started sending letters when recycling collectors see a violation of the rules. The fines are small — about $4 in Reno and $10 in Sparks and Washoe County. Although the fines have existed for years, Waste Management in Reno only recently started advertising the fines.
"We have two types of contaminaters," Eckman said. "We have contaminators who are treating it like a second trash can. And we have contaminators who are trying to do the right thing — and they are throwing their garden hose in there — but it's not recyclable."
The Nevada Independent is raising $200,000 by Dec. 31 to support coverage of the 2024 election.
Tax-deductible donations from readers like you fund this critical work.
If you give today,your donation will be matched dollar-for-dollar.
Give + Get Matched
Featured Videos