Nevada SOS has "no concerns" that Post Office can conduct mostly mail ballot election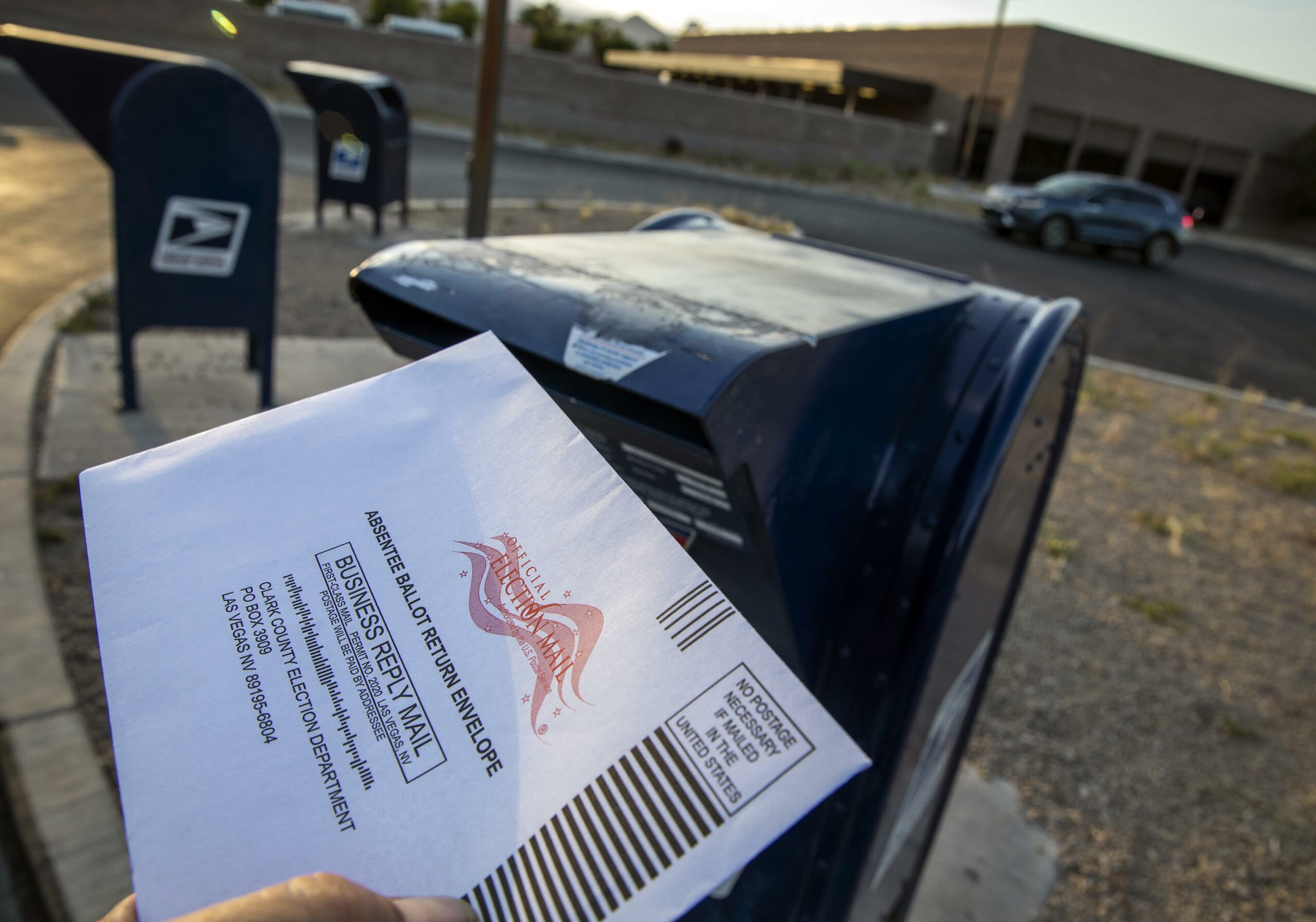 When I saw that CBS News and The Washington Post were reporting on letters from the United States Post Office being sent to states and declaring voters "could be disenfranchised," I naturally wanted to see what was said about Nevada. With the distortions and lies being told about our mostly mail election by President Trump and his minions, I was curious whether the problem here was real or imagined. Helpfully, the WaPo piece devoted a section to Nevada:
For Nevada, which Trump accused in May of trying to "cheat" in elections after it announced plans to conduct a statewide primary by mail, the USPS delivered a clean bill of health. The state plans to mail ballots to all active voters for the general election.
"Under our reading of Nevada's election laws, it appears that your voters should have sufficient time to receive, complete, and return their ballots by the state's deadlines," the letter stated.
Trump tweeted Wednesday: "Nevada has ZERO infrastructure for Mail-In Voting. It will be a corrupt disaster if not ended by the Courts. It will take months, or years, to figure out."
The WaPo story is misleading, though, because the letter the story quotes from, which I have obtained and embedded below, was written on July 31, a few days before significant changes to Nevada's election laws were signed by Gov. Steve Sisolak. So that's not quite fair to…Trump. He's still lying about Nevada — but he's lying about a law passed after that letter was sent.
Might AB4, which was approved on a party-line vote, change things? Deputy Secretary of State for Elections Wayne Thorley does not think so. "I have no concerns about the ability of USPS to support the election in Nevada," he told me via text Friday.
He later gave a more extensive statement:
"The characterization of the intent and language of the USPS letter by some press outlets, especially as it relates to Nevada, is incorrect. The truth is it is a routine letter that simply advised the Secretary of State of the USPS delivery standards for First-Class Mail and Marketing Mail. These delivery standards have not changed in many years, and our experience with USPS is they regularly exceed their delivery standards when it comes to official election mail. Election officials in Nevada have worked cooperatively with USPS over many years, and we believe USPS will be able to timely deliver ballots in Nevada for the upcoming general election."
The letter itself does seem fairly routine. And Thorley told me the secretary of state's office has received no subsequent correspondence.
The key part of the letter from Postal Service lawyer Thomas J. Marshall is this:
…it appears that voters must generally request an absentee ballot no later than 14 days before Election Day, and that completed ballots must be postmarked by Election Day and received no later than 7 days after the election. The state's ballot-request deadline should allow sufficient time for voters to receive, complete, and return such ballots by the state's Election Day postmarking deadline.
The only significant change vis a vis deadlines in Nevada is that ballots will be affirmatively mailed to all active voters 20 days before the election, meaning they will receive them even earlier than the 14-day deadline previously required to request one. No wonder Thorley is not concerned.
Trump and others have tried to make it seem as if the new law erased signature verification (it did not) and have implied voters can cast ballots after Nov. 3 (they cannot). Most of the law addressed in the Postal Service letter remains intact, with the major changes being the mailing of ballots to all active voters, streamlining the process whereby signatures are verified and the most controversial section: allowing voters to designate someone outside his or her family to return a ballot – Democrats call it "ballot collection" and Republicans call it "ballot harvesting."
The only outstanding question, it seems to me, would be about greatly increased mail volume because hundreds of thousands of more voters will be mailing in ballots. About half a million voters cast ballots by mail in the primary; that numbers is likely to double for the general election.
Thorley doesn't seem concerned, but various reports of the lengths Trump may go to handicap the Post Office have Democrats worried.
But despite what the president says, the infrastructure exists to carry out the election, and there is no evidence that fraud will occur.
Now I just need to decide whether this unusual method of conducting an election requires me to grant a pandemic exclusion to my heretofore immutable stance against early voting.
Comment Policy (updated 4/20/2021): Please keep your comments civil. We reserve the right to delete comments or ban users who engage in personal attacks, use an excess of profanity, make verifiably false statements or are otherwise nasty. Comments that contain links must be approved by admin.