Nevada's gamble on the A's: A billionaire's quest for greener pastures in a desert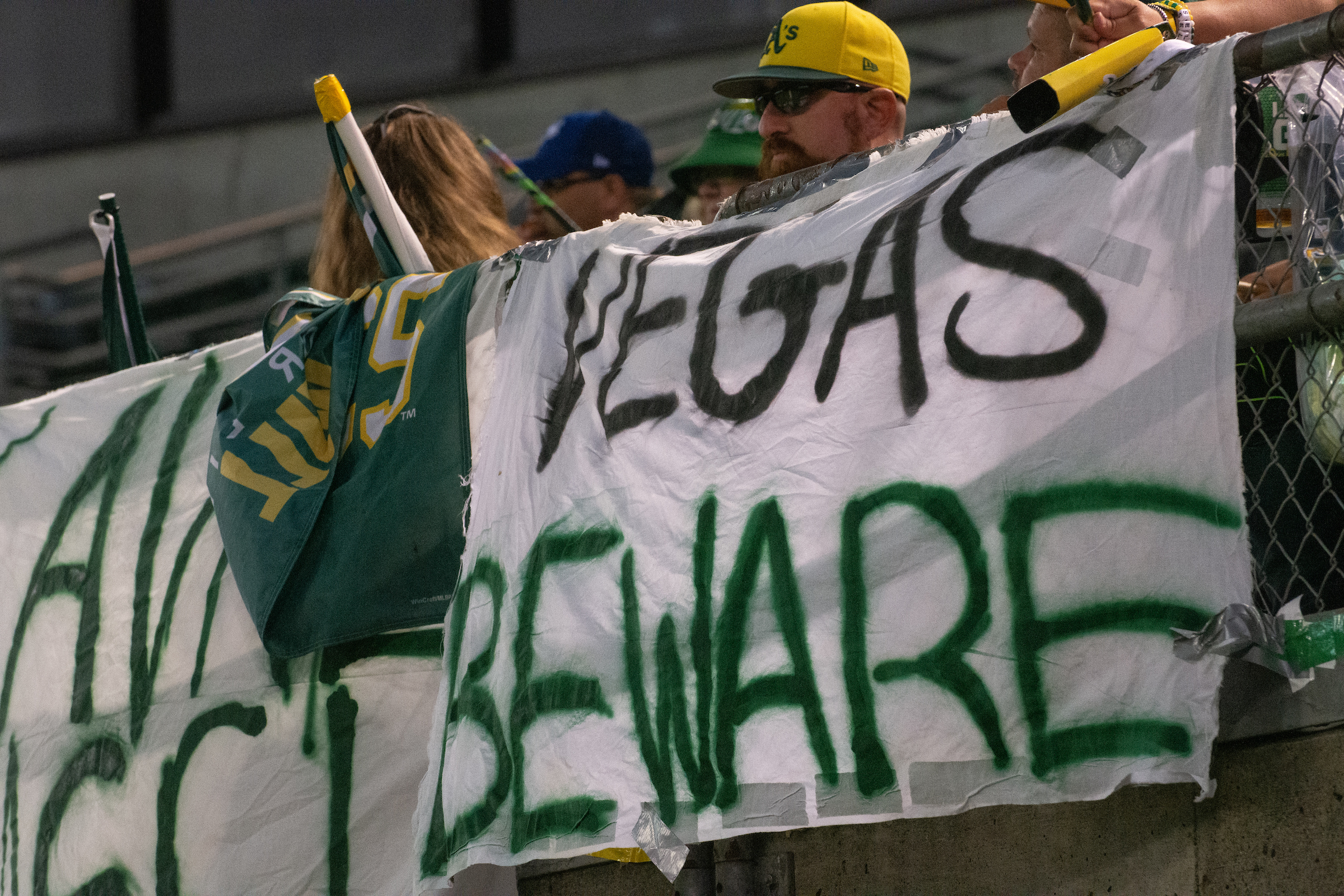 When it comes to the Oakland A's planned move to Las Vegas, the numbers do not add up — not for the team, not for either city and certainly not for Major League Baseball.
John Fisher, a California billionaire and A's majority owner, claims to be "in need" of a public handout to bring the worst team in baseball to the Las Vegas Strip. In his view, why should he use his own money when he can use yours?
The poverty act
Fisher has spent the past two decades crying poor and refusing to spend money on players, despite having a net worth of $2.6 billion. But prominent figures around the league have caught on.
As former A's All-Star Josh Donaldson said in 2014: "They have plenty of money … They just pretend they don't." It was no coincidence that 10 days later he was traded.
In 2023, as the A's posted the lowest payroll and worst record in the league, even Fisher's fellow owners spoke out. Hal Steinbrenner, the owner of the New York Yankees, referred to Fisher's penny-pinching tactics as "not good for the game … not good for the industry."
Trevor May, the A's highest-paid player in 2023, was even more blunt. In an expletive-laced retirement speech, he called the man who signed his paychecks a "greedy f***" and urged Fisher to "Take mommy and daddy's money somewhere else, dork." He was referencing Fisher's uninspiring source of wealth: inheritance from his parents, who founded the Gap.
Since buying the A's in 2005, Fisher has spent less on player payroll than 26 of the 30 teams in the league. Despite playing in the 10th-ranked media market, he claims the A's are a "small-market" team. But statistical analysis shows that the concept of a small-market team is fallacious — it's just a smokescreen that owners use to get fans to forgive mediocrity.
Attendance vs. market size
Nearly half of the league's revenue comes from fans attending games, which has far more to do with payroll than market size. Owners that pay up have fans that show up. Since 1998, there is an 86 percent statistical correlation between player payroll and attendance, and merely a 46 percent correlation between market size and attendance.
Well-run organizations thrive in small markets. The St. Louis Cardinals, for example, play in the league's 24th-largest market, but their ownership is devoted to winning, spending money on star players and marketing the team to local fans. Since 1998, they have the third-highest attendance in baseball.
Less than one-quarter of MLB's revenue comes from local media contracts, which vary in size based on the population of the metropolitan areas. To level the playing field between big-city teams such as the New York Yankees and smaller-city teams such as the Milwaukee Brewers, the league created a central revenue sharing fund.
MLB's revenue-sharing scheme has allowed small-city teams such as Milwaukee or Cleveland to stay competitive. But it has a downside. It has allowed Fisher to cash in on other owners' charity instead of doing his job: signing star players, marketing the team and drawing big crowds. Even Dave Kaval, the A's president, has admitted that the revenue sharing "was an important financial contribution to fielding a product on the field."
But MLB's players' union disagrees. In 2018, it filed a grievance claiming that the A's have not been using the revenue sharing funds as agreed upon in the collective bargaining agreement "in an effort to improve its performance on the field." The grievance is still pending.
If the owners approve Fisher's proposed relocation to Las Vegas, he will be rewarded with an even larger portion of the revenue-sharing fund, as Vegas would be the smallest media market in the league. As Fisher and Kaval begged Nevada for taxpayer money, they made the absurd promise that the team would sell out each of its 81 home games, every season, for the next 30 years. The A's will fall short of those promises. But it won't matter: Fisher will turn a profit anyway because Nevadans will still be stuck with the bill and MLB's other 29 owners will still be forced to write him a check each year.
Empty promises
This isn't the first time Kaval and Fisher have promised the moon to get what they want. In 2010, Kaval was appointed team president of Fisher's other Bay Area sports team, soccer's San Jose Earthquakes, with a similar goal: to get a new stadium built.
Similar to the A's, Kaval claimed the team needed a new stadium to make enough money to sign star players and win games. In 2015, the team finished building a new stadium on land the city provided at a steep discount. But since moving into the new state-of-the-art facility, the team has spent each season in the bottom half in the league in payroll and has never finished a season with more wins than losses.
In an interview with Tim Keown of ESPN, Fisher referred to the 8-year-old stadium as "outdated." If history were to repeat itself, Fisher and Kaval's lofty promises of fielding a competitive team in Las Vegas will fall flat.
Impact to other owners
Allowing Fisher to relocate to what would be the league's smallest market would guarantee the A's become a permanent recipient of MLB's profit sharing. In addition, Rob Manfred, MLB's commissioner, claims that charging MLB's customary relocation fee (estimated to be upwards to $1 billion) is not "a realistic possibility." Why would owners agree not only to write Fisher revenue-sharing checks forever, but also to pass on the over $33 million in cash that a relocation fee would net each of them?
I remain hopeful that at least eight of MLB's other 29 owners recognize that it would be in the best interest of the fans, Las Vegas, Oakland and Major League Baseball to reject the proposed relocation, forcing Fisher to sell the team. A successful franchise can certainly exist in a small market. An expansion team in Vegas in the model of the Golden Knights would allow another "Vegas-born" team to flourish with an owner invested in winning, rather than a miserly California billionaire who does not need your public handout.
In the words of Trevor May, "Sell the team, dude."
Todd Saran is the treasurer for the Oakland-based 501(c)(3) nonprofit organization the Oakland 68's, an organization created by a group of diehard A's fans who wanted to serve the community of Oakland through their shared love of professional sports. With 15 years of experience in the financial services industry, Todd joined the 68's in May of 2023 to combine his passion for baseball with his financial and analytical prowess to help the group navigate the complexities of growth ahead of the fan-organized Reverse Boycott game at the Coliseum on June 13th, 2023.
The Nevada Independent is raising $200,000 by Dec. 31 to support coverage of the 2024 election.
Tax-deductible donations from readers like you fund this critical work.
If you give today,your donation will be matched dollar-for-dollar.
Give + Get Matched
Featured Videos