Nevada's vast lithium deposits offer economic opportunity, difficult decisions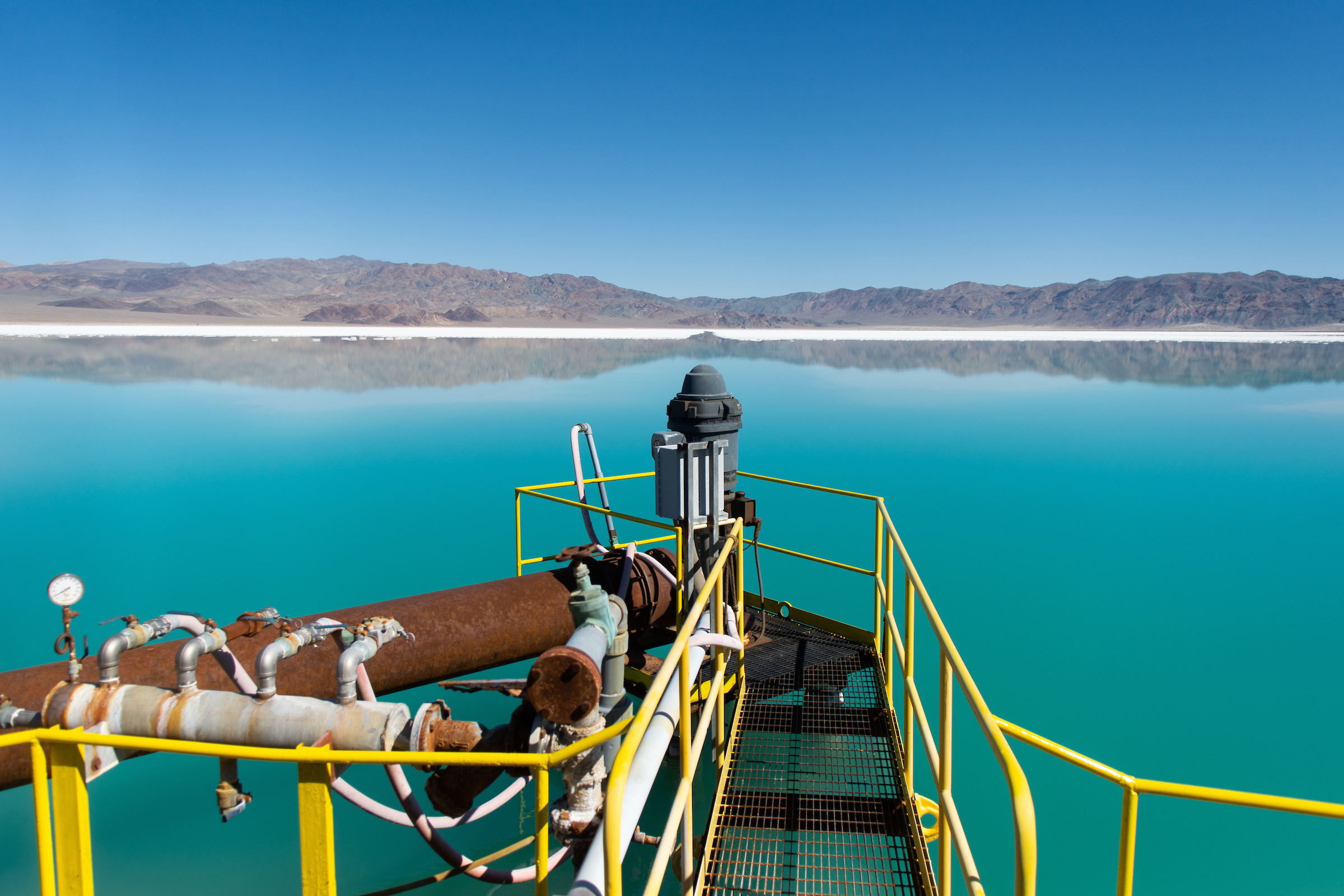 Nevada, as with other arid parts of the globe such as Chile and Argentina, is awash with lithium. The soft, silvery white mineral is in high demand as a key component of batteries used to power electric vehicles in the transition away from fossil fuel-based economies.
For years, state officials have positioned Nevada as the central node in the domestic lithium supply chain, a place to extract, recycle and market the metal. But the new increasing demand — how it plays out and where mining is permitted — could have major consequences for local communities, the environment, public land and the management of a critical resource: water.
The so-called "lithium rush" is on in Nevada, but it could take years to sort through the often conflicting issues.
"There really isn't a rush," said Mike Visher, who leads the Nevada Division of Minerals, when asked about bringing more mines online. "These projects generally take more than a decade."
Companies face extensive permitting requirements, and regulators are being forced to confront difficult decisions about what to prioritize amid intense pressure from investors and the public.
Lithium mines can have major environmental footprints. Native American tribes, conservation groups, Indigenous activists, and local ranchers have challenged high-profile projects, arguing that approvals would negatively affect sensitive ecosystems, rare species and cultural sites.
Developers have to reconcile their project plans with competing land uses — from industry or the federal government — and disputes over claims to limited water supplies. Resolving any of these conflicts can take years as companies navigate under-staffed and overworked agencies.
Many other projects, such as those in dry-lake playas, effectively hinge on the development of new extraction techniques aimed at reducing water use, technologies that are still being tested.
In the background, the clock is ticking and pressure is mounting as investors, car manufacturers and even the federal government commit hundreds of millions into getting projects underway.
In January, the U.S. government offered a conditional $700 million loan to the Rhyolite Ridge lithium-boron project near Tonopah, and just this month, General Motors pledged to back the Thacker Pass mine near Winnemucca with a record-setting $650 million investment.
The plans to make the U.S. less reliant on foreign lithium suppliers and speed the move to electric vehicles run through Nevada, according to state leaders. Officials point to the possibility of a circular supply chain developing, from the extraction of lithium by tapping into the state's unique lithium deposits to the production of lithium batteries and vehicles.
Tom Burns, who directs the Governor's Office for Economic Development, said Nevada is "the only state in the union that has the ability to produce an electric vehicle from cradle to grave."
The recent federal support for start-up battery recycler Redwood Materials — in the form of a $2 billion conditional loan — at the Tahoe Reno Industrial Center bolstered this claim. U.S. Energy Secretary Jennifer Granholm recently predicted Redwood's expansion was "really going to solidify Nevada as a hub for battery manufacturing," touting the state's circular supply chain.
Even with recycling, experts predict that under current scenarios for EV sales, many new mines are needed to meet lithium demand, putting Nevada on the frontline of a new extraction boom.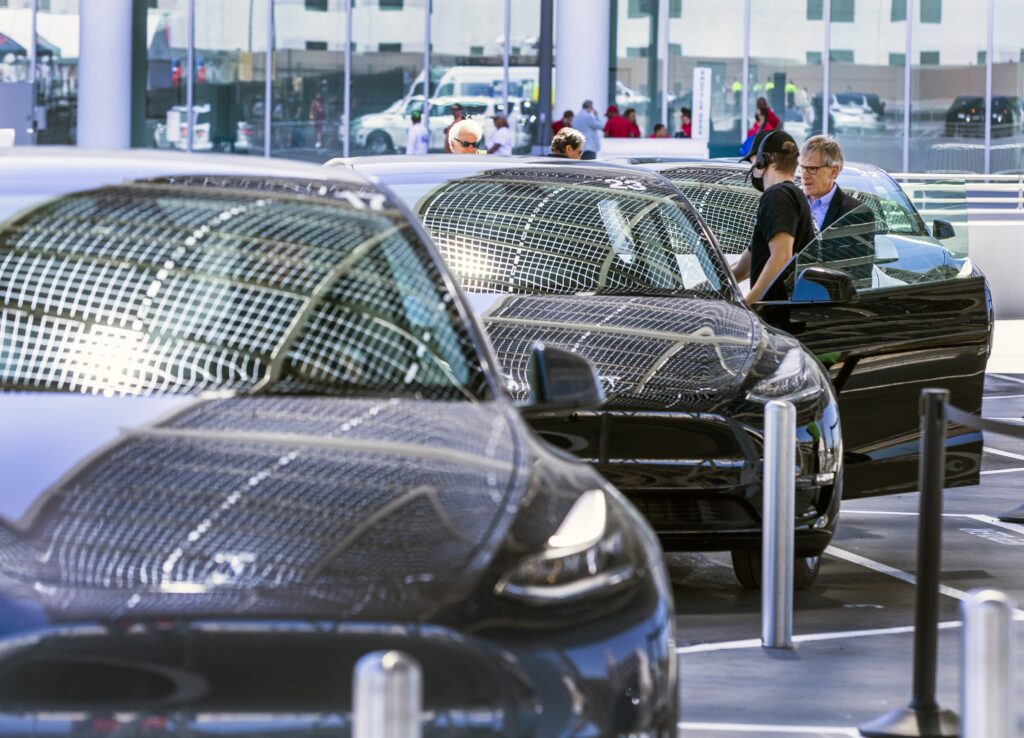 Capital, pressure and permitting
The White House has framed the extraction of lithium and other "critical minerals" as a national priority to address climate change and compete with global economies shifting away from fossil fuels and toward electric vehicles powered by batteries that use lithium as a primary ingredient.
Most of the supply chain for lithium is offshore, concentrated in Chile, Argentina, Australia and China. Only a small percentage is extracted in the United States, mainly from a lithium operation in Silver Peak, a small historic mining community outside Tonopah. Chasing the next big mining boom, companies have sought to change that by bringing lithium extraction onshore to Nevada.
For many years, Nevada officials have watched a range of companies — from established firms to newcomers and speculators — stake thousands of lithium claims across the state. As of last year, the state's Division of Minerals was tracking about 35,000 claims related to lithium.
Companies differ in their plans for where to target lithium. Some look to rocks, others to water.
---
---
Several projects resemble open-pit surface mines in which ore containing lithium is pulled from the ground and processed. A number of other lithium projects look to mine lithium stored as a brine solution in underground aquifers. With this process, miners pump brine to the surface and separate lithium through evaporation or a technology known as direct lithium extraction, or DLE.
Gaining permits for these projects can be difficult. Some conflict with existing uses — and water rights — associated with the land, environmental protection, community concerns and Indigenous rights. In many cases, federal and state regulatory agencies are understaffed, which means key regulatory decisions, which can later be appealed in court, face long delays.
Many of the projects getting public attention now have been in development for years.
"As much as everyone would like it to move fast, it's a slow process," Visher said.
High-profile projects, including the Thacker Pass mine north of Winnemucca and the proposed Rhyolite Ridge mine near Tonopah, have faced pushback, illustrating challenges for the federal government officials tasked with managing public lands for multiple — and often competing — uses. Mine development can come into conflict with biodiversity protection and conservation.
This results in a federal government sending mixed signals about what projects should move forward, with some officials defending mines even as other regulatory agencies raise concerns.
This month, a U.S. district court judge largely affirmed a contested permit for the Thacker Pass mine, which has faced challenges from Indigenous communities, environmentalists and a local rancher. The challengers can appeal the decision, which required the agency to revisit one aspect of the mine permit — its ability to use public land for a waste dump. Days before the court order, Thacker Pass announced a large infusion of capital: a $650 million loan from GM.
Opponents of the mine remain concerned about the project's effects on wildlife, including the Greater sage-grouse and the mine's footprint on the ancestral homelands of Nevada tribes.
After the court order was issued, Arlan Melendez, chairman of the Reno-Sparks Indian Colony, said in a statement that the judge's order was expected and it "does not mean consultation was done correctly and it does not mean this fight is over. We will be continuing to advocate for this sacred site."
On Thursday, the Reno-Sparks Indian Colony, the Summit Lake Paiute Tribe and the Burns Paiute Tribe filed a new lawsuit, arguing federal officials violated the Historic Preservation Act and other environmental laws, presenting evidence that was not heard in the previous case.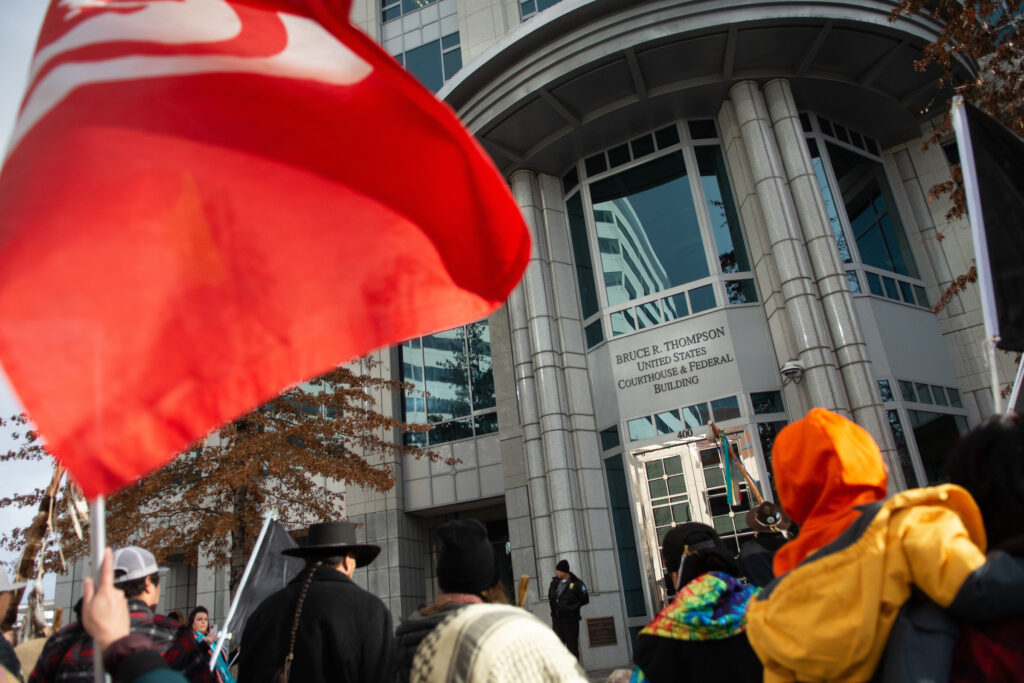 Weeks before GM and Thacker Pass announced a partnership, another Nevada project secured the promise of a large loan, this time from the federal government. The Department of Energy's Loan Program Office offered a conditional $700 million loan commitment to Ioneer, the company developing the Rhyolite Ridge lithium-boron project in Esmeralda County near Tonopah.
That project, in the early phases of permitting, sits near where the endangered plant Tiehm's buckwheat grows. Company executives have said their mine plan reduces the effects on the plant. And the U.S. loan office's director said that his agency conducted "rigorous due diligence." Ioneer has also signed agreements with industry partners, including Fluor, Shell, Caterpillar and platinum mining giant Sibanye-Stillwater, which invested in developing the Rhyolite Ridge mine.
But it will still face an in-depth permitting process that could result in further legal challenges.
Patrick Donnelly, Great Basin Director for the Center of Biological Diversity, said the mine plan must be reworked entirely and is incompatible with preserving the endangered species. He said the loan "has the appearance of the administration trying to steamroll the [U.S.] Fish and Wildlife Service," responsible for carrying out federal law that is aimed at preventing species extinction.
With increased demand for lithium, Donnelly said the state should come up with a plan for siting lithium in areas that do not sacrifice biodiversity or ancestral lands of Indigenous communities.
"The state could have a role if the state chose to assert itself," he said.
A technology race with water
Not far from Rhyolite Ridge, Clayton Valley is another hotspot for lithium exploration.
Even here, where the nation's only active lithium mine operates, companies have been arguing in court and in administrative hearings over their mineral rights and claims to a limited resource: water. For mining to pan out in Clayton Valley and elsewhere, companies not only need water rights but they must effectively show their projects do not conflict with existing water rights.
In Clayton Valley, home to the Silver Peak mine, expansive evaporation ponds dot the otherwise dry landscape. The groundwater in the ponds consist of a salty mixture some describe as "liquid ore." For decades, companies have used an evaporation method to separate out the lithium.
Albemarle, the company that operates the Silver Peak facility, is looking to expand its footprint in the area even as other companies vie to pursue the lithium under Clayton Valley. In similarly dry areas across the state — from Railroad Valley to Dixie Valley — other mining companies want to capitalize on mineral claims by pulling brine from the ground to separate lithium from the water.
Still, some question whether environmental regulators will approve another operation that relies on massive evaporation ponds that consume large quantities of water and can harm wildlife.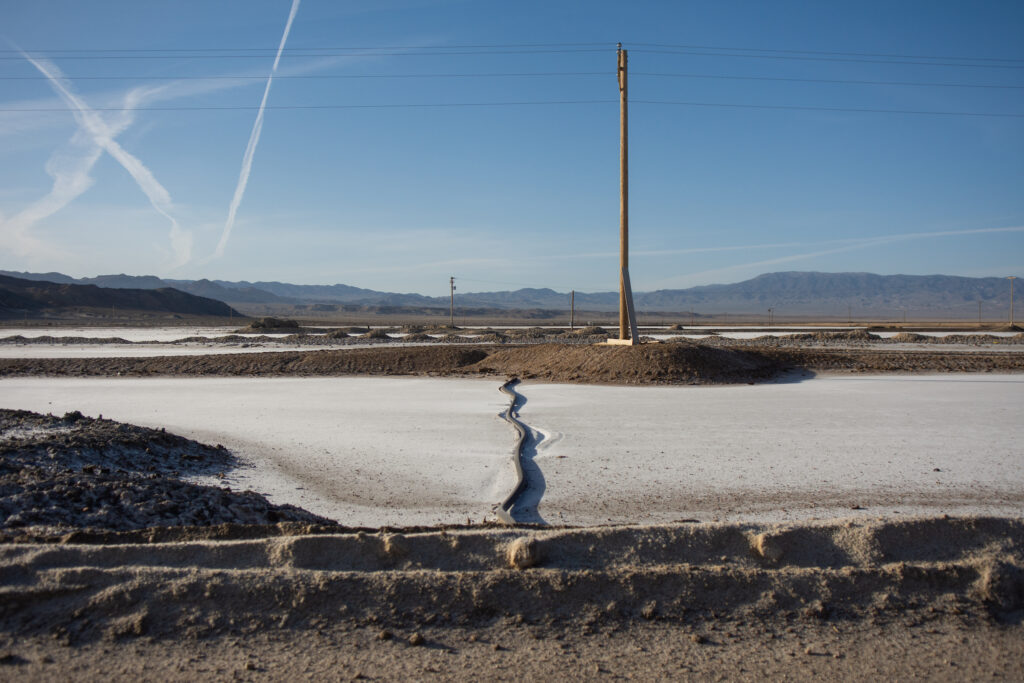 That concern, in part, has led others to pursue alternative technologies to allow companies to recover lithium from brine while consuming far less water. In Clayton Valley, an oilfield services company, SLB (formerly known as Schulmberger), is working on a pilot project to do just that.
SLB wants to demonstrate a closed-loop system relying on a technology that is known as direct lithium extraction or DLE. Instead of pumping brine into evaporation ponds, SLB would pump water through a closed production facility that would remove the lithium from the brine solution.
After the mineral was extracted, SLB would return about 80 percent of the brine back in the ground, reducing the volume of water consumed in the conventional evaporation process.
Policymakers and industry executives are watching the pilot project closely.
DLE has been around for decades but it has not yet been proven on a commercial scale. Still, a number of companies — in Nevada and around the globe — are racing to demonstrate its use. If shown to be viable on a large commercial scale, proponents argue that DLE could reduce the water footprint, environmental costs and social impacts of conventional lithium mine operations.
SLB has water rights for a demonstration plant, but Albemarle protested the company's water use in Clayton Valley, outlining concerns over the company's process. At the same time, SLB has challenged Albemarle's claim to water rights, accusing the company of sitting on water. (A fundamental element of water law requires users to put their water to use or risk forfeiting it.)
---
---
Micheline Fairbank, a deputy administrator with the Division of Water Resources, has described Clayton Valley as "one of the more challenging resource management areas we have in the state," citing the complicated litigation involving mining claims and water rights.
In other areas, lithium brine projects have similarly faced protests from existing water users, federal agencies and conservation groups concerned about additional groundwater pumping.
Through all of this, industry observers argue that environmental agencies have been slow to issue decisions, and the ongoing delays have impeded the development of new technologies.
"The same standard problem keeps coming up no matter where you are or what agency you're dealing with," said Tim O'Connor, a natural resources lawyer who represents several lithium projects, including SLB. "It's not even that it's slow. There are just no decisions being made."
More planning, fewer conflicts?
Environmentalists and mining oversight groups have long called on policymakers to consider a thorough planning process for how the lithium "rush" might unfold and to prioritize projects that do not conflict with areas protected for their sensitive habitats, biodiversity and as cultural sites.
Last year, The Nature Conservancy published a report examining the potential environmental and economic impacts of lithium mining across the country. The report, which mapped 40 lithium project sites in Nevada, found several areas conflicted with potential land for solar energy, areas with conservation value and habitat for several species unique to Nevada.
The researchers also found 18 projects in areas where there were more rights to groundwater than there was water available, according to a recent presentation summarizing the report
As the energy transition puts more pressure on regulators to develop solar and other projects on federal public land, The Nature Conservancy has advocated for prioritizing projects in areas with fewer ecological impacts. The group has called this approach "smart-from-the-start" planning.
Michael Clifford, a co-author of the report, said it was meant to provide policymakers with a broad overview and recommendations for moving forward.
"As we develop lithium throughout the country, there are going to be environmental impacts and we have a choice about which types of projects we want to have permitted," Clifford said.
The mining industry has argued that locating a project is far different than a solar development. Although the sun shines in many places, lithium ore can only be mined where it is found.
"One of the most restrictive parts we are going to have on this is where lithium is found and where it is actually attainable," Clifford noted. "And then [we need to try] to overlay on that and build out from there what values people see in terms of conservation and cultural resources."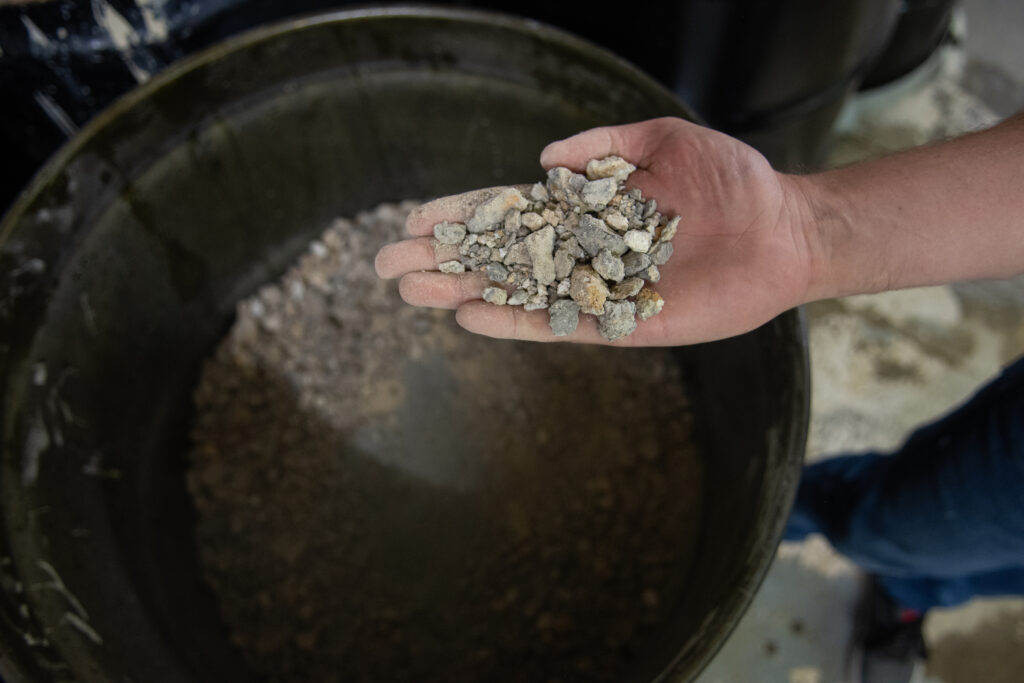 There is one area of agreement: Nevada is likely to be a key player as the federal government seeks to develop a domestic lithium supply. The Nature Conservancy report estimates "Nevada alone has the potential to supply the world with lithium for 85 years at 2021 demand levels."
As more lithium mines are proposed, the report recommends prioritizing projects that have less impact, in part through considering environmental costs when offering government incentives and increasing the capacity of agencies tasked with analyzing mines. It also recommends incentivizing DLE and pushing for more recycling to reduce the long-term demand for lithium.
Another recent report attempted to determine how many lithium mines are needed. The report, released by the Climate and Community Project — a progressive think tank — and UC Davis, found that how the transportation sector decarbonizes could affect the overall mining footprint.
For instance, the report finds decreasing the battery size of electric vehicles, building cities that are less car dependent and increasing recycling could significantly reduce the demand for more lithium mining — by as much as 90 percent by 2050.
The report notes that "the volume of extraction [needed] is not a given. Neither is where mining takes place, who bears the social and environmental burdens, or how mining is governed."
Thea Riofrancos, a lead author and an associate professor at Providence College, said how cars and cities are designed could have a huge effect on the need for more mining in Nevada and elsewhere. In the short term, she said Nevada — with geology rich in lithium and seen as a friendly mining jurisdiction — has become something of a test case for more U.S. mining.
Some of the country's highest-profile lithium projects, including Thacker Pass and lithium mining at the Salton Sea, send signals to the industry, policymakers and mining watchdogs about how efforts to bring more lithium mines might unfold and what are effective ways of raising concerns.
"There's a high-stakes aspect to some of these big first projects we're seeing in the U.S. West," she said.
Nevada Independent reporter Sean Golonka contributed to this report.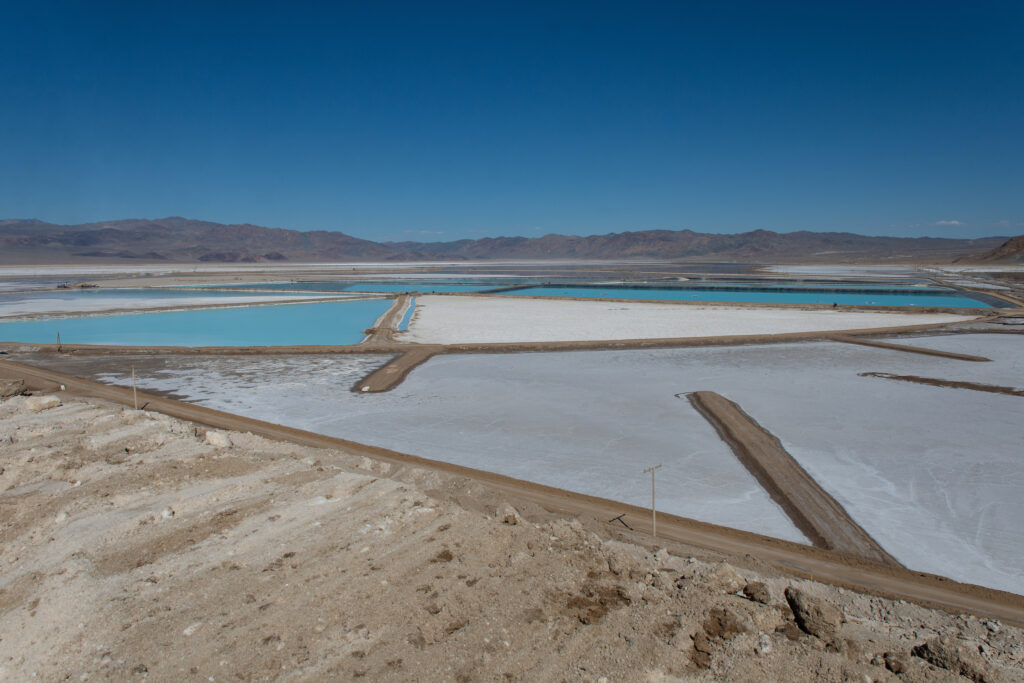 Update: This story was corrected on Feb. 21, 2023 at 10:56 am. An original version of this story said the Nevada Division of Minerals was tracking more than 50,000 claims related to lithium mining. The agency is tracking about 35,000 claims.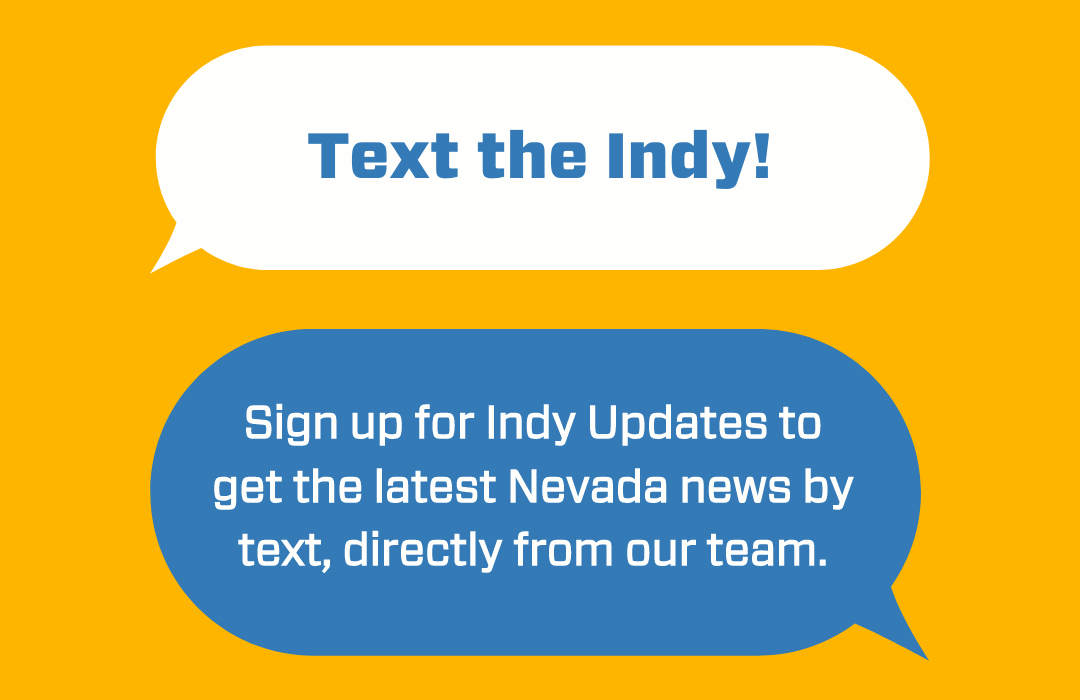 Featured Videos