New citizens celebrate in condensed, socially distanced naturalization ceremony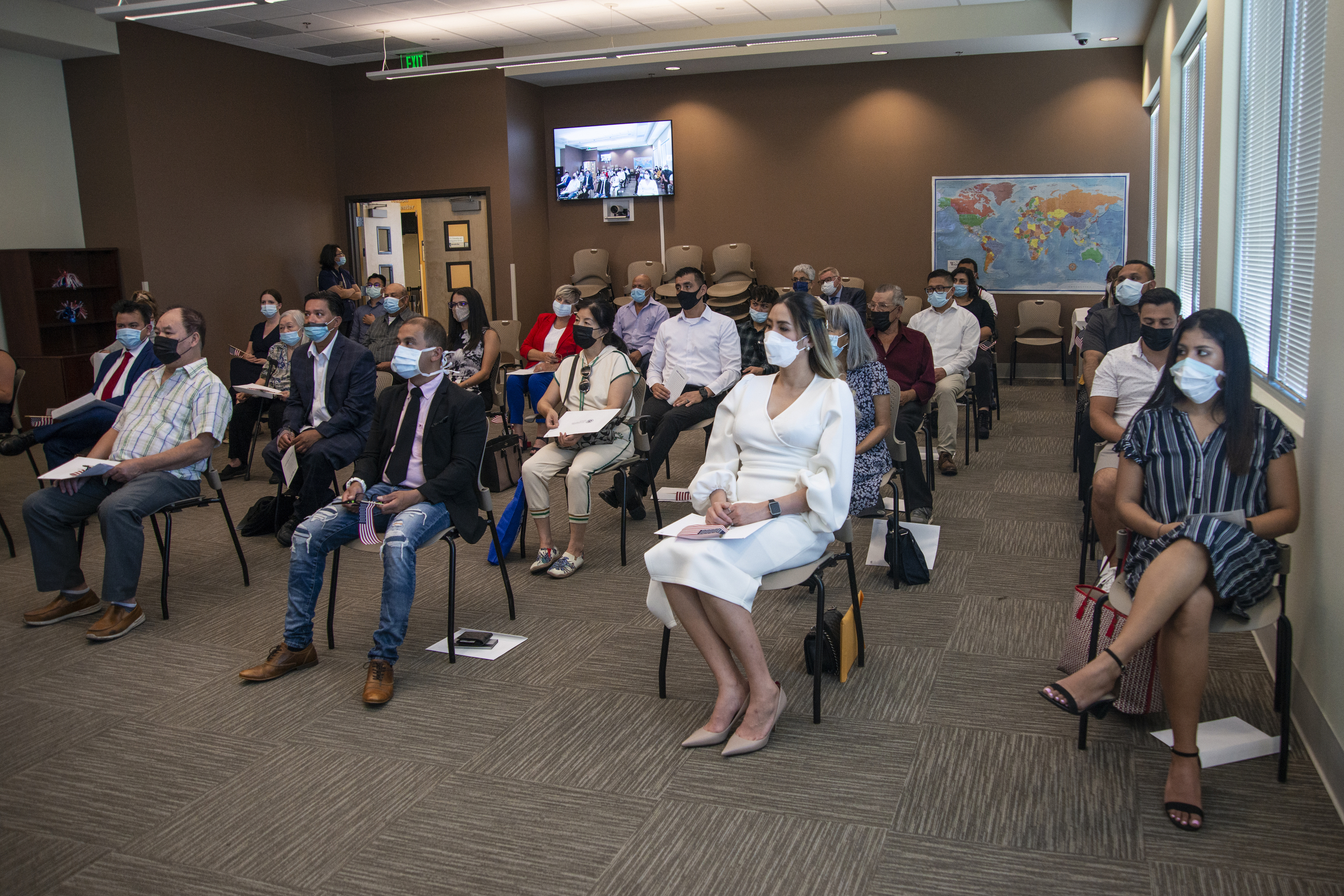 After many pandemic-induced delays and cancellations, 32 people from 15 different countries finally became American citizens Thursday at the Las Vegas field office of the U.S. Citizenship and Immigration Services (USCIS) — just in time for Independence Day.
What used to be a large naturalization ceremony sprinkled with speeches and music is now limited to a room of socially distanced prospective citizens with a judge appearing via Zoom call to administer the oath of allegiance. It marks the final step of a long and difficult journey of immigrating to the United States.
The hybrid format wasn't without technical difficulties, including for Judge Cristina Silva, who was presiding over her first naturalization ceremony after receiving her own oath less than three months ago. She initially joined from the courtroom but had to move to her office because of video issues.
The prospective citizens did not seem to mind the additional slight delay, instead raising their small American flags in excitement when Silva finally appeared on screen.
Naturalization ceremonies are a day that many immigrants eagerly anticipate especially close to the Fourth of July. However, many who applied began to wonder if that day would even come.
On March 18, 2020, USCIS temporarily closed field offices, leaving thousands unable to receive their citizenship. For those who had a ceremony or interview scheduled, it was postponed for a possible future date.
"The actual citizenship process took about two years and was a little bit delayed because of the COVID pandemic. It really pushed … a timeframe to become a citizen," said new citizen Erik Escamilla. "That was really the biggest challenge — just waiting for your interview longer than you should have."
In June 2020, offices re-opened, and 625,400 immigrants became citizens nationwide that year. That rate was about three quarters of what is typical — there were 843,593 new citizens in 2019. In order to continue naturalization ceremonies, the USCIS transitioned to virtual ceremonies, and fully in-person ceremonies are starting again, bringing joy to new citizens.
Growing up in Mexico without easily accessible resources such as hot water and air conditioning, Escamilla's family moved to the United States for a better life when he was a child. Now 39, Escamilla is finally able to consider himself an American after Thursday's ceremony. He described it as "a dream come true."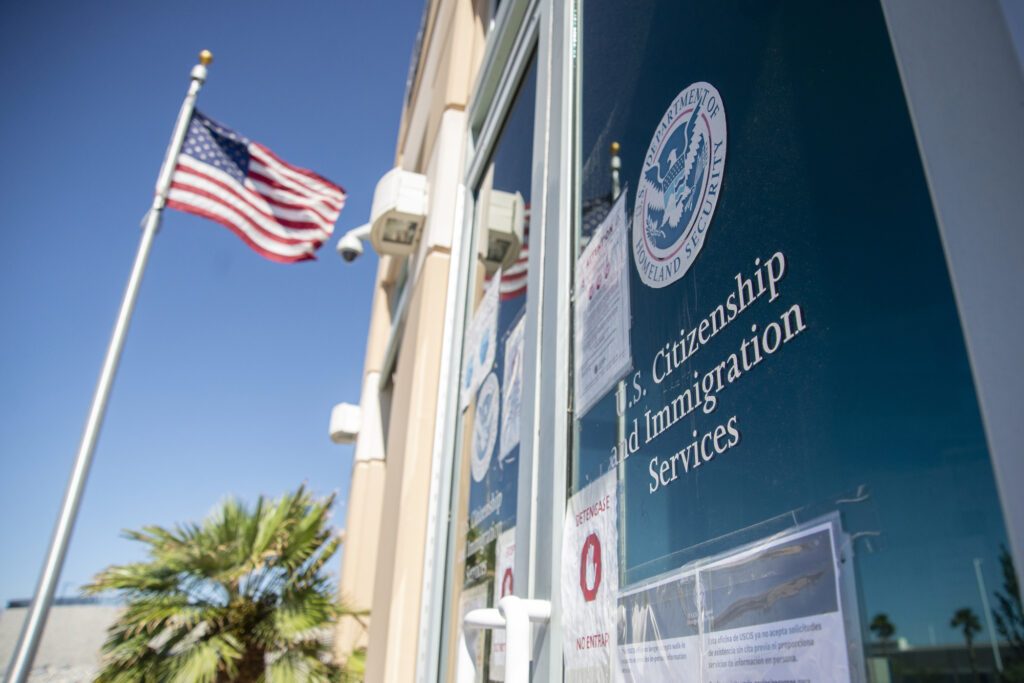 A unique welcome to the United States
Each year, USCIS hosts special naturalization ceremonies around Independence Day. This year, from July 1 through July 8, more than 6,600 new citizens will be welcomed into the United States in a series of ceremonies held in historic venues – ranging from George Washington's Mount Vernon to the Saguaro National Park in Arizona.
But for Nevadans, this special day has been modified because of high levels of COVID transmission in the state's urban areas. Friends and family who would normally join new citizens are now no longer allowed inside to keep in line with social-distancing protocols.
"I definitely have family who wanted to be here today," said Escamilla. "I'm still super happy to be an American … I am going to celebrate with them later today."
Typically, the naturalization ceremony includes naming the country each applicant is from, administering the oath of allegiance to the U.S. and hearing from guest speakers.
But to make the ceremony as quick as possible, certain aspects were cut out. An officer handed out the certificates and answered any questions prior to the ceremony. The certificates were checked for accuracy, as filing for a new certificate could take an undetermined amount of time because of pandemic delays.
The judge then joined via Zoom and conducted the oath, with the ceremony over in less than an hour. Although it was less than ideal, Officer Bryan Mcquirk, who helped initiate the ceremony protocols, pointed out the bright side of the quick process to attendees.
"Y'all be able to go enjoy lunch as a new American … You're having some cheeseburgers and fries, maybe some apple pie for dessert," he said. "Then of course, Monday, you'll be able to celebrate Independence Day as an American citizen."
During the start of the pandemic, it wasn't uncommon to have parking lot naturalization, where immigrants were administered the oath from the safety of their car. A naturalized immigrant from Vietnam herself, Judge Miranda Du said she understands the importance of carrying out the process however possible.
"Our goal was to naturalize them to become naturalized citizens without delay. And so we conducted numerous virtual ceremonies," Du said.
So far this year in Nevada, there have been 129 naturalization ceremonies between January and May, and a total of 5,002 new citizens. That's a somewhat slower pace than pre-pandemic — in 2019, 197 ceremonies were administered and 10,582 people naturalized in Nevada, according to federal court clerk Debra Kempi.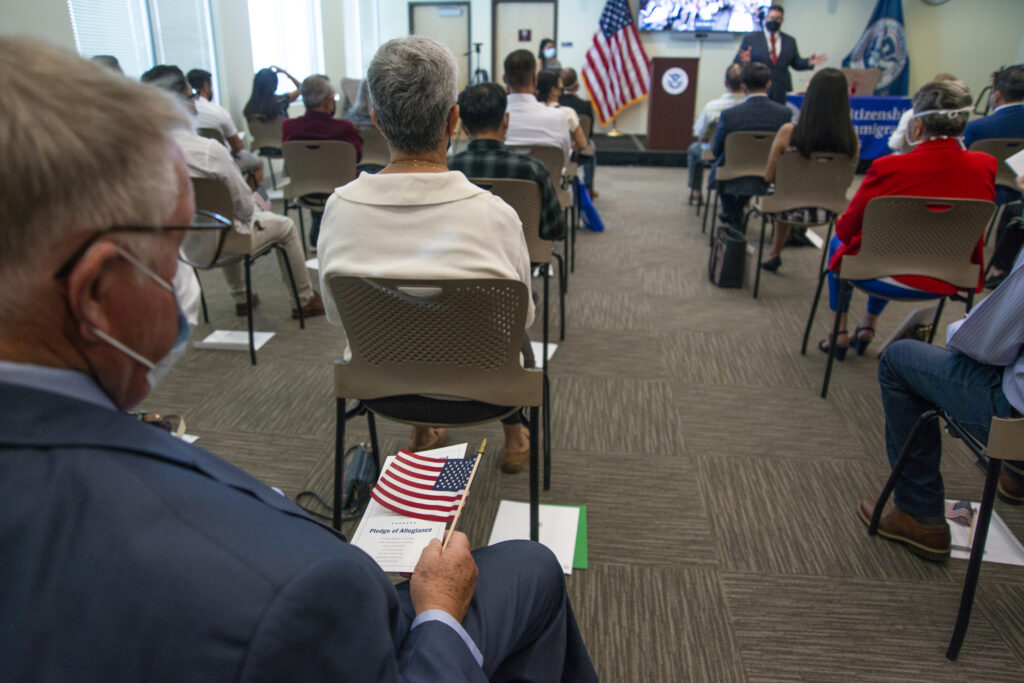 What it means to be an American
After living almost all her life in the United States — 22 years — Valeria Rojo Salazar finally became an American citizen at the Thursday ceremony.
Born in Medellín, Colombia, her family moved to the United States looking for work when she was 3 years old. But even though she felt like an American, not having that official on paper held her back from certain privileges such as voting. She is most excited about getting the chance to cast a ballot.
"I was able to vocalize and do things like that and canvass, but not actually vote on paper," said Salazar, who plans on voting in the fall.
Groups such as the National Partnership for New Americans – the country's largest immigrant rights legal services network — resonate with that goal. The organization is trying to get at least 2 million people to naturalize by this year and is hosting nationwide tours, weeks of actions, pop-up events and other informative meetings to try to reach their goal.
"We want folks to naturalize so that they can not just achieve the most stable immigration status possible in this country, but also use that citizenship to be able to vote to shape their communities, their democracy, the leaders that they see in power so that they reflect us," said Nancy Flores, the network's deputy director.
But it's not an easy process. To receive citizenship, immigrants must live in the U.S. for a minimum of five years either through a green card, visa or other residency.
They must submit a background check, tax returns, information about military service, outside country travel and marriage, as well as other forms.
The process is lengthy as well as expensive – applicants must then complete an N-400 form, which typically carries a $725 fee.
Pandemic-related office closures created a heavy backlog in processing the N-400 form. While pre-pandemic processing times were once three to four months, the wait extended to an average of almost 11 months.
There were 798,372 applications pending during the period between October and December 2021, according to the USCIS.
"It was frustrating for everybody, not just for the folks going through their process, but also for the legal service providers that we were just seeing really unprecedented times and really not sure what to tell people," Flores said.
The group met with USCIS officials in an attempt to clear up the backlog. In response to an executive order on strengthening immigration systems under the Biden administration, the USCIS has taken initiatives to help promote naturalization and streamline processes. Now candidates only have to wait one or two weeks after they have submitted their requirements for a response for their naturalization.
Immigrants naturalized in Nevada in the past five years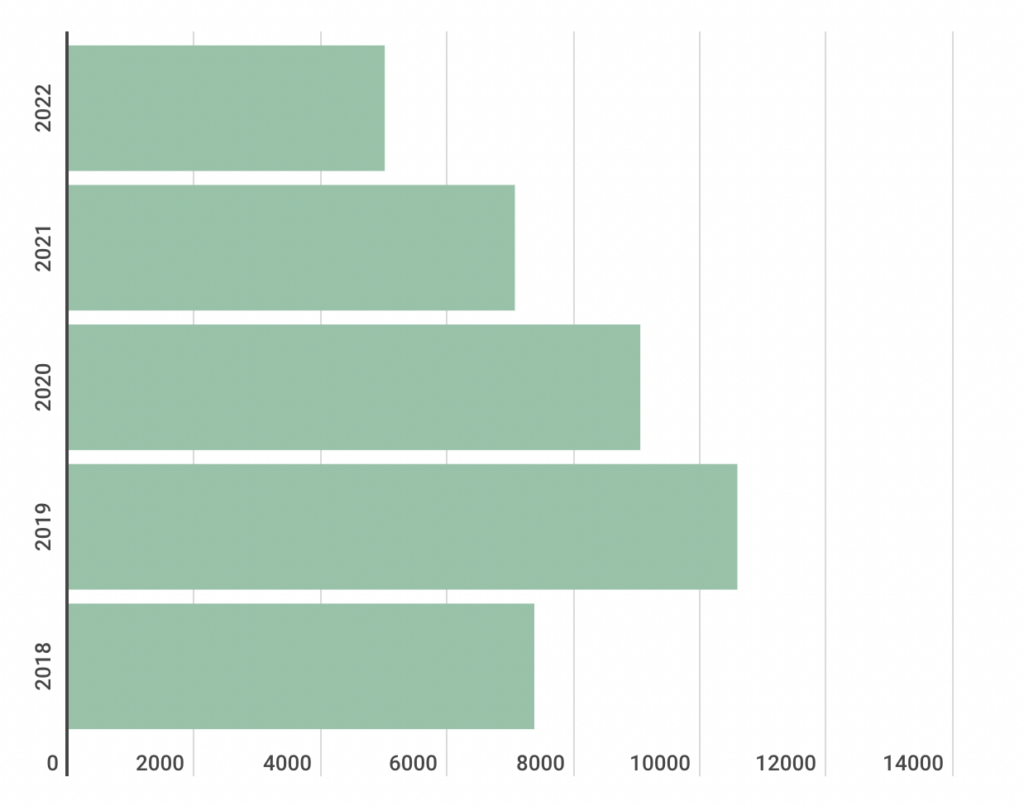 Citizens at last
Salazar waited to become naturalized until after she finished her master's degree and started her career as an educational consultant. Her parents are still not citizens, but she hopes they can start the process soon.
"But my sister and I have, and it's very exciting. The process is very long and we still have a couple more steps," Salazar said.
After citizenship, new Americans still have to apply for their passport and Social Security.
Noemie Peretz, originally from France, received her green card in 2013 after coming to the U.S. on vacation and meeting her husband. Now, nine years later, she received a name change at the ceremony and due to delays she was unable to receive her new name change certificate.
Although her citizenship document has her correct name, she is unable to apply for her passport. She had plans to visit family in the upcoming months but will be delayed until she receives her certificate. But even with this additional wait, her excitement continues to grow.
"Today, I am an American … I'm French, but my kids are American and my mom's French and my dad is Israeli. So I think that's being an American," said Peretz.
Even if the ceremony was not what they had expected it to be, those who took their oath can finally celebrate their first Independence Day as new citizens.
"I'm grateful for where I'm from, my traditions and everything," Escamilla said, but he looks forward to facing a new chapter of his life "now as an American."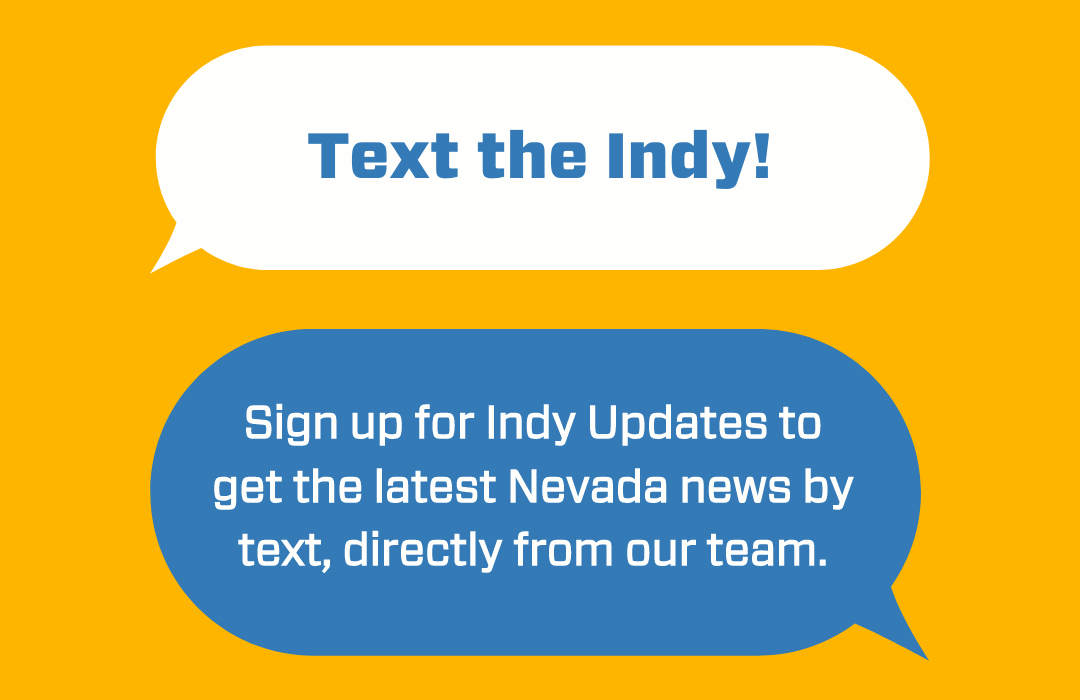 Featured Videos