Outside money pours into Nevada airwaves ahead of presidential caucus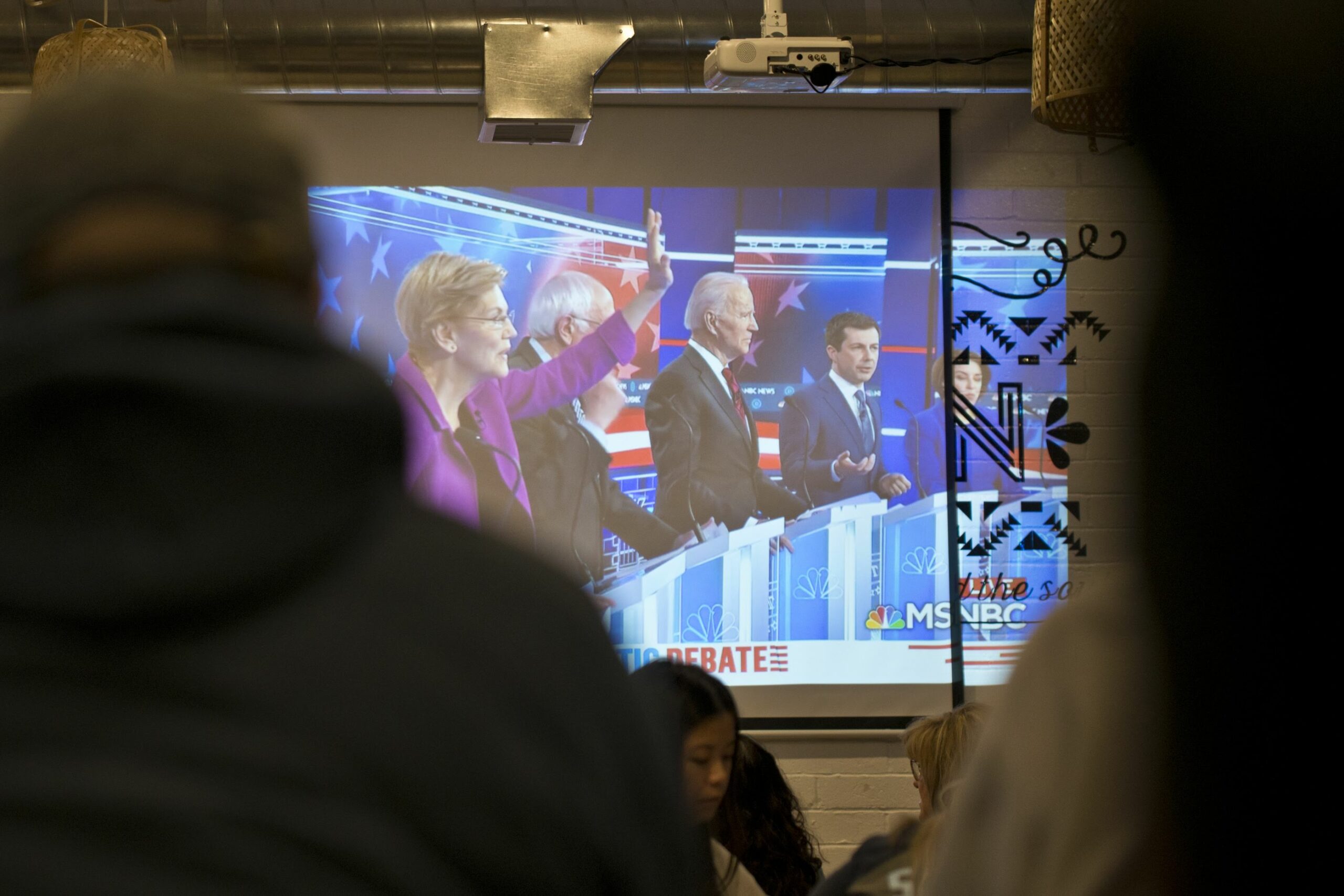 On a debate stage in New Hampshire earlier this month, Massachusetts Sen. Elizabeth Warren sought to draw a clear contrast between herself and other candidates on a hot-button issue — money in politics.
"Everyone on this stage except Amy (Klobuchar) and me is either a billionaire or is receiving help from PACs that can do unlimited spending," said Warren during the Feb. 7 debate.
But less than two weeks later, that statement is no longer true.
In the past week, super PACs supporting Warren and Klobuchar have bought substantial television ad time in Nevada ahead of the state's crucial presidential preference caucus on Saturday (Both Warren and Klobuchar's campaigns have said their positions on Super PACs have not changed).
Emergence of those two super PACs means that every major candidate competing in Nevada, save self-funded billionaire Tom Steyer, now has some kind of outside group or super PAC boosting their candidacy on television or radio airwaves in the state.
Super PACs are independent groups allowed under the U.S. Supreme Court decision in Citizens United v. FEC that are supposed to operate separately from official campaigns, but can raise and spend unlimited amounts of money. That means candidates can't shut them down independently, though candidates and campaigns differ in how open they are to support from Super PACs.
Some candidates — such as Warren and Vermont Sen. Bernie Sanders — have publicly denounced super PAC support, while others have been more welcoming to outside boosts. Former Vice President Joe Biden reversed his opposition to super PAC support in October, and former South Bend Mayor Pete Buttigieg has already been subjected to a Federal Elections Commission complaint that his campaign improperly coordinated with a supportive super PAC (Buttgieg's campaign has denied wrongdoing).
Even a super PAC supporting President Donald Trump — the Committee to Defend the President — is running TV ads in Nevada, designed to run during Wednesday's debate and through the caucus.
The emergence of the outside spending is somewhat last minute and comes after more than 70,000 Nevada voters cast a ballot early under the state's new system of allowing four days of early vote prior to the actual caucus. The spending is also far outstripped by Steyer, who has poured $15 million in TV ad spending into Nevada.
Former New York City Mayor Michael Bloomberg, who has already spent $338 million on advertising spending, is not competing in Nevada and does not have his name on the ballot. Even so, his team has still placed some television ad buys in the Reno area to hit California voters near the area, according to Axios, and many of his national television ad buys bleed into Nevada.
Here's a look at what outside groups and super PACs have made TV ad buys in Nevada ahead of the presidential caucus on Saturday:
PERSIST PAC
Who they're supporting: Elizabeth Warren
Size of TV ad buy: More than $1 million, began airing on Wednesday
Who's funding them?: Unclear. A spokesman for the group declined to tell Axios who was funding the group. The group was registered with the Federal Elections Commission on Tuesday, and will be required to report donors to the FEC on March 20. According to the New York Times, pro-abortion rights group EMILY's List contributed $250,000 each to the PACs supporting Warren and Klobuchar.
It's founded by four women in progressive politics; Denise Feriozzi, Kristine Kippins, Karin Johanson and Kim Rogers.
What are their ads about?: It's running a 30-second pro-Warren ad that highlights her work with Former President Barack Obama, founding the Consumer Financial Protection Bureau and advocacy against Wall Street.
KITCHEN TABLE CONVERSATIONS
Who they're supporting: Amy Klobuchar
Size of TV ad buy: $335,000 statewide, began airing on Tuesday
Who's funding them?: Unclear. The group was formed last week by two longtime Minnesota Democratic operatives.
What are their ads about?: The group has aired two pro-Klobuchar ads thus far, one on her personal experience after her daughter Abigail was born and another on what she would do if elected president including "rejoining the climate agreement, lowering prescription drug costs and expanding benefits for veterans."
VOTE VETS
Who they're supporting: South Bend Mayor Pete Buttigieg
Size of TV ad buy: $600,000, statewide, started running last Thursday
Who's funding them?: It's backed by a wide array of groups including unions and social welfare organizations backed by Democrats.
What are their ads about?: It features a Nevada veteran saying the country is divided, but that Buttigieg can "turn a page on all this division and hate."
DEMOCRATIC MAJORITY FOR ISRAEL
Who they're opposing: Vermont Sen. Bernie Sanders
Size of TV ad buy: $600,000, statewide, started running last Saturday, Feb. 15.
Who's funding them?: It's backed by a board of prominent Jewish political and business leaders, and its president is Democratic pollster Mark Mellman. According to its most recent FEC filing, its top donors include billionaire heiress and oil businesswoman Stacy H. Schusterman ($995,000) and venture capitalist Gary Lauder ($450,000).
What are their ads about?: The ad, which is similar to others the PAC has run in Iowa, targets Sanders on his ability to defeat President Donald Trump in a general election and concerns with his medical history.
UNITE THE COUNTRY
Who they're supporting: Former Vice President Joe Biden
Size of TV ad buy: In a filing made Wednesday, the group reported spending more than $657,000 on Nevada television ad buys, according to filings with the FEC. It spent more than $5.5 million on television ads in Iowa.
Who's funding them?: Its donors include major business leaders, including real estate mogul George Marucs ($1 million) and Beacon Capital chairman Alan Leventhal ($250,000).
What are their ads about?: According to FEC records, the spending went toward direct mail production and postage. The records indicate it placed television ad buys throughout the rest of the week.
VOTE NURSES VALUES PAC
Who they're supporting: Vermont Sen. Bernie Sanders
Size of ad buy: Unclear how much has been spent in Nevada, but it has reported spending roughly $400,000 in radio ads in support of Sanders.
Who's funding them?: National Nurses United, a professional union for nurses that has more than 150,000 members nationwide
What are their ads about?: Unclear, but supportive of Sanders and his advocacy for Medicare for all.
COMMITTEE TO DEFEND THE PRESIDENT
Who they're opposing: Former Vice President Joe Biden
Size of TV ad buy: $255,000, running statewide throughout the caucus
Who's funding them?: Originally founded as "Stop Hillary PAC" in 2013, the group has evolved into a pro-Trump PAC and is led by former Colorado state Sen. Ted Harvey. It has a wide variety of donors.
What are their ads about?: One of the ads, in Spanish, attacks Biden and claims he and President Barack Obama deported millions and "failed" on immigration.
Comment Policy (updated 4/20/2021): Please keep your comments civil. We reserve the right to delete comments or ban users who engage in personal attacks, use an excess of profanity, make verifiably false statements or are otherwise nasty. Comments that contain links must be approved by admin.