Pandemic exacerbates challenges for Nevadans living with HIV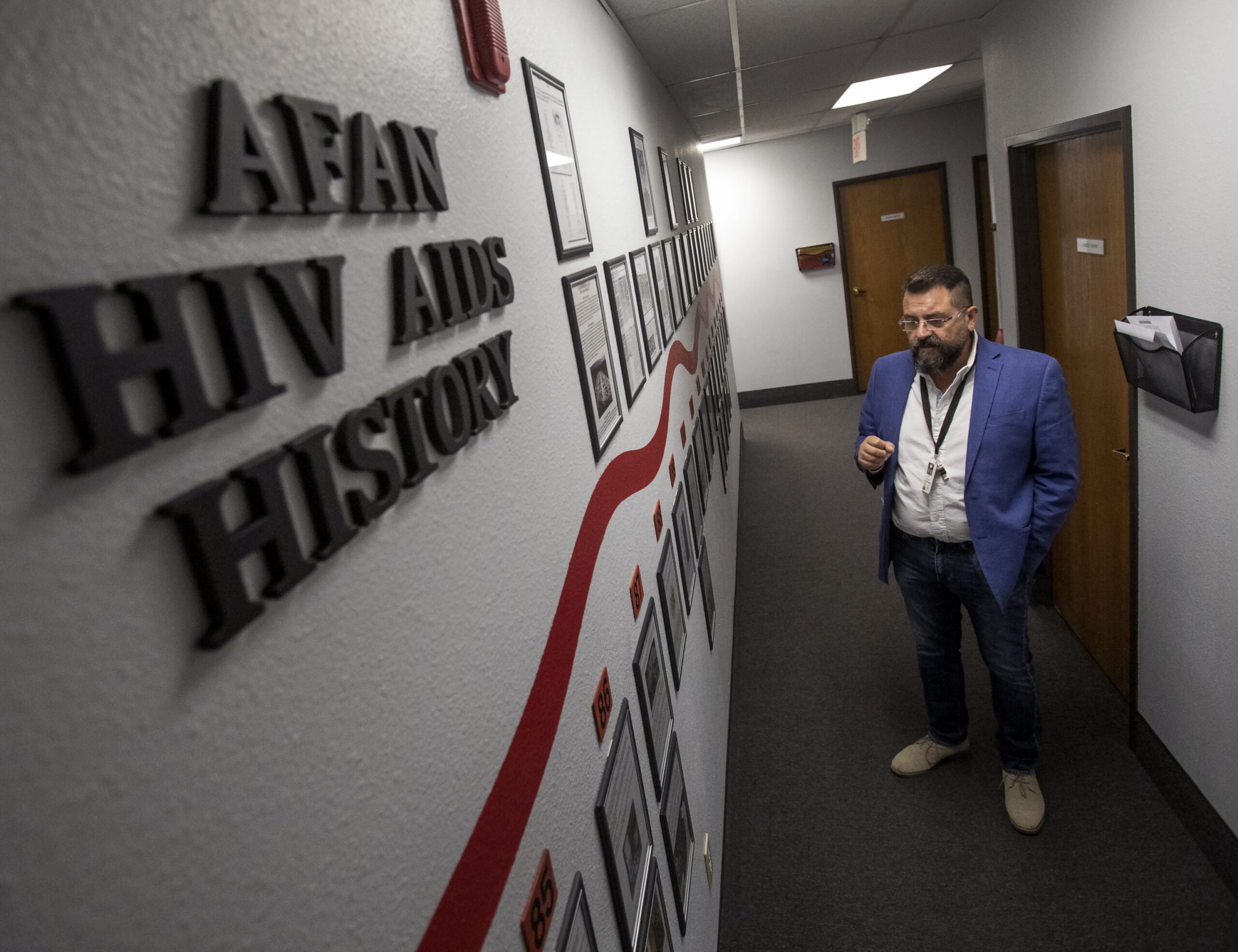 When Tim was diagnosed with HIV in the heat of the AIDS epidemic in the early 90's, it felt like getting "hit by a freight train."
Tim struggled with his diagnosis — the stigma, the confrontation with mortality, what it meant in his relationship with God — and moved around the country, going on and off the developing medication as the virus attacked his immune system.
"I was told by my doctors that … I wouldn't be here in five years," said Tim, who asked to use a pseudonym to avoid publicly revealing his status. "That's the mindset I had to prepare myself, was, hey, I'm gonna be dead in five years, so might as well not plan on anything beyond that."
When he arrived in Southern Nevada in 2010 after almost two decades of inconsistent treatment, his CD4 count, a measurement of a type of indispensable white blood cell, was 15. That number is between 500 and 1,600 in a person without HIV.
But with daily antiretroviral therapy (ART) medication that suppresses the antagonistic virus, Tim's CD4 has risen to a normal level, and the 50-year-old has been able to live a healthy life without too much worry about his immune system — that is, up until the coronavirus pandemic set in.
While much remains unknown about the novel coronavirus, it appears to be more dangerous for those with underlying conditions, including HIV and the infection's final stage, AIDS. Although a medication regimen can keep those with HIV/AIDS healthy, confounding factors such as poverty, housing issues and food insecurity can make obtaining medicine required to keep HIV at bay more difficult, and all of those have been exacerbated by the pandemic.
"We have seen folks that lost their jobs and then lost their health insurance. And we've got to attack both those scenarios … We don't want you to go off your medication because you've lost your job and your insurance benefits," said Erin Eddings, case management director at the Northern Nevada HOPES community health clinic, explaining that medication tops the prioritized list of needs the more than 11,500 people in Nevada living with HIV/AIDs have during the pandemic.
In April, the U.S. Department of Health and Human Services announced that $90 million from the CARES Act would go to the Ryan White HIV/AIDS program, which provides funds to states, counties, cities and local organizations for medical and support services for low-income people with HIV/AIDS. Clark County, as one of 48 counties where more than 50 percent of new HIV cases occur, received $277,000, and Nevada received $192,500 for clients in the northern part of the state.
The Ryan White planning council in Clark County, made up of staff, community members and people living with HIV/AIDS, sent out a survey to clients in May to understand needs during the pandemic and determine where to funnel the additional federal dollars.
While more than 95 percent of respondents said that they did not have problems receiving medication during the pandemic, the council found the biggest needs were food insecurity and rent and mortgage assistance, issues that can affect health and medication intake, and directed more funds to those initiatives, according to Heather Shoop, grant administrator for Ryan White in Clark County.
Living with HIV in a pandemic
While many people are worried about exposure to the coronavirus, Eddings said she noticed that clients living with HIV/AIDS have expressed heightened fears about the pandemic.
"These are people who are calling right away saying, 'Oh no. I don't want to come in for my appointments. You know I'm already at risk for the cold, the flu, you name it. I'm scared," Eddings said. "You've got the public announcements saying 'with underlying conditions, such as diabetes, obesity, lung conditions, heart conditions,' but no one's specifically saying HIV. But our patients are because they're sticking up for themselves."
The Centers for Disease Control and Prevention advises those with HIV/AIDS, in addition to taking standard health precautions, to seek completely remote care, delaying any routine in-person appointments if they are already "virally suppressed," meaning the HIV has reached undetectable levels. It also recommends they keep their immune system in top condition by making sure they have a 30-day-supply of medication, particularly HIV medication, keeping up-to-date with vaccinations and maintaining healthy practices of nutrition, sleeping and avoiding stress.
But upkeeping a healthy lifestyle is not as simple for those who have a "double whammy" of having HIV while fighting other challenges, such as other chronic illnesses or additional pandemic-prompted financial instability, said Antioco Carrillo, executive director at Aid for AIDS of Nevada (AFAN).
"They already are facing not only HIV, but God knows what else they're facing and that is putting them at a greater risk from becoming infected with COVID," Carrillo said.
A majority of AFAN clients are low-income, Carrillo said. The program offers a variety of services from food vouchers to financial assistance to therapy to help clients stay as holistically healthy as possible.
Those receiving Ryan White federal grant-funded services must have an income less than 400 percent of the federal poverty level, or about $51,000 for a single person, and funds for the program are reserved as a last resort option, with insurance companies billed first.
At least a few clients at HOPES were diagnosed with HIV only because they had a severe bout of COVID and found themselves seeking medical care, according to Eddings. 
With 1 in 7 people living with the virus being unaware that they're infected, sometimes patients only discover their diagnosis if they are experiencing an unusually grave version of an illness, Eddings said. A provider may begin looking for underlying causes and notice that the patient's white blood cells are low and test for HIV.
Challenges to getting medication
For people with HIV that are taking their medications and have reached viral suppression, the pandemic offers the same risks as someone without HIV, said Merylyn Yegon, supervisor of the Ryan White program at the Southern Nevada Health District.
"The only anxiety is if you have not been on medication and your immunity is low," Yegon said. "Other than that, I think [COVID-19] affects everybody equally, and it's not specific only if you're HIV positive."
Yegon said she has seen an increase of patients wanting to rejoin the program and get back on medication because of fear of the virus.
Although it can be hard to identify why clients go off medication, Yegon said that clients may not be aware of the value of medication, may be fatigued from constantly taking it or may not know how to get medication after circumstantial changes such as moving from another state.
Some of the same factors that make a healthy lifestyle harder to come by may also affect a person's ability to take medication as needed, according to Shoop.
"Things like food insecurity and poverty and lack of housing, all of those things, make it a whole lot harder for people to [take medication and become virally suppressed]," Shoop said. "If you're homeless, where are you going to keep your medication? Are you going to remember to take it when you need to take it? How are you going to get refills?"
Housing, in particular, is connected with proper medication intake, Shoop said. In Nevada, 91 percent of Ryan White clients in stable housing reached a state of viral suppression compared to 71 in temporary housing and 72 in unstable housing, according to a 2018 Ryan White report.
Tim, who has helped people in the HIV/AIDS community as a means of coping with his own diagnosis, said that housing issues can affect food security. On top of possibly being unable to afford food, people experiencing homelessness may not have the tools or space to cook and may not have a place to have food delivered to, which several programs are doing for vulnerable populations during the pandemic.
When Nevada's eviction moratorium lifts on Sept. 1, housing may become more of an issue for the community, he said.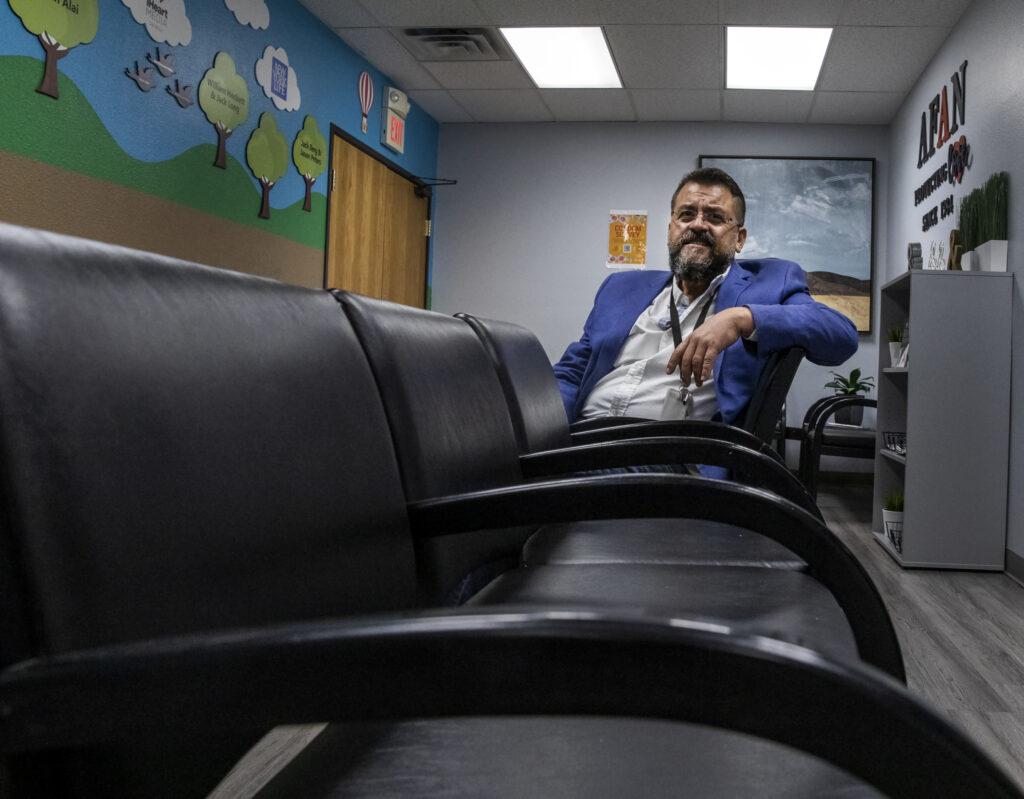 Adapting services for the pandemic
About a month before the state responded to the coronavirus with business shutdowns and stay-at-home orders, Carrillo said he started worrying about how the pandemic would affect his already vulnerable clients. He knew coming to the office during the pandemic had risks but that reducing services would hurt clients, too.
"When the pandemic started, what we looked at was how we can continue to provide the same level of services to the population that now is going to be much more vulnerable," he said, "because we may be able to see some really horrible struggles if we continue to force them to come to the office."
Outside of administering HIV tests, which has been paused, AFAN services have adjusted well to the virtual landscape, Carrillo said. AFAN now has an almost non-existent no-show rate.
In Northern Nevada where HOPES serves 14 of the 17 counties in the state, 12 of which are rural, Eddings said that going remote has been beneficial to rural clients, saving them time and gas.
But connectivity is a problem for some. HOPES has been using some of its funds for getting smartphones in the hands of clients and helping with some internet bills.
Despite success in transforming most of its services, Carrillo said that social networks are suffering. AFAN used to hold group activities and seminars that used to bring community connections that don't translate as strongly through a webcam.
For HOPES clients, the effect of the pandemic on social networks was "crushing," Eddings said.
"Even if this was 15 people, this was their lifeline. Some of them didn't have jobs, don't have friends out of this, maybe can't speak the language," she said, explaining that groups bond over topics separate from their shared diagnosis.
Social networks can help people living with HIV/AIDS fight the stigma and shame around the disease and avoid feeling isolated, Eddings said. This is especially important in the time of social distancing; shifting social networks online and doing creative social-distanced meetups is crucial, she said.
An uncertain future
The timing of the supplemental CARES Act funds was convenient, Shoop said, because of the depletion of other pandemic resources such as the expiration of the extra $600 in unemployment benefits and the phase-out of the eviction moratorium. Still, she said she has "every confidence in the world" that the funding will run dry "pretty quickly."
"There's such a great need right now that I think it remains to be seen where we're going to be a year from now," Shoop said, adding that the results of the November election may affect funding for HIV/AIDS programs and other resources. "We don't know what the trajectory of this virus is going to be and what the rest of that fallout is going to look like."
For AFAN, which relies on grants and donations, Carrillo cancelled early on their two largest fundraising events to avoid putting people, especially clients, at risk. Their annual AIDS walk in the spring and big Black and White party in the summer typically bring in a combined $350,000 for the organization.
"With those events gone, I think the struggles continue to be harder for us. I see it as a challenge — a challenge that can be examined, not a challenge that can shut me down," Carrillo said.
As far as returning to normal, on-site operations, AFAN will keep services for clients remote until there is a serious change such as a vaccine, effective treatment or a significant decrease in hospitalizations and deaths, Carrillo said. Only then will he start having clients slowly come back to the office.
Carrillo said the mindset needed to live through the pandemic is similar to that of the AIDS epidemic that ravaged the 80s and 90s: people must assume that everyone you interact with could be positive and therefore take necessary precautions.
"It does not mean you have to stay home and die in isolation. It means that you still have to live, but you have to take the measures … to reduce the potential for infection," he said. "The [HIV] prevention methods never went away. My sense is that [COVID-19] is going to be similar, and instead of condoms, for COVID specifically, we're going to have to dispense masks or face coverings and hand sanitizer and things like that."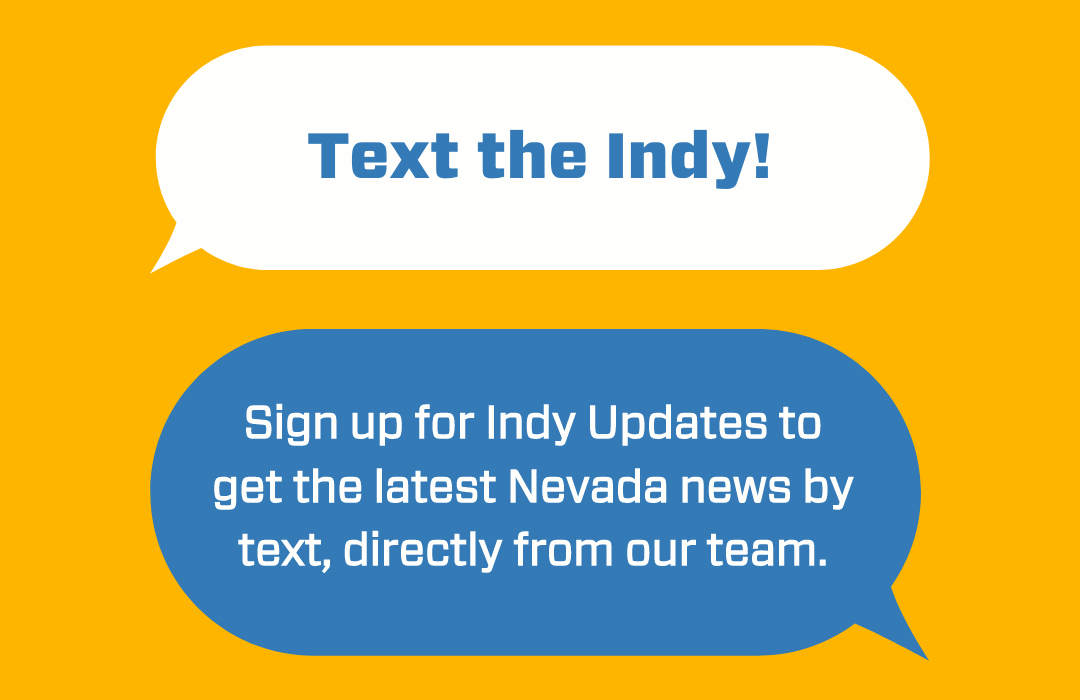 Featured Videos
Comment Policy (updated 4/20/2021): Please keep your comments civil. We reserve the right to delete comments or ban users who engage in personal attacks, use an excess of profanity, make verifiably false statements or are otherwise nasty. Comments that contain links must be approved by admin.