Paul Laxalt: The man, the myth, the legend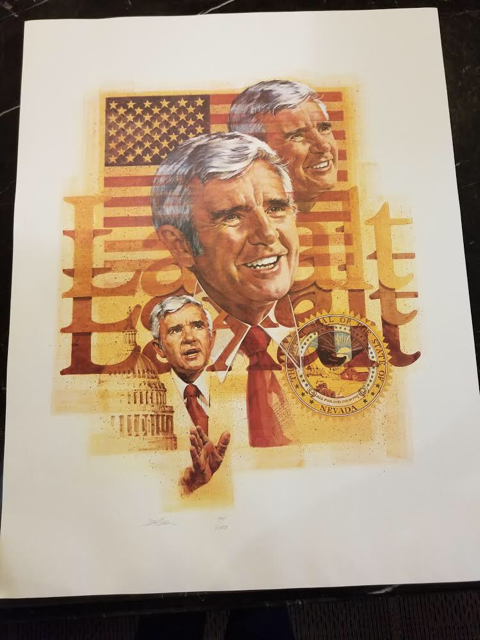 I first met Paul Laxalt in the summer of 1986.
I had just been thrown into the political beat, wet behind the ears, not knowing anything about anything. He was already a legend, retiring from the Senate but considering a presidential bid.
I had been assigned to travel to the Cal-Neva hotel, which straddles the two states near Lake Tahoe, and cover a fundraiser for Jim Santini, the man Laxalt hoped would win his Senate seat. And I had scored an interview with the senator, a one-on-one in his hotel suite before the event began. It was a big moment for me, if not for him.
As I was escorted to his room by an RNC rep, I experienced something I had never felt before or since: My palms were sweating. I was as nervous as I ever have been in my life, praying I didn't stammer when I asked questions.
I don't remember much about what happened next – I doubt I asked a substantive question and he declined to announce his White House bid to me – except for this: He put me completely at ease, made me feel as if I belonged there, as if every question I asked was brilliant.
He was charming and gracious, forthcoming without really being forthcoming, smooth and unflappable. He was the first person I had ever met with real charisma, and no one I have met since – Bill Raggio, Barack Obama, others – had more.
---
I thought of that day last week when the inevitable came: After years of being bedridden since he took a bad fall, Laxalt died at 96 and will be laid to rest at Arlington National Cemetery. If anyone had been a mythic figure in Nevada, Laxalt had been, influencing a generation of other Republicans, in and out of elective office, and bookending the career of his very different analogue in the other party: Harry Reid, whom he defeated in 1974 and who would eventually take Laxalt's seat in that race that christened my entry into Nevada politics.
Governor. Senator. Ronald Reagan's best friend and political emissary. A conservative and a conciliator. Father of six children and modern Nevada gaming. Talented and avid tennis player into his later years. A consummate Westerner who looked as if he stepped off a Howard Hawks or John Ford set.
"He loved to say when someone had a good life, they put in a good shift," said Greg Ferraro, an early Laxalt acolyte who knew him well. "It can be said about him that he put in an exceedingly good shift."
"If you shook hands with him, he had a firm handshake but his hands were so soft," recalled Sig Rogich, the Laxalt confidant who ran Santini's race in 1986. "It was indicative of his whole soul….I never saw him blow up at anybody."
Remembrances tend to be gauzy, often tending towards hagiography. And descriptions such as "legend" and "larger-than-life" tend to be overused.
But Laxalt truly was a sui generis figure in Nevada and national political life, one whose death feels even more poignant in the current toxic, polarizing milieu. Tall Paul would have blanched at the current DC and Carson City dysfunction and partisanship; in some ways, he would stand out even more today.
---
Like all men, even legendary ones, while his feet were always clad in cowboy boots, Laxalt's were made of clay, like all of us. He could be politically ruthless, including in that first race I covered, where he essentially anointed Santini over then-Rep. Barbara Vucanovich, perhaps the most loyal Laxaltite ever.
Vucanovich had been elected to the House in 1982, same year as Reid. Santini had been the state's only congressman – a Democrat – until the 1980 Census gave Nevada another seat. (Everything in Nevada politics is circular, to this day.)
Vucanovich ran for Congress with Laxalt's blessing after helping to run his campaigns in the North and then acting as his Senate district representative. When he decided to retire after his second Senate term, she was clearly interested in running.
But Laxalt had other ideas. He didn't believe she could win and persuaded Santini, who unlike Vucanovich had a statewide following, to switch parties on the last possible day he was eligible.
Vucanovich, who died in 2013 and was one of my favorite people I ever covered, wrote about the snub in her 2005 memoir with her daughter, ex-state Treasurer Patty Cafferata:
"It became clear that Santini's party change had taken place with encouragement from Senator Laxalt," she wrote. "They had worked together while Jim was in the House, and the senator was very knowledgeable about Santini's record. I realized that I probably would not have a strong endorsement from my mentor. I could see the handwriting on the wall, so on November 18 I announced that I would run for reelection to the House."
It may not have been as tart as Laxalt's blunt get-out advice to Philippine strongman Ferdinand Marcos – "Cut and cut cleanly" – but his support of Santini sent as clear a message to his loyal right hand. That must have cut Vucanovich and deeply.
Reid, of course, defeated Santini despite Laxalt's efforts – President Reagan came to campaign for him multiple times. And I'm sure Vucanovich wondered until her dying day if she would have won – especially because Reid eviscerated Santini on the party switch.
I don't think she would have. Reid's campaign in 1986 was as good and nearly as flawless as in 2010. But Laxalt, too, probably wondered what might have been.
---
The contours of Laxalt's life are well-known and covered superbly in obituaries in The New York Times and The Washington Post. Born to Basque immigrants, began in local politics; ran for Senate in 1964 and lost by 48 votes to Howard Cannon; won the governorship two years later in a bitter race against incumbent Grant Sawyer, who was seeking a third term and who (and his family) never forgave Laxalt; ran for Senate in 1974, defeating Reid by 624 votes; served two terms in the Senate; brief, aborted presidential run.
But there is so much that is glossed over in that abstract. Just a few colors inside the lines:
Not only did he grow up with immigrant parents, but Laxalt began school not knowing much English. The same tenacity that marked his career drove him to learn the language of his parents' new home.
Laxalt was a WWII veteran who rarely spoke of it to anyone, including his family. He was open in his own memoir, penned two decades ago, about being assigned to a medical unit to conduct battlefield research "since my phobias included not being able to stand the sight of blood."
He may not have been in combat, but Laxalt writes poignantly in his book of seeing too much blood, too many wounded and dying soldiers. But unlike the Western archetype he personified, Laxalt never carried a gun in the war.
As for his athletic skills, they were formidable. Laxalt took up tennis as a child and maintained his passion for the game nearly his entire life. He was a state champion, and he continued to play once he moved to DC.
Frank Fahrenkopf, a close family friend who became chairman of the RNC and later the American Gaming Association, said he and James Baker, the erstwhile secretary of state, used to play doubles with Laxalt and Michael Deaver, Baker's deputy under Reagan.
How good was Laxalt? "We never lost because we always just hit it to Deaver," Fahrenkopf remembered.
The story of the 1974 race with Reid is often told because it seemed as if the Democrat's career was over and his ill-advised run for mayor the next year seemed to be the final coffin nail. But what is not generally told is how Laxalt brilliantly exploited a late mistake by the Reid campaign to win that seat.
Reid was believed to be well ahead in the polls toward the end and continued to take it to Laxalt, questioning the family's finances. So Laxalt, in response and in high dudgeon, brought out his sister….in her nun's habit.
"She had taken a vow of poverty," Ferraro chuckled.
Said Rogich: "Somehow they opened a window that allowed Sister Sue to be brought into it. It was transformational. It was a stupid political mistake."
Beyond the well-known Marcos anecdote, with Laxalt serving as an emissary for the president, the Nevada senator's friendship with Ronald Reagan is well known. And this was not a political friendship, either.
The two genuinely liked each other and became friendly when they were governors together, working to clean up Lake Tahoe and in other cooperative efforts back in the days when Nevada liked California just fine. And Laxalt had taken a personal and political risk supporting his friend in 1976 against President Gerald Ford, which the future president surely appreciated.
The Reagans and Laxalts were close – indeed, up at Marlette Lake near Tahoe, where many intimates came to see the senator, Ronald Reagan carved his and Nancy's initials into a picnic table, Rogich told me.
But one vignette Fahrenkopf shared is even more telling:
In 1984, after Reagan's disastrous performance against Walter Mondale in the first debate, despite any positive public spin, those close to him knew the president had gotten clobbered. Laxalt got on the plane with Nancy Reagan and told her what she needed to tell her husband: "Let Reagan be Reagan."
You know the rest. "The president trusted him so much," Fahrenkopf said last week.
As for Laxalt's presidential run, catalyzed by those who thought he was best equipped to carry on Reagan's legacy, Ferraro said Laxalt "used to say it was the four most miserable months of his life."
Ferraro remembered being at Marlette Lake with others when another meager fundraising report came in and Laxalt looked at them and simply said, "'Pull the plug.' His heart wasn't in it."
Once again, Laxalt's equanimity was his defining characteristic.
"He often said, 'The severity of a crisis is directly proportional to how you react,'" Ferraro recalled. "He believed that. That led to how he moved with ease, never got riled up, never got steamed."
---
It is difficult to assess any person's legacy, and Laxalt is no different.
His six daughters would say they are, and his dedication to them is well known. Many, many Nevada politicians and operatives speak in reverent terms about the man whose influence still is felt – Gov. Brian Sandoval loved and respected him, and Laxalt's grandson, Adam, may be his successor.
Like most governors who become senators, Laxalt liked the former position more because you could more easily get things done. And he did – piggybacking on what Sawyer had started to usher in the era of corporate gaming, even though he took heat for letting Howard Hughes in so easily. He created the community college system, the Tahoe Regional Planning Agency and more.
His substantive legacy as a senator is less robust. Some have wondered if he could have used his relationship with Reagan to stop the siting of Yucca Mountain as a nuclear waste dump, but that train was congressionally driven and even if Reagan vetoed 1987's Screw Nevada Bill, he surely would have been overridden.
Laxalt was more comfortable in the Club of 100 as a go-between for the White House and helping to forge bipartisan compromises. (He once told Ferraro that Hubert Humphrey was his favorite person to listen to.)
But his most lasting imprint on history may be a more intangible one, beginning to change the way Nevada was seen.
"Paul Laxalt, Frank Fahrenkopf and Harry Reid really legitimized Nevada in the nation's eyes and in the eyes of people who made decisions in the Beltway," Ferraro said.
---
The end had been both dreaded and anticipated by Laxalt's family for some time. Fahrenkopf still made occasional visits to see his ailing friend during the last few years, even as he was unable to speak. He would occasionally rub some of of Laxalt's beloved Scotch on his lips, which would elicit a smile.
The last time I saw Paul Laxalt was at a funeral, 16 years after I first met him and, strangely, 16 years before his death.
Laxalt had returned from DC in 2002 to eulogize his friend and longtime Republican National Committeeman Tom Wiesner, another priceless Nevada character, a former Wisconsin football star nicknamed "The Big Dog."
I fought my way to get near Laxalt as the room, as almost any he walked into, seemed to bend towards him. I worked my way through the crowd and shook that soft hand, wondering if he would even remember the callow journalist from Lake Tahoe.
My palms weren't sweaty, but I still felt his towering presence. He remembered. He was kind, warm and complimentary.
I left feeling the same way I had 16 years before: I had been in the presence of greatness.
Jon Ralston is the editor of The Nevada Independent. He has been covering Nevada politics for more than 30 years. Contact him at [email protected] On Twitter: @ralstonreports
Featured Videos
Comment Policy (updated 4/20/2021): Please keep your comments civil. We reserve the right to delete comments or ban users who engage in personal attacks, use an excess of profanity, make verifiably false statements or are otherwise nasty. Comments that contain links must be approved by admin.