Pilot project equipping rural police with telehealth tools for mental health crises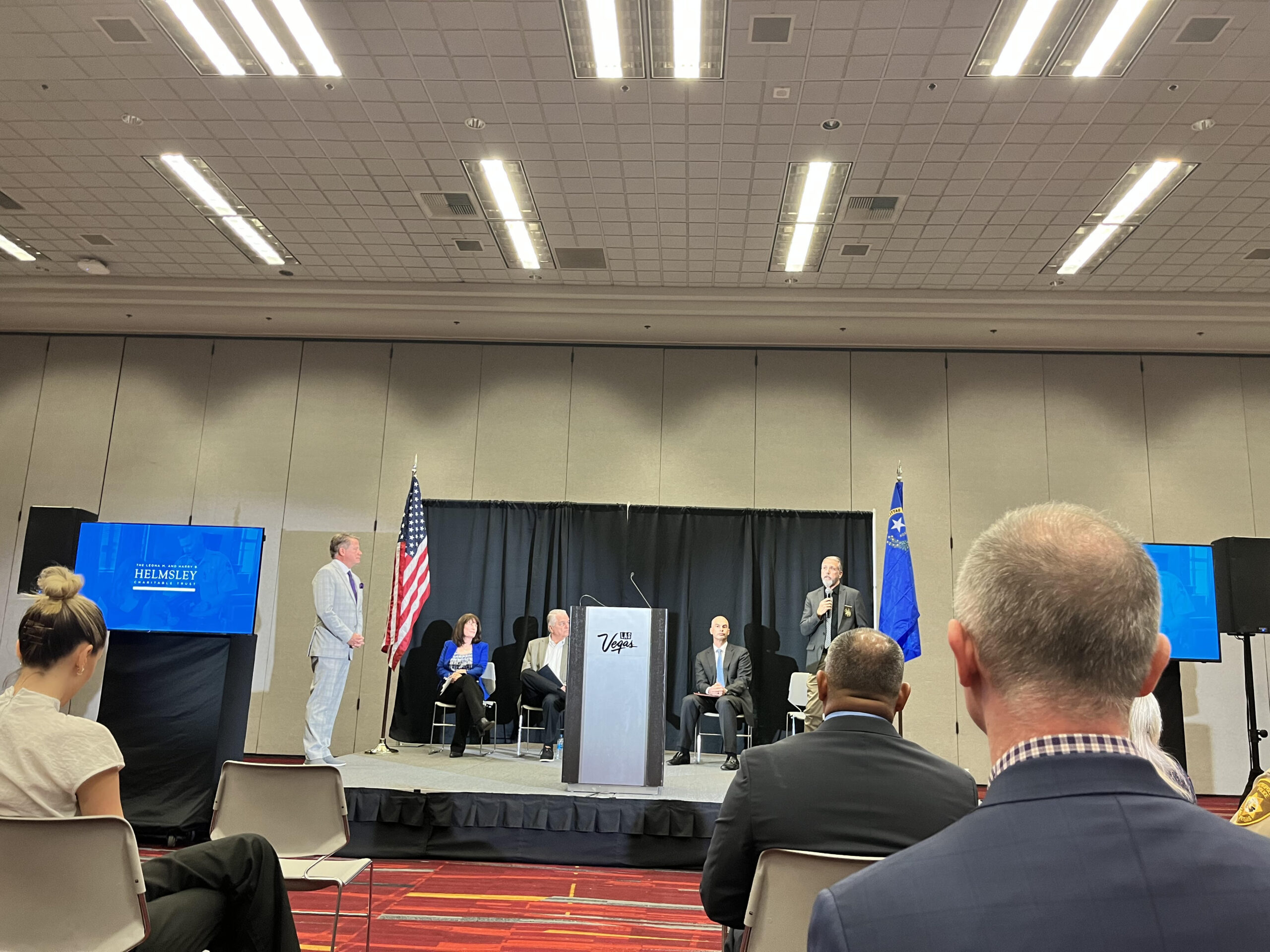 For years, Nevada has lagged behind in mental health resources, especially in rural counties, but leaders at the state Department of Health and Human Services believe they will break new ground by equipping police officers with telehealth tools to use when responding to crisis calls.
A digital crisis intervention program called Virtual Crisis Care – which is delivered using tablets – is expected to act as a third party during police interactions, officials announced at a Wednesday press conference in Las Vegas. Helmsley Charitable Trust awarded a $3.8 million grant to the state to launch the pilot program.
Lincoln County Sheriff Kerry Lee said the new tool comes at a time when mental health crises are on the rise in his county and that "regular house calls" increasingly involve someone who is mentally ill or does not have the cognitive skills to act within reason – making de-escalation difficult. Because of gaps in mental health resources in the state, law enforcement is usually the initial contact for people involved in or witnessing a mental breakdown.
"Sometimes law enforcement officers don't know what they're going into [when they get the call]," Lee said. "And [mental instability] makes the situation a whole lot scarier and a whole lot more dangerous because of that roller coaster that person is on."
Through a partnership with police, Nevada's health department will offer crisis intervention services to rural residents through Virtual Crisis Care, starting as soon as police training is completed. When officers are called to a scene or dispute, trained mental health professionals could intervene virtually, if necessary, with the new device.
"I know the majority of people just need that caring ear, that qualified mental health professional, that kind of person in their community to connect them to help," said Misty Vaughan Allen, who leads suicide prevention efforts for the state at Nevada DHHS. "That can make all the difference in the world."
She said the telehealth tablet fills a critical gap in rural Nevada because it can take several hours to transport someone to care — and even then the care is not guaranteed. Vaughan said this creates more trauma for the person in crisis.
In rural Nevada, when a person under arrest is identified as having a mental health crisis by police, they are taken hours away to a mental health facility for a 72-hour evaluation. The Lincoln County sheriff said the problem with the protocol is that people can leave the facility once they have stabilized, which sometimes happens quickly, without receiving care.
"If we can link them to a provider, through the iPad, and don't have to transport them, it's going to be huge savings to the county, huge savings to the office, more manpower, and hopefully get those people linked up with some follow-up care," Lee said. "Because that's what they need."
Walter Panzirer, a trustee for the Helmsley Charitable Trust, said a pilot program with Virtual Crisis Care in South Dakota decreased involuntary holds 8 out of 10 times.
Lee said it's possible that each patrol car in his county will have a telehealth tablet after they receive training because their police department is small. The pilot will start immediately and will include seven sheriff's offices, four police departments, including in Elko County, and behavioral health professionals.
"Honestly, this is just one cog on the wheel," Lee said. "It's not the answer to everything. It's going to take our mental health hospitals, mental health providers, law enforcement training, these devices – all these things together — is what it's going to take to work."
The Nevada Independent is raising $200,000 by Dec. 31 to support coverage of the 2024 election.
Tax-deductible donations from readers like you fund this critical work.
If you give today,your donation will be matched dollar-for-dollar.
Give + Get Matched
Featured Videos